Buying a caravan will often be one of the most significant purchases that you make in your life after purchasing a home, so you must have adequate security to keep it safe even when it's parked.
A wheel clamp is vital to fight the threat of crime and finding a high-quality solution is a great way to protect your investment. Like most types of products, not all-wheel clamps will be the same and you have a choice of a range of different colours, sizes, prices and styles which offer their unique level of security.
If you're new to caravans and motorhomes, then you must take the time to research before committing to a product. We've designed this easy follow guide to show you the best caravan wheel clamps, as well as the factors you need to consider before making a final purchase.
Stoplock 'Wheel Lock' – Anti-Theft Caravan Wheel Clamp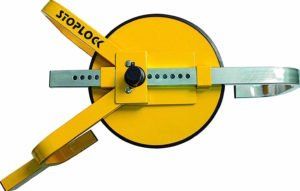 The Stoplock is an affordable yet effective wheel clamp suitable for cars, caravans or trailers. The lock is ideal for wheels 13"-15" in diameter and up to a width of 8″.
The lock is built to last while also being resistant to high power tools to give you greater peace of mind. Nobody wants to spend hours trying to fit a lock, but the Stoplock is quick and easy to attach in just a few seconds while also being compact enough to be stored in the boot of your car easily.
Just in case you lose your keys, the lock is supplied with three sets and is a bright yellow colour making it visibly deter potential thieves.
Suitable for cars, caravans or trailers
Highly resistant to power tools
Fits in seconds
Bright yellow colour to deter thieves
Purple line Nemesis Ultra High-Security Caravan Wheel Clamp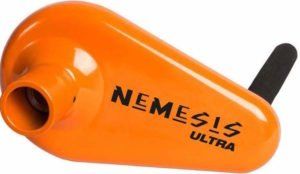 The Nemesis Ultra Wheel Clamp is a highly secure yet lightweight caravan wheel clamp. It weighs just 3kg and can fit into a small shoebox, making it easily transportable when not in use. When it comes to installing it takes only 8 seconds using it's simple "Locate, Lock & Go" procedure. 
The lock itself is insurance approved due to it being Thatcham Approval 'category 3' SCM & TNO tested and certified.
What makes the wheel clamp so secure is that the clamp locks into a universal wheel bolt which then has a toughened steel bar that passes through the wheel. This is a unique patented design that not only stops wheel rotation but also can still work even if your tyre is deflated.
The British made anti-pick Low & Fletcher Lock lock is resistant to drilling, gas freezing and cutting from power tools.
Lightweight (3kg) and compact
Thatcham Approval 'category 3' SCM & TNO tested and certified.
5 Year mechanical warranty.
To suit most 13″, 14″ & 15″ alloy wheels.
Drilling, gas freezing and cutting resistant
Insurance approved
Patented design
MILENCO Compact Wheel Clamp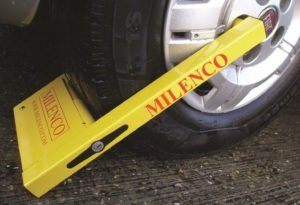 A slightly more pricey wheel clamp but still packs an effective punch when it comes to keeping your caravan or motorhome secure. The clamp is insurance approved, and it's the compact design still is suitable for caravan and motorhome wheels that are 12 inches to 16 inches up to 225 size tyres, alloy and steel.
The unique design features an integrated locking mechanism that also has a winding handle. It's simple to use, you just simply wind the handle to clamp to the wheel then you push the handle into the lock. This makes it one of the easier to fit wheel clamps available.
The lock is constructed with solid steel construction that is resistant to sawing and freezing conditions. The Locking mechanism is high Security, pick-proof and recessed for ultimate protection against direct forced attack from thieves. Also supplied is a carry case for when the lock is not in use.
Sold Secure to Gold standards & SCM MP03, the Worlds highest Caravan Security standard.
Unique locking design
Five-year warranty including Lock.
To fit steel and alloys wheels.
Supplied with carrying case
C13 fits 13″ wheels & Twin axle 14″ wheels. C14 fits 14″ wheels & Twin axle 15″ wheels.
MAYPOLE Universal Wheel Clamp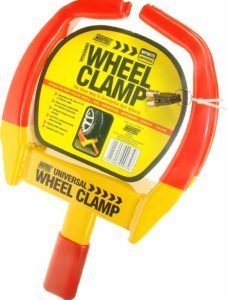 The Maypole wheel clamp offers an affordable and reliable solution and is fully adjustable to suit wheels that are 175 to 225mm width. The clamp has a strong, robust steel construction making it difficult for thieves to break into even with the use of power tools.
The clamp itself is red and yellow in colour making is a highly visible deterrent while it also has a compact design making it easy to store away when it's not in use. The clamp is coated in soft PVC, which means that it won't cause damage to your wheel when it's in use.
The clamp is easy to install in just a few seconds, especially for the low cost and can satisfy any insurance requirements that need to meet.
Easy to install
Suitable for wheels that are 175 to 225mm width
Made from robust steel
Coated in soft PVC
Goodyear 022762 Heavy Duty Wheel Clamp
Now there's no doubt you've heard of Goodyear who is one of the leaders in the auto industry specializing in a whole range of products. They have extended this range into a wheel clamps suitable for all cars, vans, caravans and motorbikes.
The clamp is adjustable to fit most wheel sizes while also being highly visible to deter thieves. The outer layer of the jaws has a soft coating to stop your alloy wheels from being scratched. Its heavy-duty design resists damage to keep your caravan considerably more secure.
Of the clamps on this list, it's the one of the lower cost so you can expect it to be slightly less secure and effective because you often get what you pay for.
Suitable for all cars, vans, caravans and motorbikes.
Fits most wheel sizes
Robust lock
Soft-coated jaws
Supplied with two keys
Caravan Wheel Clamp Buying Guide
Brand 
There are several brands available on the market, with some being new and other being old. Ideally, you should choose a brand that has been established for several years with a strong level of positive reviews.
This gives you extra assurance that you're buying a high-quality product, as a business that sells inferior quality goods is unlikely to have been around for many years. a caravan wheel cover can also provide an added deterrent towards potential acts of damage.
Warranty
Like all types of goods, there is the chance that a fault may develop with the product, so you must check whether your desired lock comes complete with a warranty. This means that in the case that a fault develops, the manufacturer will either offer a free repair or replacement, giving you the added peace of mind that you're protected.
Price
The price of your desire lock links back to the brand that you choose. The higher the quality of the product and the brand name, the greater the cost is likely to be. You often get what you pay for especially with locks so don't go in to buy the cheapest lock as they can often be the easiest for thieves to break into.
Visibility
A large proportion of thefts occur by opportunist thieves who haven't planned their crime. This is why it's essential to have a clear deterrent which can be as simple as buying a clamp that is visible when it's in use.
This is also made clear by buying a clamp that's in a bright colour such as a yellow or red making it clear to a passer-by that it's securely locked. Most thieves don't want the extra hassle of trying to remove a lock as they're looking for the easiest caravans to access. 
Approved by Security Standards
Another indication that shows whether you're choosing one of the best caravan wheel locks is that it's passed one of the rigorous independent testing standards. There are many of these tests, so if your lock has passed one of these, then it shows the real quality.
Most caravan insurance companies recognise the independent tests, and it's important to check the expected security levels from your insurance to check that you're adhering to them, and you're covered if you decide to claim in the future.
Many insurers will also lower the cost of your insurance if you use a caravan wheel clamp that's insurance standard approved.
Sold Secure is one of the most commonly recognized independent organisations that carry out security product testing on a range of products including vehicle security, business security and leisure product security. 
This also includes caravan clamps and hitch locks, so if you see the Sold Secure logo on a clamp, then you know that it's been tested to a high standard.
Sold Secure Approval has a classification of 3 main categories; Bronze, Silver & Gold. There is an additional Diamond level for certain Caravan, Tracker & Cylinder Lock security products.
Ease of Fitting
It's important that before committing to a purchase is finding out how easy it is to fit, because if it's difficult, then there'll be times where you've reached your destination after a long drive where you don't have the energy to do so.
Some wheel clamps need to be tightened against the wheel using tools while others will be designed for specific wheel sizes so they can be simply positioned over the wheel then locked into place.
When you get your lock, it's recommended that you practice before you're out on the road to familiarise yourself with using it. The last thing you want to do is end up trying to teach yourself how to fit the lock when you're on a campsite in the pouring rain.
Type of Lock
Wheel Clamps
Wheel Clamps come in a range of different shapes and sizes, with smaller ones clamping around the wheel in one position, whereas larger clamps can attach to the wheel in multiple positions while covering the wheel nuts. 
Axel Wheel Locks
Axel wheel locks provide a different type of security and work similarly to a wheel clamp, but they lock through the wheel and are attached to the caravan's axle and chassis.
To initially fit the device you may need to jack the wheel up so you can align the receiver within the caravan chassis. But this makes a significant deterrent to thieves.