Your caravan is your pride and joy, and because of this, you need to take great care of it to ensure that it stays in top condition for many years. Although when it's not in use, you may have it stored away in a garage; however, when it's in use it can be subject to the natural weather elements that can damage the exterior.
The wheels are often forgotten about, and over time a small bit of dirt can develop into severe damage if you don't take care of them. One easy way to care for your wheels is with the use of caravan wheel covers.
We've run through the caravan wheel cover market to highlight the best options available to you and the factors you need to consider before making a purchasing decision.
Bags And Covers Direct Limited Caravan Parked Wheel Cover/Protector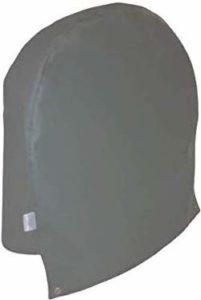 The Bags and Covers caravan wheel cover effectively protects your caravan tire from both sun and other elements that could be hazards to the outer layer of the tire. The cover is made from heavy-duty 560gram PVC reinforced UV stabilised fabric that is also waterproof.
The covers can fit most wheel tire sizes due to the elasticated rear, and it has an internal measurement of Diameter 660mm/26″ Width 180mm/7″ – 230mm/9″. The cover also comes with eyelets so you have the choice of pegging them down on the soft ground or you can attach them on hard ground.
The covers also come in a range of colours giving you a choice to match it to your caravan exterior.
ProPlus 610312 Mudguard for Caravans
This is one of the top-selling caravan tire covers, and it's not difficult to see why. The covers can effectively protect your tires from excessive spells of UV sunlight exposure which can cause long term damage to the tire material.
The tire covers have been specifically designed for the size of caravan tires and have two eyelets with a ring that allows you to firmly anchor the case to ensure that the included pegs don't damage it.
The covers are made of weatherproof polyester so that it can withstand harsh conditions while providing your wheels with the protection they need.
Caravan Supermarket Caravan Tyre Wheel Covers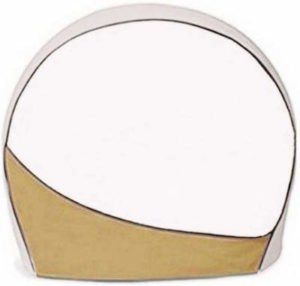 This pair of caravan tyre covers are probably the most aesthetically pleasing option on the list with its vinyl material giving it a high-class finish. However, it also provides high-class protection for your caravan wheels as the outer material can repel liquids and also protect against harmful UV rays.
The covers are fitted with a plastic buckle so it can suit a range of caravan tire sizes, but it's best suited to wheels that have dimensions of 13-14 inches. The wheel covers are also fully lined which offers added protection.
The Caravan Supermarket was established 35 years ago. It has a vast level of experience in the caravan and camping industry which has been translated into a high-quality product range.
There is also a 30-day no-hassle returns policy if you're not happy with the product for any reason.
Maypole 93665 Caravan Wheel Cover and Pegs
If you've ever bought any kind of caravan product, then there's no doubt you've come across Maypole who specialize in leisure products including those for caravan use. The caravan cover measures 65cm x21 cm and is specifically designed to provide a high level of protection for tires.
They are designed to prevent harmful UV rays from damaging your wheels and is also provided with two eyelets and pegs that allow you to attach it to the soft ground securely. They are easy to use and attach in just a few seconds, and you won't be disappointed with the protection that they provide.
Kampa Caravan Wheel Cover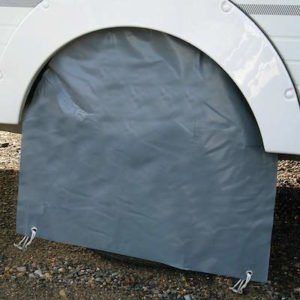 By now, you've already likely noticed that caravan wheel covers are simple products that don't require a lot of features to be effective. Kampa is a company that specialises in caravan and camping goods, and this caravan tire cover efficiently protects your caravan tires from UV damage and other weather.
The tire covers are easy to use, supplied with eyelets at the bottom corners as well as pegs to secure it into place. The covers are made using durable 600D polyester so you can trust their effectiveness.
Benefits of a Caravan Wheel Cover
UV Ray Protection
Caravans get most of their use in the summer months, and this excessive heat can cause damage to your tires from UV rays. A tire cover can protect your tires from dangerous sun rays and provide an effective shield from damaging your wheels.
The best caravan tire covers also have UV protection to not only shield your tires but also protect itself from getting damaged, giving it added durability and extending its life.
Rust Protection
Naturally, the metal elements on your tire can develop rust and corrosion if they are subject to heavy rain which contains slightly acidic properties. A tire cover can shield your wheels from this potential damage which not only means you'll need to clean your tires less often, but you'll have to replace your wheels less frequently.
Saves Money in the Long Term
Although you have the initial cost outlay on wheel tire covers, this is a relatively low cost, and they protect your tires so that they last longer. This means that it will be long until you need to replace your tires which can run into hundreds of pounds. So in the long term, the low-cost cover investment can save you a significant amount of money.
Prevent Dangerous Punctures
It's unlikely that you check your tires for damage each day. A tire cover stops unnoticed damage to your tire because small defects can turn into punctures while you're driving and can even lead to dangerous blowouts which can cause a serious traffic accident.
Keeps Tires in Top Condition
It's normal that outside of the summer months caravan usage drops and many owners store their caravans safely in storage through the winter months. Generally, during this time the caravan is rarely checked until it's time to be used again and a tire cover gives you the added peace of mind that when the summer months roll back around that, your tires will be in the same condition that you left them in.
Protects Against Dirt
Being outside your caravan isn't just under threat from weather conditions but also dirt, dust and even bird droppings which contain chemicals which can corrode and destroy the outer layers of your caravan wheels.
The best caravan wheel covers provide an added shielded layer to stop these chemicals and elements from hitting your wheels. Even when your caravan is stored away in your garage, dust can still get to the wheel, so it's always essential to have them on.
Caravan Wheel Cover Buying Guide
Brand
Several brands manufacture wheel covers, and they will vary in price depending on several factors, including the material and added features that they have. Although price does not always correlate with the overall quality, long-established brands generally create higher quality products because they have remained in the market for an extended period, generating a large loyal customer base.
Price
The price of your wheel tires will closely link to the brand that you choose. The price can also be affected by the number of wheel covers you need and the overall quality. However, we have reviewed several wheel covers at different price points to ensure we have something for everyone.
Wheel Size
It's essential to check the size of your tires and the size of the wheel covers you're looking to buy. The last thing you want to do is select wheel tires and when you go to fit them, realising that they don't fit.
To make sure you select the right wheel tire, you need first to measure the diameter of your existing tires. You need to make sure to measure the entire wheel including the rubber and its rims and then compare this to the wheel covers on available.
Durability
The materials that the covers are made from should be heavier duty because this will ensure that it can protect your wheels. You should ideally go for a wheel tire cover that is both weatherproof and waterproof, which ensures it can protect throughout a range of weather conditions. You need to ensure that these heavy-duty materials are also easy to clean.
Warranty
Like any type of product, defects can develop, especially if like a wheel cover, they spend most of its life outdoors. A warranty gives you added peace of mind and protection and although it shouldn't be the main thing to consider it's a nice added extra.
Maintenance
The last thing you want to do is have to spend hours maintaining and cleaning your wheel covers frequently, so choose a solution that is easy to maintain. The wheel covers we have chosen as the best are easy to clean and simply just require a wet cloth to wipe down the surface. They also don't require added cleaning liquids so you can quickly clean them and then go about with the rest of your day.