Caravans are large and heavy, so it's important to make sure your caravan jack is up to the task. They allow you to lift the vehicle high enough that you can work underneath it and fix anything off the ground.
The best caravan jacks should be able to support a weight of 2 tonnes or more, but can vary in size depending on the type of caravan you have. Caravan owners might want to invest in one that has an adjustable height as this will allow for varying ground heights when parking up.
A good way to figure out what style would suit you best is by looking at the weight capacity and adjusting mechanism – these factors will affect how easy it is to use.
In this guide, we walk you through some of the best caravan jacks for carrying out repairs and maintenance. We'll also assess the key qualities to look for when assessing caravan jacks for sale.
Best Caravan Jacks
Kojack Caravan Jack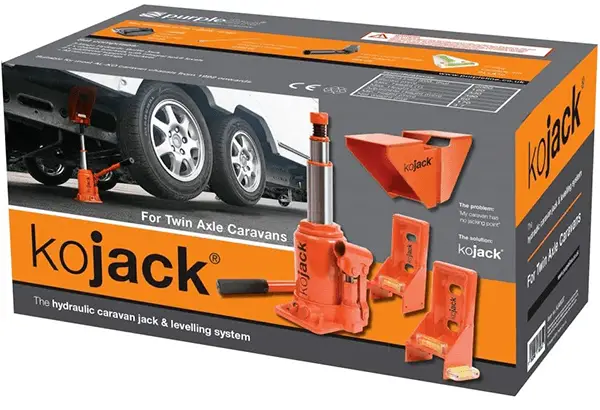 This popular jacking and levelling system, the Kojack Caravan Jack, is one of the bestselling on the market and is available for both single axle and twin axle vehicles.
If your caravan has a jacking point, you can use these custom designed brackets to lift and level your vehicle. It connects to the safe anchor points on your chassis and uses a 3 tier hydraulic system to do the hard work for you.
The system can handle a working load of up to 2 tonnes, which makes it suitable for the majority of caravans.
It's an excellent choice for carrying out quick wheel changes and has a super sturdy design that will assist in levelling the caravan.
Silverline 598558 Hydraulic Bottle Jacks 10 Tonne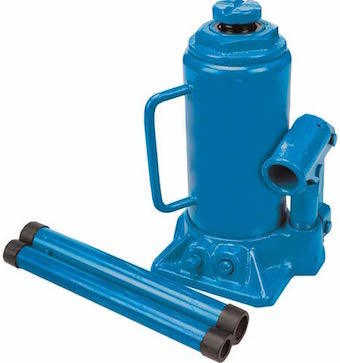 The Silverline Hydraulic Bottle is a vital tool that any caravan owner will appreciate when repairs are required. The jack has a total lifting capacity of up to 2 tons, making it suitable for the majority of caravans.
This jack can also work in combination with axle stands and is made from all steel which gives it reliability and strength while adding to its overall life. This steel material stops the jack from splitting or shattering.
The jack fitted with a safety overload valve, which helps prevent accidents by automatically refusing to lift if the jack has been overloaded with too much weight.
By having a big sturdy base, this increases the stability so you know you can rely on it plus it's compliant with all the relevant safety standards. It has a lift range of 158 – 308 mm and has an easy height adjustment screw so you can quickly get it into the correct position.
WheelsNBits 10 Ton Heavy Duty Hydraulic Bottle Jack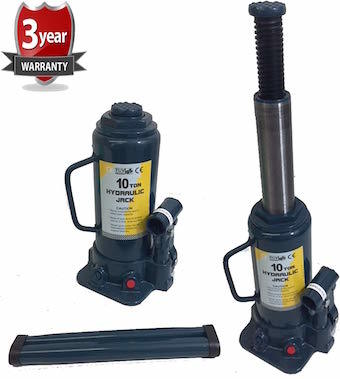 The Wheels N Bit's car jack is a heavy-duty ten-tonne model which is compliant with all the relevant UK and European safety standards. The jack has a minimum height of 230mm and a lifting height of 150mm. 
The jack operates using a two-stage lifting system, you simply lift the screw out of the jacking point and then perform the hydraulic lift. The jack is compact, so when it's not in use, you can discreetly keep it hidden from view in your caravan.
Made from tough steel, this is a product that's built to last. And with a max lifting weight capacity of up to 10 tons, this makes it suitable for almost all types of caravans, campervans and large motorhomes.
Sealey 3 Ton Caravan Trolley Jack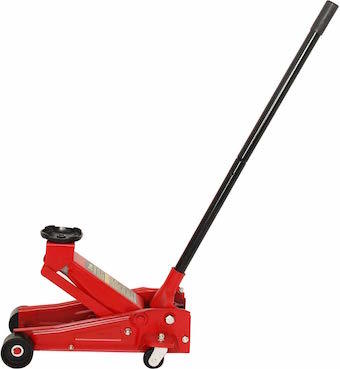 This Sealey caravan jack is slightly less portable but just as effective. The quick Lift trolley jack is manufactured to meet the demands of tough daily and emergency use not just in your garage, but on the road for your caravan.
The jack comes complete with a two-piece handle and moving wheels so you can easily get it into position. There is also an overload protection safety valve so you can lift past its maximum capacity of 3 tons. It also has an over-pumping prevention bypass system while also having a lifting range of 45 – 465mm.
The isn't just for use on the side of the road if you have punctured tyre, but can also be used in your garage when you're no longer on your caravan trip. An excellent tool to tuck away in the garage.
E-HEELP 12V Electric Caravan Jack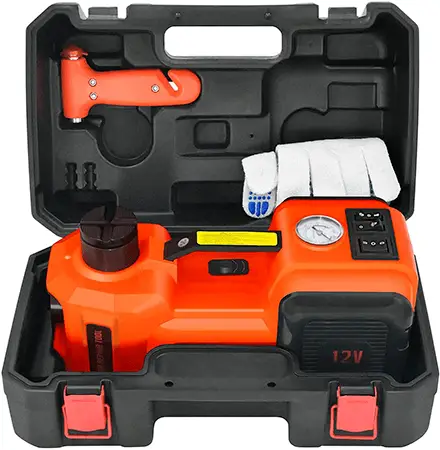 The E-HEELP electric hydraulic jack provides a quick and easy way to pump up the air in your caravan tyres for when you're on the road.
The jack was designed with professionals in mind, but it can be used by anyone who needs an instant boost of power when pumping their tyres – like caravan owners. All you need is a 12V DC electricity supply (caravan/mains electric adapter), cables and valves that connect the pump unit to your empty battery; then use its powerful motor to inflate your tyres.
Weighing just 3kgs, this rugged piece of equipment features an automatic-on feature: once connected and turned on, it will pump continuously until all four wheels are at the right pressure.
Proplus Punching Carriage Lifter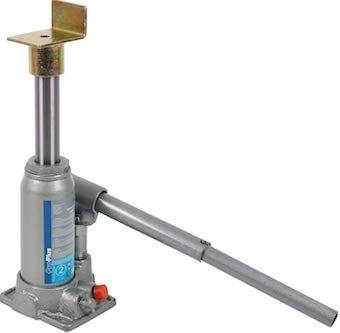 The ProPlus caravan jack is supplied with both a car lift and adapter with edge flap. This profile edge makes your life much easier instead of having to use a levelling ramp.
The adapter for your punch lifter offers higher stability due to the edge upstand. This allows for caravans or motor homes to be raised and levelled easily and safely.
The jack is made entirely of galvanized steel, giving it the strength to have a 2-ton lifting capacity. While it also has a large base which provides it with sturdiness, plus its actuator rod can also be separated and easily put into the holder.
The jack has a minimum lifting height of 158 mm and a maximum lifting height of 308 mm.
What To Look For When Buying A Caravan Jack
Max Lift Capacity
Caravan floor jacks have a maximum weight capacity which will usually be measured in tons so you'll need to ensure that the maximum weight capacity of your chosen caravan jack is greater than the weight of your caravan. You can check the weight of your caravan either in its user manual or logbook. If you still can't find it, then you can contact the manufacturer of your caravan.
Although the jack won't be lifting the whole vehicle, selecting a high max lift capacity will limit the chances of an accident occurring.
Caravan/SUV/truck – A 2-ton floor jack will be sufficient for most caravans, but for slightly heavier vehicles a 3-ton floor jack will be better suited, but if it weighs more than this, then you'll need a heavier duty floor jack.
Minimum Clearance Height
The minimum clearance height is crucial if you have a caravan with a low profile. The minimum clearance height is described as the minimum height that your caravan must sit from the ground to be able to get the jack under it. 
If your caravan is too low, then there are alternatives such as a low profile caravan jack that needs much less clearance to be able to work. You must check the clearance requirements of any jack that you buy.
Maximum Lifting Height
The maximum lifting height refers to the max height that the jacks lifting arm will lift your caravan off the ground. Higher quality jacks will have the ability to lift your vehicle higher off the ground, whereas lower quality jacks will struggle to rise above just a few inches.
Extra inches of space means that its easier to carry out inspections or repairs which can make your decision making more accurate.
Brand
The brand of your caravan jack will determine the total quality of your product. Several well-known brands have developed a strong reputation over several years and choosing these types of brands will ensure that you're more likely to buy a product that's built to las. A higher-quality brand will also have numerous reviews so you can better evaluate whether it's the right product for you.
Warranty
Any product worth buying will usually have some form of warranty supplied with it. A warranty is an added extra provided by a manufacturer or retailer will cover you for any defects that may occur with the product. 
The length of the warranty will vary from product to product, but generally, they will last anywhere from 30 days to lifetime. The higher quality brands are usually more confident in their product, so they will offer longer lengths of warranties.
Lift Speed
The Lift speed is the number of pumps that it requires for the jack to attain its maximum height. A regular jack will take 7-10 strokes with higher quality jacks taking fewer strokes and average jacks taking towards the top end of the scale. The fewer strokes it takes, the quicker you can hoist your vehicle. Caravan jack pads will also help to improve lift speed and efficiency.
Material
Due to the nature of use, caravan floor jacks need to be strong, durable and built to last, so you must choose a product that uses materials such as steel or Aluminium. These types of materials are not only strong but also light, so you won't have issues carrying or moving it.
Price
As you'll know, we all have different budgets for the amount that we're willing to spend so its important to stick to your budget. Generally, the higher quality brands will be more expensive and although it can be tempting just to buy the £20 option its key to understand that you may save a few pounds now, but a jack is a dangerous product if it develops a fault.
It's worth buying a more expensive high-quality model that will not only last significantly longer but also keep you safer when it's used. A floor jack isn't the type of product that you should be replaced every few months.
Ease of Operation
Regardless of whether you're a seasoned mechanic or a beginner DIY'er, you'll still want to buy the jack that's the easiest to operate because this means that you can save a significant amount of time without having to fiddle around with the product to get it into position.
The best floor jacks are easy to set up and gives access to customer support in case you need further help.
Types of Tools To Jack Up A Caravan
Hydraulic Floor Jack
The Hydraulic Floor Jack is the most popular type available, and the product has a built-in chamber which is filled with hydraulic juice or a form of oil which has the purpose of lubricating the chamber.
This lubrication then drives the lifting mechanism when then causes the long handle to pump. This action means that the weight you apply to the handle is multiplied several times which is how the lifting arm is then able to lift a vehicle off the ground and into position.
Piston Jack / Bottle jack
If you have a heavier vehicle, then a bottle jack will be better suited because they have a higher weight capacity. It's common to find bottle jacks that have a weight capacity of 20 tons. Their ability to do this because they have a smaller surface area which means they are more stable. However, they also have a higher minimum clearance height, so you need to take into account your caravan specifications to see if it's appropriate.
Scissor Jack
A scissor jack is a smaller type of jack which makes it's the popular selection for people who need an emergency jack that can stay in the caravan in case of emergencies. They are compact, but it allows you to lift the vehicle on one side so you can change a tire or make a quick repair on the underside of the caravan.
Scissor jacks are usually more affordable, but they do require more effort than hydraulic jacks to get your vehicle off the ground.