You've probably arrived at a caravan park and seen that many other caravans are sporting their own flags from their caravan poles. Although it's not a key essential, it's nice to personalise your own caravan, especially throughout the summer.
Many people want to show their nationality, or what part of the country they're from. However, it's not always about where you're from – the flag could be about literally anything that you're passionate about, or a decoration.
If you're interested in flying your own colours, then you'll need a caravan flag pole. In this guide we've listed some of the best flag poles on the market, as well as some useful accessories (like a ground spike!).
We'll also walk you through the different types of flag poles – telescopic, collapsible, mounted, etc.
Best Caravan Flag Poles (Telescopic and Collapsible)
Spirit of Air 5m Telescopic Flag or Windsock Pole
This is one of the leading caravan flag pole solutions on the market and measures 5 metres in length and provides you with an effective way to mount your flag, spinner or windsock. It's super portable and can collapse down to 115cm so you can easily fit it in your caravan or vehicle when it's not in use.
The flag pole has a larger tipped eyelet and a thick solid tip section for greater performance. If you want to fix the pole into the ground, it's pretty easy. All you need to do is unscrew the pole's end cap and then insert it into a suitable purpose-built ground stake.
Oakwood Windjammer Telescopic Flag Pole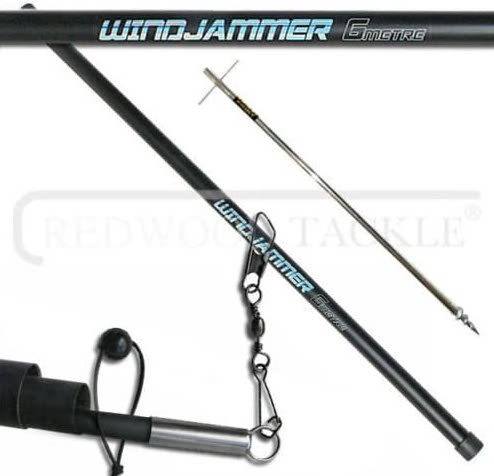 Up next we have a popular telescopic fibreglass pole from Oakwood's WindJammer brand.
This is a more all-round solution to flying your flag from your caravan. It has a total height of 10 metres so your flag will be visible from all angles depending on where on your vehicle you mount it. The pole is made from fibreglass which makes it durable and lightweight but also flexible so it will be able to withstand high-speed winds.
You can easily attach your flag or banner to the flag pole, and the screw base has sections that can be removed so you can change its height. The product comes supplied with a metal ground spike if you want to fix the pole into the ground.
HOGAR AMO Ground Spike For Flag Poles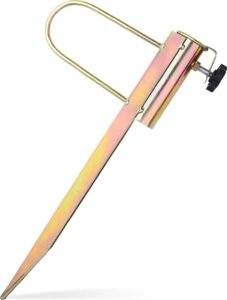 If you have a flag pole but want to plant it into the ground, then you'll need a ground spike. This Hogar Amo ground spike is made from metal so it can withstand harsh weather conditions without failing. It's also easy to install and weighs just 500g so not only can you transport it simply but you can move it into position with ease.
It's not just suitable for your flag pole, but you can use it in other situations such as on the beach for your umbrella to protect you from the sun.
It's a super sturdy piece of kit that goes in to even the hardest of ground. Perfect if you want to use your flag in multiple locations, or if you have a separate umbrella that you'd like to keep steady.
Types of Caravan Flag Pole
The type of flag pole you choose will depend on your requirements. If you want it to be very tall (e.g towering above the sun canopy), then you'll need one type of flag pole whereas if you need a flag pole that can be planted into the ground, then you'll need a different type.
However, there are two main types of flag pole which will be suitable.
Fixed Height Pole
Fixed height poles have a stake attached so it can be planted directly into the ground. They're usually made to function without the need for a mount but also lightweight, so it's easy to carry to your ideal planting spot. They can also often collapse into separate parts to help them be more portable; however, they're often shorter in length compared to a telescoping pole.
If you aren't planning on mounting your flag onto your caravan, then this is the best type.
Telescopic Pole
Telescopic flag poles are constructed to be collapsible which makes them easy to transport because you're not going to have it installed while your travelling so this helps to save space within your vehicle. They have an adjustable height, and some can be several metres in length. This is the most common type of pole that you see mounted to most caravans that have flags.
Caravan Flag Pole Buying Guide
Here are some of the factors to consider if you're in the market for a new flag pole for your caravan:
Flag Pole Height
Caravan flag poles vary massively in height, giving you a full choice of how high you want to make it. If the height is your main concern, then you should opt for a telescoping caravan flag pole because these tend to have a greater length.
Adjustable height is also useful so you can change it as the weather changes for example if it starts to get very windy then you'll want to reduce the height because it'll blow around less when it's close to the ground.
Portability
Portability is important because you need to think about how you plan to transport it, especially if your flag pole has a long height. The best caravan flag poles will have the ability to collapse down into parts instead of just being one long pole.
When it collapses into parts, you can easily store it away in your caravan or tow car when it's not in use without it requiring too much room.
Mount Type
So far, in this article, we've mentioned the term mounting several times, and this refers to how the flag pole is attached to your caravan. You must choose the right mounting system for your flag pole and needs. The better the mounting system, the easier it is to get your flag pole installed.
Bracket Ladder Mount
A bracket ladder mount is one of the easiest mounts to use and can be installed in a few minutes allowing you to simply get it into the right position because it also often comes supplied with all the tools you need.
The included brackets are fused to your ladder which then provides support for your flag pole. The mount allows your flag pole to rotate in the wind, so it doesn't snap under the pressure of bad weather.
Hitch-Mount
Next up is the Hitch mount that is secured with a hitch and comes complete with all the necessary tools and accessories needed to install. The base of the mounting also has the suction capability so you can stick it to almost any flat surface such as your roof or bonnet.
This isn't a comprehensive list of all the types of flag mounts but just the most popular options available on the market today. You shouldn't just buy the best products, but they should be the best products for your situation.
Material
An important thing to consider is the material that your pole is made of. There is a range of possible materials including steel, aluminium, plastic and fibreglass which are not only durable but also long-lasting so you won't have to keep replacing it. These materials will also stay resilient during harsh conditions.
Also, materials such as aluminium can have strength but also remain, lightweight, which makes transportation and installation simple.
Flexibility
The material that your flag pole is made of will play a key role in how flexible it is, which is important, especially in windy conditions. It needs to have the right amount of flexibility because if it's too flexible, it will bend and swoop down when it's windy and if it's not flexible enough then it can snap under the pressure of high winds.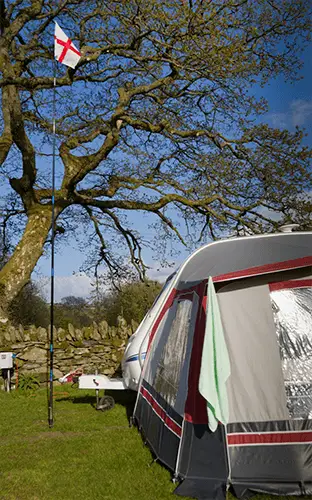 How to Mount Your Flag Pole
The flag poles that have the easiest installations are ideal, and there are many types of installation to choose from. So before buying a certain flag pole, you need to understand how to install it.
Ideally, it should come supplied with a mounting kit because you don't want to end up with a flag pole that needs drilling and cutting. After all, this needs a significant amount of time that could be used to do more things.
The main benefit of mounting poles is that they come supplied with all the components that you need to successfully mount your flag pole including the mounting base, brackets and tools.
To install you simply:
Screw the supplied mounting brackets in the caravan ladder
Attach the mounting base and other components to the bracket
Attach hooks to the top of the flag pole so you can hang your flag.
Mount the pole into your desired position.
Enjoy your mounted flag.