When you reach your caravan park, the first thing you'll notice (especially in the summer months!) is how popular awnings are.
They provide some much needed additional outside space, with protection from the weather.
The difficulty with awnings is that they can take a lot of time to install and are large, which can make them tricky to store if you have a small caravan. Luckily there is a worthy alternative: the caravan sun canopy.
A sun canopy is easier to install but can provide a similar shielded area to protect you from the sun during those hot summer months.
Here we'll take a look at some of the best sun canopies for caravans on the market today, including some popular options from brands such as EuroTrail and Sunncamp.
What Is The Best Caravan Sun Canopy?
We all like to sit out in the sun, but the rays can be dangerous for our skin and a sun canopy removes the hassle of setting up a full-size awning.
So what are the best sun canopies to consider?
EuroTrail Caravan Sun Canopy Basic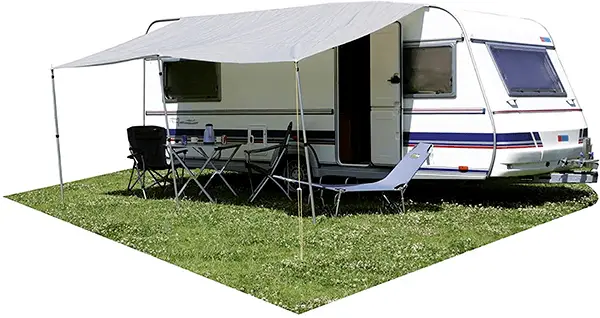 The EuroTrail Caravan Sun Canopy is a great addition to your caravan trip. It can be installed in just 5 minutes with a simple strap that can be quickly and easily inserted into the caravan edging strip. It also has adjustable steel poles of up to 225 cm height making it suitable for most caravans.
This particular canopy measures 200 x 240cm and comes in a choice of either blue or gray.
The sun shield is made from weather-resistant materials making it light and tear-proof with reinforced seams. The fabric is 300D polyester with a PVC coating which protects it from the natural elements. The canopy comes complete with two adjustable pitching poles and straps, as well as a carry bag for when you're not using it.
A simple but effective choice that is – thankfully – very easy to set up, and provides a decent amount of cover from the sun (or rain!)
Sunncamp Sunnshield Universal Sun Canopy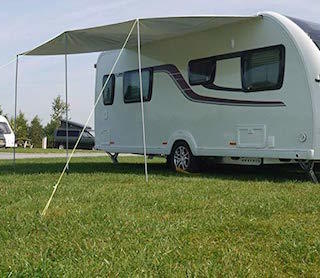 The Sunncamp Sunnshield Universal Sun Canopy allows you to enjoy those summer days while ensuring that you're still protected from the sun. This is another popular choice that is easy to install and can feed directly into your caravan's awning channel.
The canopy has a projection of 218cm and also has a maximum front height of 200cm, which gives you ample space for numerous people. Need even more protection? This model can also be bought in 280cm or 390cm length.
It is made from Pro-Tek 300-Denier Fabric to provide UV protection and weather protection.
It isn't just for sunny weather but can also keep you protected if it begins to get windy and rainy due to its waterproof fabric. The canopy is surprisingly sturdy and offers a good deal of protection in just about any weather that you'd want to be sitting outside in…
Eurotrail Combi Awning Sun Canopy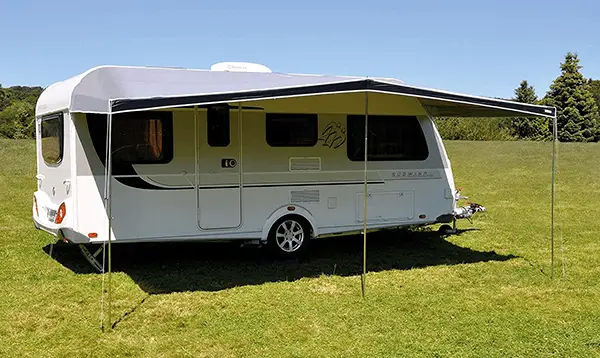 This Combi Awning Can Canopy from EuroTrail is quick and easy to set up. It's fully tear-proof, waterproof and rot-proof, which comes from the fabric used being all-weather Tex 1.7 (100% polyester).
With a depth of 240cm, it's a large sun canopy that will provide a good deal of protection from the elements. Whether you choose to connect it directly to the caravan, or to your existing awning, it's a sturdy canopy that weighs just 4.5kg when it's packed down.
One thing to note is that upright poles and roof poles are not included with the canopy, but will be required during the setup. The canopy itself comes with 4 plastic eyelets and a storage bag.
Isabella Shadow Lightweight Caravan Sun Canopy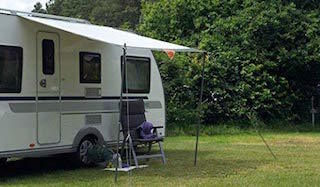 The Isabella shadow sun canopy gives you shade wherever you need it. This can be quickly installed and set up in a matter of minutes. It can be mounted on to the caravan itself or can also be used as a side canopy on the awning
This canopy gives you excellent shelter and protection against the sun while it has stable poles which allow it to maintain tension to provide the ultimate stability. The canopy comes in a range of sizes to meet your needs depending on your desired use or the number of people that will be using it.
The product comes complete with a Typhoon storm securing set, transport bag and pole bag.
Wild Earth Universal Sun Canopy
This sun canopy from Wild Earth is designed for use with caravans, campervans, and motorhomes of all varieties with an awning rail attached.
It's made from ripstop polyester and is extremely durable in the face of any dubious British weather. The total coverage is 7.2 square meters, an impressive area that can keep a small family shielded from the sun or rain.
The best part about this sun canopy is that it comes with everything you'll need to get started. Including guide-lines, aluminium pegs, the canopy itself and a handy carry bag for when it's not in use.
It certainly looks sleek when its set up, and it offers great protection at a reasonable price.
Eurotrail Caravan Camper Bus Awning Fjord Sun Canopy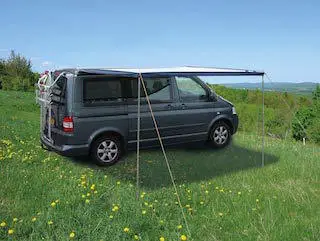 This sun canopy is better suited if you have a camper van or a smaller sized caravan.
The sun canopy comes with a carry bag for when it's not in use, while the canopy is made from high-quality All-Weather Tex 2.0 which is PU coated which makes it Rot-proof, tear-proof and waterproof so it can be used in a range of weather conditions.
The adjustable poles mean that you can change the height depending on the size of your campervan. Once correctly set up, the canopy will have a length of 260cm and a depth away from the campervan of 240cm.
Your package will include:
1 x Eurotrail Fjord sun canopy, including:
 Carry bag
 Three upright steel poles (adjustable length of up to 240cm)
 One rain gutter pole & 3 clamps
 Guy ropes
 Pegs
What To Look For In A Caravan Sun Canopy
Looking for the best sun canopy for your caravan?
Here are a few of the factors to consider:
Sun Canopy Size
The size of your desired sun canopy is vital because this will determine how many people can sit under it and enjoy its benefits. If you have a big family, then you will need a larger sized sun canopy, whereas if you're just a couple, then a smaller sized canopy will be sufficient.
The size doesn't just refer to the height and width but also how far forward the canopy extends. The larger this extension is, the more sun protection you will experience.
Is It Easy To Set Up?
The last thing you want to do is to arrive at your caravan park and spend hours trying to set up your caravan groundsheets, flag pole and sun canopy. You can remove this potential frustration and choose a sun canopy that is quick to set up.
One common way is that the sun canopy can be effortlessly attached into the edging strip of your caravan during the setup. Higher quality sun canopies will often be easier to set up or have a well-detailed user manual to help you along the way.
Good Brands
Several brands manufacture sun canopies, and it's a good idea to choose a brand that has been established in the industry with many people that trust their products.
A couple of the top brands we can recommend are EuroTrail and Sunncamp.
Their products are much loved by the caravanning community and they have practicality at the heart of what they offer – as well as good value.
Well established caravan brands are more likely to make an effective product because they're more likely to understand the issues that everyday caravanners experience and create a product to address them.
Price
Sun canopies come at a range of price points with the more expensive brands coming with additional features such as quick set up. 
You should set a budget and stick to it; however, just buying the cheapest option will have some obvious downsides because they may only last one season of caravanning. In contrast, a higher quality sun canopy will be built to last several years without damage saving you money in the long run. 
Portability 
There's no use having a fancy sun canopy if it's hard to transport, so you should choose a sun canopy that is easy to pack into a small carry case that you can fit onto your caravan. This makes it easy to bring with you without having to sacrifice other items that you want to bring with you. 
You should ensure that your desired sun canopy comes with a carry case which means you can store it away from sight easily when it's not in use.
Fabric
In the summer months, the sun can be dangerous if you're exposed to it for too long. It's essential to understand the fabric that's used for the sun canopy and ideally, it should have some form of UV protection to block rays.
Also, strong material will be able to shield you if it begins to rain, which – let's face it! – is more than likely if you're holidaying within Britain. 
Durability
A durable sun canopy is a reliable sun canopy. With typical British weather, there's a strong likelihood that there will be some wind or rain and it needs to be able to withstand this without ripping or falling.
A durable sun canopy also means that it will be long-lasting so you will need to replace it less frequently. Some canopies will only be for fair weather usage so you should check whether they are designed to be used in more windy conditions.