There will come a time when you have all the essentials needed for your caravan. However, many optional accessories will make your caravanning experience better – particularly if you extend your awning and want to enjoy a nice outdoors space.
One of these accessories is a breathable groundsheet, and although it isn't a vital necessity, there are many reasons why you'd want to add one to your caravan setup.
In this guide, we run you through the best breathable awning groundsheets. We look at the top options from popular brands like Kampa and RedCamp, and why investing in one of these groundsheets will make a big difference to the comfort (and cleanliness) of your awning.
What Are The Best Breathable Awning Groundsheets?
MP Essentials Breathable Awning Groundsheet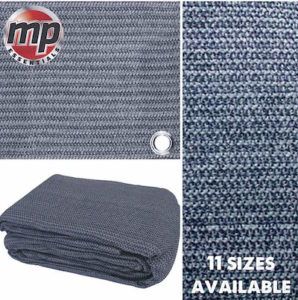 The Supreme Awning is available in 11 different sizes so you're sure to find one that will snugly match the size of your awning. This isn't just suitable for awnings but also motorhome annex, tents, marques and gazebos.
The awning carpet is excellent for keeping your feet warm when it's placed onto the grass, and it's also breathable and eco-friendly. The groundsheet brings a piece of luxury to your caravan holiday, and it has a tight weave pattern that acts as an effective barrier to insects and worms.
It requires little maintenance and is easy to clean while also being durable so you can expect it to last several years and trips. Even in the worst conditions, it is rot and weatherproof plus it comes with a storage bag so you can keep it in a small place when it's not in use.
OLPRO OL693 Oltex Breathable Awning Groundsheet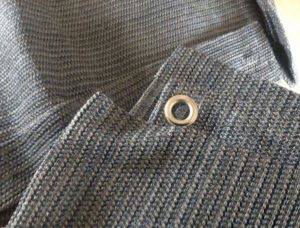 OLpro is a well-established company despite only being around since 2012 however they have stamped their mark on the industry with their founders having over 30 years experience within the sector which has resulted in high-quality camping and caravanning products.
This OLTex carpet is both lightweight and breathable, making it ideal for caravan awnings. The material used is also easy to clean and rot proofs, and caravan park owners will permit the use of it. The groundsheet is also flame retardant and UV resistance giving you safety all year round regardless of the weather conditions. 
For added versatility for your awning, you have the choice of several sizes. Due to the lightweight nature of the product, it's easy to transport and get into place before you pitch up your awning. When you're finished using it you just simply pick it up and shake it without the need for any sweeping.
RedCamp Waterproof Camping Tarp Groundsheet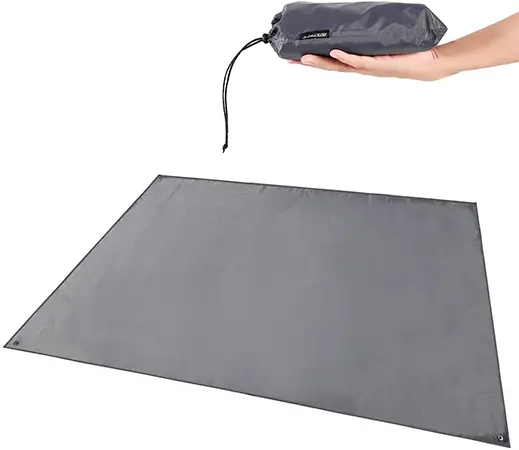 This camping groundsheet is a popular multi-purpose tarp that can be used in a variety of situations, including as a protective layer under your awning setup.
It's truly multi-purpose and can be used as a hammock shelter, tent groundcover, ground sheet, a canopy for shade or as a protective tarp against bad weather. It's supremely portable, as you can see in the way that it packs up above.
It's also available in a variety of sizes – including 90cm, 140cm, 180cm, 210cm, 240cm, 270cm or 300cm.
The sheet is fully waterproof, as you'd expect, and is tough enough to handle whatever poor weather the Great British "summer" decides to throw at it.
A worthwhile investment for anybody who goes on regular caravan or camping trips and wants to invest in a suitable awning setup. Best of all – it's super cheap!
Kampa Easy Lock Floor Tiles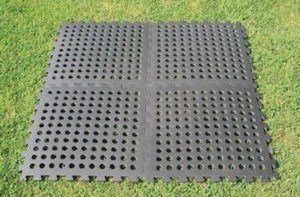 The Kampa easy lock floor tiles provide you with added flexibility to combine any number of tiles for your desired size. This is ideal, for example, if you use these at home for your children play area but then also want to use them for your awning when you're caravanning with each tile measuring approximately 50 cm x 50 cm (52 x 52 cm with connecting teeth)
The tiles have a non-slip finish for added safety and are cushioned with gives extra warmth. They are durable and hardwearing plus are rot-proof even when exposed to the muddiest weather.
The floor tiles are suitable for both indoor and outdoor use and can be laid on both hard and soft surfaces, making them very versatile for a range of environments. The tiles have holes which means that grass can still breathe and grow, so you limit the damage you cause.
Paradise Padded Groundsheet Awning Carpet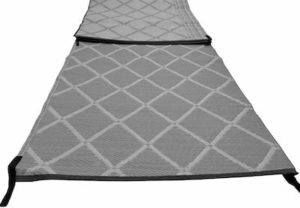 The Paradise awning groundsheet measures 2.5m by 6m and is strongly woven to provide warmth even if you're caravanning throughout the cold winter months of the year. It also means that your feet are protected from any grass or insects that may be present on the ground, which overall improves how comfortable your caravanning experience is.
We all want to caravan in style, and this groundsheet is one way to get closer to that. Its use isn't just limited to awnings but also Tents, Motorhome Annexes, gazebos and Marquees.
The product is high quality so you won't be disappointed in that respect and you can happily walk around bare feet because it's that cosy.
What Is a Breathable Groundsheet?
Now you've probably seen a traditional groundsheet, which is essentially a piece of material that sits between the ground and your feet. It is commonly found in awnings or tents to provide extra protection for your feet.
A breathable groundsheet is an upgrade on this and is constructed using breathable materials which allow the grass and ground beneath to breathe as still. With traditional groundsheets, this can starve the grass of nutrients that it needs to live.
Although being at a campsite for a few days might not do any damage, the cumulative effect of hundreds of caravan awnings using the same plot day after day eventually has a negative effect. It will make it hard for the landowners to maintain healthy-looking grass.
When you first arrive at your caravan pitch, it will be the first thing that you peg into the ground ahead of you pitching up your awning. You simply need to peg in each corner of the groundsheet. 
Types of Breathable Groundsheet
Easy Lock Floor Tiles
These come in the form of multi-purpose flooring tiles where each tile locks to another, which creates a seamless surface that can be used indoors and outdoors. These are usually EVA tiles and create a non-slip and cushioned surface which is also good at retaining warmth. 
It gives you the flexibility to create your combination of tiles and design in relation to the area you have to fill. These tiles can be used on both hard and soft surfaces while they are also extremely durable and rot proof so you can expect them to last a considerable time before needing to be replaced.
Fleece Carpet 
If you're aiming for a cosy feel in your awning, then a fleece carpet could be the best fit. It's constructed using a soft flannel so you'll feel at home and the flannel also adds another level of insulation from the cold ground.
The carpet is slightly different from what you'd find in a residential home as it is backed with heavy PVC, so it's easy to clean. 
Footprint Groundsheet
A footprint groundsheet doesn't quite have the benefits of a breathable groundsheet but does provide you with the basic insulation while also protecting from the wear and tear even in muddy conditions. These types of groundsheets are usually much cheaper with the average being under £20.
Cushioned Groundsheet
The cushioned groundsheet is excellent if you want to extend the living space of your caravan into your awning. This type of groundsheet is slightly more expensive than standard groundsheets but gives you a more homely feel while protecting your feet from the ground and grass. 
Benefits of a Breathable Groundsheet
There's a few good reasons why you'd want to invest in a breathable awning groundsheet:
Increases the life of your awning
The breathable groundsheet sits underneath your awning, which brings a greater level of protection as it stops invasive insects and plants such as thorns from piercing through. The groundsheet also provides additional protection from abrasion when your awning is placed on to the hard standing ground.
Makes it easier to pitch awning
When you first arrive at your plot, the groundsheet will be the first thing that you pitch before your awning goes up. The size of your groundsheet needs to match the shape and size of your awning. This means that once you have your groundsheet in place, it's easier to follow this shape as a guide to know where you need to pitch the awning.
Keeps out bad weather and damp
As well as protecting against insects, a groundsheet will give you extra protection against the weather. For example, if there is a significant rain downpour, this will stop muddy water from getting into your awning due to the layer of protection that the groundsheet provides.
Cleaner Environment
If you've ever put up an awning without a groundsheet, then you'll know how muddy it can be. Usually, you'll need to get on your hands and knees to roll it out, leaving your will dirty hands and knees. If you have a groundsheet, then you can use this layer to cover the ground and unroll your awning in a cleaner environment. This is especially ideal if it's a rainy day.
Gives You Liveable Space
Usually, your awning wouldn't be a living area, but with a groundsheet, this can convert this space into a liveable space. Often, with no groundsheet, your awning would expose your feet to the ground and grass, but by using a one, this gives you an added space to store your belongings in a cleaner environment.
What To Consider When Buying Awning Groundsheets
Fabric
As you can see from the different types of groundsheets, the fabric of the groundsheet you choose will be determined by your needs. If you're looking for a strong insulator that retains heat, this will be different from a groundsheet that needs to have strong waterproof qualities. 
Price
Different groundsheets will have different selling price, which will be determined mainly by the brand, size and the materials used. Often the higher quality groundsheets will cost more so it's better to invest a little more because they will usually have a longer life as well before needing to be replaced.
Size
If you're buying a breathable groundsheet for your awning, then you'll need to make sure that it's of adequate size. If you buy a groundsheet that's too small, then you'll have patches of exposed grass in your awning so insects can still get in.
Portability
When you're travelling with your caravan, space is going to be limited so you need to ensure that your chosen awning is portable and can be folded up into a compact space so it can be transported without taking up a lot of space.
These tiles have many other uses including pathways, gazebo flooring, caravan awnings, tent flooring, marquees, pool surrounds, emergency flooring, children's play area, garden sheds, greenhouses, sports/gym flooring, boot/ski room.