Going on your caravan holiday is something you look forward to, and you'll probably have holiday clothes that you're bringing with you. We always have that one thing that we forget to bring with us that we only remember once we've arrived at our destination.
Caravan hangers allow you to properly organise your closet when it's time to store them away after using a caravan clothes airer. They might not be at the top of your item list, but without them, you'll end up having piles of clothes or living out of your suitcase for the remainder of your holiday.
Hangers will also stop your clothes from creasing, which will save you the job of having to iron your clothes each day. Luckily, we've created this guide to show you the best caravan hangers and the factors you need to consider because not all caravan hangers are equal, and some will make your experience much better than others.
HANGERWORLD 6 Black 40cm Plastic Foldable Travel Hangers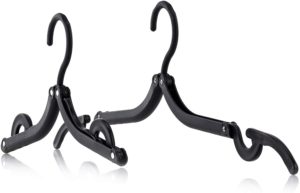 Coming in a pack of six these hangers are foldable which can halve their size, giving it great space-saving benefits. Once you open them out, you can then hang your clothes up, but this folding mechanism doesn't make them lose strength and their ideal for hanging shirts, blouses, t-shirts and jackets.
The hangers are built with shoulder notches so garments with straps can fit more securely and to use the hangers you just simply unfold and they're ready to go. These hangers are great for caravanning where you might have less storage space or a smaller sized wardrobe.
The hangers have extended dimensions of 40cm (16″) wide and folded dimensions of 8cm x 13.5cm (3.1″ x 5.3″) approx. They're available in packs of 6,12 and 18 and the more you buy, the cheaper they are per hanger.
AOLIGEI 10pcs Magic Clothes Hangers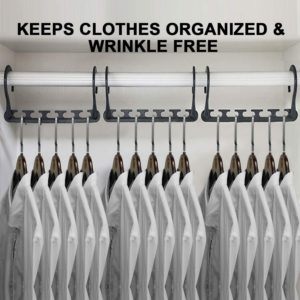 This clothes hanger is a unique solution for caravan clothes storage as each hanger is an organiser that can hold up to 5 pieces of clothing which give you amazing space-saving. The hanger is made from durable plastic that gives it a longer life and plastic will never rust.
If you're worried that you don't have enough space in your wardrobe, then these magic hangers are ideal because you can save 80% of space which also makes it cleaner and easier to manage. The wardrobe space saver is ideal for hanging all types of clothes, including heavy coats, suits, jeans, sweaters, shirts, etc.
The hanger has a card slot that stops garments from slipping and also ensures that the hangers are evenly balanced in weight while also keeping your clothes wrinkle-free, so it's less likely you'll need to iron your clothes before wearing.
The hangers also have a reinforced hook giving it greater load-bearing capacity. Each hook works independently so even if one breaks, you can replace it. With each purchase, you're also provided with a 100% money-back guarantee in the event that you're not fully satisfied with your purchase.
SONGMICS Space Saving 30 Pack Coat Hangers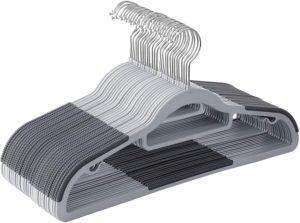 If you dream of having your caravan wardrobe looking neat then this could be the product for you. These hangers allow you to hang up your favourite clothes with ease and comes in a pack of 30 so you don't have to pick and choose which products can be hung up.
Are you annoyed at having hangers that your clothes constantly slip off? These hangers also have non-slip rubber pieces that work as grips so your clothes won't slip off.
The hangers have a space-saving design so you can hang more clothes in the same space. Despite their relatively thin design, they have a heavy-duty construction which means they can hold up to 5kg of weight per hanger, so even those heavy jumpers and coats aren't a problem.
Each hanger has two small hooks on the side, a central bar for ties and a 360-degree swivel hook.
JVL Premium Range Velvet Touch Thin Space Saving Non-Slip Coat Hangers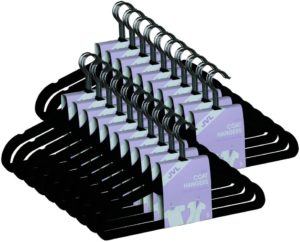 The premium JVL hanger is extra thin, which are designed to be lightweight and space-saving to maximise the clothes storage area in your caravan wardrobe. They are still strong, so they can hang any piece of clothing from coats and jeans to shirts and blouses. The hangers have no sharp edge, which means that they will not damage any clothes that you hang.
Its velvet touch feel means that your clothes won't slip off while also making them feel high quality, while there are also notches on the shoulders to stop dresses from slipping off the hanger. This also allows you to hang skirts.
There's also a small bar at the top of each hanger that's great for holding a tie/belt, so you don't need to buy a separate hanger.
At the top of the hanger is a hook which has the ability to swivel so you can easily change the direction of the hanger, but the swivel is firm enough to not turn unless you mean to.
SONGMICS Velvet Ultra Thin Space Saving Hangers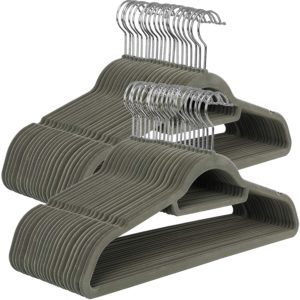 These Songmics hangers may not be specifically designed with caravans in mind; however, their design makes them great all the same. The hangers are built using ultrathin technology, and their thickness is just 0.6cm, which takes up considerably less room than a standard hanger.
Despite this ultra-thin design, they're still durable, and the design mimics the natural curvature of human shoulders, which means your clothes hang in a more natural position.
The hangers also have high quality flocking which heightens the friction between the hangers when they come together, which stops your clothes from slipping off.
The hangers have a swivel hook which has a 360-degree rotation and is chromium-plated adding extra functionality and durability. There are U-type grooves built into the hanger, which makes you able to hang dresses, skirts and vests without them falling off. If you have smaller items such as ties or scarves, then they can be hung on the top rail of the hanger.
Types of Caravan Clothes Hangers
It may seem like every clothes hanger is the same, but this isn't the case. Just like any type of product or item, there are many different types available to suit your needs and are made for specific purposes.
It's important that you get the best hangers for a caravan and we'll explain the different types that you can choose from.
Wooden Hangers
Wooden hangers have a high level of strength which means they can support the weight of heavy clothes. This makes it great even more jackets and coats whilst they also have a natural wooden look and colour which looks great for your caravan interior.
Wire Hangers
Wire hangers are lightweight and are constructed using thin metal which is then coated in plastic. This type of hanger can only hold lightweight clothes because they aren't are durable, however, because they are plastic coated, it means that they won't stain the clothes. They are generally low cost and easy to use.
Plastic Hangers
Plastic hangers are the most common type of hanger that you've probably got in your home. Generally, they're fairly strong, which means they can support the weight of most types of clothes.
Depending on the brand of plastic, they vary in how long they will last for, but generally, they'll need to be replaced at a later time when they become fragile and weaker. Plastic hangers are available in many different colours and shapes, so you have the opportunity to tailor the colour to your specific desires.
Clip Hangers
Likely, you may not have come across clip hangers before. They have a horizontally aligned structure which has clips connected to it. This allows you to secure your clothes in a position which is important if you're in windy conditions.
Metal Hangers
Metal hangers are one of the toughest types of hangers available, and although they may not be the best aesthetically when it comes to performance, they are one of the top-performing options. They lose shape at a much slower rate which means you can use them for longer, so you save money in the long run.
Multi Hangers
Multi Hangers are designed so you can all your clothes on one rack with the main benefit being that you can save a load of space which is even more critical when you're on a caravan where space is at a premium.
Heavy Duty Hangers
If you have heavy clothes, then a heavy-duty hanger may be the best option. It also means that you can hang more than one piece of clothing on these hangers because they'll be able to handle the added weight.
This is only recommended if you have a lot of coats, jackets and other heavy clothes because these hangers will take up more space and be heavier than other options.
Buying Guide
Now you know the different types of hangers you now need to understand that essential factors that contribute to having an effective hanger that suits your needs.
Quality
Quality is a very important factor because having high-quality hangers will mean that they last longer and will need to be replaced less frequently, which saves you money in the long term. Higher quality hangers will be made using higher quality materials; however, this can often increase the selling price, but it's often better to spend a little more on a product that will last.
Size
The size of the hanger is important because you need to ensure that your clothes will fit on the hangers. It's also crucial because you need to ensure that they can fit into the caravan wardrobe. After all, if you have a small-sized wardrobe, you still need to be able to shut the door.
For most people, standard-sized hangers are more than adequate unless you have some unusually sized clothes.
Functionality
Caravan hangers have come a long way, and now you have options which can fold down to save space. This means that they're more portable and easier to carry with you on your travels which also allows you to take more with you to give you more hanging capacity.
This added functionality will usually add a premium to the cost compared to a standard hanger; however, this added functionality gives you more benefits which are worth paying for.
Price
Price is an essential matter for everyone because with hangers you won't just be buying one or two. Hangers usually come in multipacks where the more you buy, the cheaper they'll be per unit, but you should also not get drawn in by this because it can cause you to buy way more than you need.
The price of your hangers will be affected by several factors such as the brand, material and the number of hangers.