If you're going on a caravan trip that's going to last more than a couple of days, then you're going to need to wash your clothes. Space is limited in a caravan, so you'll want to dry your clothes as quickly and cheaply as possible.
Unfortunately, the British weather doesn't always want to cooperate!
There are several different ways to dry your clothes indoors, but we've found that using a caravan clothes airer is the easiest way as you can just hang them up and go about with your day. However, not all clothes airers are designed well – and some will do a much better job than others.
In this guide, we take a look at the best caravan clothes airers for drying your clothes on the go. We'll also check out some of the best portable washing lines, ideal for hanging your clothes up outside if the weather is good.
Let's get to it…
Best Caravan Clothes Airers
SONGMICS 2-Level Clothes Airer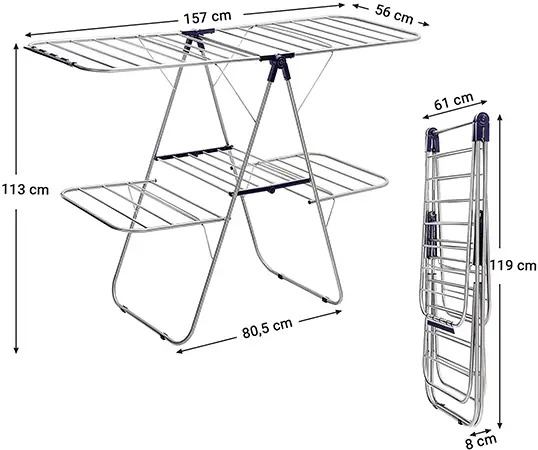 This clothes airer from SONGMICS is a practical and effective solution to drying your clothes. It has a total of 33 rails across two levels which equals a total of 22 m of drying space. It also includes 27 sock clicks, so your socks won't be blown off or dislodged.
The airer also has adjustable wings so you can change the height meaning that you can dry clothes that are long in length of bed linen without having to bunch up the fabric. The airer is made mostly from stainless steel that gives it a durable nature – and won't be easily blown over if you have it outside.
Stainless steel is rust-resistant, which means that you can dry soaking wet clothes without the fear of damaging the material. This is a good choice for anybody wanting to dry clothes in their caravan or motorhome.
Minky 3 Tier Plus Indoor Airer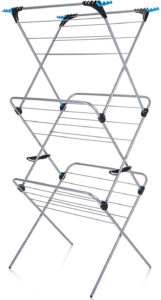 This is Minky's best selling airer which features three tiers and 21 metres of drying hang space including four flip-out corners that allow you to hang and additional 12 items of clothing – which is great if you have items that have a long length.
The design promotes effective airflow so your clothes will dry quicker.
The airer is made from strong steel which also keeps it secure and stable even when it's fully stacked with clothes. The airer can be locked into position using its double-sided auto-lock mechanism that clicks securely into place. This also provides more safety, which is important if you have young children in your caravan. When not in use it can be folded away very compactly so you can move it away from view.
Minky Freestanding Indoor/Outdoor Airer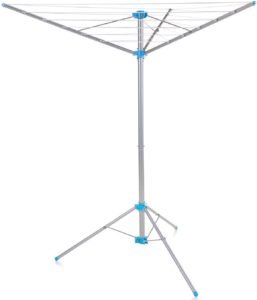 The Minky Freestanding Indoor/Outdoor Airer provides an alternative to the normal clothes airer, making it great for caravanning. The airer brings 15 metres of hanging space while also having a sturdy base to give it extra strength – not only for holding large loads of washing, but also ensuring that it doesn't blow over in windy conditions.
The airer has a strong steel construction that doesn't require any drilling to get into position and has moulded joints which provides extra strength. When you have finished using it, you can simply fold it down compactly so you can store it in small spaces.
The airer is easy to assemble and has an easy lock system that clicks into place.
If you're expecting some good weather, this could be a very useful airer for drying your clothes.
Hyfive Clothes Airer Drying Rack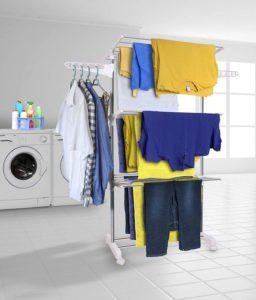 The Hyfive clothes airer provides you with up to 20 metres of drying space, allowing you to dry huge loads of clothes. It has been designed to hold the maximum possible clothes without consuming much floor space, which makes it great for indoor caravan use.
The airer is broken down into tiers, with each tier folding for easy storage when it's not being used. It takes just a few seconds to assemble and is also fitted with caster wheel, so you make a move position with ease. Each wheel has a locking brake so you can fix it into position.
The airer is constructed using high-quality stainless steel and durable plastic which means that the airer is built to last. A very well constructed airer, albeit a larger design that might be a bit cramped in smaller caravans.
Bakaware A10 Caravan Airer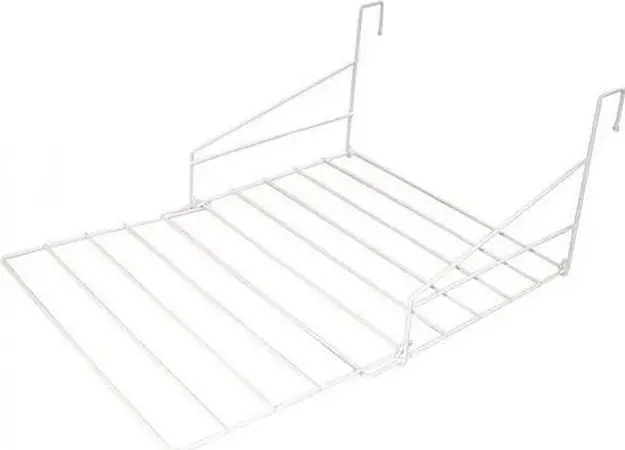 The Bakaware folding utility airer is ideal when space is more limited, or you don't have a lot of clothes to dry. This is constructed using powder-coated steel which makes it durable and robust. The airer has two hooks which means that you can hang it in a range of places around your caravan such as doors, awning poles, radiators or chairs.
You can be very creative with this, and you can create a horizontal drying rack almost anywhere.
Despite its size, it provides up to 6 metres of drying space, and it's easy to wipe down clean. Its lightweight nature makes it easy to move into position when you're ready to dry your clothes. When you've finished using it, you can fold it down to save space.
Best Caravan Washing Lines
If you don't have space for a typical airer, all is not lost.
You can still dry your clothes using a washing line, a simple but environmentally friendly way of getting the same job done.
Go Travel Pegless Clothes Washing Line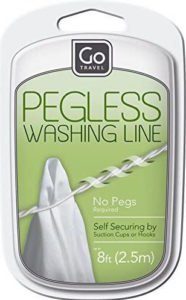 If you're more of a washing line kind of person, then this lightweight line is the choice for you. It has rubber suction cups at each end of the line so you can hang it almost anywhere as long as you have a hard surface.
This washing line needs no pegs, and you secure your clothes to the line by using its unique twist design. The line measures 2.5 metres in length to give you a generous amount of drying space. This line is great if you don't have the space to store clothes airer and you don't even need to take pegs with you.
Perfect for camping trips, caravanning or just about any adventure that requires some off-site washing!
Solotrekk Multi-Fix Pegless Travel Clothes Washing Line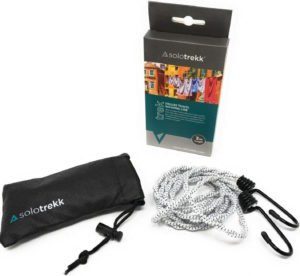 Pegless washing lines are the ideal choice if you're caravanning and space is already at a premium. This is a high-quality clothesline, and you have two choices about how to suspend it; either using the included suction cups or using hook attachments.
The removable suction cups allow you to attach it to flat surfaces such as mirrors or glass whereas the hooks can be attached to clip onto a fixed object or you can even wrap it around objects. The washing line has a total length of 2.5 metres.
EpicTraveller Travel Pegless Washing Line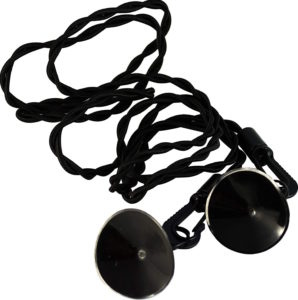 The EpicTraveller washing line is another pegless solution, and all you need to do is push your clothes between the twines, and they are secured into place. The washing line is 1.25 metres long but once stretched, can be up to 3 metres to fit your laundry needs. When it's not in use, it goes back to its unstretched state where it takes up less space, so it's easier to store while it only weighs 29 grams.
The washing line can be set up in just a few seconds with each end of the line having suction attachments so you can easily plant it to surfaces.
Another great primitive but effective airing solution for camping or caravan trips.
How to Choose a Clothes Airer For Your Caravan
Here are some factors you will want to consider in a clothes airer for your caravan or motorhome:
Heated vs Non-Heated
Times have changed and having to settle for a non-heated clothes airer is no longer an option. Heated clothes airers are now available which require electric and provide a similar drying method to a normal radiator.
Not only will this dry your clothes quicker but it won't come at a high cost with some being as little as 4-5p per hour to use. Sometimes a non-heated clothes airer is not fit for purpose such as when it's too cold or wet to hang them outside.
So this means that you can quickly dry your clothes indoors. However heated clothes airers will be more expensive to buy compared to standard airers, but they're still considerably cheaper than other electrical drying methods such as tumble dryers.
Using heated clothes airer will give you greater flexibility because it means that you could wash clothes late at night, hang them up and wake up in the morning to completely dry clothes. This saves you a lot of hassle and time that you can spend doing more fun things because you're on holiday after all.
This is not to say that non-heated clothes airers aren't good because they definitely have their advantages. They can be used both indoors and outdoors and you can switch between the two if the weather changes. If the weather isn't good, clothes can take a while to dry, and you may have to periodically rotate and turn your clothes to make them dry quicker.
Non-heated clothes airers are also very cheap to buy and don't have any ongoing running costs. They come in a range of sizes, and the largest ones can hold a large volume of clothes while also being designed to aid air ventilation to dry your clothes.
Another alternative is using a towel rail however space will be more limited especially if you're using a portable washing machine to clean a large volume of clothes.
Material
The material of your clothes airer is important because you want to have a clothes airer that will last several years without needing to be replaced. So it needs to be made of durable, strong materials that can not only take the regular weight of clothes but also of the weather conditions if you plan to use it outside.
The material that it's made of is also important because ideally, you need lightweight materials so that you can easily move it into position when it's time to use. Small things like this make it easier to use and won't leave you sighing every time it's time to dry clothes.
Ease of Use
Ultimately, no matter what type of product you buy, you want something that is easy to use and won't leave you feeling frustrated, and this is no different from a clothes airer. You should pick a clothes airer that has easy to use mechanisms and latches so you can quickly get it into position.
Also the best caravan clothes airers don't need assembling once you receive them and can be used straight out of the box, which is especially the case for non-heated clothes airers. A great way to understand how easy an airer is to use is to read reviews from users who have previously bought the product.
Price
Different clothes airers will vary in price, and many different factors will determine this. The main factor will be whether it's heated or non-heated with heated being considerably more expensive. The size of your airer will matter, with larger airers costing more.
The price will also be affected by the brand because higher quality brands that have been around for many years will often have higher selling prices than brands that use lower quality materials and have poorer workmanship.
Non-heated airers are relatively cheap, so in most cases, there won't be anything stopping you buying the best option on the market. However, we always suggest that you have an initial budget as this will help you make a more speedy decision as there will be fewer options for you to pick from.
Size & Weight
In a caravan where space is limited, you'll always need to understand the size and weight of every item that you bring on board. You need to understand the size of your airer is important in both folded and unfolded state. When it's folded, you'll want it to be small in size so you can easily hide it from view whereas if you plan to dry indoors, you need to ensure that you've got enough room for it to be used.
Airer Capacity
The capacity of a caravan clothes airer plays a huge part in determining how much washing you can dry at the same time. It's normal for heated clothes airers to have a large drying capacity; however non-heated clothes airers are usually larger, but you have a wider choice of which sized airer is best for you.
With some, you'll have enough to dry a whole load of washing whereas others will only allow you to dry a few bits of clothing at a time. The size of your caravan airer will largely define the capacity. Before you go out and buy a large capacity airer, you need to ensure that if you plan on drying indoors, that you have the space to use it. Once your clothes are dried, you'll need caravan hangers to store them away.
Warranty
Like any consumer item defects can develop, which can stop them performing as they should. One way to give you peace of mind is to ensure that your product comes with a warranty that will make sure that if any faults occur then the manufacturer will offer you help.
You can initially decrease the chances of purchasing a product that may develop a fault by sticking to the best clothes airers that have built up a reputation and strong customer review base made up of happy customers.