Caravans bring you the freedom to explore the world, but it's also important to remember that you need to stay safe. There is always the chance of danger, and one of these dangers is fire, and because caravans are generally smaller in size compared to homes, the damage caused by fires can be quicker and more devastating.
For this reason, a fire extinguisher is a necessary item and shouldn't be viewed as optional as it could save your life one day. We've reviewed the best caravan fire extinguishers available so you can always be prepared in the event especially if you're a regular caravan hob or caravan BBQ user.
AA Fire Extinguisher 950g Bsi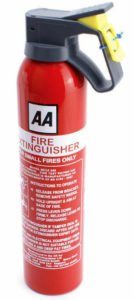 The AA Fire extinguisher is sized perfectly for caravan use with a capacity of 950kg and a total weight of just over 1kg it makes it extremely portable and manoeuvrable so people of all ages can use it due to its lightweight aluminium body.
The extinguisher is UK Manufactured and is suitable for small fires of B and C fire classifications. This includes flammable gas, flammable liquids and electrical risks). However, it is not ideal for use on class A and deep-fat fires.
Not only is the extinguisher easy to carry, but its controlled discharge is simple to operate. It also has a plastic fixing bracket so it can be mounted into a more convenient wall position for added safety. The extinguisher has a discharge time of 9 seconds and a total discharge rage of 2-3 metres.
In terms of safety regulations, the fire extinguisher is BSI kitemarked to BS 6165:2002 and manufactured under BS EN ISO 9001:2000. The product also comes with a five-year warranty if any defects develop with the product.
FSS UK Plus 1 KG ABC Dry Powder FIRE Extinguisher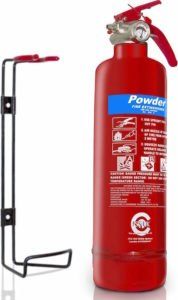 This 1kg compact powder fire extinguisher is ideal for small fires making it best suited to caravan use. It has an inbuilt pressure gauge for greater performance, and it is fully CE marked as it's acknowledged as being safe for use within the UK and it's built to EN3 British standards.
This fire extinguisher is also supplied with a five-year manufacturers guarantee to give you added peace of mind. It also comes with a fixing bracket so you can easily mount it to a wall to make it more accessible in the event of an emergency.
It isn't just limited to use within caravans but is also suited for Homes Kitchen Workplace Offices Cars Vans and taxis.
The fire extinguisher is also compact and lightweight but also feels sturdy and reliable, making this a product you can trust.
UltraFire 1kg Powder Fire Extinguisher

The Super Help fire extinguisher allows you to quickly and effectively treat fires that may happen in your caravan or any other types of small spaces.
It's easy to store in your caravan due to its small and super lightweight size. It's supplied with a bracket to secure it in place to a wall or in a cupboard.
Super Help manufacturer their products and equipment with non-toxic, environmentally safe and ozone friendly materials. So, by choosing Fire Stop, you are not only protecting yourself but also the planet.
The fire extinguisher is easy to operate even in the panicked event of being faced with a fire. However, due to its 400ml capacity, it's best suited for small fires, but it will provide you with enough time to then alert the emergency service.
Super Help SH2400 Fire Stop Small Fire Extinguisher

This UltraFire 1kg extinguisher is a stored pressure, multi-purpose dry powder fire extinguisher which is also fitted with a pressure gauge to deliver high performance.
The extinguisher is manufactured for use on Class A, B and C fires and also comes supplied with a handy bracket to you can easily mount it for easy access. The extinguisher has a seven-second discharge time and also is provided with a five-year manufacturers warranty in the rare event that any faults develop.
The 1kg of powder means that it can effectively be used on fires that could occur within caravans. These types of fire extinguishers that use powder prevents the chemical reaction occurring during the combustion process, which leads to a more effective fire reduction.
The extinguisher is also CE marked and Kitemarked to BS EN3-7 to signal that it has passed all the relevant safety standard tests and is safe to use within the UK.
FFS Fire Safety Pack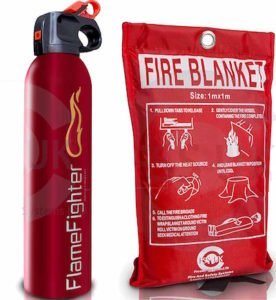 To give you added safety, the FFS fire safety pack comes with both a fire extinguisher and fire blanket. Both are ideal for caravans, and the extinguisher has 500g of dry powder making it best suited for small fires and uses a unique formula that needs to be sprayed onto the base of fires to stop them spreading.
The caravan fire extinguisher is supplied with a bracket that allows you to position it on the wall, so it's better accessible.
The included fire blanket also gives you another way of tackling any fire breakouts or for example if you fully empty the extinguisher but are still faced with the threat of a fire — the blanket measures 1mx1m which is a significant size in the compact space of a caravan.
You never want to have to use your fire extinguisher, but by buying the best caravan fire extinguisher, you can ensure that you're always prepared.
Caravan Fire Extinguishers Buying Guide
Class
Not all fire extinguishers are made for the same purpose because there are five different types of fire, with each extinguisher being able to deal with different types.
Caravan fire extinguishers will usually be able to fight a combination of classes which means that can be used for different types of fires.
Fire Classes
Class A – Ordinary combustibles such as wood, paper, rubber, fabric or plastics.
Class B – Flammable liquids and gasses, including gasoline, oils, paint, lacquer and tar.
Class C – Fires that involve live electrical equipment.
Class D – Combustible metals and metal alloys.
Class K – Fires in cooking appliances that use combustible products such a frying oil.
It's essential to check the label of your desired fire extinguisher to see the types of fires it can be used to tackle. The last thing you want to do is think you're safe by having an extinguisher and then having a fire and not having an effective solution.
Size
You need to consider the size of your intended fire extinguisher because space in a caravan is naturally limited. Ideally, you want it to fit into a small space, whether this is in a cupboard or mounted on a wall.
You also need to consider the weight of it, especially if you have elderly people in your caravan who may find a heavier fire extinguisher harder to lift and use.
Capacity
You also need to understand the capacity of the fire extinguisher because the volume of the extinguisher agent will inform you of the fire area that it can cover. For example, 1lb of fire extinguishing agent can treat around 100 square feet.
Ease of Use
Your fire extinguisher must be simple and easy to use, so people of all ages can be trained for proper discharge, whether this is young children or the elderly.
Rechargeable
Ideally, you should purchase a fire extinguisher that can be recharged. This means it can be refilled with more agent after use. If it can't be recharged, then you either have to buy a new extinguisher, or it may need to be professionally refilled.
Brand
There are several different brands available, but the most important thing is that they are approved by the relevant authorities to manufacture fire extinguishers. This will usually be obvious by a CE mark which will be on the exterior of the fire extinguisher.
Warranty
The best caravan fire extinguishers by the best brands are extremely reliable and to give you added peace of mind, they'll often be supplied with a warranty that entitles you to a replacement if for whatever reason your current unit stops working. Warranty lengths can vary depending on the manufacturer but on average will last 1-5 years.
Mountable
Ideally, your fire extinguisher should be mounted on the wall. This is so that it's easily accessible in a fire and so other can easily find it for example if you have friends over they may not be able to find it if it's stored away in a cupboard.
How to ​Use ​Your Caravan ​Fire ​Extinguisher
The acronym PASS is a great way of remembering how to use your caravan fire extinguisher. P.A.S.S stands for pull, aim, squeeze and sweep.
P — Pull the pin which is fitted to the top side of the fire extinguisher.
A — Aim the nozzle at the base of the fire, avoid pointing at the flames as this will be less effective.
S — Squeeze the handle or extinguisher trigger and stand around 8 to 10 feet away from the fire.
S — Sweep the extinguisher fluid from side to side at the base of the fire until it has completely stopped.