Just because you're on the road doesn't mean you have to eat cold meals and starve. When it comes to cooking, the first thing that heats up in a caravan is usually the argument about who has to cook and who gets to drive.
Well, cooking is a lot easier if you've invested in a suitable caravan cooker!
Caravan cooking is different from cooking at home. If you are planning to take your caravan out regularly it makes sense to invest in a portable caravan hob which will suit all your needs rather than buy something cheap and cheerful that's only good for camping occasionally.
First up, you'll need a gas supply – most caravans have one already installed but if not you can easily add one yourself and this is usually the cheapest option. The other option is electricity: either by battery or mains hook-up lead (more expensive).
Once you've got power, you just need the hob itself. In this guide, we take a look at the best caravan hobs and cookers with a combination of gas stoves and table-top plates.
Let's get started…
What Are The Best Caravan Hobs and Cookers?
NJ Domino Built-In Caravan Gas Hob

This is a great tabletop gas cooker which makes it perfect for all kinds of settings including caravans, gardens, camping, kitchens or anywhere else you want to cook quickly and easily.
It has two powerful hob burners which can be adjusted to your desired heat setting so you can toggle between a low flame up to a high flame.
The cooker has an 8mm toughened safety black glass that not only looks great but gives the stove added durability to give it a long life. It measures just 30 cm in length, so it's about as compact as you're going to find in ergonomic designs.
There's a useful flame failure device which immediately cuts off the gas supply if the flame is extinguished.
It is suitable for Butane, Propane and LPG gas mixtures (NG nozzles included).
If you're looking for a super compact caravan hob, the NJ Domino design is a great option and it has an impressive black tempered glass finish that makes it really look the part.
Duronic Hot Plate HP2BK For Table Top Cooking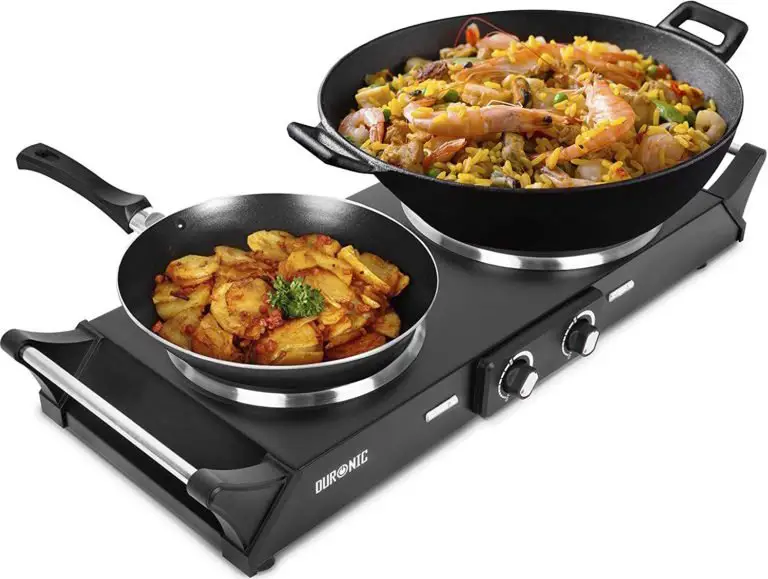 A hot plate is a great alternative to a gas-powered stove and can be used as either a long term or short term solution. This is extremely versatile, making it great for caravan use where you may not have room for a bigger sized cooker and means you don't have to rely on microwave meals.
With dimensions of just 54.3cm long, 22.8wide, 10cm high and a weight of 4kg, it can be placed on your existing countertop, but it's also compact so it can be packed away when it's not being used. You can do this easily thanks to its inbuilt handles on each end of the stove so you can move it even when it's still hot.
The unit features to solid cast iron hob rings for your pans to sit on. One is larger in sized and measures 187mm and has a power rating of 1500W while the smaller hob measures 152mm with a power rating of 1000W. Each is powered by its dial where you can select your ideal heat setting.
It's easy to clean and maintain while also being corrosion resistant. In addition, it has overheat protection as a safety feature.
NJ NSD-2 Gas Stove 2 Burner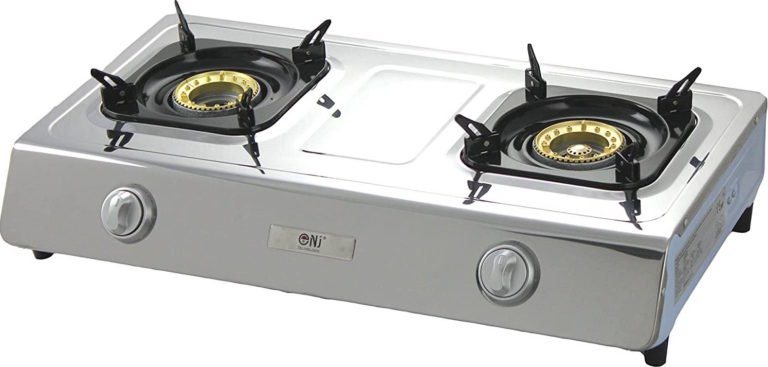 This NJ Gas stove is made of stainless steel which makes it durable and easy to clean. The two powerful burners provide a way to cook great meals and is capable of use with larger sized pans that you would use in your home kitchen, which is ideal if you're cooking for larger groups.
These pans can be supported by its wok function where the support corners are height adjustable.
The stove has automatic piezo ignition you can get heat instantly as soon as you turn it on while it also has a Flame Failure Device which instantly cuts off the gas supply if the flame is extinguished.
The stove measures 70 cm in length and weighs just 6kg making it extremely lightweight considering how powerful the flame is.
Bright Spark 1-Piece Steel Caravan Cooker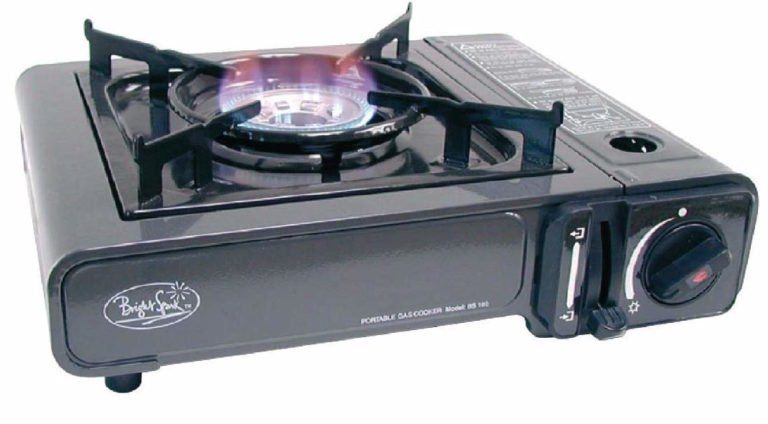 Not everyone needs a two hob stove, and sometimes one hob is more than adequate. This caravan cooker has powder-coated durable steel construction and is suitable to be used indoors, which makes it ideal for caravan trips.
The cooker has a powerful 2.0kW burner that's easily and quickly ignited by the piezo ignition. You can then simply adjust the flame using the sensitive control dial that provides you with up to 4 hours use at simmer level.
In terms of safety, the unit has patented a thermocouple device that automatically shuts off gas when flame goes out. The unit is lightweight weighing just 2.2kg, and it's compact with dimensions of just 34.5 x 28 x 9cm and portable.
It comes supplied with its rugged carry case and is also accompanied by a five-year guarantee if any defects develop with the product.
Geepas Double Table Top Cooking Hot Plate


Don't be fooled by the look of this tabletop cooker. It might look a bit flimsy but it's made of high quality and durable cast iron which can provide you with sustained heat. You can control it using the adjustable temperature controls that range from simmer to heating.
The cooker itself is small and compact so you can store and transport it easily and it has non slip rubber feet for extra safety. There is overheat protection, so if the temperature of the hot plate gets too high, then the indicator light will turn off the unit.
Overall this is a versatile unit that isn't just suitable for caravanning but can be used camping or in the home whether it be for boiling, warming, cooking, frying or simmering.
Benefits of a Portable Caravan Stove Hob
Not sure whether to invest in a portable caravan hob?
Well, here are some of the top benefits!
Easy to Set Up & Lightweight
Caravan stove hobs are easy to set up because they're smaller in size compared to the traditional oven that you'll find in an ordinary home. This means that it's quicker to install, and due to its lightweight, it makes it portable allowing you to easily move it from one place to another. They can also be used indoors whereas caravan bbqs are better suitable in well ventilated outdoor areas.
Fresher Food Preparation
A caravan stove will enable you to cook your food more regularly so your diet can be more fresh and healthy, which is even more important if you're going caravanning with your family. You then have more control about the ingredients in your food such as the salt and sugar content compared if you live off ready meals.
So even if you're on a diet, a caravan trip won't ruin it.
Reduces Cooking Time
If you have a stove that has multiple hobs (like those in our list), this will cut down your cooking time as it means you can cook more than one thing at the same time. With this saved time you can then do other things such as play with your family so you can make the most of your holiday.
Of course, it's not as quick as using a caravan microwave, but the quality is worth the extra time.
Enjoy Your Favourite Foods
It's common for caravanning holidays to end up with you eating whatever you can to get by which often isn't enjoyable Having a camping stove means that you don't have to settle for foods you don't like and you can cook all your favourite foods.
Often without a stove, you'll end up going for fast food which might make you happy but is loaded with preservatives and fat, which isn't healthy. Using a caravan stove will ensure that you can still make tasty food, but you have the peace of mind knowing what ingredients are going into your meal.
Outdoor Usage
Caravan stove hobs are versatile. Because of its portability you can also use it outdoors, which will be especially useful in the summer months when it's hotter. You could use it to bond with your family and use it as another activity. Not all stoves can be used outside, so this is something you have to consider when choosing.
Cheaper Than Eating Out
When you don't have a stove, it's easy to just resort to eating out, which leads to you having junk food in most cases. Having a hob will decrease your takeaways because you have somewhere practical to prepare your meals. This will also save you money in the long run so you'll have a more economical caravanning experience.
Fun to Use
For many people, when you're on holiday, cooking is a bit of a chore, and you want to spend as little time as possible doing it. With a camping stove, it makes cooking meals much quicker and efficient, which means that you can free up more time to do more interesting activities.
These activities are the reason that you came caravanning in the first place so you should consider this when deciding whether to buy one.
Additional Storage Space
Because caravan stoves are smaller in size compared to traditional ovens, it means that they take up much less space in your caravan. This means that you have room for other appliances in your kitchen. For most people their caravan will be tight for space, so any room you can free up will be greatly appreciated.
Due to their size, you can also pack them away discreetly when not in use giving you more counter space and a less cluttered feel for your caravan.
What To Look For When Buying A Caravan Hob
And here are some of the factors you should consider when choosing between hobs:
Cleaning
No person wants to spend hours scrubbing down a stove, so you should get a stove that is easy to clean down and maintain. The material plays a big role in this with stainless steel being very easy to clean. Cleaning your stove is very important because the better you maintain it, the longer it will last so you'll get more for your money.
Power Supply
You need to understand the power supply that your stove requires before buying. This is so you know whether your current power supply matches It or if you can introduce this power supply to your caravan. For example, you don't want to buy an electric-powered stove to then realise that you only have a gas supply.
(Sounds ridiculous – but we've seen it happen!)
The two main power supplies will be Electric and Gas.
You've most likely cooked on a gas-powered stove before and they're extremely effective and powerful. They quickly get to your desired heat and have a range of power settings.
The main benefits of gas-powered stoves are:
They are better designed and make your caravan feel more like a home
Propane Gas is a relatively low cost, and you can refill simply
Using re-fillable Propane tanks is environmentally friendly.
Simple to monitor fuel usage as it's displayed on the tank.
Tip: If the tank doesn't display how much gas is left, you'll want to invest in a gas bottle level indicator.
Electric cookers are also very popular in homes and are pretty self-explanatory in that they use electricity as a power source.
The main benefits of electric stoves are:
Electric cookers give you more counter space when the cooktop isn't in use
There's no need to have a propane tank installed
You'll save money by not buying fuel
Price of the Hob
As you'd expect, caravan stoves come in a whole range of prices which usually is dependent on several features. For example, a stove that has multiple hobs will be more expensive than a similar spec stove that has fewer hobs.
Aim to understand and shortlist which features you want and need – because it's easy to end up spending way more than you needed for fancy features that you never actually use.
Safety Features
Safety is incredibly important, especially if you have a caravan hob powered by gas as this can be very dangerous if used incorrectly. This can be even more lethal when you're in a small closed space – like a caravan.
You should choose a caravan hob that has safety operational features such as auto-shut off or automatic cool down. These added features also give you added peace of mind that you're product has been made to the highest quality. A fire extinguisher is also a recommended addition to have on hand.
Portability
Naturally when you're going on a caravan trip, every item you bring comes under scrutiny from a weight and size perspective. It should be lightweight and easy to move, and you shouldn't have any difficulty doing this.
It also needs to have the right size dimensions for you to be able to use it in your caravan. You should measure your worktop size area and compare this to your ideal stove to see if it'll fit. There's nothing worse than committing to your ideal choice and then when it arrives… err, oops.
So, clearly there are a lot of factors to consider!
Do you already have a favourite hob for your caravan? Let us know your top picks and preferences.