BBQ's are the perfect addition to your caravanning experience, and even though modern caravans have a fully equipped kitchen, there's something about an outdoor caravan BBQ that is just lovely in summer.
They are versatile, allowing you to cook a whole range of foods, including burgers, steaks and sausages. If you're on the lookout­ for the best caravan BBQ, then you've reached the right place. 
This guide will not only take you through the best options but also highlight the buying factors that you need to consider before making a final buying decision.
Kampa Bruce Tabletop Barbecue
Kampa is one of the most recognisable outdoor specialist creating products for all kinds of uses, and this tabletop barbecue is no different. Including a 2.5 KW burner constructed from galvanised steel.
It also has a large cooking grill and folding legs which makes it a great caravan BBQ because it means you can easily fold it down and store it inside your caravan without it taking up too much space.
The Bruce barbecue is CE approved and comes complete with a safety plate and lava rock. The lava rock gives your food an authentic barbecue smoky flavour that is often missing with gas barbecues but common in charcoal BBQs.
The BBQ runs of butane or propane gas and will need to be placed on a table for it to be used easily and has cooking are of 42 x 27cm (1134 square cm).
Yellowstone Outdoor Midi Pack Away BBQ Kit
The Yellowstone pack away BBQ is specially designed to be easily transportable so you can take it wherever you go including caravanning. It has a unique space-saving design which causes the legs to fold, and the ash pan then folds flat.
This means you can fold it away in seconds and store it easily in your caravan. It is constructed using sturdy steel which gives it durability but also makes it easier to clean, meaning it usually needs a just a quick wipe down.
The BBQ runs off charcoal so you will need to supply the coals and it gives you a cooking space of 32 x 22.5 x 26 cm. It also comes supplied with a carry bag.
This is a BBQ that you won't have to spend hours trying to assemble before you can get cooking as it just takes a few seconds every time.
Crusader Folding Gas Barbecue Combo BBQ 
If you're looking to get as close to a traditional BBQ while your caravan, this is what you need, this 3 in 1 combo portable gas barbeque gives you the choice of 3 different cooking positions depending on your preference and the type of food you're cooking.
The BBQ is powered using either propane or butane while it is also easy to assemble and has Two fold-out side shelves Sturdy trolley for maximum portability. The BBQ has variable heat control so you can select the exact temperature that you need. It also has a cooking area of 43cm x 35cm
Crusader is a UK family run business that has gained over 25 years of experience in the outdoor industry, so you know that this is a product that you can trust.
Crusader Table Top Gas BBQ Inc Lava Rock
Crusader has a large line of effective products, so it's no surprise to see another one on this list. This Gordon Portable Gas Barbeque is great for caravans due to its folding design.
It has folding legs which then double as a lid retainer when travelling, so it doesn't open. It has easy assembly so you can quickly get cooking. Due to being a gas BBQ it runs off Propane or Butane gas and is also supplied with lava rock that adds a lovely barbeque smoky flavour to your meats.
The BBQ provides you with a generous cooking area of Cooking Area: 42cm x 27cm, giving it enough size so you can cook a reasonable volume of food in one go. This is an effective caravan BBQ, especially when you consider the price and added features.
Charles Bentley Portable Gas BBQ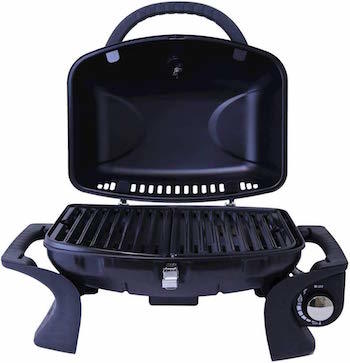 The Charles Bentley gas BBQ is constructed using steel and stainless steel with a porcelain cooking grid, making it easy to clean and maintain while also delivering an effective cooking surface.
There is a 1.5 KW burner and has an initial assembly time of just one hour and is light yet sturdy. Due to its compact size, it can easily be stored in your caravan.
It also has side tables for your utensils, an integrated thermostat, easy clean enamel grids and a sturdy stand to elevate the BBQ which provides better heat circulation.
The BBQ also includes a 27mm Clip-on regulator and hose which is suitable for a 13kg or a 5kg patio gas bottle. This is a newer product on the market, but with the mentioned features, it looks like it is here to stay.
Types of Caravan BBQ
Two main types of BBQ's are ideal for use with your caravan and come with their own set of pros and cons.
Caravan Gas BBQ
A gas BBQ allows you to cook food outdoors and is powered by gas. The gas of choice is usually propane; however, as we become more environmentally friendly, this has commonly become natural gases though you have the choice of using either.
The way they function is that the food cooks using the heat source that comes from below the grill and works similarly to a standard BBQ. The main difference here is that there is no open flame to manage. However, it does mean that your food will be missing that smoky flavour that is typically achieved by charcoal BBQs.
Caravan Gas BBQ Benefits
Heats up quicker
One of the first things you'll notice is that a gas BBQ will heat up much faster than a charcoal BBQ. This is because gas is used to create a power source, which means that the heat is created instantly and a good alternative to a caravan hob.
Whereas with a charcoal BBQ, you need to wait for the coals to catch fire and then reach your target temperature. This process can take up to an hour for a charcoal BBQ which is why gas BBQs are seen as superior because you'll spend less time preparing your food and more time eating it.
Safer
Because a gas BBQ doesn't use an open flame, this makes managing the cooking process slightly easier and safer. Also when you're cooking with charcoal, it will eventually fully burn out and need to be replaced, whereas a gas BBQ can cook all day as long as you've got enough fuel. So although gas needs to be replaced, it's much cheaper and efficient than charcoal. You should also have a caravan fire extinguisher in case of emergencies.
Precise cooking
Gas caravan barbecues provide you with a considerably more accurate way of cooking. Charcoal barbecues give you a heat source that can't be adjusted, so you have to cook all your food at the same temperature. This can make things difficult if you have different types of meat or food that require different temperatures. With a gas barbecue, you can simply adjust the temperature to your required needs.
Ease of cleaning
Nobody enjoys cleaning a barbecue, but gas barbecues are simple to clean as without there being coal you don't need to clean away any ash or spend hours scrubbing the grill clean. The most modern gas barbecues are made using materials that need to be just wiped clean. 
Caravan Charcoal BBQ
Now if you're after a more authentic BBQ taste, then a charcoal BBQ is for you. This differs from gas barbecue because it uses charcoal as it's fuel source which once lit gives generates heat which allows your food to cook.
Buying Guide
Cost
Charcoal BBQ's come at a range of different price points. Likely, you've already seen them in supermarkets through summer for under £20 which are often disposable. But there are also more expensive, permanent charcoal BBQ's. This means you don't have to fork out huge amounts of money to begin barbecuing.
Flavour & Taste
Charcoals allow you to slow cook which gives your food a lovely smokey taste that can't be replicated in traditional cookers or gas barbecues. This means you'll enjoy your food much more, making your overall caravan experience better.
Versatility
Large numbers of charcoal BBQs are available on the market, so you'll be able to find one that exactly meets your needs. Whether you need a disposable BBQ just for one use, you need one that can hold enough meat for ten people, or you need one with loads of added features then there's a model out there for you.
Other factors to consider when buying a Caravan BBQ
Energy Consumption
Energy consumption is a huge consideration for a caravan BBQ. You're likely in a position where you won't have access to vast amounts of gas. This means if you choose a gas BBQ, you need to understand your chosen BBQ's energy efficiency. Similarly, with a charcoal BBQ, you need to find out the rate at which it burns through coal.
Size
When choosing a BBQ, the surface area is very important as this will determine that amount of food that you can cook at the same time. You need to consider how many people that you will usually be cooking for and then choose a BBQ that matches this. 
If you choose a BBQ that's too small, then it will take longer to cook as you'll need to cook in separate batches. You can always use a cool box to keep your food at the right temperature before being ready to cook.
You also need to consider the size because you'll likely have limited space in your caravan, so you need to ensure that your desired BBQ has space to fit when it's not in use.
Space-saving
Closely linked to its size is its space-saving ability. The best caravan BBQ's will be compact or foldable when they're not in use. This makes them more portable because you don't want to have a BBQ sitting in the middle of your caravan when it's not in use.
Maintenance
You need to consider how easy or difficult your chosen BBQ is to clean. When you're caravanning, you may have access to smaller amounts of water or cleaning products, so you need to make sure that it's easy to clean. The better you can clean your BBQ then the longer it will stay in good condition extending its overall life.
Temperature Range & Adjustment
It's fantastic to have a BBQ that can reach a high temperature for cooking meats, but in an ideal world, you'll choose a BBQ that allows you to toggle between temperatures. This is because although you may only be cooking meat, different meats need a different cooking temperature. So you have the opportunity to cook non-meats such as vegetables which require much lower cooking temperature.
Burner Size 
Although the grate size may be large, allowing it to hold large amounts of food, you also need to ensure that the burner is also large. The burner is where the heat source comes from to cook your food. If the burner size isn't large enough, then it'll struggle to cook your food evenly, which will make it take longer to cook. This is especially the case for Gas BBQ's.
Materials
The materials that a BBQ is made from will affect how well it cooks and how easy it is to clean. High-quality metals such as stainless steel and cast iron provide a strong, effective cooking surface which will also last several years due to its durability.
Durability
The materials that the BBQ is made from will determine how durable it is. A high-quality BBQ is built to last for many years as long as you care for it correctly. Spending a little more on a better quality BBQ will pay for itself over time. You shouldn't have to buy a new BBQ each summer.
Additional features
Both charcoal and gas BBQ's can come with additional features that make it easier to BBQ. The features that appeal to you the most will depend on several factors, such as the type of cooking you plan to do.
For example, these features include electric ignitors and removable drip trays. Some people are fine without these kinds of added features whereas others see them as a non-negotiable as it will not only make cooking easier but also cleaning up afterwards.