If you're hitting the road in your caravan in the summer; then at some point, you'll want a cool beverage. While some caravan owners will have a compressor fridge, there are other cheaper ways to get your hands on a cold drink, and that's with a 12v cool box.
But a cool box isn't just for keeping your drinks cold. It's also great for ensuring your food doesn't get spoiled by the heat. If you've already got a traditional cool box, then it's time to upgrade to the next best thing.
Understandably it can be a little overwhelming trying to buy a product in a category that you have little experience in. So, we've created this in-depth buying guide to show you the best 12v cool boxes available on the market.
Best 12v Cool Box Options For Caravans & Camping
So, what are the best portable electric cool boxes?
Mobicool MQ40 Coolbox 12 V/230V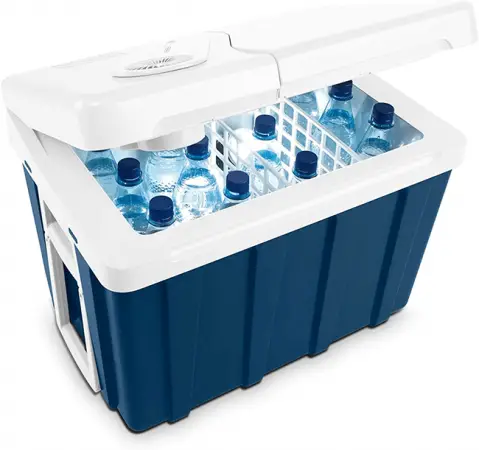 If you need an effective cool box with a large capacity, then the Mobicool MQ40 Coolbox could be an ideal choice for you. The cooler has a dual voltage system so it can connect to both vehicle cigarette lighters and mains power.
In terms of portability, the unit has two wheels and lifting handle so you can easily pull it to your chosen location. You can easily organise the inside of the unit with two removable inner dividers so you can neatly pack your items, while there is no shortage of space with its whooping 39-litre capacity.
The coolbox can cool 18 degrees below ambient temperature and has a split lid which minimises cooling loss when you open it. Due to its height, it can fit standing 2-litre bottles and has a double fan system which cools the contents quicker.
The lid has a cable compartment so you can neatly store them away and use of this cool box isn't just limited to a caravan but also camping, boats, festivals or any other outdoor event.
It's best to use at camp sites with a power hook up, or if you already have a good solar system in place.
ElectriQ DC/AC Hot or Cold Cool Box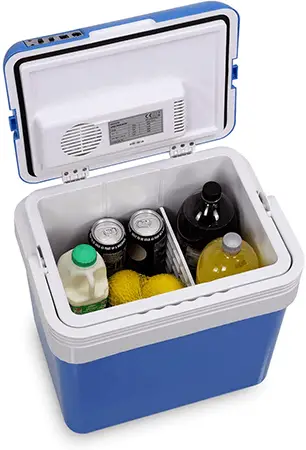 ElectriQ has designed a multi-purpose cool box that has an automatic DC/AC switch for car and power socket usage. It has an integrated battery protection system and a large 24-litre capacity.
It's capable of storing up to 36 x 330ml cans, or 6 x 2 litre bottles.
The cool box can keep its contents warm or cool depending on your needs and has a clear LED, which indicates whether the unit is either cooling or warming. The cool box is also environmentally friendly as it uses Peltier cooling, which is both effective and efficient. You can select between eco, standard and maximum cooling settings.
It can warm up to 65 degrees Celsius, and cool 15 degrees Celsius below ambient while only consuming 48 watts. It has a powerful and longlasting brushless motor which is not only quiet but can last up to 30,000 hours of operation. Because of its stain & odour resistant full CFC free polyurethane-foam liner, it is easy to clean and maintain.
It measures 40 x 31 x 43cm and has a removable shelf which gives you extra dry storage space.
It also has a reversible lid with moulded cup holders – a nice little feature for avoiding spillages.
Auto Companion 28L 240V AC & 12V Portable Electric Cool Box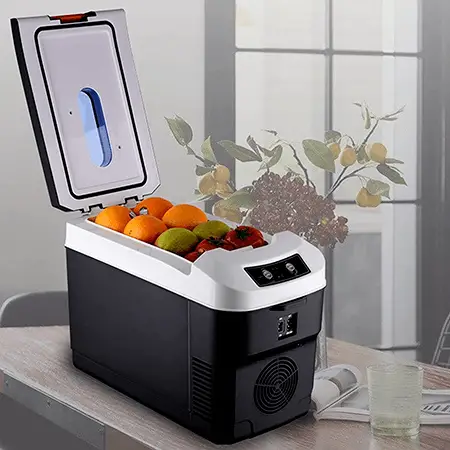 Auto companion has over 30 years of expertise, and they have used this expert knowledge to create an Amazon exclusive brand. The Auto Companion Portable Electric Cool Box allows you to keep both drink and food fresh in all kinds of weather.
If you're out with your family and friends, then you'll need food and drink to last you the whole day, so you need to keep them at a cool temperature. The cool box is great for caravan use but can also be used for picnics and camping while keeping the contents at temperatures between the range of 10 and 60 degrees Celcius.
You can cool contents to below 28 degrees the ambient temperature, or heat to 65 degrees.
The cool box measures 52 x 28 x 42 cm with a total capacity of 28 litres giving you ample space. The unit also has a temperature control switch so you can choose your desired temperature. It is easy to operate and complete supplied with all the necessary connectors to get started. 
It runs off a 12v power supply, so this can be connected to a vehicle cigarette lighter, while there is also another lead supplied so you can connect it to a mains power socket.
AstroAl 24L Electric Cooler Box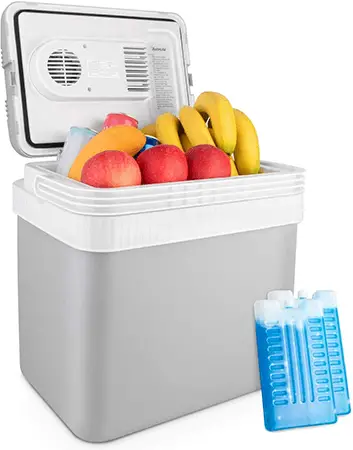 The AstroAL electric cool box doesn't heat contents like some of the other boxes on our list, but it does a sterling job of keeping your food and drink cool. It can cool up to 32°F below the ambient temperature, and comes with two reusable ice packs.
The cool box is powered by 12V and can be plugged into any 12V power supply, including your vehicle's outlet. This makes it suitable for a camper or caravan. The coolbox has a capacity of 24L, which is a generous amount of space and is equivalent to over 30 cans of soda. 
It has an inbuilt Energy-efficient thermoelectric cooling system with no compressor which works to minimise the vibrations and noise – making it a very quiet operating cool box.
The box also has a removable divider for separating your items.
Andes Large 25L 12V/240V Cool Box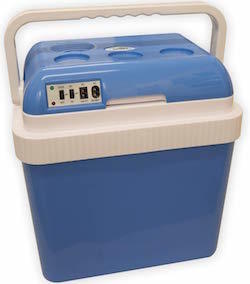 Andes are a well-established brand that creates high-quality camping goods at affordable prices. The Andes cool box has the dual function of both cooling and heating which means you can keep a larger range of foods depending on your needs for the day as it can keep food warm for up to 2 hours to a maximum temperature of 65 degrees.
The cool box measures 40cm x 29cmx H: 43cm and has a removable divider inside so you can separate the contents more effectively. Supplied is a 220-240V AC mains adaptor & 12V DC car adaptor to give you the versatility of different power source methods.
Its lightweight design means it's easy to move with its easy swing handle, but it also has a robust design giving it the durability to not only protect itself but to protect the food and drink inside. This is a great addition to your caravan even if you already have a fridge as this will give you more room to store your food and drink.
What Makes A Good Coolbox?
Temperature Maintenance
Your selected cool box needs to be able to maintain a consistent temperature to ensure that your food doesn't spoil. There's no use keeping fresh milk in the fridge if the temperature gets too high, which causes it to go bad. Higher quality cool boxes will be better at maintaining a consistent temperature.
Portability
For days out away from your caravan, you'll want to load up your cool box with items and take them with you, but this is not ideal if your cool box is difficult to carry. Ensure that your desired cool box has side handles which makes it more convenient and easier to carry. You should also check if it's made from light materials, so it doesn't add too much weight on top of the contents weight.
Size/Capacity
Discover the size of your chosen cool to understand if it will fit your needs. If you have a large family, then you'll likely have more food and drink than a couple so a bigger cool box will be better suited. 
The size is also important because you need to know if it will fit into your caravan without being a hazard or block any walkways. 
Power Source
It's important to understand the required power source of your cool box to ensure that you have the necessary power source to run it. Some units will be more versatile than other and have the ability to connect into multiple sources of power including your vehicles cigarette lighter. By finding out the required power source, this will remove any surprises when it's time for you to use it.
Noise
Throughout the day the noise of your cool box isn't likely to bother you, but throughout the night the cool box will still be on, and this can disturb you especially if it's close to your bed or you're a light sleeper. Electric cool boxes are often powered by a fan which can produce a noticeable amount of noise. However, some models have quiet modes which will lower the amount of noise emitted. The more eco-friendly and energy-efficient models will often be less loud.
Brand
The best cool boxes will be made by some recognisable household brands that have established themselves due to their high-quality products. The higher the quality of the brand you can usually expect there will be better features and benefits; however, this will also be reflected in a higher selling price.
Warranty
A warranty is also linked to the quality of the brand where a better brand will likely include a warranty which entitles you to a replacement or repair if your unit develops a fault or stops working completely. The length of the warranty varies in length from 30 days to lifetime, so be sure to check this before buying.
Easy Clean
You need to treat this how you would treat a fridge because spillages and accidents will happen, so you need to ensure that your chosen cool box has surfaces that are easy to wipe down and clean without too much hassle. Easy clean surfaces will also save you time and money in the long run as you won't need to replace stained cool boxes.
Having a dirty cool box is also a health risk, especially if you have children, so keeping it clean will also keep them safe.
Multi-Use
Some cool box models have a multi-use which is achieved by having two independent cooling zones which allow one zone to be used for refrigeration and the other for freezing. This not only saves you money from having to buy two different units but also saves you space as you only need one unit inside your caravan.
Material
The material the cool box is made from will play a key role in how well insulated the cooler is. Generally speaking, the thicker the cool box material, the better the insulation and most cool boxes are made of plastic or foam which works to stop cool air from leaving and from warm air entering.
Cooling Power
Cool boxes will have a measurement that will tell you how many degrees below the ambient temperature that it can reach. This measurement will determine which cool box you buy, and the ambient temperature refers to the temperature reading outside of the cool box. The lower the rating, the lower the temperature that it can maintain. 
How to Use a Cool Box Effectively 
Even if you buy the best cool box on the market, there are several ways that you can get the most out of your cool box to make it perform better and last longer.
Keep it stored in a cool place. Even if you have an electricity source, it must work harder if it's in direct sunlight so if it's in your caravan store it in a cupboard and away from windows. If you've taken it in your car, then don't let it just sit in the back seat of your car with the sun pointing straight through the windows.
Even if you're using a cool electric box restrict the number of times that you open it. Each time you open it, you'll be letting cool air leave the box, and warmer air will enter which can affect the temperature of the items inside. The more often you open it, the bigger the effect will be.
As a space-saving hack, any food that you have in the cool box should be packed into zip lock bags because this will reduce the amount of space that is used compared to excess food packaging. The zip lock bags will also protect your food against any liquid spillages.
Ideally, you should have separate cool boxes for foods and drinks because you'll be going into the cool box with drinks far more often than you will for food, so this keeps your food in a better, cooler environment without being constantly compromised.