Nowadays most people will have a fridge in their homes to keep their food and drink cool throughout the day and night. However, caravans have, for a long time, been lagging behind and often forgotten about as a place where a fridge can also be.
There's nothing as convenient as being able to open your fridge and grab a cool drink. It's not as easy as getting the type of fridge that you'd use in your residential home because it'll often be too big and consume too much energy.
Most people end up struggling with a standard cooler which will need to be replaced with ice repeatedly. Luckily there is a solution with a compressor fridge.
This is going to be one of your most important investments, so it's necessary to make the right decision. This guide will take you through the best compressor fridges to help you make a more informed purchase.
Dometic CFX 35 Portable 12 V/24 V Compressor Fridge Freezer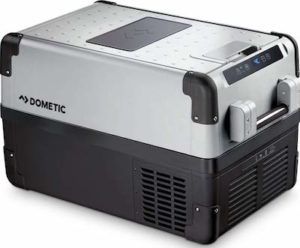 Now if you're looking for the top of the range compressor fridge, then you've found it with the Dometic CFX 35 Compressor fridge freezer. This runs on Runs on 12/24 V DC or 100-240 V AC and offers deep freezing to as low as -22 degrees Celsius which should cover most of your needs.
There are two separate temperature zones which means that you can simultaneously freeze and cool.
You'll have a capacity of 32 litres to play with giving you ample room for your food and drinks so you'll save money from not having it go to waste. 
Inbuilt is also enhanced cooling performance even if you're caravan is in an extremely hot environment. Despite all these features, it has meagre power consumption and sits in the A++ energy class, including the energy-efficient LED light that sits inside the fridge. Because it draws in less amperage, it means that in most cases you can run it 24 hours a day
You will also benefit from an integrated USB port and Three-stage battery protection.
Waeco CRX Compressor Fridge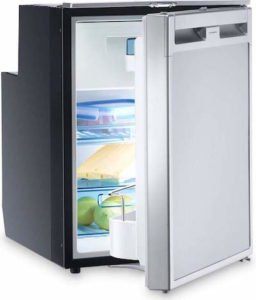 Introducing the Waeco Coolmatic CRX50 refrigerator which has a unique 3 in 1 system giving you the flexibility that you may need when caravanning. There is a fully removable freezer compartment, so you have the choice of using it as a conventional fridge/freezer, full fridge or full freezer. 
It has a total capacity of 45 litres which included an allocated 4.4 litres for the freezer. It can run off a power supply of 12/24 volts, and it has Intelligent electronic control of the compressor which means that it consumes 25% less energy making it extremely energy efficient.
A warranty is also provided with the fridge for added assurance. This is a favourite amongst caravan lovers because it offers you the opportunity to stock frozen goods which is vital to those that tend to cook a lot of their meals or will spend time off the grid.
It has a sleek design and resembles a standard fridge that you'll find in the average home. You can barely tell that it's a compressor fridge.
Dometic RC1200EGP Gas Portable Cooler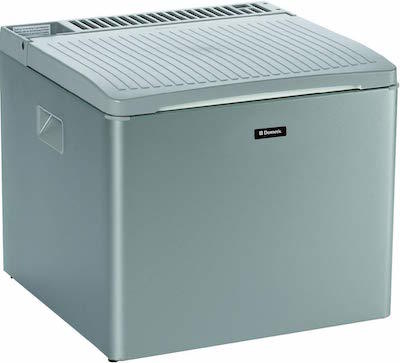 Now if you have gas energy source supply in your caravan, then the Dometic RC1200EGP Gas Portable Cooler is the solution for you. The cooler operates on a 12 volt supply or 230-volt mains however this can be switched to a gas operation where necessary as it has an integrated cradle for a gas canister.
The fridge cools up to 25 degrees below ambient temperature and has a capacity of up to 41 litres. It has a good depth which means that it can fit 2-litre bottles that are standing. 
It also has absorption cooling technology and silent operation, which means that if you plan on running it 24 hours, it won't keep you awake with its noise.
In terms of build, it is robust and well made so it will last several years and is affordable, considering its high quality.
Waeco Mobicool B40 AC/DC Thermo Electric/Compressor Cooler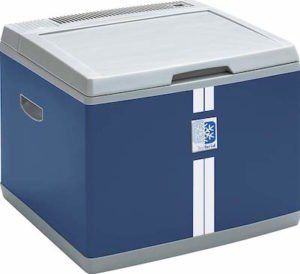 Simple designs are often just as effective, and Waeco has gone for functionality over design with this robust compressor cooler. It's housed in a corrosion-resistant coated sheet steel with an all-round seal and magnetic flap closure to keep it securely closed to reduce energy wastage.
Due to having a hermetically closed cooling circuit it requires no maintenance and works off both AC & DC 230 volts/12 V and can maintain an environment of up to 20 degrees Celsius below the ambient temperature. You can control this using its in-built thermostat.
Due to its strong insulation, it ensures that your food and drink will remain at a constant temperature. The cooler has an A+ energy rating and has a capacity of 38 litres.
It also has a silent operation so it's more than suited to a being in a caravan where it's likely you may be sleeping near it.
What is a Compressor Fridge?
A 12V compressor fridge is usually a small, mini-sized portable fridge that is designed to be better suited to mobile environments where space is at a premium such as caravans, boats and motorhomes.
They function in an identical way to the standard fridge you'll find in the home. However, the main difference is that they can function while consuming lower amounts of energy.
There are different types of compressor fridges with each one utilizing a different type of power source depending on the resources you have available.
Types of compressor fridges
Compressor Fridge
A compressor fridge is often referred to as a two-way fridge. Similar to a standard fridge, they are powered by a compressor. For a caravan, they are often the best option because they are not only very efficient, but they are also affordable and reliable. If you're travelling, the last thing you need is your appliances breaking down, so this makes it a good choice.
Gas Fridges
Gas fridges are commonly referred to as a two-way fridge and are powered by gas. If you tend to power your caravan appliances using gas, then this is a great option. This is ideal for people who have limited electrical sources and gas fridges are also efficient while having a long life.
You need to understand that gas fridges are slightly harder to install initially and of course, gas is a much more volatile and dangerous substance.
Thermoelectric Coolers
Thermoelectric coolers function by using an electricity source to remove hot air from inside the cooler, which then decreases the overall temperature to leave its contents cold. You can also use this process in reverse to eliminate cold air to make it warmer. Thermoelectric coolers are less efficient compared to gas and compressor fridges and can't drop to temperatures as low.
Compressor Fridge Buying Guide
Fridge Size
Just like you would if you're buying a standard household fridge, one of the most significant considerations for a compressor fridge is its size. It will help you to understand whether it'll fit in the space that's currently available.
Ideally, you should measure the space, so you have an exact measurement, so you'll be able to narrow your choices down to the fridges that will fit. You should also check that it can fit through the door of your caravan or this could be an unwanted surprise when you come to install it.
Fridge Energy Efficiency
Fridge efficiency is what sets apart the best compressors from the rest of the market. Efficiency is vital for the life of your caravan and is the measure of how much energy it needs to function.
The benefit of modern 12V compressor fridges is that they are incredibly efficient due to having better insulation and technology, which means that they require a lower technology draw to run.
Usually, a manufacturer will state the power draw consumption on the product labelling so you will be aware before you buy and this will allow you to compare it to other models.
Voltage might be listed as the same, but this doesn't mean that they consume the same amount of energy. The amount of energy it uses will depend on several factors including the compressor-style, ambient temperature, fridge size, temperature, the thickness of insulation and more.
If you have a low source of power, then a lower voltage fridge will be the best option.
Fridge Capacity
You must understand the fridge capacity that you require. You don't want to purchase a fridge that's too big because this will take up more space and be more expensive. On the other hand, you don't want a fridge that's smaller than your needs because there won't be enough space to fit all your food and drink.
Your required fridge capacity will depend on several factors, but the main ones will be the number of people, the amount of food/drink and your budget.
Price
The first thing you need to do is take a look at a few models and determine how much you're willing to spend. If you regularly caravan, then you'll need to invest in something higher quality that will last longer.
Although compressor fridges can be expensive, it's better to buy a more expensive model because, in the long run, a cheaper fridge won't last as long. Also, cheaper brands may not offer the support or replacement parts for your chosen model.
Price often correlates with the quality so you may find that a cheaper model ends up costing you more because it's less energy efficient. Cool boxes are often a cheaper alternative and will usually consume lower levels of energy.
Warranty
This links very closely to the brand and quality of your fridge. Nobody wants to buy a fridge that's going to develop issues and hassle. Fridges are designed to last several years, so it's essential to have a warranty that lasts.
A long length warranty ensures that you're covered if anything happens and gives you the added assurance that you're buying a higher quality product.
Power Source
What is your current power source? This greatly determines the type of fridge that you choose. You should check the power source of your desired fridge because you'll likely want to avoid the hassle of having to integrate a new power source into your caravan just to run one appliance.
If you have no current source of power in your caravan, then a gas-powered fridge could be the best option because it means that you don't need to do electrical wiring work, which can be difficult if you're new to it. A caravan generator is a great power source but require a larger financial outlay.
See also: our guide to the best 3 way camping fridges
Added Features
Although the capacity, size and price of your 12v fridge are essential, many additional features bring added value to your overall experience. Many of these features will be found on standard fridges.
These include having an adjustable temperature, LED lighting inside the fridge and low voltage protection. It's obvious that these aren't life-changing features, but they will make your life easier and save you in energy costs.