Whether you have a caravan you take on adventures, a big RV for a cross country camping trip, or a boat to explore the vast ocean… everyone enjoys a cold drink.
And a 3 way camping fridge is a great time to have them available at all times.
These three fridges all operate quietly and efficiently, so you can have an ice-cold soda no matter where you are on the road. Keep vegetables, drinks, dairy, or even raw meat refrigerated on your adventures and keep your creature comforts, even in the wilderness.
What Is a 3 Way Camping Fridge?
A 3 way fridge is a small refrigerator that you can run using three different power sources. The flexibility of these appliances to work with various power sources makes them excellent for people travelling in RVs, campers, or even on boats!
The fridges are also called absorption RV refrigerators. An absorption fridge is compatible with AC Power (shore power or generator), LP gas (propane), and DC Power (house batteries). This flexibility means you can run your fridge inside or outside your vehicle.
Having several options for a power source means you don't need to stress if you run out of propane or batteries, as long as another power source is available. But if you have access to shore power, you can save your propane and batteries! Plus, you can use the batteries while driving the vehicle, while you cannot with gas or shore power.
These fridges are excellent because they operate silently and don't require much maintenance to keep them running smoothly. Other types of compressors or 2-way fridges are much more likely to break down and need to be replaced or serviced.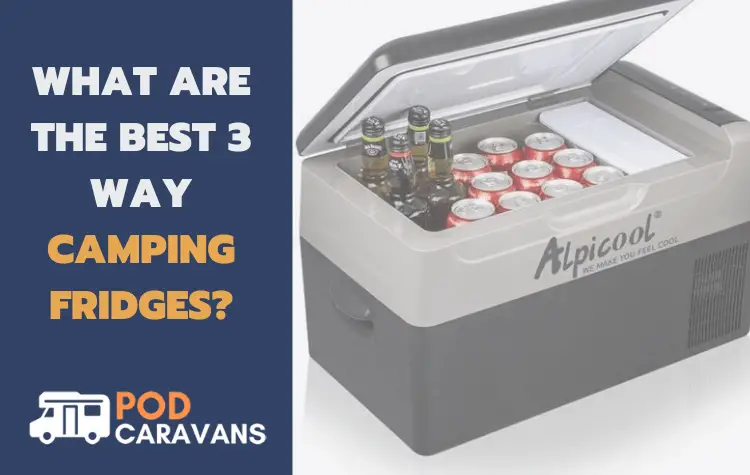 The Best 3 Way Camping Fridges
Without further ado, below are the top three 3 way fridges on the market in the UK. Ditch the plastic cooler full of ice packs that only keep things chilled for a couple of hours. Upgrade to one of these quality 3 way refrigerators and you'll have much more flexibility.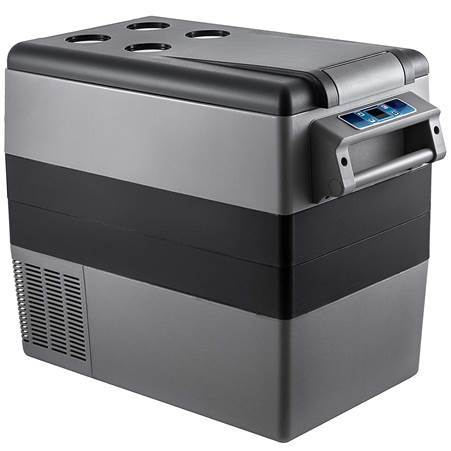 If you want a stylish and top-of-the-line 3 way fridge, you'll love the Kitgarn small refrigerator that has a futuristic feel with an impressive capacity for food and drinks. Although this particular fridge doesn't have a massive customer base, it should. Kitgarn is known for its impeccable product construction, and they only use the finest materials.
The unit can fit 55 litres of food or drink and is 27 inches x 14 inches x 21 inches, making it decently sized but not too big to fit into compact spaces in your RV or boat. This fridge provides excellent cooling capabilities and can retain heat and keep the environment warm if not connected to a power source. Set it anywhere between -20 degrees and 20 degrees Celsius, depending on what items you need to store.
The Electronic Temperature Control Panel allows you to set the temperature to the exact degree you want and monitor the internal temperature at all times. There are also three levels of battery usage you can set to determine how much energy it uses. This feature is excellent for those that want to save their propane or house batteries and just have things moderately cold.
The portable fridge has a durable, corrosion-proof exterior, and a stainless-steel interior makes it easier to clean and ensures your food and drinks will be well-insulated. It only takes 30 minutes for the interior temperature to drop to 0 degrees Celsius. However, users report that it usually only takes 15 to 20 minutes to get nice and chilly.
This best camping fridge features two heavy-duty removable handles to make it easy to carry no matter how full it is. The defrost system is automatic, so you don't need to worry about freezer burn or the fridge becoming too cold when you aren't paying attention. It also features a removable interior basket, making it easy to clean the fridge if something spills or leaks.
Like most decent 3 way fridges, this fridge operates in silence, so you won't be forced to listen to an annoying hum or low rumbling while you drive in your caper or relax outside. The fridge is reasonably priced but still functions as a luxury 3 way fridge.
For those that ride down many bumpy roads or want a cooler they can drag over rocks and throw around, this is the best option. It should last you years and years to come even with mild abuse, so you can get pretty rough with it without destroying it or causing damage.
It certainly isn't the cheapest 3 way camping fridge on the market, but it isn't the most expensive either. The price is reasonable for all of the features and technology it uses. Especially when you consider how long this unit should stay in great working condition.
Pros
Complete control over the temperature
Double insulation
Durable exterior design
Easy to wash
Easy to carry
Fast cooling system
Cons
Works with car batteries, not house batteries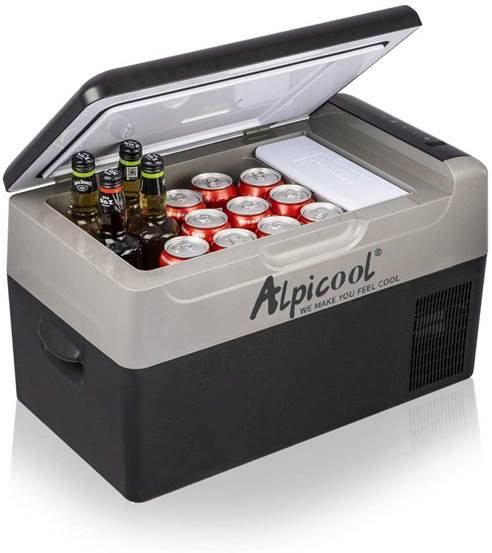 The Alpicool G22 car fridge is an excellent choice for those who want to keep things cool on the go. The best aspect of this fridge is how compact and portable it is, with its dimensions being 23 inches x 13 inches x 13 inches, smaller than the Dometic, so it's easier to store in a caravan or RV. It also has two handles on the side for easy transportation.
The electric camping fridge can hold 22 loose litres of liquid or sixteen half-litre bottles of soda or alcohol. So while it is less spacious than the Dometic, it can still fit an impressive amount of items. The temperature ranges from -20 degrees to 20 degrees Celsius, depending on the outside temperature. The reliable seal on the door guarantees it won't let any heat seep into the fridge. It can also reach 0 degrees Celsius in less than 30 minutes after connecting to a power source.
The fridge has three different battery settings, so you can ration gas or batteries on long trips. There is low, medium, and high power usage, so you can control how much energy the 3 way absorption fridge uses up. This can also protect your vehicle or generator from overheating.
Users state that this is a super rugged caravan fridge that can handle a lot of wear and tear or bumpy roads. So the fridge should last you years and years as long as nothing severe happens to it. It has a shockproof design, perfect for long car trips or boat trips. Plus, it has an earthy and classic look that many owners love. It goes well with camping and RV aesthetics, whether you're inside the vehicle or relaxing outdoors.
It only weighs 12 kilograms, so it's a breeze to pick up and carry around. And the handles also make it easy, even if it's weighted-down with a bunch of food or drinks. The LED screen on the front lets you know it's working and keeping your items nice and cool. Users state that the motorhome fridge is so quiet that they wouldn't even know it was on if it wasn't for the LED screen!
If the LED screen isn't high-tech enough for you, then you'll be even more excited to learn that the fridge can also be controlled via an app on your phone using Bluetooth technology. The portable fridge also features an ice compartment that will produce ice, just like your fridge at home. However, customers say it does take a while to give you some ice, so don't count on having a constant supply coming from this fridge.
Interestingly, some customers say the product gets too cold often, freezing food and drinks that were meant to be kept cold but not frozen, which can be frustrating if you want to enjoy your soda, but then realize it's frozen. And although the high-tech features can be a blessing, they can also be a curse. Some people report getting loads of error codes, making it a hassle to try and reset the fridge to get it working again.
Pros
Bluetooth capability
Shockproof design
Fast-working
An LED screen that displays temperature
Three levels of battery use are available
Affordable price
Convenient carry handles
Cons
Sometimes displays error codes
Can freeze rather than cool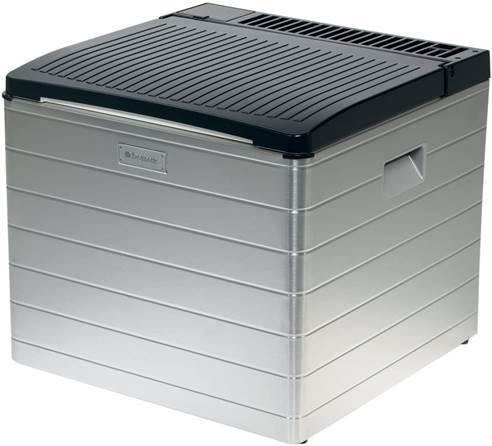 Dometic is probably the most popular brand for refrigeration appliances on the go. They specialize in making fridges for caravans, RVs, and boat cabins. So when it comes to making things cool and portable at the same time, they're the best.
The Dometic CombiCool RC 2200 is their most recent release to top their popular CombiCool RC 1200 model, which is also fantastic and beloved by its owners. The CombiCool RC 2200 can run on propane, 12 V DC, or 230 V DC, making it flexible and easy to use in most places.
The fridge can cool items up to 33 degrees Celsius below the surrounding temperature. So it can make things incredibly cold or even frozen if you desire. Some 3 way portable fridges tend to be weak in the cooling department, keeping things cool but not super cold. But the CombiCool 2200 delivers freezing temperatures, even when it's hot outside or in the vehicle.
The fridge can hold around 41 litres of food or other items that you want to keep on the cooler side. To give you an idea of beverages you can fit in the fridge, it can comfortably hold eight 2-litre bottles, so you'll never run out of soda!
Like most 3 way fridges, it uses high-end absorption cooling technology, allowing the interior to stay cool with whatever power source you choose to use. It operates super silently so you won't have to hear that annoying hum while you drive or try to relax beside your vehicle.
While most people don't care about the aesthetics of the fridge, the folks at Dometic care and put effort into designing a sleek fridge that won't be an eyesore. This model has an elegant aluminium housing that looks modern while keeping the cold inside.
There is a striped pattern on the outside, giving it a minimalist but bold design that is eye-catching without being too obnoxious or industrial. Plus, it isn't the basic white plastic that many small fridges use. The unit weighs 14 kilograms when empty and is roughly 50 inches x 50 inches x 50 inches, making it easy to lift, move, and squeeze into tight spaces.
While the unit seems to use high-end materials and sturdy parts, users report some pieces coming off or breaking after not much use. Specifically, the feet on the fridge tend to fall off, but you can easily glue or hammer them back on.
Another common qualm among customers is that the fridge can be difficult to temperature control when using shore power. So it will typically lower to a standard temperature, but you won't be able to adjust it.
Pros
Significantly lowers temperature
Spacious interior
Lightweight and compact
Sleek and modern design
Easy to use
Silent operation
Cons
Exudes significant heat
Not the most durable
No temperature control on shore power
Final Thoughts
If you don't have a 3 way fridge and spend a lot of time in your RV, caravan, or boat, you'll fall in love with what these little units can do. And you can't go wrong with one of the fabulous fridges on this list. Don't waste your time with plastic coolers stuffed with ice that melts in just a few hours.
Invest in one of these refrigerators that will change the way you travel.
FAQs on 3 Way Fridges
For some more information on portable fridges and keeping your items cold on the road or a boat, check out these commonly asked questions.
What is a 2-way fridge?
A 2-way fridge is another type of absorption fridge that you can take on the road or out to sea with you. However, these can only work with two power sources: AC Power and LP gas. So you won't be able to use house batteries or a car battery to run the fridge, which is a popular method.
Can I run a 3 way fridge at all times?
As long as you have enough gas, batteries, or AC power, you can run your 3 way fridge non-stop, just like the fridge in your house. If a 3 way fridge can't run 24/7, it isn't a decent product.
How much should I spend on a 3 way fridge?
As mentioned, with these portable fridges, you usually get what you pay. You can find some 3 way fridges for as low as £100 or as high as £700. It's wise to set a budget before you start shopping so you can have a price range to stick to.
See also our guides to compressor fridges, or for a super cheap option, the best 12v cooler boxes.