It's a great feeling to hit the open road and venture into nature. But what about all of your favorite appliances?
If you decide to stay somewhere off the beaten track, then your power supply is going to be a primary concern. A caravan generator is a great investment for this reason.
A portable caravan generator can supply enough energy to power your appliances when you don't have access to the grid. You'll also have full use of any USB-compatible gadgets without having to worry about plugging them into a wall first.
In this guide, we take a look at the best portable caravan generators on the market today – as well as how these vital tools work, the different types on offer, and what to consider if you are looking to buy one for your next adventure.
Let's get started!
Best Generators For Caravans
Briggs & Stratton Petrol Portable Inverter Generator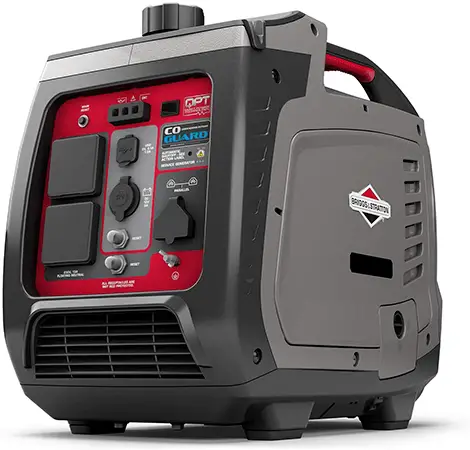 Now if you're looking for the cream of the crop caravan generator, then this is the choice for you.
The PowerSmart Series Inverter Generator is perfect for caravan owners who need to power up their appliances. This generator features a 111 CC OHV engine that produces 2200 starting watts and 1700 running watts, making it one of the most powerful in its class. The computerized technology controls how fast this motor runs based on what you're using so your fuel will last longer while also having a quieter operation with only 59 dBs at full load – less than half other similar models.
The generator has an inbuilt 3.8-litre fuel tank which provides up to eight hours of continuous operation while being at 25% load. It's easy to control using its multi-featured control panel that has two integrated 230v outlets which are identical to what you'd find in your home. It also has a 12V DC battery charging outlet and a USB charger plug, so you can still charge your everyday items such as your mobile phone.
In terms of construction, it has a lightweight design which weighs only 24kg so you can simply move it into a position which too much effort. If you have greater power needs than this can supply, then you also have the option of connecting two units for even more power.
A superb caravan generator and one of the best in class.
Wolf 800w Portable Petrol Generator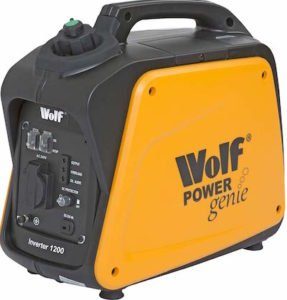 The range of Wolf Power 'Genie' Inverter Generators not only provide fantastic value for money but give you reliable and stable power wherever it is needed. This product makes for a useful emergency stop-gap generator, albeit one that is more suitable for basic camping needs – rather than indefinitely powering an entire motorhome.
The Wolf 800w Petrol Generator is ideal if you regularly camp and need a reliable yet cost-effective solution. The generator has a Wolf 4HP 4-Stroke Petrol Engine with 800W Max Output, and a 230v output.
This unit is extremely portable weighing in at just 9kg with a handle to make it easy to move into your desired position. The generator also has an 'econ' switch inbuilt that turns It idle when no power is being drawn to power your appliances reducing fuel wastage. 
Clearly, the versatility of this generator means that it's not just limited to your caravan trips but can also be used around the home, boating, camping and more.
The unit takes safety very seriously and has a power overload cut off mechanism. This is a red indicator light which automatically switches on when the appliance exceeds the generators electrical output.
So if the generator begins to overheat, then the inbuilt electronic breaker will automatically be triggered, which will cause the generator to stop. This reduces the amount of damage that can be caused.
It's not the quietest of caravan generators we've ever heard, but it comes at an affordable price and delivers the reliable supply that we'd want and need for low-to-moderate power usage.
Stanley 2000W-Silent Suitcase Generator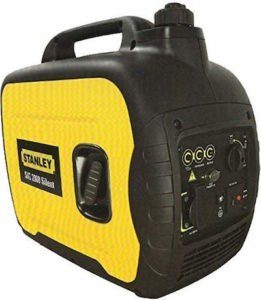 Stanley is a well-established company that has been around for several years building a strong reputation for high-quality manufacturing products, and this generator is no different, providing you with an efficient way to power your appliances.
This 2000W low noise generator has an 80CC engine while also having a large 4L fuel tank which can provide a continuous source of energy for up to 4.2 hours which is essential especially if you're off the grid caravanning. 
The generator also has an integrated switch for choke, fuel and engine with reliable multiple frequency inverter technologies. 
It has quiet operation due to a volume muffler and a smart throttle which will also increase fuel efficiency, saving you money. This makes its sound output just 52dB while its lightweight design gives it a total weight of 21kg, making it easy to move with its anti-slip hand and base.
Unfortunately, the unit is difficult to find online. Your best bet is to check the B&Q website, which has a limited number of units available as part of an online exclusive offer.
What Is A Caravan Generator?
 A caravan generator is a model of generator that is used to provide you with a reliable source of electricity to power your onboard appliances. This will be the same type of generator that is used for outdoor events, campsites and in the construction industry.
A caravan generator will make your life considerably easier because you won't have anything stopping you from turning on your favourite appliances as you'll now have a reliable power source. 
Although most caravan parks will have a power hook up, there can often be usage restrictions and reliability issues. So, it's always ideal to have your own, especially if you tend to caravan away from caravan parks.
The best caravan generator will have AC outlets so you can easily plug in your traditional appliances such as fridge, microwave, hairdryers etc.
How It Works
Generators tend to all work in the same consistent way which is through the use of inbuilt motor that's fuelled by propane, diesel, or unleaded gas. The fuel undergoes combustion which generates power to run the motor then.
This is a simplistic explanation of the process, but some models will be more complex than others depending on the brand and overall quality. For example, some models will only have a single motor, whereas others will have multiple, which will affect it's power output and efficiency.
Popular Types of Caravan Generators
Diesel Generators
Diesel generators are the traditional type of generators that are usually noisier than alternative types of fuel. Still, it has burns much more efficiently, which means that you get more for your money each time you refill.
Gas Generators 
Gas generators are the most common fuel type for a generator, especially for caravan use. Gas can be on the costlier side; however, this will depend on how quickly you consume fuel. Also gas is more readily available, so you'll find it easier to find a station that has it for sale which can be difficult for other types of fuel especially when you're outside of cities or towns.
Propane Generators
Propane generators are the up and coming type of caravan generators which means that their availability is also increasing, giving you a greater choice of models. Propane is not only extremely efficient, but it's also environmentally friendly while also being quiet in operation, giving you a high-quality product.
How To Look After Your Portable Generator
Although buying the best caravan generator is important, you also need to ensure that you look after it to prolong it's life meaning that you'll need to replace it less often.
Regular Servicing
Your generator could be developing faults without you realising if it's happening inside the engine. If you have regular services, then you can spot developing issues such as general wear and tear, which can develop into more serious problems.
The best caravan generators will come supplied with service guides that give you information about how to perform regular service. 
Safe Storage
Even when not in use generators can be damaged due to moisture and other weather conditions. It's important that when it's not being used, it's stored in a dry, cool place. Also, before you store it away, you should gently wipe down its surfaces. 
Additionally, if you're storing it away for the long winter months, then you should ensure it has a full tank and change its oil so when you return to use it in several months, it will still be in great running condition.
Lubrication
For generators and other types of engines, oil is a vital product that ensures for the smooth running of the engine which not only keeps it running efficiently but also prolongs its life. This is similar to your car engine that also needs to be well lubricated, which also reduces the amount of noise it makes.
Regular Use
To make sure your generator runs smoothly, you need to use it regularly as this also will show you any issues before they develop into more harder to fix problems. Even if your generator is stored away, then you should still run it regularly.
Never Use Old Fuel
It may be tempting to use old fuel that's been sitting in your engine all winter to save a bit of money, but it's important always to use fresh fuel because old fuel is less efficient and can also cause damage to some models of the generator. 
Buying A Generator For A Caravan
The factors you need to consider are:
Power Output
One of the main factors is the amount of power that your generator can produce. The main goal is to get the best generator for your needs and power requirements so that you have enough power for your appliances.
For example, if you have a high power consuming appliances such as an air conditioning unit or Heater, then you'll need to select a generator that has a higher power output to be able to meet your needs.
Construction 
The overall build of the generator is essential, and each manufacturer will list the dimensions of the unit. Ideally, you should choose one that is not only small in dimensions but also lightweight so you can easily move it from one position to another.
Although size and weight are crucial to understanding, you should also investigate the overall build quality as to how durable it is. It may spend the majority of its time outdoors, so it will need to be able to withstand all types of weather conditions from high-temperature UV rays to heavy wind.
Operating Noise
It's all well and good to buy the generator with the most powerful output, but you also need to understand how loud it is. This is very important, especially if you plant o have it running while you sleep through the night.
Luckily, manufacturers see noise as a key feature, and there are quiet generators which also lowers the risk of disturbing your neighbours. At the same time, many caravan parks have limits on the amount of noise you can make. An easy way to know how loud a generator will be is by its dB level.
Ease of Installation
Now we all like to think that we're DIY professionals, but you should consider how easy your desired generator is to set up, not only when you first get it but also every time it's time to be used with your caravan.
The last thing you want to do is realise that it takes you an hour to set up each time which can be incredibly frustrating especially if you arrive at your caravan site at night or in the rain.
The best caravan generators will be simple to set up, have easy to follow instructions and may also have additional support via phone or email.
Fuel Consumption
Fuel consumption is what will hit your bank balance the most once you've paid for your generator, so you must understand how often you'll need to add fuel to the generator.
This is also important, so if your caravan trip is far from a local petrol station, then you can easily plan how much fuel you'll need to take with you. Some models also have low power or eco modes which help to conserve fuel. A pure sine wave inverter is a more sustainable power source, whilst solar panels are significantly more eco-friendly.
Portability
You need to understand how portable your desired caravan generator will be. A portable generator will mean that you can easily move it from position to position whereas a more permanent solution will need to be attached your caravan at all times. A portable generator will often be smaller in size, meaning that when you pack it away, it will require less storage space. 
A portable generator may also have easy to carry handles which not only makes it easier to carry but also to manoeuvre it into position. 
Price
No matter what product you're buying, there will be a maximum amount that you're willing to spend. Because there is a range of generator brands, this means that there's not only a huge choice but also many different price points which can make the buying decision even more difficult.
You need to decide what features are most important to you and the maximum amount you're willing to spend. This will also make it easier to choose because this will limit the number of options available to you.
Warranty
As with all types of products, there is a chance that a fault could develop. This can be limited by choosing a high-quality product, but the risk is still there. For this reason, you should see if your desired generator is supplied with a warranty which will provide you with protection if a defect occurs, which affects its operation.
Warranty lengths will vary depending on the brand of the generator and will generally range from six months to a lifetime. Of course, the longer the warranty, the better the protection giving you more peace of mind that you're buying a product that the manufacturer believes in.