As the world continues to find new ways of using alternative energy sources to create power, we've seen an increase in the demand for pure sine wave inverters.
This is a device that allows for sustainable power supply because it allows you to transform energy from DC power into AC power that you can then use to power your appliances even if you don't have access to mains electricity.
This is especially useful if you're off the grid in your caravan but still require power.
Because a pure sine wave inverter allows you to convert many types of power, it is extremely popular amongst caravan and outdoor enthusiasts.
We'll show you the best pure sine wave inverters available on the market – as well as the most important features to be aware of.
The Best Pure Sine Wave Inverters To Convert Power
Let's get started with our #1 pick…
Novopal Power Pure Sine Wave 1000 Watt Inverter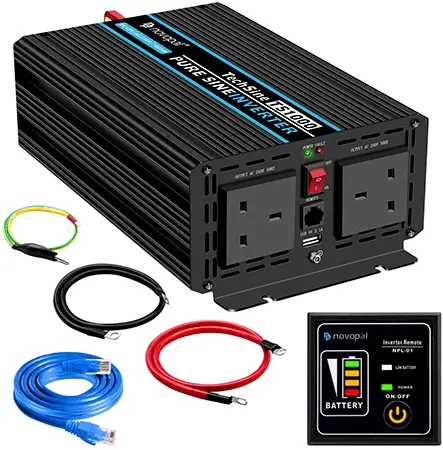 The Novopal is one of the best pure sine wave inverters on the market with the ability to convert 12V DC to AC 230V/240V with a continuous 1000 Watt output. There are 2 AC outputs with an additional 2.1A USB port to fulfil all your needs.
The unit produces clean Pure Sine Wave output which is identical to AC power generated from your standard output.
The inverter has numerous protection features including temperature shutdown, over-voltage and under-voltage protection, automatic overload protection, less voltage audible alarm, AC ground terminal, short circuit protection and newly designed DC terminals offer high current DC input.
The inverter is covered by a 12-month warranty courtesy of the manufacturer. It is effective for charging your TV, freezer, refrigerator, and other electronics, while also protecting your electronics for a longer lifetime of usage.
This product comes as a great package with all the necessary items to get you started:
1x 12V to 230V 1000W Pure Sine Inverter TS1000
 1x User Manual in German and English
 1 Set of Battery Cables(1xRed,1xBlack)
 1x remote control 
The Novopal inverter has dual cooling fans inbuilt with a temperature sensor. When the temperature goes over 45℃, the fans automatically switch on, and if the temperature goes above 75 ℃-80 ℃, the protection mode is activated until it has cooled down.
Two power outlets
1 USB port
Output Power (continuous): 1000W
Ultra-clean pure sine wave output
Over-temperature protection
Remote control
12-month warranty
Automatic overload protection
Overvoltage and under-voltage protection
Less voltage audible alarm
Short circuit protection
AC ground terminal
EDECOA 1500W Pure Sine Wave Power Inverter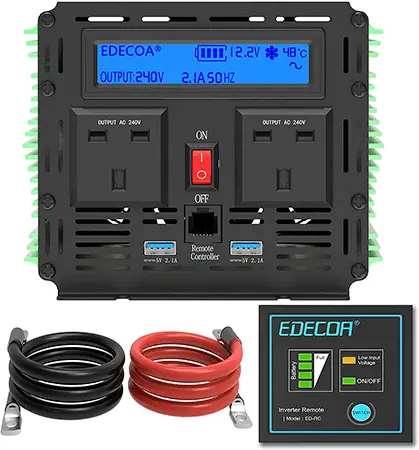 This easy to install 1500w inverter is an effective way of providing household power when you're on the go. It has a compact and lightweight design making it easily transportable and can convert 12V DC battery power into 240AC power.
There are two outlets so you can power multiple appliances, including laptops, TVs and mobile phones.
Included is a remote control allowing you to switch the unit on and off which is more useful if you have it mounted in a difficult to reach position.
The unit has an inbuilt silent fan to keep the environmental-friendly inverter cool while also saving power and energy. There is an LCD that shows the Battery Input Voltage, Inverter Output Voltage and Battery Power Level Status.
The unit provides a continuous power output of 1500 Watts with a peak power of 3000 Watts. Safety has not been forgotten about with this inverter and includes a range of safety features including Over and Under Voltage, Short Circuit, Overheating, Intelligent Fan Control (IFC) Automatic Voltage Regulation (AVR), Reverse Polarity, Intelligent Power Management (IPM),
The unit is covered by a one year warranty and is fully tested before it is shipped out.
The package includes:
1x Remote control
1x pair of cable with terminal rings
1x fusible bag
1x manual
1500W inverter
Easy to install
Remote control included
LCD
Two power UK outlets
Lightweight design
Whole range of protection safety features
inbuilt silent Fan
One year warranty
BESTEK 300W Pure Sine Wave Power Inverter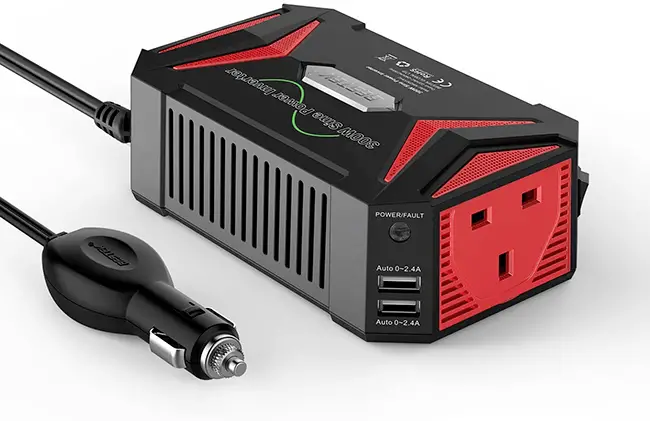 If you're working with a lower budget, then Bestek offers a much more cost-efficient alternative. The Bestek inverter provides 300 watts of continuous power converted from DC to AC. The unit also features 2 USB charging ports and 2 AC outlets.
The unit has multi-function Protection including built-in 40 amps fuse and full-protection with short-circuit, low-voltage, over-temperature protection, over-charge, over-voltage, over-load. The inverter has an LED indicator to signal if the unit is working correctly or if any faults have been discovered, i.e. shut down mode.
With its compact and lightweight design, it is naturally space saving and comes with a 26-inch cigarette lighter plug, so it's compatible with almost any type of vehicle.
Power 300W Rated
LED Diagnosis
Multi-function protection
2 USB and 2 AC outlets
Lightweight and portable
Compatible with most vehicles
How Does an Inverter Convert DC to AC Power?
An inverter is often mistaken for being far more complicated than it is. It has a three-step process that involves it's oscillator, amplifier and output transformer.
1. Oscillator Stage
This begins with the inverter producing oscillating pulses within its IC circuit, also known as a transistorized circuit. This oscillation process continues until an alternate battery charge that contains both positive and negative voltage peaks is generated.
These peaks can't be transferred into the inverters amplifier until they reach a specific frequency number. This is vital because low-frequency peaks can't power up anything.
2. Booster or Amplifier Stage
The amplifier stage is an important stage an involves the boosting of pulses which are generated in the previous oscillating stage. This leads to an elevated current level.
This is a vital stage to ensure that the voltage is boosted to convert it from a battery supply level into electricity that is powerful enough to be effectively used by your appliances.
So this can occur, the inverter has to transfer the amplified voltage into the output transformer's secondary winding.
3. Output Transformer Stage
This stage relies on two windings that are held within an AC to DC transformer; the power is also lowered so that it can obtain the required lower AC levels. This process is called magnetic induction.
From this point, the inverter uses the low-level AC power that was created in the amplifying stage in the secondary transformer windings.
The result of this is stepped up voltage that's available for you to use on your desired appliances around your caravan or motorhome.
What To Look For in a Pure Sine Wave Inverter
Wattage
You should consider wattage when choosing an inverter size because you need to ensure that your two main requirements are met; typical power and peak power requirement.
Also, you'll need to consider the surge which the max amount of power that the inverter can supply appliances for a maximum of 15 minutes.
Cost
Let's face it; the cost will always be a consideration when buying products, and it's important when choosing a sine power inverter. Generally speaking, the higher the cost, the more features and the higher quality the product is.
Regardless, you must stick to an inverter that not only fits into your budget but also matches your power needs.
They will generally be cheaper to operate than a conventional caravan generator.
You may also want to consider the benefits of a caravan solar panel for generating your power.
Size
If you're purchasing an inverter for your caravan, then you'll need to consider its size because it'll need to be easily transportable but also be able to store away when not in use. Technology has developed massively, and as time progresses, these devices are getting smaller and smaller.
Warranty
If you buy the best pure sine inverter, then the top brands will usually come supplied with a warranty. 
This gives you the extra support should a fault develop with the product, and if this occurs, the manufacturer will provide either a repair or replacement. This is another reason why it's important to invest in a high-quality, reputable inverter.
Voltage Requirements
You need to take into consideration the amount voltage that you need which will largely depend on the number of items that you'll need to power and the voltage each of these items requires. 
You also need to work out the number of these items that will be running at the same time because this will affect the number of outlet sockets that you need.
If you plug in too many items that have a high wattage, then this can overload your DC to AC inverter which can then develop damage. This is the reason that the higher the wattage threshold, the higher the cost of the unit.
Efficiency
It's great to have a high voltage inverter, but the efficiency of the inverter is critical. The greater the efficiency of an inverter, the lower the amount of power that's wasted throughout the inversion process leading to your caravan battery lasting longer.
The power generated is converted into heat which is what you want to avoid, which is why you need to purchase an inverter that is a minimum of 80% efficient so you can reap the full benefits.
Fault Protection
Although your main focus is the power and performance capability of your inverter, it's important to ensure that it has all the vital safety features to make you safe while you are operating it. Four of the main safety features are:
Overload Protection
In the event that your inverter expels too much power, then the battery will immediately shit down to protect you and your vehicle. The inverter will remain permanently shut down until the overload has stopped.
Over Voltage Protection
If the inverter input voltage is too small, then the unit will turn itself off automatically to again protect your inverter and any devices that may also be connected.
Thermal Shutdown
If the inverter starts to overheat, once it goes past a specified temperature, it will automatically turn off to protect both you and your vehicle.
Low Voltage Protection
The inverter unit will automatically switch itself off if the battery voltage drops too low. This action protects both your inverter and other car components and functions.
These are the core safety features that you need to consider for the inverter that you choose to purchase. These functions will protect a diverse amount of things, including your vehicle, the passenger and the inverter itself.
Multiple Outlet Types
The best pure sine inverter will usually have two standard AC outlets inbuilt as well as USB charging ports which provides you with the opportunity to connect several devices including TVs & Mobile phones.