Solar panels are becoming increasingly popular, and you will find many more of them installed on caravans than you would just 10 or 15 years ago.
Some forward-thinking caravan owners have installed them on to their vehicles as a valuable power source, which can be particularly useful if you travel off-grid.
Solar panels have a reputation of being overpriced and difficult to install; however, this is beginning to change thanks to a few companies making them more accessible to the everyday consumer. It's a trend we expect to see accelerate over the coming years.
By mounting solar panels, you can significantly reduce the chances of losing access to electricity – and thereby having to go without your essential appliances and devices.
In this guide, we've reviewed the best caravan solar panels and the features that you need to consider when investing in this popular step towards self-sufficiency on the road.
What Are The Best Caravan Solar Panel Kits?
Photonic Universe 160W Monocrystalline Solar Panel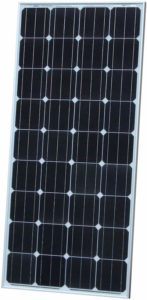 The Photonic solar panel is a waterproof, high-efficiency solution with 160-watt output making it ideal for permanent outdoor use with your caravan, giving you a reliable source of energy. The solar panel will generate free electricity which can charge your 12V battery, allowing you to power your caravan appliances.
The solar panels have monocrystalline solar cells which are not only long-lasting but also durable due to its sealed aluminium frame so it'll last many years even with consistent use. The waterproof design means that it can be used in all weather conditions, even in the UK where the forecast can be somewhat… unpredictable!
Supplied with the panel is a 5-metre solar cable which is still fully operational in at high roof temperatures.
Before being shipped, each panel is thoroughly factory tested to ensure it meets the highest quality standards and is also supplied with a warranty. If you want to use multiple solar panels, then they can be connected to generate greater levels of power.
ECO-WORTHY 100 Watt 12V Solar Panels Kit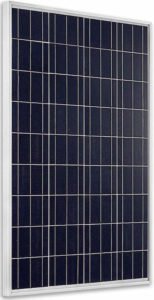 This Eco Worthy solar panel kit comes with all you need to get your electricity generation up and running. It's a high-efficiency solar panel with 100-watt output and has a strong, high-quality anodised aluminium frame which means it can withstand even the harshest conditions. 
The solar panel is ideal for charging 12v caravan batteries while also being easy to use and are compatible with a range of settings including boats, homes and caravans. This allows you to go off-grid with the security that you still have a source of electricity.
The solar kit is easy to install and comes with holes pre-drilled and a controller to protect your battery from overcharging. The brackets also allow you to slot it into place and also supplied simply is a five-year warranty for the materials and workmanship plus a 25-year warranty for the power output.
This kit can be quickly mounted to the roof of your caravan so you can start generating your electricity.
Note: While this model is great for those on a budget, ECO-WORTHY has a variety of extremely powerful solar panels you might want to consider for full off-grid living, including a 1kwh/day option.
Photonic Universe 100W Monocrystalline Solar Panel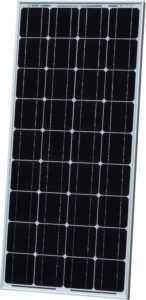 It's no surprise to see another Photonic solar panel on our list, but this time it's a 100-watt solar panel which is best suited for lower energy requirements.
The efficiency of this model is still high.
The monocrystalline solar panels have a durable aluminium frame which makes it perfect for a range of weather conditions. It's supplied with 5m of special 4mm solar cable which can function in high-temperature environments such as your caravan roof. 
The panels can be quickly mounted onto your caravan roof but can also be used in other off-grid installations such as boats, campervan or yachts.
Not only are the panels thoroughly tested before being delivered, but the panel is also well packaged in a rigid box which has thick, high-quality foam that protects the glass. The high-quality components mean that once you set it up, it's highly unlikely you need to go back onto your caravan roof unless it's for a light clean.
XINPUGUANG 100W 12V Flexible Solar Panel Kit System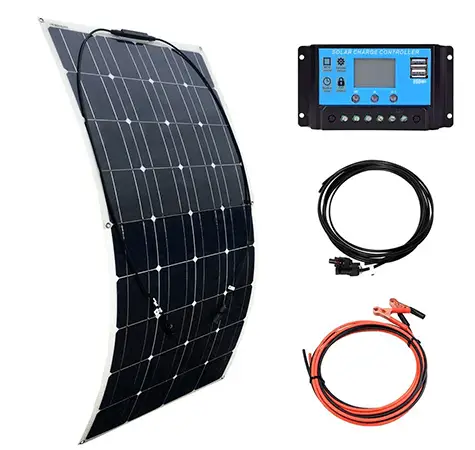 This Flexible Solar Panel Kit System from XINPUGUANG comes with a complete full kit to get you started on your electricity generating journey. It generates 400WH/Day from just 4 hours of full sunlight – enough for basic power requirements in your caravan or motorhome.
The solar panel is easy to install because it comes pre-assembled, so in most cases, you can do it yourself, although this will also depend on your ability to install it. The solar panel delivers 100w of high-performance energy and is designed specifically for use in caravans, motorhomes and boats. 
If you need a solar panel that delivers high levels of energy, then they also offer 120w and 170w options. The included charge controller means that you can connect the solar panel to your caravan battery without the threat of it overcharging.
Dokio 100W Solar Foldable Panel Monocrystalline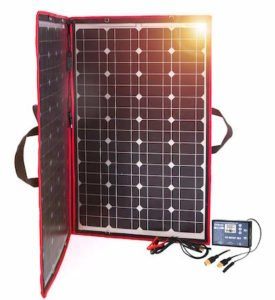 Now, this is a slightly different type of solar panel and is best suited if you don't like the idea of it being permanently mounted to the roof of our caravan. Not only does this panel use a high efficiency a monocrystalline solar cell, but this means that although the panel is slightly smaller, you will benefit from higher power efficiency.
The big difference with this solar panel is that it's the foldable and lightweight meaning you can transport it easily with its carry handle; it also only weighs 2.7kg and is 1.2cm thick. The panel can generate 100W of power, and the panel is thoroughly protected. Also included with the panel is a solar controller.
Its foldable mechanism makes it suitable for use in caravans, cars, tractors, boats and camping while also being easy to install and get up and running.
What to Consider When Buying a Caravan Solar Panel
Many of us have never purchased a solar panel – so what are some of the key product features we should be looking at?
Warranty
A warranty is normally supplied with most caravan solar panels, and these will vary in length. The longer a manufacturer is willing to cover your product for, the greater the peace of mind.
There are usually two types of warranty offered:
Power Warranty
Power warranty refers to the amount of time that your solar panels will effectively produce power for. For example, a manufacturer may guarantee that your solar energy panel will generate energy for ten years at 90% of its total capacity. If its output drops below this, then the manufacturer will replace or repair your unit. 
Product Warranty
A product warranty covers the parts and components of the solar panel. If any of these breaks within the warranty period, then the manufacturer will replace at no added cost. Product warranties will range in length from 2 years to lifetime.
Solar Panel Brand
As you'd expect from any type of product, the brand will have a significant effect on not only the quality of the product but also the selling price.
The higher quality brands will likely be more energy-efficient and therefore command a higher selling price. You should view this as an investment because the better brand and product you purchase the more energy it will produce and you'll save more money by using less grid electricity.
Price
Unlike traditional solar panels that you see on residential homes, caravan solar panels are much cheaper because you'll only have space for a few panels and they generate lower amounts of energy.
Generally, you can pick up a panel for £100-£200 each, and the price will be affected by the type, brand, efficiency and power output.
You'll also need to understand if you can install these yourself. Otherwise, there will be additional labour costs for installation. However, most caravan solar panels are user-friendly and easy to install.
When you're thinking about the initial financial outlay for your solar panels you need to consider this as a long term investment because now that you can produce your electricity, you'll now save money by having lower energy bills.
Efficiency
Solar panel efficiency is an essential consideration because the higher the panel efficiency, the larger amounts of energy that it will produce for your caravan. Module efficiency is the reading that you need to prioritise when it comes to efficiency.
Modern solar panel efficiency is normally between 16 – 20%, and if it's above 19%, then this is ideal. The higher the efficiency, the more expensive the solar panels will be.
You also need to consider the size of your roof because if you have a smaller roof, then you'll need to be more energy-efficient panels. Whereas if you have a larger roof, then you can install a larger number of panels that have a lower efficiency.
Power Output
The greater the power output of your solar panels, the more electricity that your caravan will have.
Power output is measured in watts and caravan solar panels watts will be slightly lower than domestic residential solar panels – in our experience, usually around 100 watts.
You should ideally stick to an output of no less than 100w if you want to generate sufficient levels of electricity. The higher the wattage, the more expensive the panel will be to purchase, but this will be offset by the savings that you'll make by not having to pay for electricity.
Types of Solar Panels For Caravans
In the solar panel industry, there are two main types that you can choose from which are monocrystalline or polycrystalline. Their names signify the type of silicone that the panels are made from. The type of silicone affects how efficiently they can generate energy for your caravan.
In terms of efficiency, monocrystalline panels are better performing, and you can also expect them to last longer, which means that they cost more, but it's recommended to get this type of panel. If you're on a tighter budget, then polycrystalline panels are still an option. 
Monocrystalline have a sleeker more attractive design due to often being black, whereas polycrystalline are generally blue. 
User Reviews
You can get a detailed description of a solar panel brands reputation and expertise by browsing through user reviews and websites. Never underestimate the power of reviews because solar panels are becoming more widespread, which means that more users are reviewing the quality of their products.
If you're at a caravan park and see another caravan with panels installed, then don't hesitate to ask them questions about their set up as this help you make a more informed decision. You can ask about installation, any issues, the brand and the amount of energy they generate.
Additional Components
If you buy a solar panel package, they will often come with other vital components.
For example, once your solar panel has been fitted, you'll need to connect it to your caravan battery, but you need to ensure that it doesn't overcharge your battery which can cause damage. To prevent this damage, you'll need a charge controller which is sometimes referred to as a regulator. Some solar panels will come with this included saving you money and time so you can do a full installation at the same time.
Top Benefits of Caravan Solar Panels
Quick Installation
Caravan solar panels aren't as complicated as traditional solar panels that you might see on the roof of a house. Many solar panel kits will come pre-assembled, so all you need to do is mount it onto the roof of your caravan. Others will have pre-drilled holes to make life easier, which means you can be up and running in just a few hours.
In most cases, you'll be able to install yourself, so you don't need to pay an engineer to come and fit them.
Reduces Energy Bills and Electricity Consumption
The cost of energy normally sees early increases which means it will cost you more to power your caravan appliances. You can protect yourself from rising utility bills by using solar panels as part of your energy consumption strategy. 
This will help to reduce your total energy bills even when traditional electricity increase. Once you've paid the initial outlay, the electricity is free which makes it significantly more cost effective than alternatives such as caravan generators.
Reduce Carbon Footprint
Changing to solar energy will drastically reduce your carbon footprint if you've been using mains electricity up until this point. Solar power energy is not only green but also renewable because it doesn't release harmful chemicals such as Carbon Dioxide like traditional electricity generators do. Over their lifetime, your solar panels can save tonnes of CO2 from being released into the atmosphere.
Off the Grid Independence
Caravan owners often go off the grid where there may not be direct access to energy (via caravan hook up cables). Solar panels are ideal for this when you're in remote areas where connecting to the electricity power grid can be expensive or complicated.
If you're planning to go off-grid, then you can also integrate batteries into your solar power set up which provides you with a means of storing the energy which you can then use at a later time. For instance, if you wanted to use your stored energy through the night. There is a range of different batteries available, and they vary depending on their size and capacity.
All Year Round Use
It's often a misconception that solar panels can't generate power in the colder winter months. Their full energy generating capability is realised in the summer months, but during winter and cloudy days, they can still produce considerable and useable amounts of energy.
Low Maintenance 
Solar panels need little servicing and depending on the system; some need no maintenance. Solar panels are expected to last for up to 40 years and are usually covered by warranty for at least 20 years.
Once solar panels are installed, they will need to be kept clean, and often natural rain can help to keep them dust-free. If your solar panels do accumulate any dirt or debris, then they can simply be cleaned with a brush and hot water.
How to Fit Solar Panels to a Caravan
Once you've selected your desired solar panel system, you're well on the way to saving money by using the power generated by the sun. Now you need to start thinking about the installation of the panels to the roof of your caravan.
You first need to check with your caravan insurer that installing solar panels doesn't void your insurance deal. It may also be in the terms that the panels need to be installed by an approved company or need to be from the manufacturer of your caravan.
Once you've found this out, you can then decide whether you want to install them yourself or pay for a professional to install them.