On many caravan sites, you can hook up your vehicle to the power supplied by the caravan park. This makes it a whole lot easier to take full advantage of your favourite appliances and electrical devices.
All you need to do this is a caravan hook up cable.
It's normal for people to feel out of their depth when using electrical components, however these cables are really easy to set up. And the advantages of having access to a caravan park's power supply is obvious. You'd have forgotten something pretty major if you fail to bring one!
In this guide, we'll show you the best caravan hook up cables on the market, so you can take full advantage of the local power supply – and sleep easy knowing that the toaster and coffee machine will be waiting for you in the morning! Or that the kids won't run out of television…
We'll also run you through some safety tips to ensure that the cable is set up correctly, to keep you and your family safe at all times.
What Are The Best Caravan Hook Up Cables?
All Lengths Caravan Camping Motorhome Hook Up Cable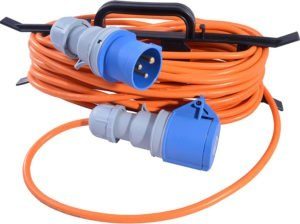 This 16 AMP caravan hook up cable is manufactured using high quality 1.5mm orange PVC 3 core flex cable to give it durability and strength. The orange PVC sheath not only provides insulation but also gives it visibility for added safety.
The hookup cable is fitted with a 240V 16A 2P+E plug and socket and isn't only limited for caravan use. It's perfect for motorhomes, campervans and any other RVs you might be touring with.
Also supplied with the cable is a free cable reel which has an easy carry handle. This reel makes it easier to store away your cable when it's not in use, with a robust design that's built to last.
The cable is constructed by in-house qualified electrical engineers so you can trust its quality. The cable ends have been terminated which reinforces the cable to lengthen the life of the extension lead. This stops the cable from loosening, so you get more use out of it.
All hook up cables are PAT tested with one-year certification from the date of purchase. Each cable has proof of this with a PASSED confirmation label that's attached to the product.
This is a simple but trusted hook up cable that will have you connected up in no time.
Semloh ML25 25m Mains Caravan Hook Up Cable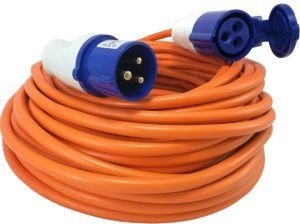 The Semloh Hook Up cable is 25 metres in length, making it highly suitable for caravan owners who want to use onsite electrical supply onboard their vehicle. It has a heavy-duty construction so it can withstand all weather conditions and it's orange in colour, so it remains highly visible.
Note: Orange is the standard for all caravan hook up cables – since it needs to be easily seen on-site.
The cable is suitable for caravan, camper or motorhome use and comes complete with a 240v 16Amp plug and coupler connectors. The cable is 2.5mm² thick with a 100% Copper 3 Core, which is recommended for use within the UK.
Overall this is a strong, robust and durable cable. It has a water-resistant rating of IP44 to give you added peace of mind. In terms of safety, it conforms to BS 7671 and EN 60309 and is CE approved.
The cable has been made to a high spec, and because it uses a 2.5mm cable, it can carry the full 16 amps without suffering from voltage drop. This makes it much more effective than 1.5mm cables which tend to be more common but less suitable on a full load.
Crusader V762 Mains Supply Unit with 3 Sockets 15 meter Cable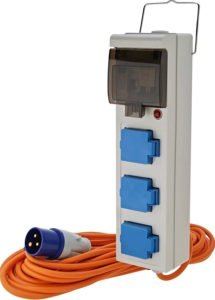 If you're looking for a caravan hook up with more than one socket, then this is the product for you. It's suitable for use with a caravan, camping or general outdoor use. All you need to do is plug this into the caravan site's electrical supply, and then you can bring 230 volts of electrical power to your onboard appliances.
The unit has 3 x 13 amp sockets which are fully splash proof with a rating of IP44, while it also has 10 Amp double-pole main circuit breaker for added safety. The cable conforms to BS standard compliance to give extra confidence that you can trust the product.
The cable is 15 metres long, which means that you can reach the hookup point without having to overstretch the wires which can cause damage or be more of a trip hazard. When you hold the lead, you can feel the quality, and it has a weightiness so it won't just be blown away, but it's still light enough to move around easily.
This will pay for itself when you can have all your home electrical comforts with you when you go caravanning.
What Is a Caravan Hook Up Cable?
A caravan hook up cable allows you to connect your caravan to the campsite's electric hook up point so you can supply your caravan with a free flow of electricity.
It's the same type of electricity that you would get at home, which is 230V.
You can use the electrical supply to directly power 230V equipment, or if you need to convert it to 12V DC, you can have a power supply that converts it.
What To Look For In An Electric Hook Up Cable
Here are some of the factors to consider when choosing between electric hook up cables for your caravan or motorhome:
Cable Length
It's important to consider what the length of the cable is. Ideally the longer length you can get the better because if you're going to a new caravan park, then you might be unaware of the layout of the pitches or how far the electrical supply point is to your caravan.
However, although you might think to just get the longest lead, you need to think about where you're going to store it and if you've got space for it when you're travelling to the caravan park. We've only reviewed cables that are long enough to be useful to the majority of caravan owners.
Material
The material of the hookup cable is important because throughout all its use it'll be outdoors so it needs to be able to withstand the natural UK elements which can often include spells of wind and rain. The best cables will be covered in a PVC sheath that gives it all-round protection.
The cables that use the highest quality materials will usually last longer so although they may cost slightly more, it'll be worth it in the long run because you'll need to replace it less often. This isn't the type of product that you want to be replaced each year.
Connections & Wiring
If a hookup cable has been made on a home production line, then you need to check that the right level of care has gone into assembling the sockets and plugs. A professionally constructed cable will have high-quality connections that work.
There's no guarantee that a badly constructed wire will have good wiring. Poor wiring can result in short circuits, and if there are any loose wires, this can cause fires. It's not uncommon for electricians to come across poorly installed plugs that are an ongoing safety hazard.
Orange Cabling
Genuine caravan hookup cables will be orange, making it highly visible. The colour of the cable is very important because it needs to be visible between the grass and gravel at your caravan pitch.
This means that from a safety perspective that it can be seen by people walking past even if the grass is slightly long. Dark leads aren't the end of the world, but it means that they're harder to see and could be a trip hazard.
Ease of Use
Ideally, you want a hookup cable that is easy to use every time. You have enough to worry about when you go caravanning, so the last thing you want to do is have to spend hours trying to troubleshoot and issue when the best cables allow you to just plug in to use.
IP Rating
An IP rating is short for the term Ingress Protection mark which is a two-digit grading system that's ingrained onto the enclosure of electrical items so customers can see how effective the item is at resisting intrusion to unwanted substances.
The reason for this system is so there is a universal way for buyers to understand and be confident in how safe an electrical product will be. This is even more important if these items will be used around children.
Products are often marketed by terms such as "water-resistant" which can be vague and doesn't make it clear about how much water a product can be subjected to before it gets dangerous. An IP rating is a solution.
IP ratings are most commonly found on items that claim to be waterproof or weatherproof, which covers a huge range of products including, watches, mobiles phones and lighting. The IP rating should be understood before buying, which allows you to ignore the marketing claims. The second digit in the IP rating code will indicate how much protection against moist your item will have.
We recommend that you avoid purchasing caravan hook up cables that have a rating lower than IP44.
Cable Rating
It's important to understand the rating of your cable because to meet the IEE regulations it needs to be a 2.5mm core mains lead.
You can also buy a 1.5mm cable which is rated lower but are also popular around the continent because across Europe caravan sites often have an electrical power output that's lower than the UK's 16 AMP standard.
Caravan owners also favour these cables because they tend to be more lightweight which means they are easier to handle. We'd always recommend that if you're caravanning in the UK that you stick to a 2.5mm cable.
Damp Protection
You mustn't have a 4-way adaptor socket because these are designed specifically for indoor use, so usually they aren't manufactured to be weatherproof.
As you know, electricity and water are not a good combination and can be incredibly dangerous. Household sockets aren't even suitable for moisture, let alone water and rain which you can almost expect if you're in the UK. Low quality hook up cables can be extremely dangerous if they get damp or wet.
Circuit Breaker Protection
It's important that your caravan hook up cable has adequate protection. If it just comes with a blue mains plug with a socket, then there is no protection present. Although the campsites electric supply will have a circuit breaker, it's recommended that you also have your precautions on your mains unit, which will automatically turn off your supply as soon as a fault is detected.
Other Safety Concerns
If you browse through many types of websites, you will come across sellers that are offering caravan hook up cables at low prices which might draw you in because it looks like a bargain.
However, some of these leads aren't what they seem and constructed using a standard household 4-way socked which is then wired and attached to a blue campsite hookup plug. This type of hookup is usually used as an adaptor socket lead that's reserved for indoor use only and not the continual outdoor use that a hook up cable is used for.
Some of these lower quality leads are made in people's homes so they haven't been produced at a commercial level which could mean that they haven't been properly safety tested. They may look good on the outside, but there's no way of telling if they've been wired correctly on the inside.
Warranty
Depending on the brand that you purchase, you may be entitled to a warranty with your cable. Warranty is a period that your product is covered if a fault develops. If this happens, then the manufacturer will be there to offer support whether this is troubleshooting, a repair or a replacement.
It's important to see whether your hook up cable comes supplied with a warranty because this is often worth paying a little more for if it means that you're going to secure long term cover. After all, some warranties can cover you for a lifetime.