There's nothing like the great outdoors, and we all look forward to setting off on our holidays – but getting to your destination can be stressful if you've never been there before.
A caravan sat nav will not only get you quickly to your destination, but it will also find the best stress-free routes allowing you to avoid busy town centres and windy long country roads.
The motorhome sat nav market continues to evolve each year, serving up a vast range of models that have an array of features and functions. If you are driving a caravan or motorhome, you can find sat nav systems that cater to the exact requirements of your vehicle.
This can make navigation a whole lot easier – and safer!
In our guide to the best caravan sat nav systems, we show you our pick of the best models on the market today – featuring the latest maps, the most accurate routes and the best customisation options for larger vehicles.
Best Caravan Sat Nav and GPS Systems
Garmin Camper 780 Advanced 6.95 Inch Sat Nav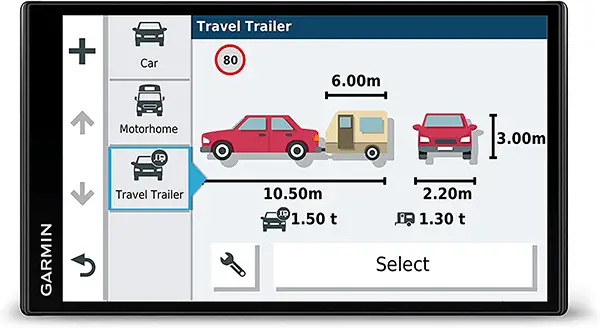 Garmin is a household name in the sat nav market, and the 780 Advanced has been specifically designed to make it easy for motorhome, caravan and camper owners to navigate to their destination. 
It does this on its large 6.95-inch high-resolution screen with edge to edge touchscreen capability.
The system comes pre-loaded with detailed maps Europe which also includes information including bridge heights, speed limits and other data along the major routes and motorways. All you need to do is input the size, and weight specs of your vehicle and the sat nav will use these details to create the best route for you.
The Garmin Camper also includes the ACSI's Campsite Directory which is a detailed listing of over 9,000 campsites across Europe with information on prices, hours of service, size and more. This directory allows you to do custom searches based on your needs, such as if you require your campsite to be pet-friendly.
You also have the option of connecting it to your smartphone, which then allows you to be updated on lives services such as parking or weather information as it changes in real-time.
An added feature is its voice-activated navigation which not only gives you the direction orally but allows you to respond to the sat navs commands. This also means that you can stay concentrated on the road without needing to touch the device.
You can also use the voice activation feature to make calls and receive text messages without having to use your hands.
6.95 Large Screen
Preloaded Europe Map
Route based on caravan dimensions
Huge campsite directory
Voice-activated feature
Custom routing and trip planning
All in all, one of the best caravan sat nav systems – and even better if you're planning to tour Europe.
Aguri Motorhome & Caravan RV720 DVR 7″ Sat Nav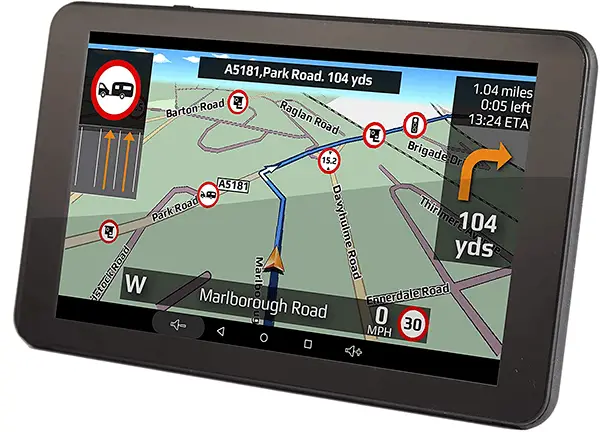 In a sat nav world dominated by Garmin and TomTom, Aguri has begun to establish themselves as a worthy competitor. This RV720 sat nav has a 7 inch LCD screen that comes preloaded with map updates provided for the entire life of the product.
The sat nav uses proprietary technology to generate routes for your caravan while avoiding hazards such as width, weight and height restrictions using your caravan specifications that you type into the system.
The software also has a junction and lane view which provides you with early warning of impending turn while also recommending the appropriate lane that you should be in. The sat nav come pre-loaded with Full European and UK street-level mapping for caravans and motorhomes, so you can use it straight out of the box using its plug and play capability.
The model also comes with an inbuilt dash cam with a 130-degree wide-angle lens with all the video data being saved to the included 8gb SD card. You can then review any of this footage on the sat nav screen with the exact time and date stamps.
The information of over 30,000 caravan sites is preloaded into the satnav, and there are also speed trap features to warn you before you infringe on the law. The sat nav also displays the speed limit of the road you're currently driving on.
7-inch display
130-degree wide-angle lens dashcam
pre-loaded with full European map
Tailor route to your caravan specifications.
Free wireless updates
Pre-loaded with 30,0000 campsite and caravan site locations
Voice activation feature
includes 8gb SD Card
TomTom GO Camper Sat Nav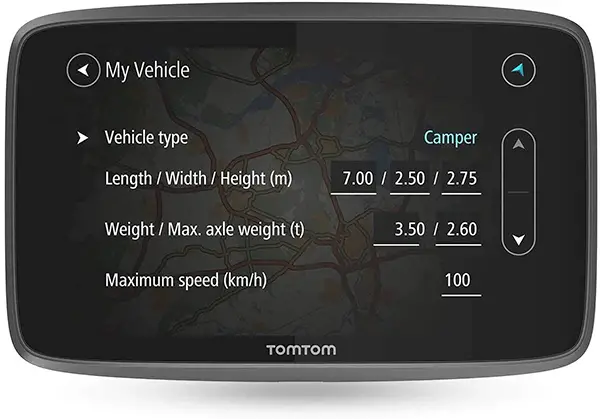 The TomTom GO Camper sat nav allows you to navigate the roads with ease without the worry of not finding your destination. The Go Camper gives customised routes for your camper or caravan based on its size and weight dimensions so you'll never encounter a low bridge ever again.
The sat nav updates via wifi and gives you access to maps in 165 countries with over 555 million km of roads for camper dimensions, weight and speed. The unit feeds in real-time traffic data, so even if you're mid-journey, it can plan routes around traffic to get you to your destination quicker.
The satnav also finds detailed points of interest dedicated to campers and caravans, and all this is displayed on its 6-inch 800×480 resolution display screen.
There is also voice-activated features that allow you to access your text messages, make voice calls while also being compatible with Siri and Google Now. It's easy to mount using it magnetic mount technology so you can always have a clear view of the display.
165 country Maps
6-inch Display
Voice-activated features
Caravan specific routes and points of interest
Live Traffic Data
Customise routes to your caravan specifications
Mountable
You know what you're getting with the TomTom brand. An intuitive high-quality satnav – and in this case, one that is perfect for operation in a caravan, motorhome or larger vehicle.
TomTom Go Professional 620 GPS Caravan Sat Nav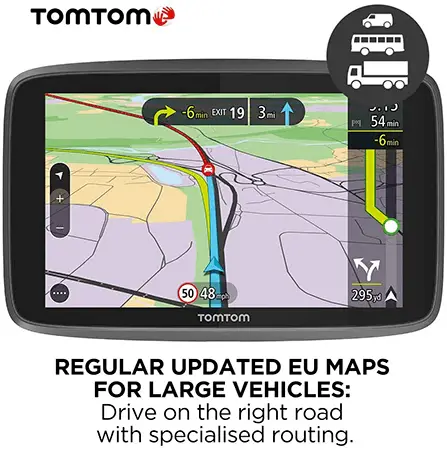 The TomTom Go Professional Caravan satnav provides you with customized routes for larger sized vehicles such as trucks, caravans and lorries. You can input your exact dimensions so you can follow a safer and efficient routes remove any of the guesswork so you can ensure that you reach on time.
There is a 6-inch clear screen for you to use as well as the touchscreen functionality so you can navigate through the system.
The sat nav has full UK and European maps, and traffic and speed camera updates that not only warn you of upcoming changes – but can also re-route your journey to avoid any time-consuming traffic or accidents.
When using this sat nav, you can remain connected with its built-in hands-free calling capability, while it can also read text messages. All you do is connect your smartphone via Bluetooth, and you can keep your eyes on the road constantly.
There is also advanced lane guidance which gives you a safer way of moving across motorway lanes decreasing the risk of danger. Plus the system can update via wifi connection.
6-inch display
Customised routes based on size dimensions
Full UK and European maps with free updates
Voice-activated features
Updates via WiFi
Awesafe Sat Nav 2021 Latest 9 inch GPS Navigation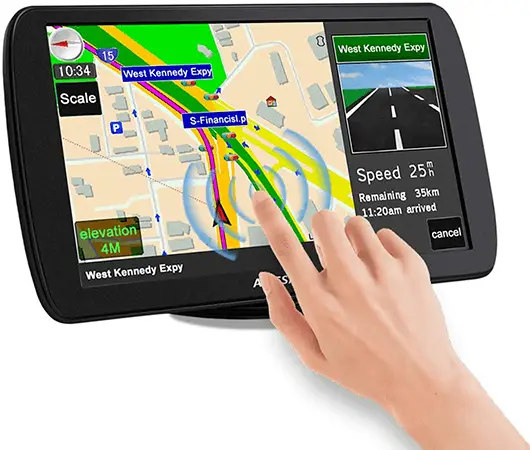 If you're on a slightly lower budget, then the Awesafe sat nav could be the solution for you. The sat nav has a large 9-inch touch screen which has a suction bracket so you can easily attach it into a viewable position in your vehicle.
This is great if you require a larger sized screen, because of poor eyesight for example. You can navigate through the screens quickly using its 8GB super fast chip. 
It comes preloaded with 48 European country road maps, and you can install updates for free while you can toggle between 2D, and 3D maps plus there are seven vehicle modes so the route can be better customised so you can avoid roads that have weight/height/width restrictions.
This doesn't let you enter the dimension of your vehicle but has preset dimensions for vehicle types, i.e. trucks, bus, taxi etc.
While you drive the sat nav will update you on current road speed limit restrictions, and it comes complete with a one year warranty and a 30-day money guarantee to give you added peace of mind. The sat nav also comes supplied with a car charger, suction cup bracket, USB cable and clip holder.
9-inch large touchscreen display
preloaded maps for 48 European countries
One year warranty & 30-day money-back guarantee
Seven vehicle modes
If you're looking for a caravan satnav with a large screen and an affordable price, this is a great value option.
What To Consider When Buying A Caravan Sat Nav
Caravan Size Dimension Input
The route taken by a caravan can often be different from a smaller car because the height and width of your caravan may prevent you from going under certain bridges or round certain, sharp bends.
The best caravan sat navs will allow you to input your caravan size dimensions and then create a tailored route based on this information. The last thing you want is to use a regular route and then encounter a bridge with a height limit that stops you from getting under. This will drastically increase your travel time.
Caravan Weight Input
Similar to height dimension, weight dimensions are also important because the UK still has many bridges that have maximum weight thresholds so you may not be able to drive your caravan over it safely.
Ideally, your chosen sat nav will able to tailor your route to avoid any bridges or roads that have weight limits that your caravan exceeds. This not only makes your journey safer but also quicker as you won't need to re-route mid journey when you encounter a bridge with a weight limit.
European Navigation Capabilities
Depending on your travel behaviour, you may regularly take your caravan outside of the UK so ideally, you'll want to buy a sat nav that includes European maps and routes otherwise you may need to buy the UK. A European sat nav which will increase your financial outlay.
Although your sat nav may not come preloaded with European maps, there will often be an option to download these onto the system that you can then access when you're driving.
Rear Camera Capabilities
It can be difficult to manoeuvre your caravan using your car because of the large size which can make it difficult to see what happens in your rear. Some sat navs can connect to your rear-view camera to make it easier to move your caravan without having to struggle using your rearview mirrors.
This not only saves time when making a manoeuvre but is also considerably safer because you'll have a full view of what's happening without having to guess.
Screen Size
The screen size is an important factor for a sat nav because it will determine how easy you will find it to navigate – a larger screen will mean that the map will be larger, so will be easier to follow along.
On a smaller screen, the map will be squashed closer together, making it harder to read as the details will be less distinguishable. The resolution also makes a difference, so if you do need to opt for a smaller screen, then make sure the resolution is high because then it will be clear and vivid.
Also, because modern sat navs tend to use a touchscreen to navigate through the system if you have larger fingers, you may find it hard to select the right buttons on a smaller screen.
Voice Control
As you know, we're in a world where computers don't just talk to us, but we can now issue questions and commands orally in return. Some of the best caravans sat navs will have voice activation features that allow you to instruct the GPS so, for example, you could ask it to repeat the directions or re-route to a different location while not having to touch the unit with your hands.
The quality of the voice activation will greatly vary depending on the sat nav because the technology is still relatively new, so will continue to develop as time goes on.
Alerts & Live Traffic Update
A high-quality feature for a sat nav is the ability to provide you with added information and alerts about the route you're taking. For example, this can be a speed limit alert so you can avoid speeding fines or if you need to be notified about traffic jams and congestion so that you have the option of avoiding it before you get stuck in it.
Some will also alert you about upcoming speed cameras so you can adjust your current speed. These types of features aren't mandatory, but they make your overall driving experience more comfortable.
Automatic Re-Routing
It's normal that even if you have the best motorhome sat nav, you can still make mistakes and end up taking the wrong turn or missing the turn completely. When this happens, you need a sat nav that can automatically and quickly re-route your journey using your new current location.
It does this by connecting to the satellite to provide new directions to reach your destination. A lower quality sat nav may not be able to do this quickly, or it will just direct you to turn around even if there is a shorter route.
Audio Directions
If you've used a sat nav before then, you'll know that you usually follow the audio directions instead of looking at the map because it's difficult and dangerous to look at if while you're driving. 
So you need to ensure that the audio is not only clear but is also synced with the visual directions which means that you'll get the instructions well in advance of when you need to take the turn.
The audio instructions need to be clear and concise because some poorer quality devices will mispronounce street names or have delayed delivery which can make it harder to navigate to your destination.
Top Advantages of Using A Sat Nav
Besides the obvious reason – finding the best route to your destination – here are some of the top factors why you should consider investing in one of these handy pieces of kit.
Better Road Safety
One of the biggest causes of road traffic accidents is due to drivers getting distracted while driving. A sat nav is designed to give you direction audibly so you don't have to look directly at the screen and you can concentrate on the road. This is the main benefit over using a manual map with directions. 
Larger Screen
You may be thinking about just using your mobile phone to navigate, but a sat nav has a much bigger screen which makes it easier to follow the directions towards your destination. These screens have high resolutions and are clear even in low light conditions, whereas your phone is likely to have a smaller screen.
A sat nav is designed from the ground up to be of the best possible assistance while you are driving. The same cannot be said for your mobile phone!
Ease of Use
Caravan sat navs are not only easy to use but also easy to install. The best sat navs are plug and play so you literally just plug it into a power source, which is usually a cigarette lighter, and then follow the screens using the touchscreen navigation.
Saves Mobile Phone Battery life
If you have been using your mobile phone as a GPS, then you'll know how quickly the battery drains as a result – because mobile phones aren't designed to be used like this. A sat nav not only protects your battery life but also the amount of data that you use.