One of the awkward things to get used to is manoeuvring and driving your vehicle with your caravan attached. This can make it difficult to see in your rear, and if you're not careful, it can lead to an accident.
Luckily there are several ways to make this easier, with one of them being a caravan rearview camera. These helpful devices allow you to see what's happening behind you quickly, so you don't have to take risks or guess.
As with any camera, there is a vast number of options on the market with a range of features that make driving more straightforward. But which of them do you need?
Our Caravan Rear View Camera Guide brings you 5 of the best camera kits to make manoeuvring your caravan a whole lot easier – and safer.
Let's take a look!
The 5 Best Caravan Rear View Cameras
AUTO-VOX M1W Wireless Reversing Camera Kit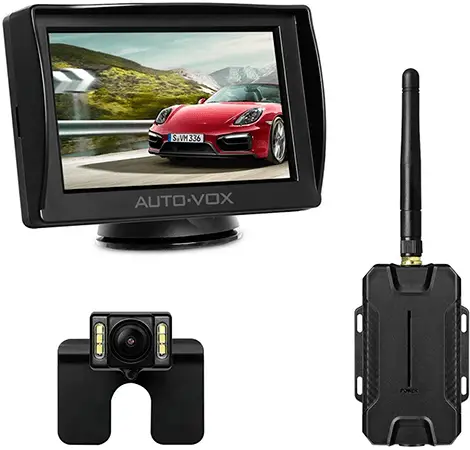 The AutoVox wireless camera is the driving companion you need if you're trying to make manoeuvring your caravan easier.
This is even effective in tight spaces to allow you to see obstacles with ease using its 170° wide view angle, which reduces your blind spot so you can better avoid accidents and damage to your vehicle.
The system is wireless but is also easy to install without specialist knowledge removing the need for a complex wiring system. This also means that the camera supports a long-range reception distance without distorting the viewing image.
Once you begin to reverse, there is also a parking guide which helps you to reverse into bays and other types of spaces accurately.
The camera has a Digital high-definition image processor which provides you with a clear image even in night conditions due to its 6 LED bright lights which automatically turn on when it gets dark. The system provides you with installation flexibility as the transmitter can be installed in a range of positions.
The system is also fully waterproof and comes supplied with a 4.3-inch monitor which also has a strong suction mount so you can easily apply it to your vehicle dashboard for easy viewing. The mount also has a 360-degree range of motion.
We've tried a number of the products from Auto-Vox and we're big fans. This is one of the best caravan reversing cameras, and certainly one of the most practical.
All-round, a great piece of kit for easier towing!
BOSCAM K1 Wireless Reversing Camera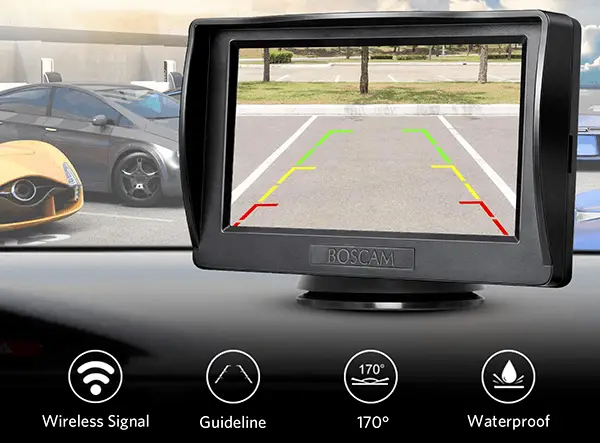 This high-quality Boscam wireless camera is ideal for your caravan driving requirements making your driving experience easier.
It has a 2.4 GHz transmitter that has the capability of giving you a 100m wireless signal range. This makes it great for a whole range of vehicle types, including those bigger than a caravan.
The K1 model delivers high-quality images – even at night. This is due to its upgraded light sensor that provides night vision so you can still reverse with a full view at night when traditionally this has been difficult to do. The images can be viewed on the supplied 4.8 digital display screen.
The Rear camera is IP68 waterproof so even if it's immersed in water, it will still function and it can be easily mounted onto your number plate.
Not sure why you'd want to fully immerse it in water – but good to know, nonetheless!
The K1's camera system is fairly straightforward to install mainly due to being wireless, so you don't need to route any wires in between the monitor and the camera. However, you'll need to hard-wire the camera to the reversing light. It should take no longer than 30 minutes to get it up and running.
The monitor automatically turns on when your car goes into reverse and then automatically turns off when you begin to move forward.
The camera system is supplied with a one year warranty, and you also have access to unlimited technical support for any setup or operational issues that may arise.
AUTO-VOX CS-2 Wireless Camera Kit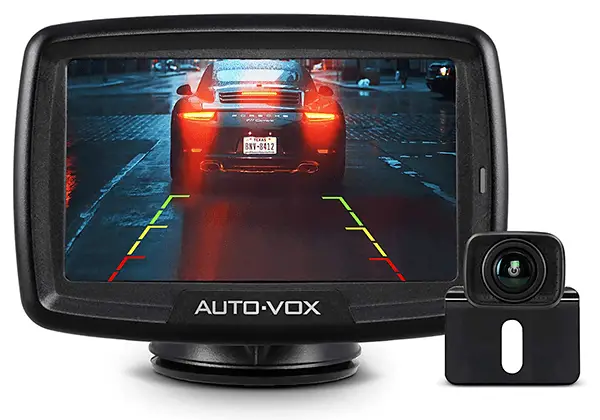 It's not surprising to see another Auto-Vox product on this list due to their superior build quality and range of features, and the CS-2 wireless reversing camera kit is no different.
The system has point to point digital signal transmission technology to limit interference to give you a stable picture.
The system has a PC1058 sensor that gives you a smooth image while removing any over-saturation, so you have a more realistic image of what's happening behind your caravan.
The camera has a 5-full glass lens and 0.1 Lux back camera that gives you a crystal clear image in both day and night with its waterproof reverse camera that can withstand extreme temperatures whether this is high or low temperatures.
The camera is easy to install and gives you the option of both normal image and mirror image so you can also place the camera on the front of your car to limit the blind spot issues.
All the images are viewable on the included 4.3-inch screen which has a resolution of 480 x 272 pixels which can be attached to the included mount. You also have the choice of 6 types of parking lines to make reverse parking easier and safer.
Auto-Vox produces some of the best wireless rear view cameras for caravan towing, and this one ticks all of our boxes.
Uzone Reversing WiFi Backup Camera Only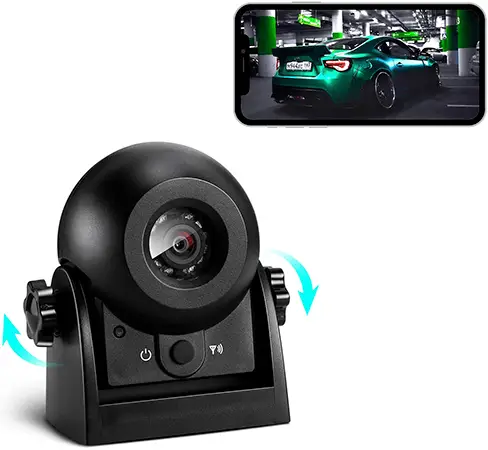 If you just require the camera with no display, then the Uzone wireless camera is the ideal choice for you, with setup being extremely quick in only two steps.
The first is to attach it to any metal surface, which is made simple because the camera has a strong magnetic base. The second is to connect to a mobile device via WiFi.
Set up is also straight forward due to not need to use wires which not only saves you time but also money.
This doesn't require internet usage, but of course, the main downside is that it will use battery life; however, you can connect your phone to a charging outlet.
The camera uses night vision technology with 12 infrared LEDs to ensure that you can drive effectively in both day and night with its HD vision. There is a 170-degree viewing angle provided by the camera to give an extensive rearview.
The camera also is IP68 waterproof making it great in all weather conditions and is battery operated which you can charge using the included USB cable, so you don't have to keep replacing batteries. The camera also comes with a one year warranty for added peace of mind.
If you've already got a suitable display, and just want an effective rear view camera to pair it with, this is your best value-for-money option.
URVOLAX Wireless Reversing Camera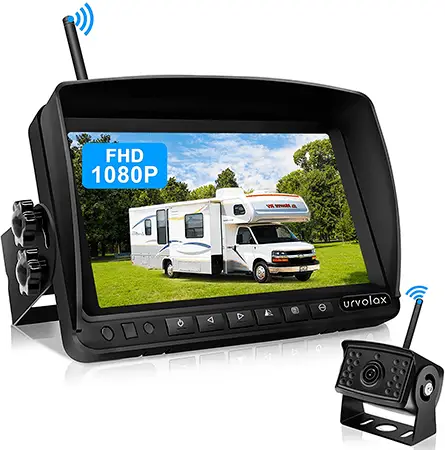 The URVOLAX wireless rear camera contains all the components that you need to get up and running to make your driving experience more comfortable.
The 7 inch LCD monitor provides you with a high-resolution image (1080p) using wireless transmission with an impressive range of up to 450 ft. The camera gives you a 170-degree horizontal wide view angle, which is great for avoiding blind spots.
The lens is also rotatable up to 45°, making this one of the most flexible devices on our list.
The camera is not only waterproof but also has integrated night vision settings, so whether it is windy, rainy, or night you don't have to worry about it functioning correctly. As soon as you begin to reverse, this triggers the monitor to turn off and switch to the rear camera view.
How about the installation?
Thankfully, it's pretty straightforward. You simply connect the camera to your taillight, and the monitor to the cigarette charger. Place the monitor where you want it on the dashboard, or use an extra suction cup to attach it directly where you need it.
We rate this particular URVOLAX model highly – in fact, we'd say it's one of the best caravan rear view cameras on the market today.
Types of Caravan Rear View Camera
Wired Camera System
A wired camera system is both reliable and premium while providing you with a clear image, plus the best models also can be used at night. The main downside is that they often take more expertise to install, especially if your caravan hasn't previously had a wired system installed.
To avoid mistakes, it's recommended that you hire a professional technician to install the system which will cost you additional money on top of the product price. The price of installation will depend on the setup complexity and the size of your caravan. A larger caravan will require more time and more wires so the price will be higher.
Wireless Camera System
Wireless systems sound more complex by name, but they're often easier to install because they don't need any wires or cables to run through your vehicle. 
However, the quality of your system plays a larger role in its effectiveness because low-quality versions will be subject to signal interference. This problem is simple to avoid if you stick to the newer models, which are digital.
The set up of wireless camera systems can take just a few minutes, and many come complete with all the required parts, so you're good to go. 
Why Do I Need a Caravan Rearview Camera?
Well, there are a few good reasons!
Easier to drive at night
It's normal to find night driving more difficult than driving in the day time. A caravan rearview camera can make it easier because many have inbuilt night vision which gives you a clearer picture at night to remove one more headache from your driving journey.
If you feel more comfortable when driving, naturally you're going to be more confident when making manoeuvres which lower the chances of you hesitating which can lead to accidents.
Safety
A rearview caravan cameras main benefit is that it gives you extra safety.
They give you a clear view of the rear so you can quickly and effectively avoid obstacles and objects that you may not see otherwise and are easier to user than towing mirrors.
If you're safer, then there's less chance of you causing an accident which means you can get to your destination whether this is in the daytime or at nighttime. So if you've been avoiding driving at night, then this can give you the assurance you need.
What To Look For In A Caravan Rear View Camera
Durability
The best caravan rearview cameras aren't flimsy and light but will be made from high-quality materials that are robust and long-lasting.
This means that they can withstand the harsh natural conditions such as wind and driving rain. There are also cameras that come, including a strong metal housing which keeps it securely in position.
Weather-resistance
Weather resistance doesn't just refer to wind and rain, but the best options need to be able to withstand a range of weather conditions, including high temperatures because it will spend all of its life outdoors.
It also needs to be able to absorb and shocks from bumps in the road while also being waterproof, so the rain doesn't harm the interior components. 
Ease of Set Up 
When we're caravanning, there are so many things you need to think about from fuel and energy to weight and water levels, so you already have enough tasks to do.
So it's important to consider how convenient and easy it is to use. Ideally, you want to choose a caravan rearview camera which is wireless, so it's easy to set up and install.
Ease of set up also includes having an instruction manual to refer to or online/phone support where you can get further troubleshooting help.
Video Quality
You need to remember that you will be fully trusting the picture that the rear camera displays so you need to have the best picture quality so you can make the best driving decision.
You need to choose a camera that uses a digital video signal because this will remove static and a high-resolution display will show a clear view so you can judge distances more effectively.
Camera Quality
Not only is the video quality important, but also the camera quality.
Your chosen caravan rearview camera should allow you to switch between different modes, including night vision and colour. This allows you to tailor your driving experience to your environment just as the time of day. The quality of your camera will also determine the quality of video that you will see when you're driving.
Price
Let's face it; the price will always be important, so you need to consider how much you're willing to spend.
The best rearview cameras often come with several additional features which will typically increase the selling price. You need to understand if these added features are necessities and having a budget will make it easier to make a buying decision because it will decrease the number of products that you have to choose from.
Buying a higher quality camera will often have a longer life, so you won't need to replace it as often or repair because it may have a stronger build quality.
So a longer-term investment is ideal. If you're looking to get greater value for money you could also purchase a caravan sat nav with some models also having rear camera connectivity.
Full Kit
The best camera setups will come supplied as an all in one kit with all the required parts and components so you can do a full set up.
This will include ancillary accessories such as mounts and brackets, so although these kits might cost more, they will come with added parts, so you don't have to spend additional money on extra parts.
Having the complete kit also makes installation easier and quicker straight out of the box so you can get using the camera almost instantly.
Screen Size
Different cameras will have different screen sizes, so you need to consider this before making a buying decision. A larger screen will be easier to use because you'll have a better view; however, this will take up more space on the dash of your vehicle so bigger is not always better.
Generally speaking, the screen size can vary from 3 to 8 inches.
Number of Cameras
Camera systems will normally come with one camera, but there are also systems that come supplied with two cameras which gives you a view of multiple angles.
For instance, if you wanted a view of the rear for both your caravan and towing car. This isn't 100% necessary, but it may be for some. This will also depend on your budget as more cameras will cost you more money. 
Warranty
Rear cameras can be complex electrical products, so it's important to understand whether your chosen camera comes supplied with a warranty from its manufacturer. This will mean that if a fault develops, they will either offer you a replacement or repair.
This gives you extra buying protection and support, but you also need to check the length of the warranty as this can vary anywhere from 6 months to lifetime.
What Are The Negatives of Using Reversing Cameras?
There are a few reasons to be cautious about using reversing cameras, so do keep in mind:
Over-reliance on rearview reversing cameras 
The main problem caused by rear cameras is that drivers form a strong reliance on these systems. They should be used only to enhance your driving experience, and it shouldn't be used to replace your driving skills, so if any of your skills are lacking, you also need to work to improve them.
They are not 100% reliable
Rearview cameras may not be as good as the human eye in some situations where you need to judge depths and distances quickly.
This will also depend on the quality of your camera and screen. If you have a camera this doesn't make you immune from accidents, for instance, a poor camera can cut out as you're making a manoeuvre, so you need to make sure that you also check with your own eyes.
Use it to assist, not to delegate
A rearview camera is there for assistance and not designed to take the whole job away from you.
So you mustn't just set it up and immediately hit the road. Go to a car park or quiet area and test out the equipment, so when you're in a real-life situation, you feel more comfortable using it.
These cameras can give you a false sense of security and cause to forget about other safety measures such as checking blind spots for other vehicles.