Towing mirrors are an often overlooked accessory for caravans and camper trailers. However, having a set of caravan towing mirrors is an important item that is typically required by British law.
Besides the legal compliance, there are many benefits that come with using towing mirrors:
Increased vision to the rear of your caravan or trailer.
Minimises blind spots behind your vehicle.
Reduces the risk of accidents caused by poor vision.
Increased safety for everyone on board both caravans and trailers alike.
Towing mirrors are relatively inexpensive to buy, easy to use, and install. They provide a good value compared to the benefits they provide, and are an accessory that no caravan owner should go without.
In this guide, we bring you a list of the best caravan towing mirrors, along with the important specifications to look out for that will keep you safe on the move.
5 Best Caravan Towing Mirrors
Milenco Grand Aero Towing Mirror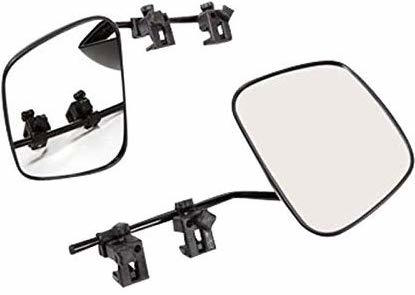 Milenco is one of the main manufacturers of towing mirrors and their product line includes a number that are designed for drivers who want an unobstructed view while driving. The Grand Aero Mirror has a Luftbalanciertes design which reduces vibrations so you can maintain better balance; this helps keep your eyes on both roads ahead in spite or any other distractions around you.
It has a multifunctional claw system which means that it is compatible with any car including cars, vans and 4×4 vehicles. It is easy to install so you can be up and running in just a matter of minutes. Because of their quality, they are at the top end in terms of price, but they are also at the high end for quality so they will last for a large number of years.
Streetwize Rock Steady Towing Mirrors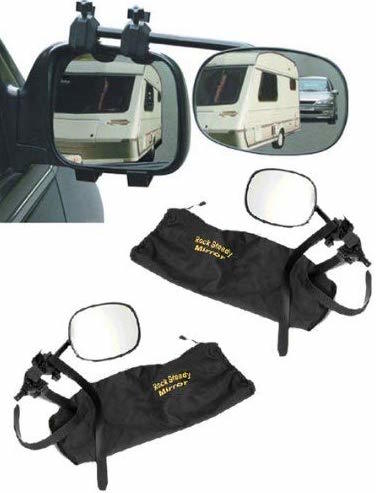 The Streetwize Rock Steady Towing Mirrors are a set of high-quality towing mirrors that provide you with more than one field for vision when driving. The package comes in two different types: convex and flat mirror, which work well on most vehicles because they have robust synthetic fastenings so it can securely attached without causing any harm or damage inside your vehicle.
While they provide a good view, the plastic parts on mirrors don't seem as strong as they look, so do be careful with them. They could easily break if not handled properly.
With that said, these are some of the most affordable caravan towing mirrors on the market. Priced super competitively, they are a great option for those on a budget.
Milenco Aero MK2 Flat Caravan Mirror

It's no surprise to see another appearance by a Milenco product that further highlights the strength of their product range.
The Milenco Aero 3 mirror is one of their best sellers and is engineered to fit all current (post-1995-2017) cars, 4×4's and vans. The mirrors have chrome safety glass and include stainless steel screws to maintain a healthy structure which also helps to keep it stable while you drive.
There is a unique air balanced design which stops vibration while you're on the road. The mirrors also have grip thumb wheels which allow you to adjust the view to your needs.
The mirrors have twin grooves which provide enhanced grip on certain vehicle models. All in all, a sleek mirror set that is billed as the "world's best performing towing mirror".
Streetwize Twin Pack Stick-On Towing Mirror Caravan Mirrors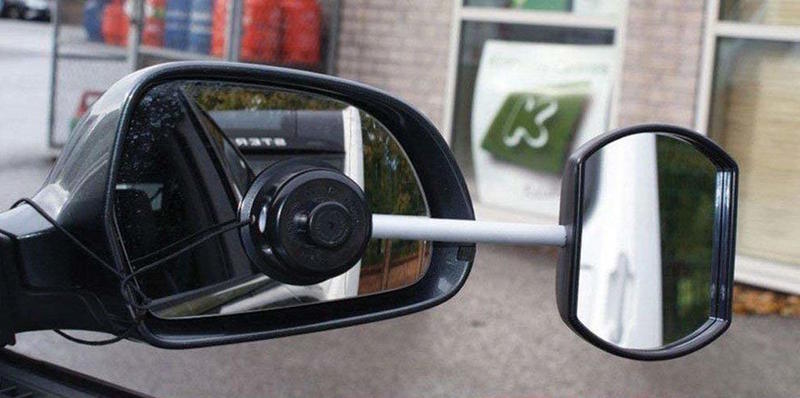 If you don't tow your caravan often then perhaps you'd be better suited to a less permanent solution. The Streetwize stick on towing mirrors can be fitted quickly.
Despite being a stick-on product, they are secure once fitted and experience a low level of vibration, so you don't have to worry about them falling off mid-travel. Despite our initial concerns about the mirror falling off in tough conditions or poor weather, it is surprisingly sturdy with minimal wobbling.
The mirrors only fit in one position, but you can change the viewing angle by using the car's mirror adjustment. The mirrors themselves are smaller than the previously reviewed models so it can be slightly harder to see.
Pennine Caravan Towing Mirrors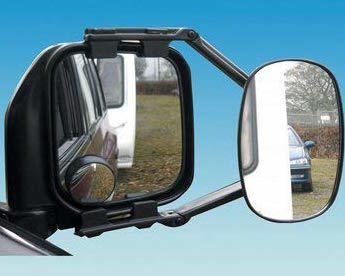 The Pennine Caravan Towing Mirrors are a good choice for those on a tight budget – they can usually be picked up for under £25. They are easy to fit and provide excellent visibility well beyond the caravan. This hugely minimises your blind spot making your journey safer.
Again, these mirrors have a universal specification, so they are compatible with most vehicles. They are sturdy and easy to install as they attach to your existing wing mirrors and they come in a pack of two.
Some users have reported that the mirrors are prone to instability and vibrations, but the majority of caravan users seem satisfied with the overall quality at such a low price.
Types of Caravan Towing Mirrors
Manual Towing Mirrors
Manual towing mirrors do not allow you to adjust their position other than by hand. They are useful if you need a short-term replacement for your original factory mirrors. Because of this, they tend to be more affordable.
Powered Towing Mirrors
Powered towing mirrors are costlier; however, they are incredibly convenient because they allow you to adjust their position electronically from inside your vehicle.
This helps because it means you can adjust it to the exact position you need to have a full field of vision. This does make installation a little more complicated because it requires some electric modifications to your vehicle.
Telescopic Towing Mirrors
This type of towing mirror is ideal if you have a large vehicle or towing a caravan because they extend out to give you a better view and once you have finished using them you retract them back into their original position. Telescopic towing mirrors are available in both manual and powered versions.
Universal Clip-on Towing Mirrors
Clip-on towing mirrors are best suited to those that only tow a few times a year. They can clip onto your existing vehicle wing mirrors, and although they probably won't match the style and colour of your car, they are effective at their job.
They are a cheaper option, but they are usually less stable which means they can vibrate and shake. The amount of vibration will depend on the quality and number of clips that are used to attach it to your existing mirror.
What To Consider When Buying Caravan Towing Mirrors
The Law
For the most part, if you have a caravan, then using towing mirrors is not a choice because it's mandatory by British law.
When it comes to towing, the law states that you need to have a clear rear view of at least 4 metres on either side and also 20 metres behind the caravan that you're towing.
Following these guidelines, it's highly likely that you'll need towing mirrors. The law also states that towing mirrors shouldn't extend out more than 25cm outside of the widest part of the caravan.
Ease of Fitting 
Portable caravan towing mirrors are generally easy to fit to your vehicle either by clamping or slipping them onto your existing side wing mirrors.
If you need a more permanent set of towing mirrors, then this will increase the difficulty of installation slightly and will vary for different models.
Field of View
The field of view refers to the level of visibility that you have when you look into the mirrors. The larger your field of range, the easier you'll find it to manoeuvre your caravan efficiently.
This is a huge time saver and can take away much of the frustration that can be associated with transporting a caravan.
Mirror Stability
One of the main issues that caravan owners encounter with towing mirrors is the overall mirror stability. This can be affected by strong winds or by larger vehicles either in the motorway lanes next to you or on normal roads driving down the opposite side.
This can cause the mirrors to shake and be unstable, which can make them difficult to use accurately. There are caravan mirrors that use clamps which makes them more secure compared to those without. To raise stability, all you need to do is increase the distance between the clamps.
Type of Glass
Glass plays a crucial role in what you can see in your towing mirrors. Flat glass mirrors show you a more accurate representation of the size of objects which makes them easier to use.
Mirrors that use convex glass are curved, so although this gives you a wider view, it has a habit of distorting objects and distances, which makes it more difficult to make judgements and decisions. 
Convex glass, however, is great for reducing blind spots, so it's common for the best towing mirrors to have a mixture of convex and flat glass to give you the best of both worlds.
Why Use a Towing Mirror?
There are a few good reasons why you'd want to invest in towing mirrors for your caravan:
Added Peace Of Mind
Most caravan owners enjoy the caravanning part of their trip significantly more than the towing part, which can be extremely stressful.
Especially if you're used to just driving a car by itself, this is because not only do you need to focus on whats going on in front of you, but you also have been aware of what's happening behind you. Towing mirrors make this process easier and more comfortable.
Reduce Blind Spots
Standard mirrors that you'll have on your car are not fit to tow a caravan because they can severely limit your view leading to obvious blind spots.
If you drive with these blind spots, then you will be taking more risks with your decision making, which can lead to accidents because it makes it difficult to see. Towing mirrors are a way of reducing your blind spots, making your drive safer especially when used in conjunction with a rear view camera.
Increase Your Field of View
Quite simply, when you're driving your need to be able to see and be aware of what's going on around your vehicle. This is especially the case when you're towing a large object, as a towing mirror effectively increases your field of view.