It's important to monitor the humidity levels in your caravan.
Caravan damp meters are an excellent way to maintain healthy living conditions for you and your family. There are a number of factors that can contribute to high moisture levels, including: cooking, showering, pets, windows being left open – these all need to be considered when maintaining the healthiest environment possible for you and your loved ones.
Having high moisture levels can lead to mould build-up, stained walls, rot, and a number of other problems.
In this guide, we'll show you the best caravan damp meters to give you a better idea of the humidity levels in your vehicle. Plus we'll give you an idea of what a dangerous level of damp is – and how to tackle the problem.
Best Caravan Damp Meters for Detecting Moisture
Brennenstuhl 1298680 Moisture Detector MD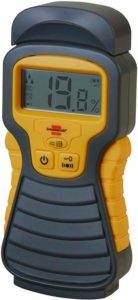 Our top-rated caravan damp moisture meter is the Brennenstuhl Moisture Detector. This product is easy to use and allows you to measure the moisture level of a range of materials including wood or building material, such as e.g. concrete, brick, screed, plasterboard, wallpaper, etc.
It provides you with a measurement range of between 5-50% for wood and 1.5-33% for building material which is sufficient for the majority of situations. The device has a sizeable low voltage LCD and can also be activated acoustically.
For difficult to reach locations, the device also has a press and hold function while also having an auto switch-off function to preserve battery life.
The device is robust and housed in an ergonomic casing with a separate compartment for 9 V monobloc battery. The probes also have a protective cover for when it's not in use.
If you need to detect moisture in your caravan, this is a super effective tool.
Neoteck Moisture Meter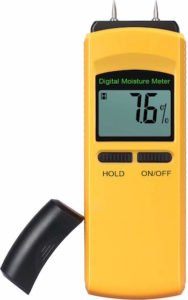 The Neoteck Digital Moisture Meter provides you with accurate damp measurements displayed on a clear LCD screen. The device is suitable for measuring the moisture content in a range of materials including fire wood, plaster, walls, timber, bricks, concrete, sawdust, wood shavings and more. It's perfectly suited to caravans, motorhomes and even boats.
The device has four pins for an accurate reading, and the precise readings are displayed on its large LCD screen. It is CE approved giving you the upmost safety while also having a data storage hold in case you forgot your most recent data readings. This is particularly useful for tracking readings over time.
The device has a compact space-saving design and is battery powered while also having a moisture measurement range of 0-40%, making it highly suitable for caravan use.
Amgaze Damp Moisture Meter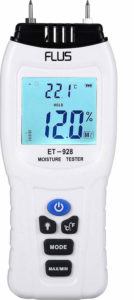 This digital moisture meter is an excellent addition to your toolset. It is effective on wallboard, sheetrock, cardboard, plaster, concrete, mortar and more than 100 species of woods including rosewood, cherry wood, walnut, to name just a few…
The device provides a moisture range of between 1-70% with an accuracy range of ±4%, making it highly accurate. It also gives you the ability to measure moisture & temperature at the same time.
When in use, you can simply switch between its 4 modes depending on the materials being measured. It has a great design which includes a well lit large LCD which has a backlight making it easy to read even in dark environments (like the nooks and crannies of a caravan).
The device also has an auto shut off feature which automatically turns off after 120 seconds of inactivity, helping to preserve battery life. It ships with a 9v battery and a case to keep the damp meter protected.
Stanley 077030 Moisture Meter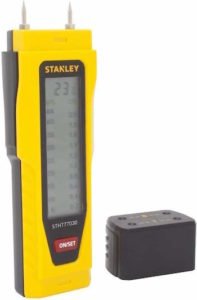 Stanley has been creating high-quality products for over 170 years, so it's no surprise to see one of their products on this list. Their damp meter device can measure the moisture within a variety of materials including masonry (mortar, concrete, plaster) moisture from 0.2% to 2.0% and wood moisture from 6% to 44%.
It also can measure the temperature of the environment and has two detection pins (8mm length) to locate in the material being tested. The results are displayed on its illuminated LCD showing the results on an easy to read bar graph. 
The device has an operating temperature of 0-37 °C. At the same time, the moisture meter also runs off 4 AAA batteries which are supplied with each unit which gives you approximately 1,100 measurements before needing to be replaced. A reliable and accurate moisture meter that gets the job done.
Dr Meter Digital Wood Moisture Meter MD-812 
The Dr Meter moisture meter is great for caravan inspections allowing you to measure moisture and even leaks accurately. The device can be used on a whole host of materials including wood, drywall and concrete before painting, sealing or treating and locate and to also identify water leaks in roofs, floors and walls.
The unit has an HD digital LED display and has a high testing range of 5- 40% with an accuracy of +/-1% while also holding the data readings in its memory. 
The device has two strong stainless steel pins and is powered by just one 9V battery (included) plus has an inbuilt low-power indicator. The unit is small-sized making it easy to operate and carry.
What Is A Damp Meter?
Moisture meters are devices that can detect and display the moisture levels in a room, building or your caravan. The moisture level will be displayed to you using a flashing light or tone to show changes in moisture while others will have a meter dial that provides a digital display allowing you to read the results.
There are two main types of damp moisture meters:
Conductive Meter
A conductive meter is an electrical circuit that has two probes that are on the outer surface of the meter when are then placed either on the test surface or can be embedded into the surface. The moisture meter then measures the electrical resistance which alters the reading depending on the moisture content within the wall.
Capacitance Meter
A Capacitance meter works in a slightly different way and has a conductive plater which are placed on the test surface wall, which then measures the moisture levels. Because this doesn't have probes, it makes it less invasive than the Conductive meter.
Routine Dampness Checks
Checking for damp should be part of your regular cleaning routine because the earlier you catch it, the more effectively you can treat it. You should start by checking the seals around windows and any visible condensation. A dehumidifier can also help with reducing damp by removing moisture from your living space.
Check along your sealants for any bubbling or cracking along the edge of the windows. These repairs can be carried out on the move by investing in a good caravan sealant.
The damp has a distinctive smell, so look out for any obvious musty smells, and you can also run your fingers along the wall to feel any bubbling or soft spots. 
Discolouration can also be visible, especially in the top corners of your caravan or around your windows. If you have any doubts, this is when you use a damp meter to get a definitive answer which will give you an accurate moisture reading.
From here, if your levels or too high, you can consult a professional who will give you detailed steps of how to remove or reduce your moisture.
How Do I Know How Bad My Damp Levels Are?
Damp readings will never be absolutes. There's likely to be some moisture or damp, so it's essential to understand what levels are acceptable. This is so you can gauge how much damage has been done or if there are any potential health risks that it may bring.
There are no acceptable levels of dampness; however, if you catch it earlier, this means you can treat it more effectively and quickly. If you use a caravan damp meter, then you can see whether immediate action needs to take place or not.
Using the guide below, you can compare your readings to get a better idea of the action you need to take:
0 to 15% – No immediate worry or action
15 to 20% – You should continue to monitor closely over the coming weeks.
20 to 24% – There should begin to see some early physical signs, so steps should be taken to treat the issue.
25 to 30% – This means there are obvious signs and moisture present, so work needs to commence to fix this. This could include surface damage such as damp and softness of wallpaper and surfaces.
31% or more – This can indicate more serious structural damage, and this will only worsen from this stage if not treated effectively.
How Can You Reduce The Risk of Damp?
Regularly Use Your Caravan
One of the most common ways to reduce the chances of damp forming is by frequently using your caravan. You need to ensure that your caravan is well ventilated to allow fresh air to move in and out of the caravan freely.
Limit Condensation
There are several steps you can take to reduce condensation levels with your caravan. Avoid drying your clothes indoors, but if you're forced to you should use an airer which allows for better ventilation. You should keep windows open when you are both cooking or showering to avoid condensation build-up.
Regularly Wipe the Walls
You should make cleaning the walls part of your caravan cleaning routine because condensation can form on the caravan walls. If you wipe it away regularly, this will stop the formation of damp.
When you're cleaning the walls, you should also feel the walls because there are many cases where people don't notice damp until it starts to smell. By feeling the wall with your fingers, you can feel if it has begun to develop a softness so you can treat it early.
Check Window Frames
Regularly wipe condensation from your caravan windows as it appears. This will help reduce the risk of black mould forming. When you're cleaning the window frames, check them for peeling paint or rot. By treating it immediately, you can avoid more costly repairs.
Air Your Caravan
Air out your caravan regularly, especially if you don't have the heating on very often. Even if it's cold in your caravan, you still need to let damp air out because humans give off moisture which can develop into damp.
Open your windows to release damp and if your windows have trickle vents, use them for added effectiveness.
Use Moisture Traps
Dehumidifying crystals are small disposable devices that absorb excess moisture that's present in a space which makes it ideal for caravans. This is especially useful in the winter months when it may be too cold to constantly have the windows open to let in fresh cold air.
What Makes A Good Damp Meter?
Here are some of the factors that will separate the good damp meters from the bad:
Moisture Range
Depending on your damp meters, you'll have the ability to read anywhere between 0.2% and 60% moisture content. The range that you need will depend on what you're measuring and where you measure it. You may need a high or low level of precision because if you have a high level of dampness, then your required range will be higher.
Safety
As with all electrical items, it's vital to ensure that it complies with EU safety, health and environmental requirements. This will come in the form of a CE marking on your product. This means that the product has passed a series of tests to ensure that it is safe for people to use.
Brand
There are a large number of brands that manufacture damp meters, but the best brands will create the highest quality products, which makes their readings more accurate. The accuracy of your readings is important because you don't want to be treating a problem that you don't have. Similarly, you don't want a meter to underscore your reading when you have a serious damp problem.
Higher quality brands will generally cost more, but this will potentially save you a considerable amount of money in potential damp repair fees if the device catches the early symptoms.
Guarantee
For added peace of mind, you should check whether your desired damp meter comes with a guarantee. A guarantee gives you extra protection so, if a fault develops with the product, the company will provide you with either a replacement or repair.