When you own a caravan, you'll quickly realise that the problems you encounter don't always need you to call out a professional. Not only will this cost you money, but it also wastes time – especially if you've already hit the road in your caravan.
Caravans can develop leaks, and there's nothing worse than a leaky roof or window when you're fully exposed to the elements. That's why travelling with caravan sealant should be considered essential.
Sealants are not all the same and differ depending on what you're going to be using it for. We've created this guide to show you the best caravan sealants for fixing roofs and windows fast.
No need to call out the professionals!
Best Caravan Sealants for Fixing Leaks
Here are 5 useful sealants to give your roofs, windows and awnings the rubber sealing that they need.
We strongly recommend you invest in one of them – so that you're equipped to carry out any emergency leak repairs on the road.
Sikaflex 512 Caravan Adhesive & Sealant

The Sikaflex 512 is an effective all-purpose adhesive and sealant which has been specifically designed for use when repairing caravans, motor homes and trailers.
It is suitable for repairing a variety of caravan fixtures, including:
Roof Vents
Skylights
Awning Rails
Fillet Corner Joints
Lap Joints
TV Aerials
Butt Joints
Leaky Gaskets
Window Strips. 
The adhesive uses a hybrid-formulation making it elastic UV, ageing and weathering resistant. It also can effectively fuse to a variety of materials and substance without needing any special pre-treatments or primers.
Once the adhesive has been applied, it can be sanded or painted over – while it also has a low odour level and is non-corrosive. It's not going to stink out the caravan, which we very much appreciate!
In terms of overall safety, the sealant is VOC, solvent, Silicone and PVC free. 
A vital addition to the travelling repairs kit!
Captain Tolley's Creeping Crack Cure

The Captain Tolley's Creeping Crack Cure is a liquid-based sealant and adhesive which has the main property of being an effective penetrator.
This has been designed to be thinner than water, and it then penetrates narrow surfaces to create a clear, strong waterproof seal.
Because it's water-based, it follows the same path that the water leak follows and then can create a seal even if the leak is hidden from you. This makes it quick and easy to use without you needing to dismantle your caravan.
It's great for getting to those hard-to-reach cracks that are difficult to access when you're travelling with a full caravan.
This isn't just designed for caravans but can also be used on cars, boats or around the home. Perfect for windows, roofs or windscreens.
Soudaseal RV 61 White Caravan Adhesive & Sealant

Soudaseal RV 61 is one of the leading sealant and adhesives in the caravan market. 
Anybody who has caravanned for a number of years has probably resorted to it at some point!
It's a chemically neutral hybrid polymer adhesive which provides an elastic yet durable bonding between various materials including coated, painted or metal surfaces as well as the majority of plastics. The strong adhesive capability also means that it can be used for bonding body kits.
The formula quickly bonds and seals while being suitable for interior and exterior use. Perfect for fast repairs on the go.
It is also vibration resistant, and its overall quality has made it highly trusted by several major caravan manufacturers.
W4 Narrow Mastic Sealing Strip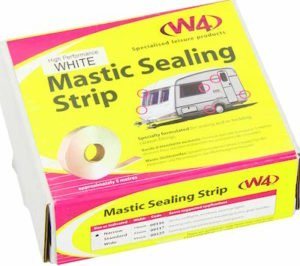 W4 is a company that specialises in leisure products with a focus on the caravan, marine and camping industries.
They have been established for nearly 40 years, allowing them to become well known in the industry for high-quality products. And their famous mastic sealing strip is a must-have in the repairs box.
The W4 19mm sealing strip is ideal for caravan use and comes in a 5-metre reel. It has been designed for the sealing and re-bedding of awning rails, window surrounds, overlap joints, roof lights, vents and most external trims on your caravan or motorhome.
This is a very versatile piece of kit that we've used on multiple occasions.
Hodgson Seamseal Sealant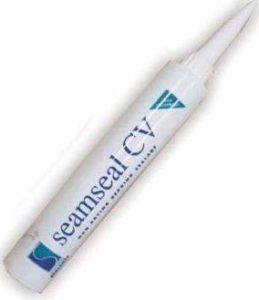 This versatile bedding sealant is suitable for a wide variety of joints found in caravan construction.
When applied to your problem area, It does not form a skin, but after a few days, the surface will become dry.
This means that the sealant is more flexible, so if there's movement, it doesn't crack or create leak paths. It has strong adhesive properties so it can be used on both metals and plastics.
The downside is that it isn't as fast-acting as the other sealants on our list – although it can be just as effective (if not more so) in the long run. We'd recommend it for carrying out repairs when you are parked up and not going to be using the caravan in the time that it takes to seal and provide the necessary reenforcement.
Or while the caravan is safely tucked away in storage.
What is Caravan Sealant?
Caravan sealants are made specifically for use in caravans and other similar vehicles.
This will vary for different brands and is made from rubber material which gives it added strength. This strength stops water and moisture from getting through weaknesses in the structure of the caravan.
This added protection stops leaks when they first form, which means that it will save you from having to pay for expensive repairs which could include replacing the whole roof.
So you have added peace of mind that your caravan will last longer. Depending on the type of sealant, you can keep this with you while you're travelling so you can quickly treat any issues before they get worse, especially if you're experiencing harsh weather conditions.
It's important to remember that different sealants have varying uses and will have a different thickness and composition. The best caravan sealants will have strong sticking capabilities to a range of surface types including wood, fibreglass, vinyl, glass, plastics and other surfaces.
You should check that your desired caravan sealant works on the type of surfaces that you have in your caravan.
Benefits of Caravan Sealant
Leak-Free Money Saving Properties
Leak repairs, especially if it's your roof can run into the thousands of pounds and the longer you leave it to treat the worse the problem will get. Prevention of leaks is more effective than trying to solve the problem when it's already started. This is why a caravan sealant is so essential to have ready to use. 
Quick to Apply
In terms of applying the sealant, this can be done quickly, although this will also depend on the type of sealant that you buy. This means that you can also apply it while you're out on the road. Not only are they quick to apply but also beginner-friendly so you can do it yourself without worrying whether you've done it correctly.
UV Protection
The best caravan sealants will have a strong UV resistance rating. This helps to protect your surfaces from discolouration and damage. 
A high UV reflective rating will also mean that the sealant will reflect light and heat away from the surface, giving it added protection. This is even more important if you plan on using your caravan throughout the hotter summer months.
A sealant with a high UV reflective rating will mean that this will reduce the level of maintenance that you'll need to do to repair damage caused by UV rays. For the low price of a sealant, this can save you a big headache in the future.
Long-Lasting
Sealants are made using properties that are extremely long-lasting because you don't want to be resealing the same leak every day because it's cracked again. This will give you added peace of mind that you don't need to repair the whole roof, for example. It's long-lasting ability also means that it is effective in a range of weather conditions including harsh rain and snow while also persevering through thawing and freezing that often occurs in the winter months. 
Elongation
Elongation of a sealant means that if you seal around a fixture and the fixture move, then the sealant won't crack and break. This means that the sealant can stretch and change shape giving you a long-lasting performance. This is also important if you plan to use your caravan in a range of temperatures which can cause materials to expand and contract as this will stop any sealant cracking happening. This is one of the main benefits of caravan sealant, so you don't have to keep replacing your sealing work continually.
Resistant to vibration and tears
Caravan sealant isn't a product that you should buy as soon as you need it.
It's a product that you should have at all times onboard your caravan. One added benefit of caravan sealant is that it is vibration and tear-resistant, which means that any bumps, changes in temperature, shakes, and other environmental changes will not cause the seal to break or crack. 
Versatility 
Sealants aren't just designed for caravan use but have the versatility to be used in other vehicles or even your residential home.
Sealants are professional-grade products that are trusted by trained professionals, but you should always check the manufacturer's description to understand what uses the sealant has been designed for.
What To Look For In a Caravan Sealant
Brand
Due to the low cost of caravan sealant, this means there's a wide choice of brands who have created a solution. This can make it more challenging to make a final buying decision, but as a guide, you should aim to stick to the more established brands that have been around for several years. 
And not those you're likely to find in a discount bin at Poundland!
Caravan Material
Every sealant will have a list of surfaces that it can be used on so you need to know the type of surface that you'll be using for your caravan. Most caravan sealing surfaces will be rubber because it's lightweight, durable and cheap. So you need to choose a sealant that can stick effectively to this type of material, which may be straight forward or may take a bit of shopping around.
Tear Resistance
An important consideration is your sealants ability to change shape without affecting the protection that it can offer. This change in shape can be caused by expanding, contracting or twisting and tear resistance describes its ability to be able to undergo pressure and force without breaking and needing to be repaired.
A high tear resistance means that it will be long-lasting so you won't need to replace it as frequently. You don't want to spend time always worrying whether your sealant is still working.
Curing Time
The curing time refers to how long the sealant takes to dry from start to finish. This will vary from product to product, depending on the type of sealant. You need to choose a sealant that has a curing time that you're okay with, but ideally, you'll want a sealant that has the lowest curing time so you can fix the leak and get back to enjoying your caravan.
Quicker drying sealants will often be more expensive, and you can gauge how quickly a sealant will dry based on the manufacturer's description and customer reviews to see if it's true. This is because it's common that a manufacturer will overstate how quickly it will dry when, in reality, it takes much longer.
Warranty and Guarantee
Caravan sealant brands will often offer a warranty or satisfaction guarantee which means that if at any point you're not happy with the product that they'll either replace it or offer you a refund. 
This gives you the added protection before you complete a purchase and gives you a greater sense of assurance that the manufacturer believes in the quality of the product.
Ease of Use
Nobody wants to buy a product that isn't easy to use, and caravan sealant is no different. You should avoid buying a sealant that takes too much difficulty and time to install correctly because this can be extremely frustrating, especially if you're using it on an awkward surface such as the roof.
You may also want to avoid buying a sealant that needs to be used with a primer or activator, which can incur additional costs and increase repair time.
Primary Application
One of the main things to consider before you purchase caravan sealant is your intended application of the sealant and to understand If it can seal your desired surface.
If you need just to seal a small leak, then almost any sealant will be fit for the job, but if you need to do a large repair, then you may need a more specialised heavier duty sealant.
Price
Caravan sealants will vary in price depending on the overall quality, but this will be affected by the brand and other features such as how quick the sealant can dry.
A caravan is generally inexpensive but generally speaking, higher quality sealants will be more expensive so you should consider this before you go straight for the cheapest option.
Types of Caravan Sealant
Adhesive Tape Caravan Sealant
Adhesive caravan sealant as the name suggests comes in the form of a continuous rolling tape, which some users find easier to use. This is because you can easily go from one spot to another without creating a mess, meaning it's a quick tidy up process compared to other types of sealants. Adhesive tape is also weatherproof so can withstand harsh conditions without cracking.
Liquid Caravan Sealant
The second main type of sealant is in liquid form and creates a watertight seal around the problem area while sticking permanently. They provide to the type of protection that adhesive tape does, so what you choose will come down to personal preference as to what you find more effective to use. There are two main types of liquid caravan sealants to consider:
Polyurethane Sealants 
Just like any type of product, sealant technology continues to be developed, and Polyurethane sealants are the latest type and provide a greater level of effectiveness and increased durability which leads to it being long-lasting compared to the other types of sealants on the market.  
This has resulted in them becoming more and more popular amongst caravan owners. Many modern caravans are built with fibreglass and Polyurethane sealants are highly compatible with fibreglass, and they can also be painted over so you can blend it in with the original colour of your caravan. 
Silicone Sealants
Silicone sealants are the most common option when it comes to treating leaks of any type. The sealant uses a solution made from silicone which is extremely strong and elastic, meaning that it can not only effectively treat leaks, but it has the durability to stay in place for a long time.
Different types of Silicone sealants are designed for different types of surfaces, so it's essential to check the description to be sure if it's suitable for your caravan.
How to Remove Sealant 
Different sealants will have different removal processes, but mostly it's straightforward and doesn't cause too many problems. Most will be compatible with sealant removers that you apply to the sealant which breaks it down, making it easier to remove.
Details of removal instructions would be present in the manual for the sealant, but it's normal for liquid sealants to be easier to remove because they don't tend to dry hard.
For this reason, if you can, you should avoid liquid sealant that dries hard because it can cause big issues if you want to remove it compared to a higher quality sealant that doesn't dry hard.