Not everybody is lucky enough to be able to store their caravan on the driveway at home. And for others it's simply not practical to do so.
Luckily there are hundreds of caravan storage sites in the UK. If you're happy to pay a monthly or annual fee, you can have your vehicle safely secured in a location that is monitored 24/7 and specifically designed to protect against theft and damage.
"So, what is the best caravan storage near me?"
That's the question!
In this guide, we'll be looking at some of the UK's most popular and well-reviewed caravan storage sites. We'll also address the issue of caravan insurance, and why you should consider a CaSSOA approved site for the 'gold standard' of protection when your motorhome is not in use.
Let's get started!
What Is The Best Caravan Storage Near Me?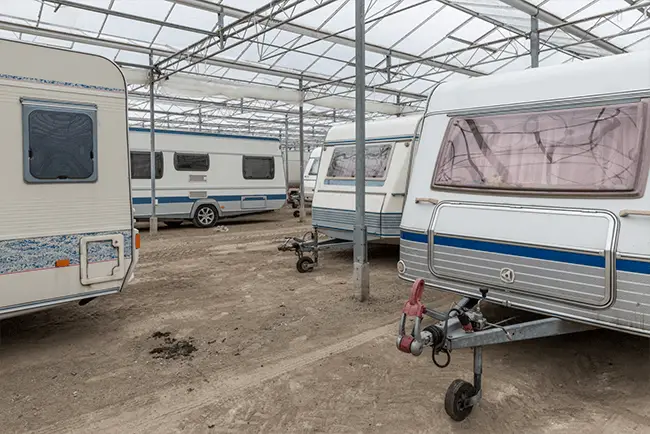 Before we get to our list of caravan storage options, it's important to mention insurance and the type of storage locations that are available.
Do I Need Insurance To Store My Caravan?
Strictly speaking, no. You are not legally required to have insurance for your caravan in storage – but it is strongly recommended.
Over 4000 caravans are stolen even every year in the UK. While most caravan related insurance claims are for accidental damage (while towing), there is still an inherent risk in storing your vehicle off-site that insurance can protect you against.
Some caravan insurance policies will insist that your vehicle is stored at a CaSSOA approved site (see below), so do keep this in mind when looking for suitable storage.
For caravan and motorhome insurance, we recommend Caravan Guard.
They have a variety of specialist packages that can give you some valuable peace of mind while your caravan is tucked away and not in use.
Note: Check our caravan security section for additional ways to protect your motorhome.
Using CaSSOA Approved Sites
One of the best ways to guarantee your caravan will be safely secured is to use a CaSSOA-approved site.
The CaSSOA (Caravan Storage Site Owners' Association) independently assesses each location to ensure that it provides maximum security for your caravan or motorhome.
It's a way of quality-checking that your chosen caravan storage has the best possible protection against theft or damage. This can reduce your insurance premiums (for example, by including no excess and accidental damage cover as part of the package).
CaSSOA has a useful site finder tool which can be used to find caravan storage in your area.
The only downside to using these sites is that they are typically more expensive, or more exclusive.
See more: How much does caravan storage cost?
Some caravan owners prefer private deals with smaller venues, but this is entirely at your own discretion.
We've picked out some of the best reviewed caravan storage locations on a county-by-county basis below.
Not sure about storage and wondering whether to sell your caravan instead?
Check out our list of the best UK caravan breakers.
English Caravan Storage Locations By County
Here's an updated list of popular caravan storage sites by county.
*** Scottish and Welsh guides coming soon ***
Bedfordshire
Berkshire
Bristol
Buckinghamshire
Unfortunately there are no known caravan storage sites in Buckinghamshire.
The closest matches are a company called Savvy Storage in Milton Keynes, which used to provide a caravan storage facility but (apparently) doesn't anymore.
There is also a company called AM Self Storage that accepts teardrop caravans and motorhomes on their sites, but annoyingly not at their Milton Keynes location.
Your best bet is to look to neighbouring Hertfordshire or Berkshire for other suitable locations that aren't too far from Bucks.
Cambridgeshire
Cheshire
Cornwall
County Durham
Cumbria
Derbyshire
Devon
Dorset
East Riding of Yorkshire
East Sussex
Essex
Gloucestershire
Greater Manchester
Hampshire
Herefordshire
Hertfordshire
Isle of Wight
Kent
Lancashire
Leicestershire
Lincolnshire
Merseyside
Norfolk
North Yorkshire
Northamptonshire
Northumberland
Nottinghamshire
Oxfordshire
Rutland
Shropshire
Somerset
South Yorkshire
Staffordshire
Suffolk
Surrey
Tyne and Wear
Warwickshire
West Midlands
West Sussex
West Yorkshire
Wiltshire
Worcestershire