The trusty teardrop caravan has come back into fashion after experiencing a massive amount of success between the 1930s and 1960s.
Teardrop caravans are like small homes on wheels and allow you to go off-grid while still retaining some of your home comforts and appliances. They are one of the most popular types of smaller caravans.
Generally, there is enough room for your bed, a kitchen area and storage space. This will vary depending on the size of the trailer, but they are known for their compact design. Teardrop caravans have a distinctive look and are light enough to be towed by almost any type of vehicle.
In this guide, we'll show you some of the best teardrop caravans as well as an in-depth buying guide to help you understand some of the key features.
A Guide to Teardrop Caravans in the UK
What Is A Teardrop Caravan?
A teardrop caravan is essentially a stripped-down micro caravan. It is a small and lightweight trailer that offers the most basic of luxuries – a bed to sleep in, some storage, and some very minimal amenities.
The teardrop caravan is most famous for its compact design – a teardrop, just as the name suggests.
Why would I want a teardrop caravan?
If you want to go camping or caravanning, and you need the smallest possible trailer to tow, a teardrop caravan is an excellent solution. Many people choose to downsize from standard caravans to these so-called 'pods' with the view of saving money and space.
The teardrop is increasingly popular with younger travellers.
Its small size reduces costs, improves the towing and manoeuvrability, and makes storage considerably easier (or cheaper). After all, if your primary objective is to enjoy the great outdoors – you're probably not going to be as picky about your caravan arrangements.
Where Can I Find Teardrop Caravans For Sale?
Looking to buy a teardrop caravan? Wondering where you can actually find them for sale?
Here are a few options:
SL Industries – Derby, Derbyshire
https://www.slindustries.co.uk
SL Industries are based in the Midlands, which makes them reachable from most locations in England in a few hours. They have been part of the leisure industry for over 30 years and have made their way into manufacturing teardrop trailers – for which they are now primarily known.
Their expertise is in steel fabrication and interior fitting.
They have quickly built up a reputation due to the high-quality builds and also their product development to bring new trailers into the market regularly. They're also very open to optional extras and customisation that you want for your trailer, so all you have to do is ask!
We've showcased some of their most loved designs in our 'Popular Teardrop Caravans' section below.
TMC Motorhomes – Radcliffe, Greater Manchester
http://www.teardroptrailers.co.uk
Home to the popular Caretta 1500, their flagship teardrop caravan with a built-in aerodynamic spoiler to provide the best possible towing and handling.
Their caravans can be customised with all number of useful fittings from roof racks to side awnings, and from protective covers to full heating.
Go Pods
Billed as a micro touring caravan, the popular Go Pod is a hybrid between conventional caravanning and the fun of camping. It weighs well under 750KG, which means it fits the towing requirements of even small cars.
They are designed for the best possible towing and manoeuvrability – marketed squarely at beginners who have never towed before. No snaking or wobbling!
The Pods are available to view at over 80 locations across the UK – with the viewings carried out in actual pods of other customers who have purchased it. There are also remote video viewings available.
Popular Teardrop Caravans
Budget Option: The Original Pod-e Teardrop Caravan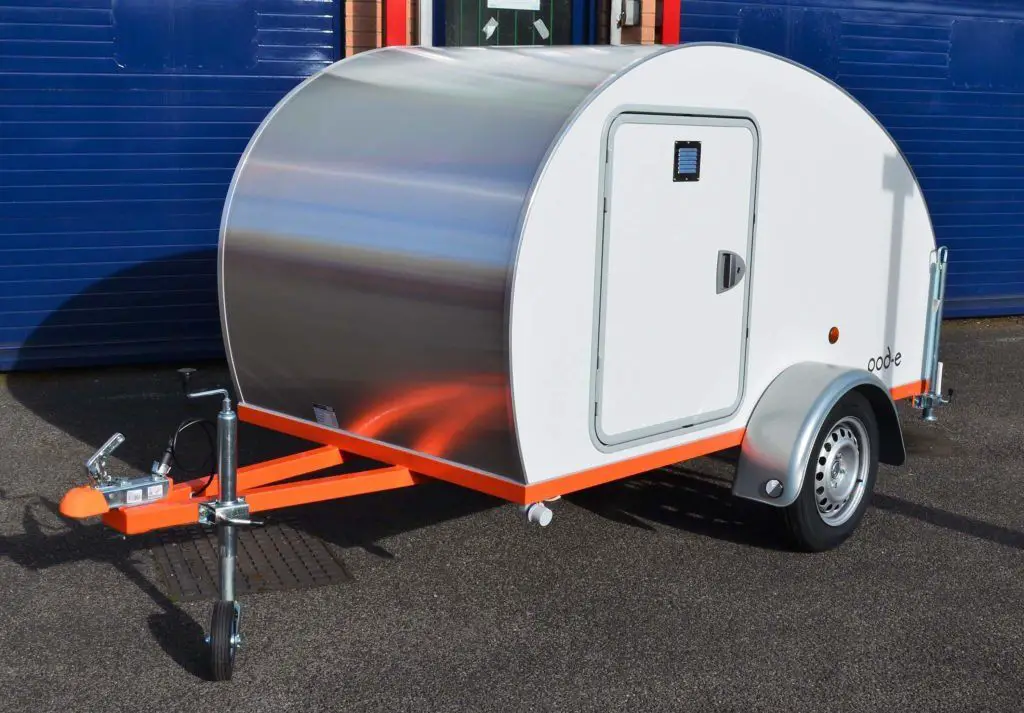 https://www.slindustries.co.uk/pod-e-models/index
This is a lovely classic teardrop trailer which is not only great for going off-grid, but it's also reasonably priced to suit lower budgets while still being high quality.
You can see that a lot of time and workmanship has gone into making this one of the best teardrop caravans on the market.
It can be used by itself with your tow car, or it can be in addition to your larger camper giving you more room. The trailer has been internally finished in satin Birch and smoke Veltrim lining giving you lovely living space.
There is a 750kg Knott Avonride suspension to aid in transportation regardless of the terrain even if you go off-grid. Its 13-inch rims also assist this with 145 trailer tyres on 4 Stud x 100mm PCD hubs.
Even if it rains, you can stay dry due to its aluminium roof with internal Veltrim headlining, and Birch ply beams giving it secure and waterproof seals. The outer panels are also made from Aluminium and thermoplastic which helps to insulate to keep the inside warm.
The side hatch has an opening window which also has a fly screen and curtain blind for added privacy and to stop annoying bugs and flies from getting into your camper.
The door is lockable from the inside and outside plus the trailer has a pressed steel unbraked Hitch with integral tow ball lock so you can easily connect it to your tow vehicle. When you place an order, you get the choice of the colour you choose, and each order comes complete with an IVA certification which means that it's undergone a visual inspection and additional tests to ensure that it meets the required standards.
Depending on your needs you can also order additional extras such as a spare wheel plus the trailer dimensions are 346cm in length and 170cm in width.
Premium Option: The Pod-e Eyas Teardrop Caravan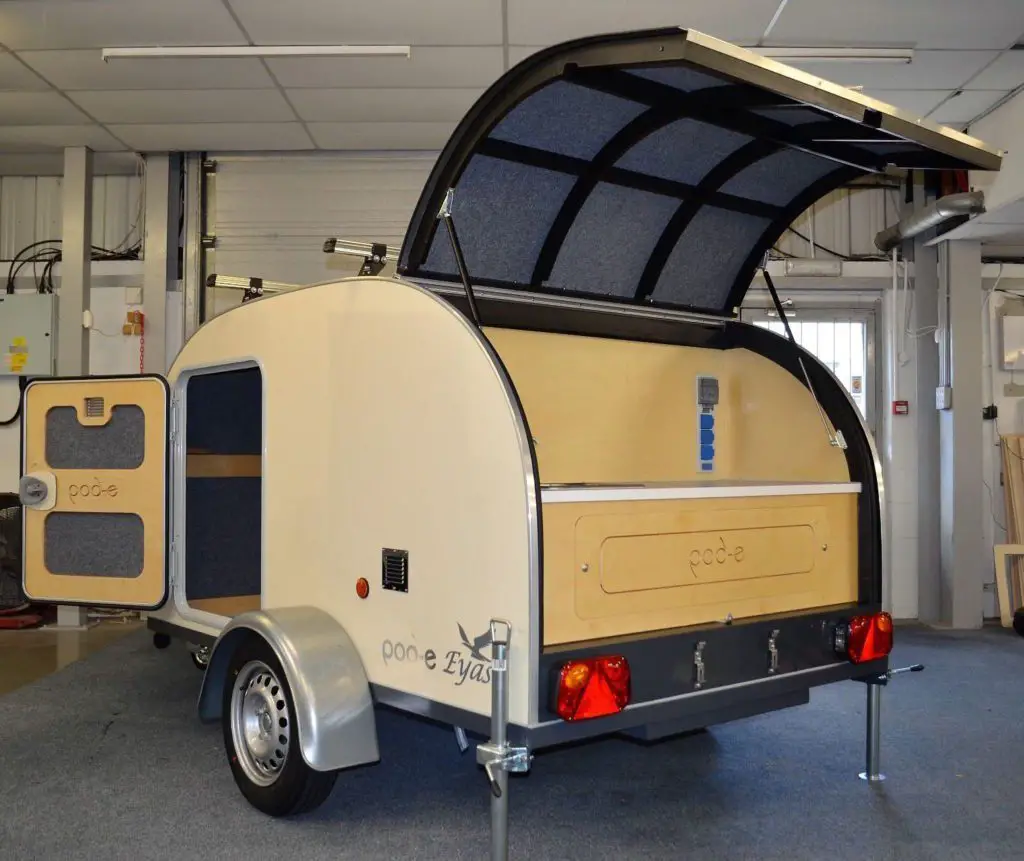 https://www.slindustries.co.uk/pod-e-models/pod-e-eyas
The pod-e Eyas is the upgrade on the flagship version so as you expect; this comes with additional benefits. This features the same lovely internal finish in full satin Birch sides, but there is also forward and read overhead storage giving you more room. The roof has a smoke Veltrim lining with an included 240v hook up to give you access to additional sockets.
The trailer is built with 750kg Knott Avonride suspension that sits on 13-inch Rims with 145 trailer tyres on 4 Stud x 100mm PCD hubs
There is a high-quality Steel 50mm box section chassis that will provide you with years of service that is primed and finished in graphite grey
The roof is made of Aluminium with internal Veltrim headlining, and Birch beams to give it a long-lasting construction. At the same time, also keep it insulated and waterproof, which is further helped by thermoplastic also being used in the outer side panels.
There is a three-point locking rear hatch with internal rain channel. It comes complete with a Knott 48mm jockey wheel and pressed steel clamp & Pressed steel unbraked Hitch combined with an integral lock
In terms of privacy and security, the door is lockable from both the inside and out whilst the opening side hatch window is complete with curtain blind and fly screen. You will also be given ann IVA certification upon delivery.
You have a choice of many colours and also the option of two different sizes which also vary in cost, so if you need more storage space then you can opt for the bigger version which is 14% wider and 10% longer.
What Are The Benefits of a Teardrop Caravan?
The teardrop caravan has a number of great advantages over a more traditional trailer, campervan or motorhome:
It's Affordable
Teardrop caravans can be purchased for relatively low amounts, especially if you get one second-hand. You shouldn't have to spend anything over £10,000, and you can get some starting at around £3,000.
When you compare this to the price of a caravan that is the same age then in some cases these can cost considerably more. Not only are cheaper to buy, they more affordable to maintain because they don't have the added appliances that caravans have such as air conditioning. This will make your running costs much lower, especially if you carry out the maintenance yourself.
Use Any Vehicle to Tow
Teardrop caravans are much lighter than your standard caravan and can weigh as little as 250 kilos. Of course, there are heavier ones, but you have the choice of lighter options.
With teardrop caravans, because they're lightweight, it means that they're compatible with a range of towing vehicles. Often when people buy a caravan, they realise that they don't have a suitable tow car, which means they then have to spend more to upgrade their car too.
Most cars should be able to tow them with no issues. It's a bonus if you have a larger powerful vehicle like a jeep
Included Storage
For some people, they have nowhere to store their caravan out of season which means they have to resort to dedicated caravan storage locations which cost a premium – and depending on where you are, this could quickly add up to a lot of money.
See more: How much is caravan storage in the UK?
By the time summer rolls around, you could have to spend hundreds of pounds on storage costs. Teardrop caravans are often small enough that you can store them on your driveway, garage or driveway. This will keep it safe from the weather and potential thieves although you still need to check on it at regular intervals to just give it a general clean to keep it in tip-top condition for the summer.
Includes Bed Space
Teardrop caravans look deceptively small from the outside, and it's often assumed that you won't be able to fit many things inside. However, once you open the doors and hop inside, most people are surprised by the amount of space.
Although they're minimalist, you still have room for a bed which is usually included. However, you do have an important decision to make about the size of your bed, because if you get a bed that's too large, then you're sacrificing space that could be used for other things.
Having a bed in your teardrop means that when you arrive at your caravan park, you don't need to camp in a tent but have a permanent roof over your head for the night.
Customisable
If you've done any other research on teardrop caravans, then you've already noticed how they all look unique from one another. This is because you're able to customise your caravan just the way you want so even if you don't see any that you like you can change it to suit your style.
You can buy a teardrop that is pretty much a blank canvas so you can customise the whole thing. You have the option to do all the work yourself, or you can work with a specialist company to help fit it for you.
Doing the work yourself will be cheaper, but it will take you time, and you need the expertise to complete it, whereas paying an external company will be more expensive however the result will be more professional.
Great to Look at
The first thing people notice about teardrop caravans is how great they appear and look like tiny houses on wheels. They have a unique shape and come in great colours which are unique to your tastes.
It's difficult for someone to part ways with money for a caravan that they don't like the look of even if it has all the features they need, so when it comes to looks, you'll be winning with a teardrop caravan.
Can Go Off-Grid
We all have the dream of fully going off-grid where you don't have access to a phone or laptop, and you can completely disconnect from the world for a few weeks to get away from the everyday hustle and bustle in our busy lives.
With a teardrop caravan, this is completely possible while being in a lovely living environment. With a teardrop, you'll still spend most of your time outdoors for things like cooking and washing while you also have enough room to bring all the essentials that you need to truly go off-grid for long periods.
Can Be Self-Built
If you've been searching for a teardrop caravan for some time and you still can't find your ideal option you can always build your own. This will save you a considerable amount of money, but it also means that you can tailor it to your style.
Building a teardrop camper from scratch is an ideal way to ensure that you can fully customise it. Still, it's only recommended if you have the skills and experience because there are so many things that need to be done, including woodworking, electrics and building. If you've already decided that you're going to it yourself, then you need to plan how you want the finished product to look and then work backwards.
You need to decide on things like the colour, bed size, number of windows, amount of storage space etc. You then need to start building the shell of the teardrop and all the associated parts. After all, you can't get these kinds of parts at your local DIY shop because many of the parts will be specialised and made to order.
Everything you can think of will need to be bought including windows, tires, doors and vents while also ensuring that you build it to a quality that will last. So it will need to be adequately insulated and sealed to ensure that it's warm and waterproof.
Safety is also incredibly important because you need to not only keep yourself safe but also the other people on the same road.
You also need to remember that once you buy all the necessary parts, you also need to ensure you have the tools to be able to construct it, so you'll need an extensive range of power tools and hand tools. You should calculate the full cost of the project and compare this to the cost of going out and buying one already made and make a decision that's best for you.
What Are The Downsides of a Teardrop Caravan?
Now we're the first to agree that teardrop caravans are a great invention, but they're not for everyone.
Let's go through the downsides that can come with it.
No Bathroom
Most teardrops won't have a full bathroom installed because there just won't be space, so this is one luxury you might have to do without. Higher quality caravans will have bathrooms; however, these will be more expensive, and although it's called a bathroom, it could just be a sink and a toilet.
People that have teardrop caravans have accepted that they'll need to use their caravan parks shower facilities or hook up an outdoor shower so you can still stay clean. There are plenty of alternatives, so you don't have to worry that you'll be going days without washing.
Without having a bathroom in your trailer, this frees up room for storage and other appliances.
Can't Always Cook Inside
Just like not being able to shower in your caravan, you'll also not be able to cook indoors in most cases. Not all caravans will require outdoor kitchens, but it's the general rule due to space demands. Most of the appliances you need from a kitchen simply can't fit into the restricted space of a teardrop caravan.
However, you're able to open up your door and complete your cooking outdoors, which isn't a problem, especially if the weather is nice. If it's raining, then you can get teardrops that have overhangs which protect you.
Some people enjoy cooking outside because it adds to the experience of being off-grid.
Limited People
Obviously!
Do you plan on enjoying your caravan trip with a group of people all sharing the same living space? If this is the case, then a teardrop caravan is not for you.
Teardrop caravans are usually designed for a maximum of two people, and of course, there are exceptions. Still, caravans that hold more will be bigger and therefore more expensive.
A bigger caravan can also impact whether your tow vehicle is capable, which could incur even more costs. Having a passenger come along is still doable, but if you have a couple of children, then you'll want to try an alternative caravanning solution.
Lacks Space
A teardrop is generally compact, so if you're taller, then you might not have enough room to stretch out. The average height of a teardrop caravan is just over 5 feet, so, normally, you'll need to duck to get in and out of the trailer.
However, for most people, you won't be spending much time in your caravan except for sleeping, washing and cooking as you'll be out exploring and enjoying your holiday.
So for most people, the height isn't an issue but if you plan on spending extensive amounts of time in your caravan then maybe this isn't the best choice; or you need to understand the height of your chosen caravan before purchasing. However, you should take this into account if you suffer from back or joint issues.
You'll Need Be Minimalist
As you'd expect, with the size of your teardrop caravan it means that you can't bring a lot of possessions with you. So you'll have to stick to the essentials and not bring as many clothes with you. You need to decide which clothes and items that you can't live without and narrow it down.
You need to consider the maximum load weight that the teardrop can handle as well because you don't want to overfill it. After all, this can make it lopsided, leading to it unhitching from your tow vehicle, which can lead to a serious accident.
Packing like a minimalist isn't all doom and gloom because it's part of going off-grid and you'll realise once you go that there's nothing that you miss. However, you could always pack extra possessions into your tow car.
If you're struggling to have a caravan with limited storage space, then you can always buy a bigger caravan.
Before You Buy A Teardrop Caravan…
If you're looking at teardrop caravans for sale, particularly used models, here are some important factors to keep in mind:
Teardrop Caravan Rot and Rust
If you're buying a used caravan, then you need to do a serious inspection for rust and rot. You should check the underside of the frame to see how secure it is. This is especially the case if the caravan was self-built because the frame could be poor quality and suffer from rusting.
You should double-check the edges and corners around all the seals for vents, doors and windows so you can see if any water's leaking into the caravan. You should use your hands to determine if there are any soft spots along with the doors and windows.
Put your head into the caravan and take a deep breath and if you smell a damp or musty smell, then this could be the sign of water damage which is common in home-built teardrop caravans because they're not built by professionals so often isn't up to the same standard.
Check the Battery
This is a very important step that you shouldn't miss. The battery powers most of your caravan and without it, you'll not only be left in the dark, but most of your appliances won't work either. Not only should you check if the battery works, but you need to understand:
The age of the battery?
How many hours do you get before it needs recharging?
Does it need replacing soon?
Batteries can be expensive, so it's important to understand whether this is an additional cost that you need to account for. If you have the appropriate equipment, you can also run diagnostic tests on the battery to get a more accurate picture of its overall health.
Check the Height
Due to the height of most teardrop caravans, if your shorter this should be fine however if you're taller you'll want to check if this is comfortable for you.
Go inside the caravan and see if you stand up straight or if you need to hunch over as you move about. Lie in bed and see how comfortable it is because if you can't lay straight, then this can lead to a very uncomfortable experience. If it's not for you, then you need to look for a bigger option.
Test Any Kitchen Appliances
If you're lucky enough to be inspecting a teardrop trailer that has kitchen appliances, then you need to test every single one.
These appliances can include microwaves, stoves and fridges, and you need to go through each one. For example, turn the microwave on for a minute which will test the heating element and the electrics. Run the tap and check that cold and hot water comes out as requested and see how long it takes to heat up and if the pressure is adequate.
Also, test the fridge to see if the contents are cold because a replacement fridge can be a costly outlay. If you find that any of these appliances don't work as they should, then this can give you more negotiation room to lower the price to take into account that you'll need to spend money to replace these appliances.
Don't feel rushed by the seller when you're testing all these appliances because you have every right to take your times because it's a big financial investment. Don't just take the sellers word for it that things are working; you need to test them.
Stabilisation and Levelling
You should ask the seller whether the caravan has any kind of levelling capability or feature because this is necessary if you plan on parking on uneven ground. Stabilisers are a sign of a high-quality caravan, and either a manual or powered stabilisers will make sure that your vehicle won't roll away after you park it up.
If the caravan has these features, then you should ask if you can test them out to see how well they work. If it doesn't work well, then you need to highlight this to the seller, or if it's really bad, then you can disregard the caravan altogether and find another option.
Ask About a Spare Tire
No set of tires will last forever, and they'll eventually wear down and need replacing. You should check to see if it comes with a spare tire because if one of your tires suffers from a puncture while you're off the grid, then you can instantly change it without worrying about finding a local garage.
Changing a tire isn't as difficult as it sounds, and there are plenty of videos online that can walk you through the process.
Not all teardrop caravans have space for a spare tire because a spare tire adds weight and bulk so even if there's a spare tire when you inspect the vehicle you need to ask if it comes with the purchase.
Check the Tire Condition
Now that you're already looking at the spare tire you might as well inspect the tires that are currently being used. Of course, these will probably have some signs of wear unless they've just been replaced, but you should check the brand because ideally, they will be one of the high-quality brands like Michelin.
If you see a brand that you don't recognise then this could be a bad sign because they could be lower quality tires.
Also, you should check the tire tread because lower quality tires will wear down quicker than others. Teardrop caravan tires aren't a huge cost, but it's still one that you should look to avoid because it can still cost £30-£40 per tire so if you need to replace all four then this can quickly add up.
If you notice that the tires aren't in great condition, then you need to talk to the seller about it.