If you love hitting the road and exploring with a small caravan hitched to your car, you know how incredible these tiny towed vehicles are. If you are in the market for a new caravan or camper, here is a roundup of the five best small caravans for sale in the UK.
We'll be featuring five popular touring models, including the Swift Basecamp 2, Adria Action 316LT, an Eriba Touring, a Go-Pod and the Freedom Jetstream First Class.
Check out the features as well as the pros and cons as we help you decide which is best for you.
Definition of a Small Caravan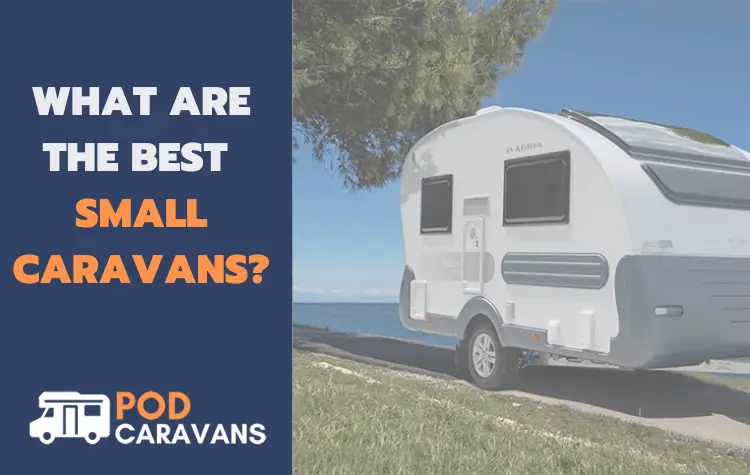 A caravan is a trailer or self-powered vehicle made for living on the road. Most small caravans act as trailers that must be towed by another vehicle that can handle the weight load.
Essentially, any mobile vehicle, whether self-motorized or not, is adapted for daily living with amenities to allow for food consumption and standard hygiene, including bathroom facilities like a toilet. Vehicles that do not have space for moving around, sleeping, or general living tasks are not defined as caravans.
There are always exceptions to the rule, so some caravans do not feature showers, toilets, or kitchen equipment like a stovetop and microwave. But all of the small caravans on this list will feature these amenities many consider necessary for day-to-day life.
The definition of a small caravan is rather subjective. Some manufacturers make small caravans that did not make it on their list because they are quite large compared to other models. However, the small caravans on this list are compact but have standard layouts that you may expect in a traditional caravan.
As mentioned above, all of these caravans feature a place to sleep, a place to shower, and a place to prepare hot food. But many of them have even more to offer, so don't be dismayed by the word small as many caravans feel quite spacious and comfortable.
Factors to Consider Before Buying
There are many factors to consider when shopping for a small caravan. Keep the aspects listed below in mind while shopping so you can choose the right one for your travel and storage needs.
Quality of amenities
Interior Space
Load Capacity
Layout and entrance
Handling and manoeuvrability
Budget
Best Small Caravans For Sale In the UK
To help you find the best small caravan for your needs and budget, check out these top picks for sale in the UK. From fancy to frugal, this roundup covers all the best options. No matter what you're looking for in your small caravan, one or more of these is sure to be an excellent fit.
Swift Basecamp 2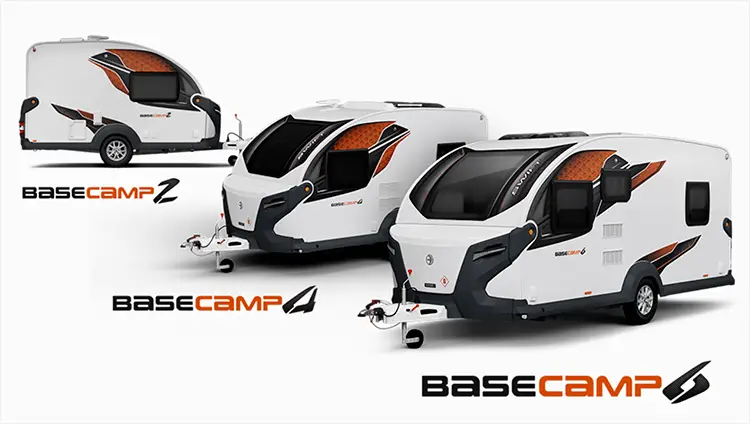 The Basecamp 2 is a compact caravan that is very comfortable with ingenious storage options and a lightweight load. The exterior and interior are super attractive, with burnt orange accents and dark wood that is scratch-resistant and impact-resistant, so it won't wear or become damaged easily.
Comfort
Comfort is one of the main focuses of the Basecamp 2 model. It features a lounge area that transforms into a sleeping arrangement for technically two adults, but you could squeeze more if you're determined. The two couches are positioned on the sides of this practical caravan but can be lowered and collapsed to turn the entire lounge area into a bed for two.
The lounge couches and bedding are a soft yet firm material, so you can take cosy cat naps and get a goodnight's rest to take on your next adventure. There are tangerine accents throughout the caravan, giving it a happy and positive vibe you'll appreciate on long days on the road.
Cooking
The Basecamp 2 model also has a clever kitchen setup that packs a lot of amenities into an incredibly small space. There is a thermostatic oven and grill with a three-burner gas hob and electronic ignition. Hidden below the counter is an 83-litre fridge with a removable freezer compartment, giving you some flexibility with what and how you want to store perishables.
The counters also feature removable chopping boards, but the counters themselves are also scratch-free and generally safe to chop directly on. The kitchen has its own sink with a swivel faucet, making filling things and washing dishes a breeze even in the tiny space.
So you don't have to eat on the couches or outside, there is even a front lift-up coffee table that can easily fit two for breakfast, lunch, or dinner.
Hygiene
The washroom of the Basecamp 2 model is a favourite among caravan owners. When you step into the washroom, you are simultaneously stepping into the shower, which some people don't love, but many find the design to be a clever space-saver.
To the left is the toilet and to the right is a spacious sink with a mirror above it. Users report that the shower and bathroom, in general, are comfortable and pleasant to use.
Pros
Two berths
Comfortable washroom
Attractive aesthetics
Rear front door for easy storage of bikes and large equipment
Cons
More expensive than most compact caravans
Adria Action 316LT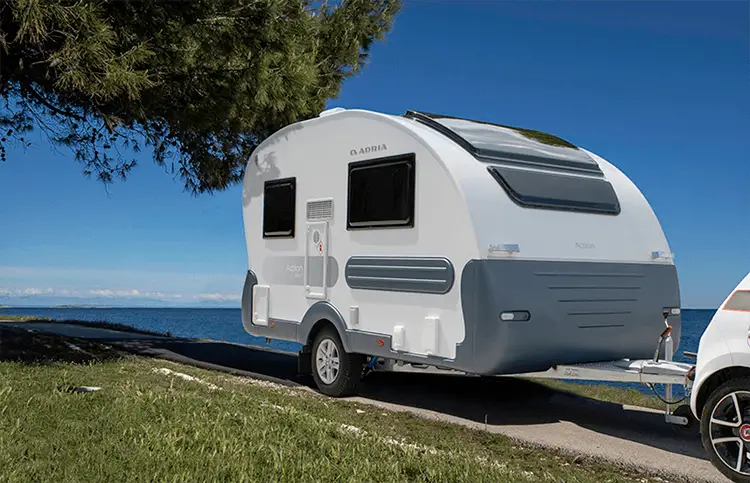 The Adria Action 316LT is one of the most popular compact caravans in the UK. It has a wonderful layout that allows you to fit two adults for sleep and four to six people comfortably for a meal.
Unlike some other compact caravans, this one offers a special focus on a pleasant dining experience. Eating in uncomfortable or cramped spaces can often make meals less enjoyable, no matter how tasty. This model also isn't a super cheap option, but it offers many amenities for the price. There are also two versions of the model, so you can choose to have the entrance on the right or left side depending on your preference.
Comfort
Like most compact caravans, this model has a large lounge space that transforms into a bedroom when night falls. Four sections can be lifted to create a lounge and dining area. The couches go around the entire back of the caravan, covering three walls.
When you turn it into a bed, it will take up the entire space in the back, offering plenty of room to stretch out and sleep well. The lounge material is soft and solid, which some people find too hard but most feel right at home on them. If you like a cushier mattress, you can always add a foam layer that can be rolled up and stored during the day.
Cooking
The cooking area and amenities are the best feature and a major selling point for this caravan. There is a fridge, double-burner stovetop, compact oven, spacious sink with a high and adjustable faucet, and loads of kitchen storage. If you love being on the road but still need your home-cooked meals, this might be the best caravan for you.
Users rave about the storage space specifically designed for cookware and flatware. You can securely store glass and ceramic items without worrying about them taking damage on bumpy roads. The oven is even large enough to fit a young turkey if you want to have a proper holiday meal on the road.
In addition to your properly cooked turkey, you can even set a spacious dining table that can seat several people comfortably. Enjoying a sit-down meal is a common human experience you shouldn't forget about just because you're adventuring around Europe or elsewhere. If you or your travel buddy are a cooking fanatic, consider this small caravan for the kitchen amenities and ingenuity.
Hygiene
While the washroom in the Adria Action 316LT is pretty standard for a small caravan or any caravan, users don't have the best things to say about it. The toilet, sink, and shower are tightly packed together, making for a slightly uncomfortable experience.
However, no one can expect a luxury bathroom on a small caravan. Despite this minor downside, owners still report that they thoroughly enjoy the vehicle and manage just fine with the washroom even if it isn't perfect.
Pros
Two berths
Large dining table
Well-equipped kitchen
Left and right entry configuration
Massive skylight for a beautiful view
Cons
Cramped washroom
Difficult entrance for storing bicycles and large gear

Eriba Touring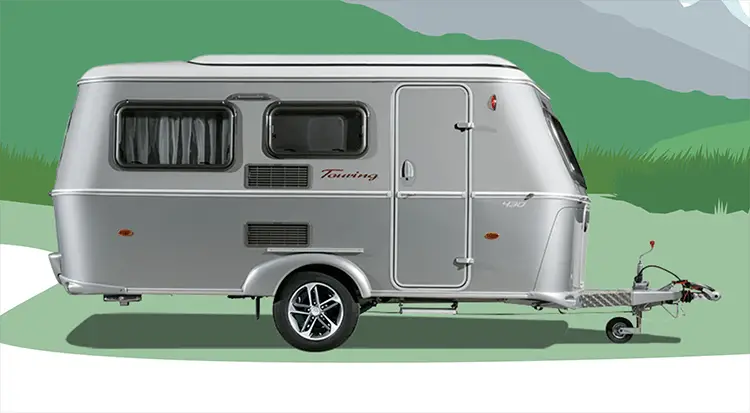 It's hard not to fall in love with the look of the Eriba Touring compact caravan. The manufacturer has stuck with the classic raw steel exterior look that the company has utilized for decades. However, the interior has a modern but cosy feel that makes it extremely enticing.
If you want an ambient and comfortable caravan that uses every inch of space to your advantage, Eriba Touring is an excellent option. They have put a lot of effort into curating the luxurious style but also maintained a focus on storage and space-saving.
Comfort
Eriba doesn't cut any corners when creating a comfortable space for lounging, living, or snoozing. The cold foam mattresses with soft drill covers make for a cosy mattress or couch, and you'll feel like you're floating on a cloud. Yes, that's a cliche, but it is also the truth in this case.
Unlike most compact caravans, the bed and lounge area are not one. The bed and sleeping area is at the back of the caravan, while the lounge area, featuring couches and a dining table, is closer to the entrance in the middle of the caravan. You can turn the lounge area into a sleeping arrangement if desired.
Many people dislike having to rearrange their lounge area into a bedroom whenever bedtime rolls around. With this caravan, you don't need to make that transformation, and people can nap or lay down throughout the day.
Cooking
The cooking area in the Eriba Touring caravan is decent and better than many other compact caravan kitchens. The work surface and counters can be extended, making it easy to perform lots of prep for dinner or your next holiday meal. A sink cover doubles as a chopping board to create even more space.
There is a stovetop with two burners, plus a spacious integrated fridge that is larger than most caravan refrigerators. There is plenty of cupboard and drawer storage space for food as well as flatware and silverware. As far as the caravan kitchens go, the Eriba Touring one is great and will be enough to satisfy your travelling home cook.
Hygiene
The washroom in the Eriba Touring caravan is compact, but it feels spacious. The large window in the washroom prevents it from feeling super cramped. The showerhead is up high enough to provide excellent angles for water, no matter your height. While larger adults may not have fun washing up in this space, it still offers a pleasing aesthetic and plenty of clever storage spots for your toiletries.
Pros
Three to four berths
Plenty of clever storage spaces
Lounge and separate sleeping area
Attractive and luxurious design
Lots of light
Fuel efficient
Lightweight design and materials
Cons
Small shower space
Smaller sleeping space than other caravans
Go-Pods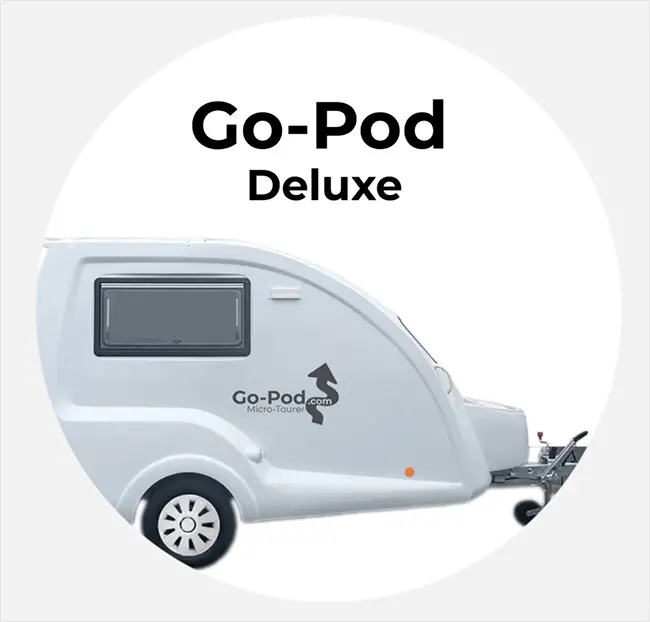 The Go-Pods, which are teardrop caravans, are some of the smallest caravans out there that still offer comfort, cooking, and hygiene. Unfortunately, Go-Pods do not feature a full shower, but they do have a toilet and sink for some general hygiene. Most people take portable caravan showers with them, completing the Go-Pods. However, these are often the most affordable, and people love how easy they are to tow, store, and set up.
Comfort
The Go-Pods offer a surprising level of comfort for how small they are. They have the standard lounge area that can turn into a sleeping area at nighttime. This space also features a flip-down dining table so you can have proper meals and enjoy using the minute kitchen.
The bed is king-size and offers plenty of space for two adults or a few children. The mattress material is firm, but the fabric is super soft and comfortable. So you can get a good night's sleep even if you don't have high-end sheets or blankets. Owners rave about the lunge and bed comfort, plus the headspace, so they can fully stand up and change their clothes with ease.
Cooking
Despite how tiny Go-Pods are, they still offer a space where you can cook hot food, so you don't have to rely on take-out during your road adventures. Everyone loves a home-cooked meal, and you shouldn't have to give that up when travelling on the road. A double burner on the grill hub with a cover creates more space for cutting and food prep.
Hidden underneath the burners in a cupboard is an oven that can fit small trays of food. The entire kitchen area is very innovative and easy to use. So whether you want to heat some beans or cook fish and chips, you have enough space to do so. The sink is deep enough that you won't struggle to wash dishes or fill water pitchers.
All Go-Pods also feature a Dometic fridge that is small but still enough to store some basic food items until you're ready to cook or consume them. The Go-Pod is smaller than other small caravans but still manages to fit all the essential cooking amenities that the larger models can.
Hygiene
Sadly, this is the low point for the Go-Pods. They couldn't seem to fit a working shower into the washroom. But, aside from this, the washroom is a decent size, and it's comfortable to use if you are brushing your teeth, washing your face, or using the toilet. But most Go-Pod users rely on portable showers or RV facilities to do the serious washing up. Many people are happy to sacrifice the shower to have the incredibly compact and mobile Go-Pod.
Pros
Two berths
Comfortable bed
Extremely lightweight and compact
Very affordable
Easy to use and set-up
Several colours and design options
Customizable
Cons
Freedom Jetstream First Class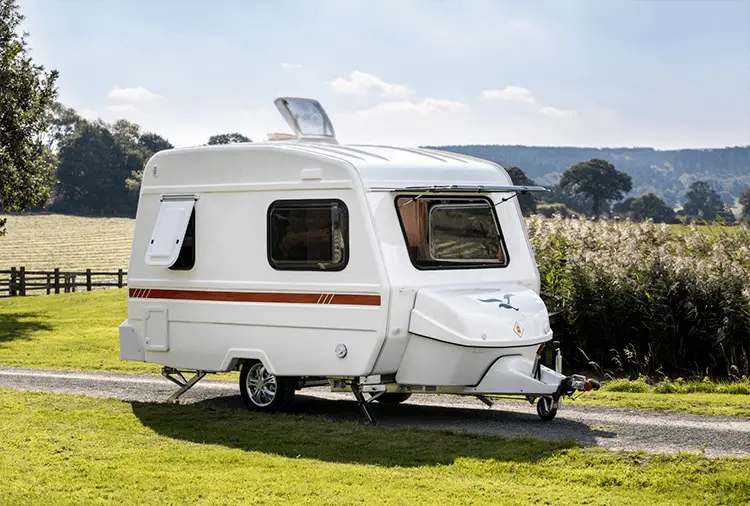 It isn't clear why, but Freedom's compact caravans don't seem to be as popular among road junkies in the UK. But the specs and features don't explain this lack of popularity, which is why the Freedom caravans, without a doubt, made this list. Hopefully, the Freedom caravans will get the love and appreciation they deserve soon!
Freedom makes several excellent models of small caravans. Some are super small, like the Microlite Sport, but it sadly doesn't have a shower or toilet. But the Freedom caravans, such as the Jetstream First Class model, are still compact but feature a shower and toilet, which most people appreciate having in their caravan.
This section will highlight the Jetstream First Class, but if you want something even smaller and don't mind going without the toilet or shower, Freedom has many other excellent options. This model was also the winner of the ​​Lightweight Leisure Trailer Award.
Comfort
The layout of the Jetstream First Class lounge area is standard. It has wraparound seating covering three walls and has room for a foldout dining or coffee table in the centre. And when night comes, the couches and seating can turn into a bed. As far as comfortable material, the Freedom caravans may be the winner. People rave about the slight feeling of memory foam that keeps you cool when it's hot and warm when it's cold.
Most of the models only come in a brown and white design, which some users find uncomfortable day in and day out. Of course, the colour scheme is a personal preference, but many people appreciate a more pleasing design to the eye. The materials in the Jetstream tend to be monotone and minimalist.
Cooking
The Jetstream First Class kitchen setup is also pretty standard, but the oven is a bit bigger than other compact caravan models. So if you love cooking in the oven and struggle to fit what you want into caravan ovens, you may be able to have more success with this kitchen. The caravan features an oven, double-burner grill, and fridge.
The kitchen also features another tap with a swivel faucet. The kitchen sink is spacious but shallow. And the bathroom sink is also rather small. Many owners don't find the smaller sinks to be an issue but are something to note while shopping.
Hygiene
This Freedom caravan model features an incredible washroom that is easy to use and rather spacious. It comes with a high-end Thetford cassette toilet, a tip-up bathroom sink with drainage, a shower unit with shower tray and drainage, and even an external water system that saves you space while still giving you hot and cold water.
Users report that the shower is very comfortable and flexible despite the model being super small and lightweight. The cassette toilet is left out, so you don't need to pull it out every time you want to use it. One of the most clever layouts in the caravan is how the hand sink in the bathroom is strategically located above the cassette toilet.
For those who can't stand tight and cramped showers, the Freedom caravan may be the best option. Even slightly larger adults will be able to comfortably shower and dress in the washroom without bumping into the walls or the toilet.
Pros
Excellent shower and washroom space
Customizable
Plenty of storage for clothing and items
Spacious oven
Cons
Boring interior and exterior design
Smaller sinks