Well, let's be clear…
Caravan cutlery trays probably aren't at the top of your list of things you need to buy for your caravan.
However, if you've got cutlery, then it's only natural that you'll want somewhere to store your knives, forks and spoons that isn't simply the side of the kitchen counter. Besides the basic aesthetics, there are several reasons relating to hygiene why you would want a better cutlery storage option.
Not all cutlery trays are the same, so we've reviewed the best caravan cutlery trays on the market – while also highlighting the key things you need to be aware of that separate the good drawer organisers from the bad.
Let's get to the list!
Best Caravan Cutlery Trays And Organisers
Joseph Joseph Small Cutlery Organiser Tray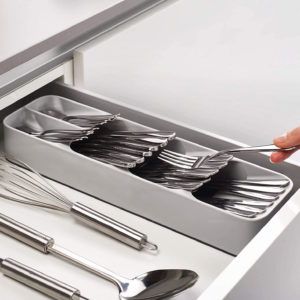 The Joesph Joesph cutlery tray has a unique space-saving design which works by angling and layering each compartment on top of one another so you can store your cutlery in half the space needed by a traditional cutlery tray. 
This is an excellent option if you're limited for space in your caravan, or you want to replace your existing cutlery tray and want to free up some room simultaneously.
You have the choice of placing your utensil head or handle first, but the compartments are clearly labelled. The tray also has non slip feet on its base, so it doesn't slide around in your draw. The tray is made from durable plastic and is easy to wash by hand while also being suitable for all drawers above the minimum height of 8cm.
Addis Premium Anti-Slip Cutlery Organiser Tray​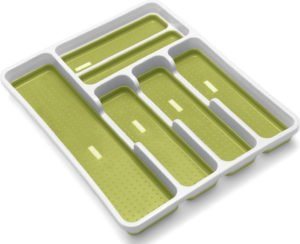 This cutlery tray is provides you with six compartments to store cutlery neatly away from view while you're caravanning. The tray has soft inners combined with a slip-proof base, so it doesn't move around in the draw. It's made from durable plastic which is easy to clean and only requires warm soapy water to keep in in top condition.
The tray is suitable for drawers with a range of widths due to its flexibility which allows it to expand from 6-8 compartments depending on your needs while also being available in two colours to match your existing décor.
A neat little cutlery organiser that looks nice and tidy in the kitchen drawer.
Joseph Joseph Drawer Store with Cutlery Tray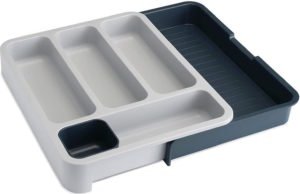 This cutlery tray is ideal, especially if you're currently unsure of the size you need because due to its versatility, the tray has two halves. So you can adjust it to fit drawers sizes that range between 29 and 48cm as you can expand the size of the tray and then lock it into place, so it stays that size.
The tray has four deep sized compartments to fit a large volume of kitchen cutlery while also having room for larger sized items in its expandable areas. Due to the range of compartments, it allows you to be more organised.
Caravans Stuff 4 U Small Cutlery Ivory Tray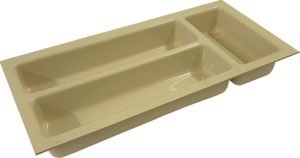 If you're looking for a no-frills cutlery tray that does the job, then the Caravans Stuff 4 U Ivory Tray could be the caravan cutlery tray for you. It measures 360 x 173 x 45mm, and will fit into most caravan draws.
It's made using plastic so is easy to keep clean, and you can expect it to last several years. It comes from a manufacturer that has established itself as one of the leaders in the caravan product industry by creating long-lasting products, so this is a company that you can trust.
We can't imagine this particular tray set will be winning any design aesthetic awards, but it gets the job done if you're on a tight budget and looking to kit out your caravan kitchen.
Camco 43503 RV Adjustable Cutlery Tray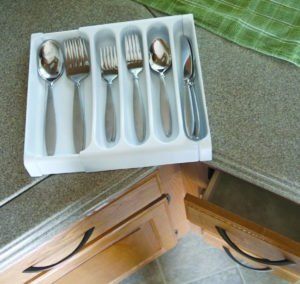 Next on our list is the Camco RV cutlery tray which has been made specifically for the caravan industry. The tray slides out from both sides, so it's flexible depending on the size of your draw, but it can adjust from 22.86cm to 33.02cm in width.
Because it's built for caravans, it's extremely sturdy made from thick plastic which is built to last. Most caravan cutlery draws are awkward and leave you rummaging trying to find what you need, but this tray means your draw will be more organised and easier to use.
Unfortunately the product appears to have been discontinued, although it may still be possible to pick it up on eBay or in caravan stores.
What Are The Benefits of a Caravan Cutlery Tray
Kitchen Sanitation
Even though you will clean your cutlery before packing them away, it's natural that there will be small amounts of residue that remain on the cutlery. If you don't have a cutlery tray, then all types of cutlery will then touch each other meaning that harmful bacteria from your knives that were used to cut meat can then pass onto your spoons. A cutlery tray has separate compartments which reduce the chances of bacteria spreading on all your cutlery.
Cutlery Drawer Organisation
You've probably been in this situation before where you're looking for a certain piece of cutlery and your rummaging through, but you still can't find it. If you use a cutlery tray, then it can be organised so you can easily find what you're looking for. This not only stops you getting incredibly frustrated but will also save you time so you can get on with making and eating your meal.
Longer Lasting Cutlery
Organising your cutlery in a tray will stop different utensils clashing which each other because this can cause cutlery to become blunter or damaged. By preventing this, it means that your cutlery will last longer, which saves you money in the long run and also saves you the hassle of having to go out and purchase a new set.
Visually Appealing 
You can have the most expensive set of cutlery, but if it's not organised and just thrown into a drawn then, it won't look great in its unorganised state. We all have some pride for our living space, and this is no different for your caravan, and although it's only a temporary living space, it will make your overall experience better if you're in a better environment.
Factors to Consider Before Buying
Material 
Caravan cutlery trays come in a range of materials with the most common being metal, plastic and wood.
Plastic is the material of choice by most cutlery tray manufacturers because they are the most affordable while still being durable and strong. They are very functional and come in a range of sizes to fit your needs but don't forget about looking good.
They're easy to clean and maintain, which makes them long-lasting while also being BPA-free and food-safe depending on the product. Plastic trays are also not as prone to moisture compared to wood or metal trays.
Wooden trays are popular because they often look the best of all the choices while also being eco-friendly; however, this can make them more pricey, especially compared to plastic options. Because of their natural material, they require more care and maintenance to keep them in top condition. Your cutlery needs to be moist-free before putting it in the tray; otherwise, this can cause damage.
Metal caravan cutlery trays are usually designed with a mesh design which has the key role of preventing moisture from forming inside the compartments, which ensures that your cutlery doesn't suffer from rust or corrosion. Metal trays are the best choice in terms of sanitation.
Metal trays are also strong and long-lasting, so if you buy one, it won't need replacing for years.
Cutlery Tray Size
The size of your cutlery tray is very important, especially if you plan on storing it inside an existing draw. Not many people can extend the size of their draws, so you want to measure the space that you have available and compare this to the models you're looking at to check that it will fit.
Don't just assume that it'll fit. Another reason for considering the size of the cutlery tray is because you'll need to ensure that you have enough space to fit all your cutlery and there will be a correlation between the size of your caravan plate rack. 
Number of Compartments 
You should know the number of slots that you'll want because different trays will have different numbers of compartments due to their different sizes. Cutlery trays have developed massively over the last few years, and now some models have expandable slots in case you need more space.
Easy of Cleaning
You'll need to regularly clean your cutlery tray just as you would the rest of your kitchen. If your tray isn't clean, then it makes cleaning your cutlery pointless because as soon as you store them away, bacteria will transfer onto your freshly clean cutlery which you'll then put in your mouth when you eat.
You'll want to choose a material that is easy to clean and that will dry quickly. Metal and plastic cutlery trays are great for this because you can wipe them down with a soapy cloth. Many wooden trays can't be washed down and can be wiped down with a damp cloth.
Price
With all these different features and factors to consider, it should be surprised that they come in a range of prices. If you're looking to buy on a budget, then you should look at plastic and stainless steel trays because they're long-lasting and affordable.
If you're looking to spend more on a better-looking tray, then a wooden tray is on the more expensive end of the scale. Ideally, you should set a budget before you buy because this will make it easier to make a final buying decision.