Summer is one of the most enjoyable seasons due to the higher temperature where we can swap trousers for shorts, and we have that feel-good factor. However, one of the main downsides is that it can be challenging to ventilate your caravan lead to it feeling hard to sleep and function due to the high temperature.
One way to cool down your caravan is a caravan air conditioner which can drop the temperature and provide you with cooling air, so you feel more comfortable in your living space.
A caravan air conditioner isn't something you buy every day, so we've created this easy to follow guide to show you the best caravan air conditioner on the market. Including the features that you need to consider so sit back and relax while we do all the legwork.
D.R. Air Cooler Caravan Portable Air Conditioner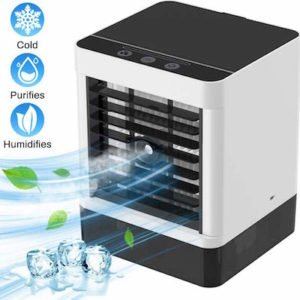 The brand new portable air conditioner is ideal for caravan use due to its size where it measures just 6.7 inches in height which makes it especially effective if you're restricted for space and makes it easy to move into position.
The air conditioner has a choice of three settings (low, medium & high) and has an inbuilt water tank for water collection that you can easily empty when the time comes. Don't take its size for granted, because it can pack a punch and cool a medium-sized caravan.
It's powered using a USB outlet, so if you usually charge your mobile phone using a power outlet, then you can use the plug from that to insert the USB. If you have young children, then you can also select from a choice of seven LED lights.
Evapolar evaCHILL Portable Air Conditioner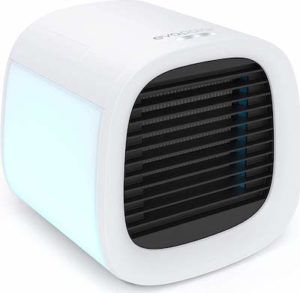 The Evapolar is an effective small air conditioner making it best suited for caravan use. It has a 3 in 1 function giving you a choice of air cooling, humidifying and cleaning to give you a better caravan living environment. It also saves you from having to have multiple devices when you can have one with all the functions inbuilt.
The conditioner can cool an area of 45 square feet and has a leak-proof system and enlarged water tank which provides you with up to 9 hours of continuous function time. The material used for evaporation carries no organic materials, which means that dangerous disease-causing bacteria won't bind to the material.
What is a Caravan Air Conditioner?
Traditionally, air conditioner units are large and static which need to be built directly into the wall structures of a building. Caravan air conditioners are more portable and can be easily moved from position to position where you need them. Because they are less heavy-duty, they are more affordable.
How do Caravan Air Conditioners Work?
Air conditioners have a simple mechanism and when you turn it on this pulls in the air that's present in the room which draws into its vents. The unit has a cold evaporator coil which removes the moisture leading to the air cooling. Once the air is cooled inside the unit, the cool air is forced back into the room, which gives you a cooling sensation.
But what happens to the warm air inside the unit? Well, the air conditioner has a chemical refrigerant that absorbs the warmth which is then converted and stored as water. This water is the waste product of the process, and this is collected into a tank within the unit which then needs to be emptied when it gets full.
The frequency that you empty it will depend on how regularly you use the caravan air conditioner.
Benefits of a Caravan Air Conditioners
Portable
Naturally, caravan air conditioners are supposed to be portable so you can not only easily transport it to your caravan, but then also move it out of sight when it's not in use. The best options will have built-in wheels or handles so it can quickly be lifted.
This is useful, for example, if you only need to use it at night to help you sleep because in the day time you can easily move it into a cupboard. Also, if you have any issues with the unit, you can easily bring it to the store and have it repaired without relying on a technician to visit you.
Ease of installation
If you have a standard air conditioning unit, then it's highly unlikely that you'll be able to install it yourself as they require a lot of expertise that only a technician can deliver. This will also add on time and money, whereas a caravan air conditioner can be installed in a few minutes depending on its complexity.
Most of the solutions are plugged into a standard plug socket, and there is little chance that you'll need an expert to provide you with additional support.
Affordable
Price is something that will be a factor for most people and therefore will be sticking to a strict budget as to how much money you're willing to spend. If you're on a lower budget then a caravan fan might be more suited.
Caravan air conditioners are considerably more affordable than traditional units due to their smaller size and their simpler operation. Built-in units will need a greater investment due to needing a technician to support you with its installation.
Noise Disruption
Air conditioners have come a long way from the first time they hit the market. At first, they would be very loud, which defeats the point of having them in your living space, however, now the sound that an air conditioner makes will largely depend on the model that you buy.
Different units will generate different noise levels, but overall they are generally quiet. This can help you with noise disruption because now you don't need to sleep with your windows open to let in cool air which means that you can stop external noise from coming in from traffic, people, animals etc.
Maintain Health 
Exposing yourself to high summer temperatures can lead to several health risks such as heat exhaustion. By maintaining a cool temperature, this ensures that your body functions effectively.
The main benefit of a caravan air conditioner is that when it converts the warm air into cool air, the unit has a filter that removes harmful substances from the air such as dirt and bacteria leaving you with a cleaner living space.
This gives you not only a cleaner living space but also a cleaner sleeping space where you spend 30% of your life. Using an air conditioner will allow you to keep a consistent temperature which will give you a better quality sleep.
Drawbacks of Air Conditioners
Energy Usage
As you'd expect, with any electrical appliance in a caravan, you need to consider the amount of energy that it requires to operate. 
An air conditioner needs a constant supply of electricity to run and to depend on your needs; you can use it for any length of time.
If energy usage is a concern, then you need to understand how much energy it uses and how energy efficient your chosen unit is.
Buying Guide
Price 
The price of your desired unit will depend on several factors, such as the number of features that it has. If a unit has additional benefits such as a timer function or a remote, then this will raise the price.
You need to note your desired functions and create a price max which will then make it easier to decide because this will reduce the number of products available to you.
Energy Efficiency
Energy efficiency is a very important factor to consider because it affects both your electricity consumption and its effect on the environment. In this case, it's ideal if you can choose the unit that has the highest energy efficiency rating, which should be shown in each product description.
If a unit has an A-rating, then this means it is incredibly efficient at using energy, whereas if a unit has a G rating, then this will have the lowest energy efficiency. The larger the efficiency rating, the less money it will need to function.
Warranty
Just like any electrical item, regardless of the quality, there is always the chance that a fault could develop which negatively affects its operation.
To lower this risk, you should understand whether your chosen air conditioner unit comes with a warranty which will give you the added peace of mind that if any faults occur, that the manufacturer will be there to assist you.
Size & Weight
One of the biggest concerns should be the size and weight of your unit. In a caravan, space is usually at a premium, so you need to understand if it will fit and where it will fit when it's used.
Ideally, you'll want to move it out of sight when it's not in use, so you'll want it to be small enough in size to fit under your bed or in a cupboard. You'll want to avoid a big and heavy unit; otherwise, it'll need to stay in the same position at all times. 
Noise Production
Most air conditioner unit usage is through the night when it's hot and sticky, asking it hard to fall asleep. Because of this, it's important to understand how loud the unit is when it's operating.
The best caravan air conditioners will be quiet in operation and will list this as one of its main selling points. If your chosen air conditioner is too loud, then you can always turn down the speed which will slow down its operation but will make it quietly.
Installation & Maintenance
The set up of an air conditioner unit is what most people worry about because of the reputation that older units have instilled. Generally, portable units come almost fully installed, and all they require is a few parts to be put into place such as the filter, and then you need to plug it in, and you're good to go.
These units will come with detailed user guides, but you can also look through personal user reviews for your desired product to understand how many people had issues with set up.
Timer Setting
Pre-set or custom timer settings are important to consider because this will allow you to ensure that the unit automatically switches off after a certain period, which can be useful if you want to keep it on until you fall asleep. This setting will stop you from wasting money unnecessarily on electricity. 
The periods you can select from will depend on the quality of your unit. Higher quality units will give you greater time flexibility.
Water Collection
Different units collect water in different ways. Some will have a water tray whereas others will be evaporating and if your unit collects water, the bigger the tank, the less frequently you'll need to empty it. However, if a unit has a larger water tank, then the overall size will be larger, which can affect portability issues.
Thermostat
We all have different preferred room temperatures, and an adjustable thermostat gives you the control so that you can select your exact desired temperature.
This is important if you regularly overheat throughout the night because it'll keep a consistent temperature giving you better sleep quality.
Washable Pre-filters
The best air conditioner units will have inbuilt filters that trap bacteria and dust from the air. These filters improve the quality of your caravans air which increases your health and well being.
The filters also stop the dirt and bacteria from entering and damaging the inner mechanics of the unit. If this dirt gets into the unit, then this can decrease the effectiveness of the unit which will shorten its life.
Mode Settings
The higher quality air conditioners will have a range of settings to choose from such as humidifying and cooling, which means that you still have use for the unit outside of the hot summer months.
These are often marketed as "3 in 1" mode air conditioners giving you option of switching between modes at a flick of a button.