If you're going away in your caravan, then it's likely that you'll be off in the summer months when the weather is better (and there's no need for a caravan heater).
Although you might spend most of the day outdoors, you don't want to find a stuffy and hot climate in your caravan when you return for the evening.
A caravan fan is an excellent solution for a little heat relief in the height of summer.
In particular, a 12 volt fan is ideally suited for caravans because it doesn't have the power demands that a full-size fan would have.
This means that you won't have to go through hot nights, tossing and turning trying to get to sleep.
In this guide, we take a look at the best caravan cooling fans – with a focus on those that run off a 12V power supply.
Best 12V Fans For Caravans
There are many different brands of 12 volt fans, so this can make it difficult to understand, which is the best caravan fan on the market.
Due to this, we've created this in-depth guide that will not only walk you through the best models but will also show you the features that you need to consider to get the best experience.
Streetwize Twin Cyclone 12V Fan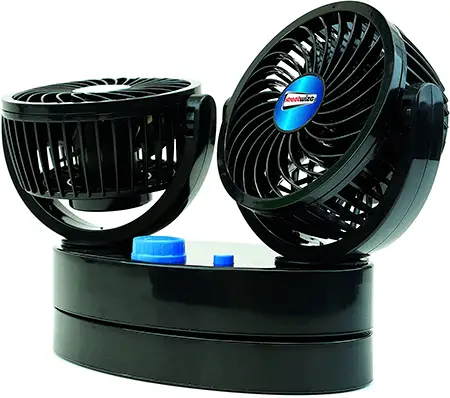 Streetwize has a variety of popular caravan appliances and tools. Their Twin Cyclone 12v fan is one of the most popular caravan fans in the UK.
It comes with a 12V power cable which plugs directly in to your cigarette socket. Start it up and you'll immediately be impressed with the amount of breeze that such a compact fan is able to generate. It's one of the quieter options on our list, but it certainly does its job well.
It has a fully rotatable head, meaning you can target any area of the room without having to manoeuvre the fan around. This is particularly useful given that the standard 12v lead is fairly short.
EVERGD Car Fan 12V Electric Auto Cooling Fan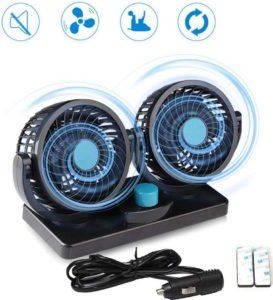 The similarly designed EVERGD 12V fan gives you the choice of two speeds and is also 360 degrees rotating. As it works, it adjusts to the wind direction, so this can keep several people cool at once. The fan has a low noise design so you can even have it on while you sleep without much audio disturbance.
The fan has 12V / 6.5-15W fan power and consumes significantly less energy than an air conditioner. This particular model has a strong motor that is suitable for both indoor and outdoor use. For such a small caravan fan, it packs quite a bunch – generating some impressive wind that can provide some much needed relief on a hot day.
The fan is also priced very low, so it's not going to break the bank, especially considering the benefits that it will inevitably bring you on those long, stuffy nights…
This isn't just suitable for caravan use but can also be used in your home, car or any other place that you need to be cool and have access to a 12v power source.
Carpoint 12V Fan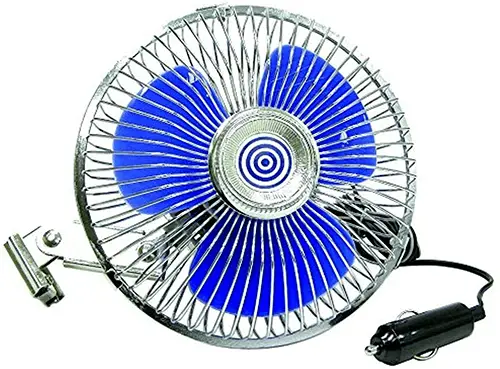 This Carpoint 12V fan is a neat alternative to a standard fan. It measure just 6 inches and is a popular choice for a wide range of vehicles, from cars to lorries to vans and caravans.
While the fan creates a seriously strong breeze, it's difficult to hold a conversation over the top of it – creating a very loud noise if you set it to oscillate. This is not a great choice if you are a light sleeper, but it will work just fine if you are using it on the move, or blasting it outside.
BestFire 12V 5 Inches Dual Head Car Air Fan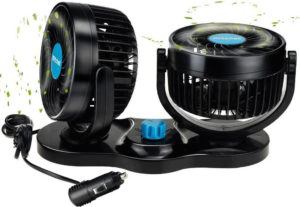 The Best Fire Caravan Fan is a compact solution if you're limited for space but still want a relatively powerful cooling fan. The fan is made using high-quality ABS plastic which is not only lightweight but also eco-friendly.
The fan has a firm and sturdy stand and has two heads which can be adjusted in any 360-degree direction. This model has a choice of 2 speeds depending on your preference whilst also having a very low energy consumption.
With its low sound, it won't disturb you while it's on and you can discreetly pack it away when it's not in use. Also included are two powerful rubber mats that the fan can sit on.
Of course, it's not going to generate the same amount of wind that a larger fan plugged in to your mains at home would produce. But it can make a big difference in a cramped caravan, car or motorhome.
PK Green Solar Standing Fan 12V 40W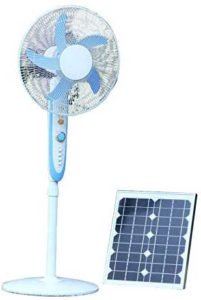 This unique fan gives you an alternative style – it's a standing fan, but still powered by 12 volts. The fan includes a 40W weatherproof solar panel to provide you with an additional energy source for your fan.
A mains adaptor is included with the fan, so you can also use when there's no sun or throughout the night.
The fan is easy to assemble and comes with a 1.5 metre cable and crocodile clips that connect to the cable from a solar panel. There are three airflow speeds to choose from, and there is 90-degree oscillation. You also have the option of setting a timer that lasts up to 60 minutes, so you don't have to worry about falling asleep, and it is on all night which helps to conserve energy.
What Are The Benefits of a Caravan Fan?
Well – the main benefit of a caravan fan is pretty self explanatory!
Cooling relief in hot weather.
Fast Cooling
A caravan fan will provide you with almost instant cooling relief, which is ideal if you wake up in the middle of the night feeling hot or if it's generally a hot day. Yes, you could just open a window, but this can take longer to feel the effects and if there's high humidity, than using a caravan roof vent.
That said, if you can open a window – it will definitely help. The cool air circulating with a caravan fan will make a big difference to how hot it feels.
Portable
Caravan fans are usually small in size, which means they can be easily transported, which is even more important for caravan owners because there is likely going to be limited space onboard.
Hence, you need to make the best use of it.
Because these fans are portable, they can also be easily stored away when they're not being used, so they don't have to stay in the middle of your living space at all times.
Low Cost
Caravan fans won't break the bank, and you can get low-cost options for under £20 if you look in the right places. Lower cost fans will have fewer features, less efficiency and could be louder but that's the trade-off that you have to decide if you're willing to accept. 
But generally, even better fans won't be too costly, and you can have an affordable solution to staying cool. It's a much cheaper option than an air conditioning unit.
Improve Your Sleep and Health
The best caravan fans will have advanced features that can massively help your sleep. However, even the basic fans can keep you cool throughout the night and stop you from waking up in a pool of sweat.
The fewer disturbances you have, the better quality sleep you'll have, which means you'll wake up in the morning feeling refreshed and ready for the day improving your overall health and wellbeing.
Key Factors in a 12v Caravan Fan
Here are the factors that separate the good caravan fans from the bad ones:
Noise
Buying a fan that's too loud will solve one problem but cause another. On the one hand, you'll now be cool, but then you still might be left tossing and turning all night because the sound of the fan is keeping you awake.
The loudness isn't always a problem. If you're only going to use it when you're awake or you're a heavy sleeper, then this won't be an issue.
Controls
The best fans will be simple to use so you'll be able to take it straight out of the box and probably won't even need to look at the instruction manual because it'll be straightforward to understand. Another way a fan can be easily controlled is if it comes with a remote control that allows you to operate from a distance.
This is great if you're in bed and the fan is on the other side of the caravan, then you won't need to get up.
Weight
Your chosen caravan fan needs to be lightweight, so it's easy to move around your caravan from position to position, but also so it doesn't add too much weight to your overall caravan load. We'd always recommend going for a lighter fan, but how necessary it is will depend on how you plan to use your fan.
Safety Regulated
Before you make a purchasing decision, you should look to see if the fan has passed all the required safety checks and meets the British regulations for electrical items.
This ensures that the fan is safe to use, which is even more important if you're going to have the product around young children.
Warranty
A warranty is a period of allotted time post-purchase that the manufacturer covers your product for. This means that if any defects develop with your fan that they will be there to support you whether this is troubleshooting advice, a full repair or a brand new replacement. This gives you added peace of mind that you're buying from a reputable company.
Warranties will vary in length depending on the product and brand, while some brands won't offer a warranty at all, so you must check before buying.
Mechanisms
Not all fans are made the same, and the internal motors and hardware will vary from model to model. The reliability of these mechanisms and parts is an important consideration as these will have a large bearing on how reliable the fan will be. The last thing you want is for your fan to break halfway through your trip in the scorching heat.
You should choose a high-quality brand that has a track record of manufacturing high-quality products. This will benefit you in the long run because you'll have a product that will last longer. The brand you choose will affect the overall price you pay because higher quality brands will demand a higher price.
Materials
You need to understand the materials that your fan is made from. Lower quality fans will often be made of cheap plastic that can easily crack under the lightest of pressure. This is even more important in a caravan when the terrain may not always be smooth, and the smallest bump could make it fall over, so you want to have the peace of mind that your fan won't break in transit. Plastic is still a great material, but it needs to be high-quality plastic.
Oscillation
In simple terms oscillation refers to how quickly that the fan blade turn. Of course, the higher the oscillation is, the quicker it will cool you down, and the rate will vary between different fans and also what speed setting that you have the fan on.
With 12 volt caravan fans, the oscillation rate might be lower because of the lower power that the fan runs on. It's also important to understand that higher oscillation can use more power and generate more noise.
Aesthetic Style
For those out there that are keen to maintain a particular interior look in their caravan, the style of your fan will play a role in your final buying decision. Fans are no longer the boring, ugly shapes that they used to be but now come in a range of nice styles including slimline and compact models.
Power Source
You need to understand the power source of your fan to see if you can supply this. A 12-volt fan can use a cigarette lighter, but you may decide to get a more powerful fan that may require mains power or a fan that runs solely off rechargeable batteries.
Whichever you prefer you need to ensure that your chosen fan allows you to use your ideal power source or you may end up with a fan that you can't use.
Price
Fans will vary in price vastly and will be determined by several factors, including the number of features, the brand and the size. The best fans will use higher quality parts which can increase the overall price of the fan.
Generally, you'll get what you pay for, so having a slightly higher budget can save you money in the long run as you won't have to replace it as frequently.
Size
Caravan fans should be compact because it's unlikely that you'll be using them all the time so you need a fan that can be packed away easily when not being used.
You also don't want a fan that's going to be taking up lots of room when you're using it which can create a trip hazard.