Throughout the lovely summer months, it's easy to forget about the colder winter months, but it's essential to prepare for this change in the climate. A low wattage heater, or caravan heater, is an excellent investment to keep you warm through the colder periods when a caravan fan isn't needed.
Being cold can affect your ability to sleep, which can leave you feeling tired and groggy in the morning. We all know that British weather can quickly change in the space of a few hours.
Best to be prepared, right?
Because of the energy consumption restrictions of a caravan, it's often not wise to use the same types of heater that you would use in a residential home. We've created this guide to show you the best caravan heaters to keep you warm throughout your trip.
5 Best Low Wattage Heaters for Caravans
Pro Breeze Mini Ceramic Fan Caravan Heater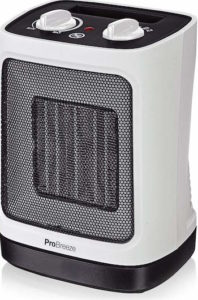 This mini ceramic caravan heater from Pro Breeze is constructed using ceramic heating discs that provide excellent warm heat transfer in smaller spaces – such as caravans and motorhomes. Ceramic heating is a new technology that is safer, faster and more energy-efficient compared to traditional heaters.
Once you switch it on, the ceramic heater rotates which means it can heat an area quicker.
The heater has two power settings allowing you to choose between 2000W (high) and 1200W (low) power settings. 
In terms of safety features, the heater has to overheat protection and anti-tip-over switch, which ensures that the heater instantly switches off if it falls over. This gives you the added peace of mind, especially if you plan on using it while you sleep.
The unit is lightweight and portable with a built-in carry handle making it easy to carry and store away. The heater has a fully adjustable thermostat allowing you to monitor the temperature around while ensuring optimal heating and energy efficiency is achieved.
Ceramic heating technology
Two power settings
Lightweight
Overheat protection
Anti-tip-over switch off
Fully adjustable thermostat
VonHaus Mini Oil Filled 800W Radiator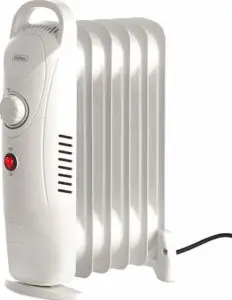 This compact oil filled low wattage heater is ideal for small spaces, with its 800W output and six oil-filled fins. It has an inbuilt adjustable thermostat so you can choose your perfect temperature and kick back and relax while it heats your caravan.
The heater also has an automatic overheat protection system and tip-over switch for safer use providing a secure experience. The heater is lightweight with a free-standing design and carry handle so you can quickly move it from place to place.
The fan automatically shuts on and off while it's also silent in operation without the regular clicking that you may get with other heaters.
Also included is a two-year warranty on behalf of the manufacturer if a fault develops with the unit.
800W
Adjustable thermostat
Automatic overheat protection system
Tip-over switch
Lightweight
2 Year warranty
Kampa Diddy Portable Heater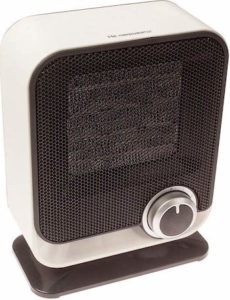 Kampa has been around for several years and has developed a reputation for quirky and innovative products, and their portable heater is no different. This product is suited for caravanning and has two powerful heat settings of 750W & 1500W.
The unit is energy efficient and also has to overheat protection and tip-over protection to give you added peace of mind. It is small in size, which is excellent if you are short of space in your caravan and this also makes it easy to store away in a cupboard or under your bed when not in use.
In terms of noise, it's quiet in operation, but the unit doesn't feel hot, so even if you're watching tv or sleeping you won't also hear that it's on.
Two heat settings of 750W & 1500W.
Quiet operation
Small and compact
overheat protection
Thermal overheat protection 
Tip-over protection
Quest Compact 400/800W Portable Heater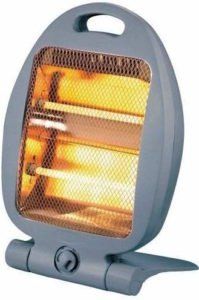 This Quest heater gets the job done and has no fancy frills and features. It has two heat settings of 400W & 800W with easy to use controls. The heater has a tip-over safety switch and a carry handle for easy portability. 
The surface is easy to clean and maintain, while it generates a surprising amount of heat despite its size, making it great for a caravan. This heater is ideal if you have a low budget, and you only plan to use it a few times a year. A simple but efficient low wattage fan heater for caravan users.
400W & 800W
Tip-over safety switch
Portable
Easy to clean
Low cost
SUNHOUSE Low Energy Slimline Tubular Heater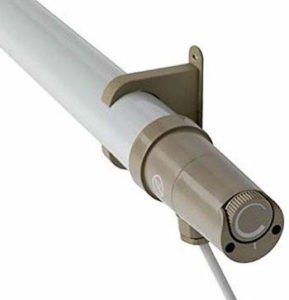 This tubular heater packs a punch, and is great if you're limited on space. It provides a low level of heat and can reach its max temperature in just a few minutes after turning on.
The heater has an adjustable thermostat that allows you to choose your preferred temperature. There is thermostatic control meaning that it will maintain your selected temperature by turning itself on and off.
The heater is 2ft in length and provides 80W of power to heat your caravan, campervan or motorhome. It is manufactured by the Dimplex Group which has been around since the 1970s developing a whole range of consumer appliances so you can trust and rely on the build quality.
80W output

Adjustable thermostat

Designed for continuous operation

Splash-proof to IPX4 standard

Thermostatic control 

2ft in length
Types Of Electric Caravan Heaters
There are several types of low voltage heaters you can use to warm your caravan, including:
Portable Fan Heater
These are the commonly the smallest and lightest heaters and are great if you need to warm up a room as quickly as possible. They're simple to set up and get going because all you need to do is remove it from the box, plug it in and press the on button.
The main issue with portable fan heaters is they can be loud, which may make it difficult to run if you're trying to sleep as it can disturb you.
Convector Portable Heater
Convector heaters have a similar specification to portable heaters because of their small and light in construction. This makes them ideal for transporting, especially for caravan usage as it won't add much weight to your existing load.
This type of heater warms up quickly but is significantly quieter than portable fan heaters which makes it great for caravan use. Because portable convector heaters are light, it also means that they can be mounted onto the wall in order to save space.
Oil Filled Electric Heater
Oil-filled electric heaters cost less to run, but they heat up at a much slower rate when they're switched on. So if it suddenly gets cold, then you'll need to wait longer for your caravan to heat up.
Oil-filled heaters are also much heavier than the other two types of the heater, but they usually come equipped with wheels, which means it can be easily transported.
When it comes to noise, oil-filled heaters are almost silent, which is great if you're using it when you're trying to sleep or any other activity where you want to avoid disturbances.
Oil-filled heaters are also safe to use as they come pre-sealed so there isn't the threat of oil leaks. Modern oil-filled heaters don't require oil to be changed because there is no oil burning taking place. 
What To Look For In Caravan Heaters
There are several features and factors that you need to understand before you can make a final caravan heater buying decision.
Price and Running Costs
When deciding on a heater, you shouldn't only consider the initial price from the retailer but also the running costs. Heaters will vary in their levels of energy consumption so you should be aware of this before purchasing. 
Many low wattage heaters will be eco-friendly consuming fewer levels of energy which is especially important when using it in a caravan where electricity will be more limited.
In terms of running costs, Oil-filled heaters will take longer to warm themselves up, but once you switch it off, it still gives off heat as it cools down. Whereas convector heaters can warm up your caravan quickly, but as soon as you switch it off, it stops giving off any heat. So depending on how you use them, this will affect your electricity usage in different ways.
If you're just looking to dry a few clothes or provide a blast of heat in a small space, a heated towel rail can be a good budget alternative.
Safety Features
The best caravan electric heaters will have a thermostatic valve that automatically turns off once it reaches your selected temperature, plus this also stops your caravan from overheating.
An auto shut-off feature means that you don't need to keep remembering to turn it off manually each day.
Another great feature is tip-over protection which means if for whatever reason your heater falls over, then it automatically turns off. These are three small features that make heaters much safer, there are many more, so it's essential to check before purchasing.
Weight
In a caravan, you need appliances that are light and compact, so the weight of your heater is important especially if you plan to move it around the caravan once it's inside such as storing it away when it's not in use.
Modern technology has advanced at a fast rate, so most heaters are light and easy to carry, but you should still check the weight before purchasing.
Portability
Portability and weight correlate; however, a heavy heater can still be easy to move if it has additional features.
These features could be in the form of wheels or handle because you don't want there to struggle each time you want to move it. This isn't as much of an issue if you plan to keep it in the same position inside your caravan forever.
Appearance
Portable and convector heaters aren't usually the most stylish of products; however oil-filled heaters come in a range of styles and finishes.
Although most people won't mind what it looks like as long as it gets the job done if you are style conscious, then you'll be able to buy one that matches the style of you caravan interior.
Power
Caravans are often compact spaces so you need to consider the power output of your heater as this determines the size of the room that it can heat.
If your heater output is too high, then you can end up just wasting power, especially if you're using it in a smaller sized room. The best caravan electric heaters will have an adjustable power setting that you can tailor to your needs.
Noise
The noise levels generated by your chosen heater is essential if you're going to be using it when you need peace. It's counterintuitive to solving the issue of being cold at night if you still can't sleep because of the noise being made.
Generally, oil-filled heaters are very quiet whereas convector heater also makes little noise. If you need silence, then portable fan heaters are the ones to avoid.
Timer Setting
Premium electric heaters will have an inbuilt timer function which will give you the option to heat your caravan for a specific period then the heater will automatically switch itself off. Usually, the timer comes inbuilt however you can also buy the timer separately and attach it to the heater, but this varies by the heater model.
Cooling
Some heaters have a dual capability of also being able to cool a room. Of course, their cooling ability is usually not as effective as a dedicated fan or air conditioner, but this is often better than nothing and also means you can avoid having both a fan and heater where space is at a premium in a caravan.
Warranty
Just like any electrical product, its components can develop a fault at any time, so you must understand the protection that comes with the heater which usually comes in the form of a warranty.
A strong warranty will protect you against any faults that develop entitling you to a repair or replacement, giving you the added security. Warranty lengths can vary but are generally 1-3 years.