When summer comes around, this is when most people will be dusting off their caravan and hitting the road on a new adventure.
Although we just want to get exploring, you need to make sure that you spend time looking after your caravan and there are several steps you can take to extend its overall life – and certainly to improve its appearance.
Cleaning your caravan is very important, and you can take this one step further by also polishing your caravan to keep it looking sparkling. Enjoy that added sense of pride when you're driving around in a caravan that looks the part!
So what is the best caravan polish?
Best Caravan Polish For A Sparkling Finish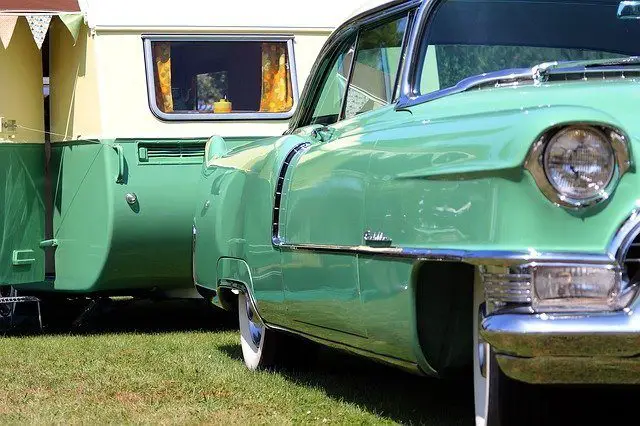 As you'd expect there isn't just one polish available otherwise it'd be an easy choice to make. We've created this comprehensive guide to show you the best caravan polish options, including our top picks from brands such as Meguiars, Autoglym, and more.
Let's get started!
Meguiars Caravan High Gloss Polish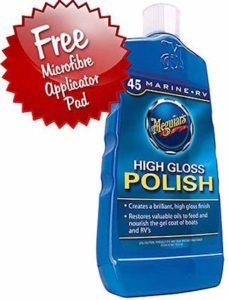 Meguiar's 45 Polish is designed explicitly with caravan users in mind. This is for if a caravan is made of fibreglass, which means they have a porous gel coat. The Meguiars polish is designed to penetrate the pores and eliminate contamination while adding nourishing oils.
The polish is particularly effective on dark coloured boats, but it's multi purpose and will work great on fibreglass. Using this polish will keep the colour crisp and clear.
The product comes with a free applicator pad so you can easily apply the polish onto your caravan. It is slightly expensive than other competing products; however, this is designed especially for caravans.
It's a niche product and it gets the job done, leaving your caravan shiny and sparkling – ready for the next adventure.
Autoglym Super Resin Polish
Autoglym has established themselves as one of the leaders in the vehicle polish industry. Once you've used their product, it will leave an exceptionally high gloss shine to all types and colours of automotive paintwork.
The polish is super resin while also being easy to use, and it contains specialised conditioners and emulsifiers that softly condition and clean your paintwork.
The polish has low molecular weight resins that harden and bond to produce exceptional protection and the best cosmetic effect. 
This leaves your caravan's surface resistant to deterioration from several external contaminants and weather conditions, which can be a major concern if you're leaving it in outdoor storage.
MER MASUP1 The Ultimate Polish 1L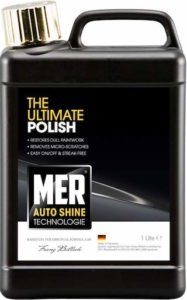 The MER auto shine polish contains conditioning agents and mild abrasives that work to restore and nourish your dull paintwork. It also removes micro-scratches and annoying swirls, leaving you with a lovely blemish-free surface.
This can either be applied by hand or by using a machine polisher and comes in a generous 1 litre sized bottle which will give you plenty of applications.
The formula contains a unique 'Auto Shine Technologie' that cleans, shines and protects the paintwork of your caravan.
MER has an extensive range of car care products, and this is just one of many useful items you can add to your maintenance kit.
Care-avan Caravan Polish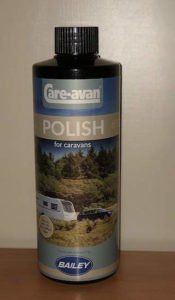 The Care-avan Caravan Polish is a highly effective polish which has won numerous awards including Editors 1st Choice in the Practical Caravan Magazine. This reputation has led to them gaining a vast number of loyal customers in the caravan world – and it's easy to see why when you apply the product.
The polish is designed for all caravan surfaces, including GRP and Gelcote. It dramatically decreases UV damage when exposed to the sun. It can also repel salt and dirt from the roads giving your caravan added long term protection.
The polish is not only easy to apply, but it's simple to polish off so you can quickly get impressive results.
An award winning polish for caravans that will make an immediate impression.
Care-avan 1 ltr Caravan Waterless Cleaner Polish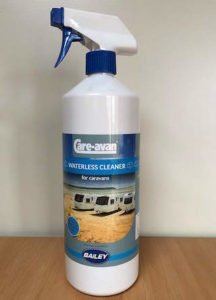 Waterless cleaning products seem to garner a split opinion amongst vehicle owners; some love them, whereas some avoid them. The Care-avan polish is waterless and can be used in all weather conditions, including rain.
Once you have completed the polish, it leaves a durable shine on the surface which protects and repels water for up to 3 months. It also repels bugs and other insects that attempt to stick to the surface.
It takes just three simple steps to polish effectively:
1. Spray onto caravan surface
2. Wipe softly with a microfibre cloth 
3. Buff using a clean microfibre cloth
Caravan Polish FAQs
What is polish?
How polish works is often misunderstood. What most people don't realise is that the polish substance is abrasive, and this abrasiveness is used to remove any defects. This won't remove any of the paintworks but will instead remove thin layers of the clear coat where the damage is.
The polish can remove a range of damage including fine scratches, watermarks or swirl marks. This adds another key bit of maintenance in combination with using caravan sealant.
What's the difference between a wax and a polish?
Polish is abrasive by nature, so shouldn't be used regularly but only when you want to remove any visual imperfections in the paintwork. Whereas wax is a product that you use more regularly and it adds protective properties which limit the damage caused to the paintwork by UV rays and other natural substances.
Does the caravan need to be clean before using polish?
Ideally, your caravan should be cleaned before you begin to polish it. This means that all the bacteria and dirt will be removed, therefore improving the results of the polish and enhancing the final finish.
This shouldn't be a problem because you should be washing and cleaning your caravan regularly, but the polish will give it the extra sparkly finish.
How often should you polish your caravan?
We recommend that you polish your caravan between 3 to 6 times each year using a low abrasive polish. You want to avoid over-polishing, which can cause you to remove too much of the top clear coat.
There is no definitive answer because it depends on the quality and type of paintwork that your caravan has and how the previous owner has treated it. To avoid polishing your caravan too much, you should instead reduce the number of defects that develop in the first place — for example, drying with a specialised drying towel instead of a non-vehicle towel.
What To Look For In Polish For Caravans
Ease of use
It's essential to choose a polish that's not only effective but also easy to use. Some poorer quality polishes can be frustrating to use because instead of wiping on and off easily they may leave dust or residue on the surface of your car which then means you spend longer going back and fixing this.
This can be made worse if you're polishing in summer or direct sunlight because the polish can turn hard on the paintwork before you've finished and the only way to remove this is to do some serious buffing which can require a lot of elbow grease.
Colour specific polishes
Most caravan polishes are designed to target specific colours of paintwork with the most popular colours being white or black. This is because they tend to most commonly suffer from colour loss or dullness compared to other colours. 
If your caravan is suffering from dullness, then you should try using a colour specific polish which can restore it closer to its original clarity and shine. An added benefit of colour particular caravan polish is that it can help to mask up stone chips.
Of course, it's common that colour specific polishes can cost more than a generic one size fits all caravan polish.
Method of application
Some polishes will vary in results depending on whether it is applied by hand or via a polisher. Applying by hand is the easiest and safest by it can take significantly more time and energy to get your desired final result.
Using a car polisher means that you have a substantial financial outlay to purchase the machine, to begin with, and then you need to learn how to use it safely without causing damage to your vehicle. However, it does mean that you can polish much quicker and deliver better results.
Abrasive Level
The number of defects that your paintwork has will determine the abrasiveness level of polish that you need. The greater the severity of your defects, the higher abrasive level that you require. The majority of all in one polish will only be able to effectively treat light defects which is only a temporary fix before they reappear in a few weeks.
We wouldn't recommend regularly using highly abrasive polishes because it will constantly be breaking into the clear coat, which over time can develop into paintwork defects.
Brand
Several different brands manufacture and sell caravan polish. They will have varying levels of quality and effectiveness, so you must choose a highly reputable brand.
We advise avoiding the bottom end of the market which tend to be cheaper because these polishes can contain unwanted fillers which means that you're not actually fixing your paintwork issues, just covering them up.
The quality and brand of the product will also have a factor in how often you need to polish your caravan. A higher-quality product means you only need to polish 2-3 times per year which not only saves you money but is more environmentally friendly.