We all have morning routines that we follow, and for some of us, that includes a hot cup of coffee to get us ready for the day ahead.
Modern caravanning means that you can have most of your home comforts with you while you holiday. And thankfully that includes a warm cup of coffee.
A 12v coffee machine (12 volts) is the perfect solution for enjoying coffee in your caravan, campervan or motorhome. Being able to run off 12 volts means that you can use the machine on your travels.
This guide will run through the best caravan coffee machines available today – while also taking you through the key features that separate the good coffee makers from the bad.
5 Best 12v Coffee Machines and Makers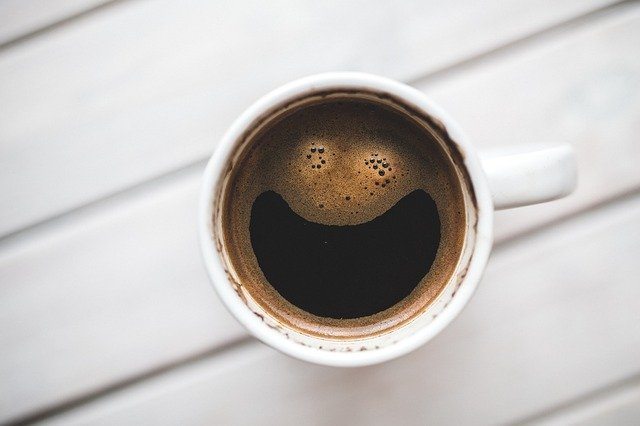 Before we get started, let's state the obvious – a caravan coffee machine is not going to have the bells and whistles of your more advanced home machines.
Can they make a cafe-quality Flat White like a Sage Barista Touch? Sadly not!
But if you're caravanning, you expect a few trade-offs. And for most of us, a "decent cup of coffee" is more than good enough!
Dometic MC052 Five-Cup 12V Coffee Maker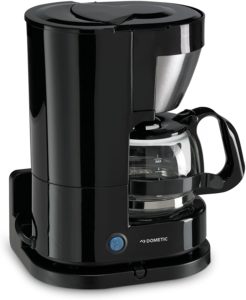 If you're looking for a caravan coffee maker that mimics the look of what you'd find in your home kitchen, then this is the choice for you.
This Dometic coffee machine is powered by just 12 volts so you can easily hook it up to your cigarette lighter and it can make enough coffee for up to five people at the same time.
This has been specifically designed to be portable which means that it's built to be more durable so it won't break in transit. It weighs just 1.1kg so it will add barely any weight to your existing load. To use it, all you do is fill it with your preferred choice of coffee and then flick the on switch, and away you go.
The machine has a capacity of 625ml, a warming plate with inbuilt thermostat and a swing filter that makes it easier to fill. Dometic has covered all the bases to make a high-quality product. Also included is a mounting kit so you can fix it to a wall or table.
The machine looks great visually too with a lovely black finish, and overall this product fully justifies the selling price, and you won't be disappointed.
Dometic MC-01 Single Cup 12V Coffee Maker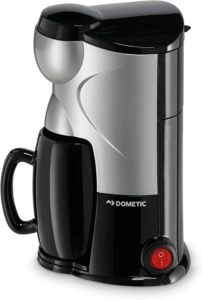 It's no surprise to see another Dometic model on this list because of the high-quality products that they create. This is a single cup machine that comes complete with its own mug. It's a particularly good solution for solo caravan users, or couples, given that it doesn't have the five-cup capacity of the MC052 above.
The machine is built for caravan use and weighs just 798g. It runs off 12 volts, so you can hook it up to a cigarette lighter and begin enjoying coffee within minutes. All you need to do is fill the machine with your coffee of choice and then turn it on. The machine does the rest, including pouring the ready coffee into a cup.
The machine has a 150ml capacity and also has a status indicator so you can stay up to date with its progress. There's a permanent filter, and the unit also comes complete with a mounting kit to you can fix it to a wall or table.
This model also has boil dry protection, so it automatically turns off the heating element when there is no water in the tank to protect it from damage. This is an affordable model and ideal if you plan to only make one cup of coffee at a time.
Handpresso Auto 48264 12V Portable Coffee Maker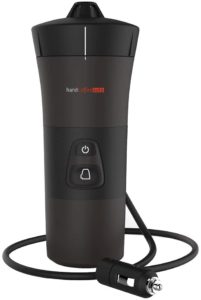 Handpresso has created this coffee maker will the sole goal to offer luxury espresso when you're in the outdoors, whether this is camping or caravanning. It weighs just 821g making it incredibly lightweight and portable.
The unit is easy to use and requires a 12 volt power source, so you simply plug the machine into a cigarette lighter socket. The process of making coffee only needs you to add cold water and a soft coffee pod and then press the ON button. There is 2 bar pressure that means the soft pods will release its flavour into your coffee.
The process takes just 4 minutes, and then you press the espresso button, and it's ready to drink. The machine offers you two sizes to choose from, either a short (80 ml) coffee or a long (110 ml) coffee.
Handpresso is a well-established brand and has been around since 2008, and it is a worldwide leading product, so when you buy, you can have the peace of mind to know you're buying a quality product.
If you're going to be driving, then this is no problem because the unit has been adapted to fit into your cup holders while being plugged into your cigarette lighter.
It's about as close as you'll get to a 12v Nespresso machine.
WACACO Minipresso NS Portable Espresso Machine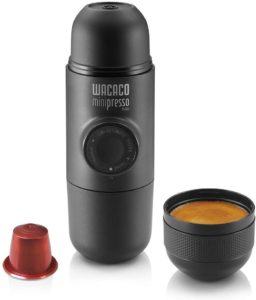 The Wacoco Minipresso portable machine is the definition of coffee on the go. It has a very simple operation, and all it requires is for you to add compatible capsules in its outlet head and then add hot water into the tank.
All that's left to do is unlock the piston and pump for several strokes which then pressurises and extracts your expresso.
This is very convenient and all mess-free so you have barely any cleaning to do afterwards. The minipresso means that you can have a lovely tasting espresso wherever you are.
The unit requires no compressed air or electricity to function and is completely hand operated. It has a water capacity of 70ml, but if you need more, then you have the option to purchase a larger water tank.
It also weighs just 350 g, so you aren't limited to just using it in your caravan but if you go out for the day you bring it along with you and all you need to do is find somewhere with hot water. This can make a great tasting coffee that's on par with the bigger powered machines.
Carpoint 12v Coffee Maker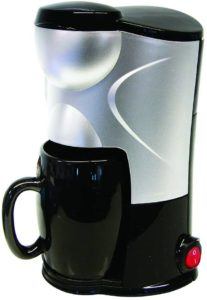 Carpoint is a Dutch premium brand that delivers high-quality products for vehicles, and this model has a similar design to the Dometic single cup coffee maker listed earlier in this guide.
It requires a power source of 12v so it's compatible with your car cigarette lighter and has a lovely silver and black finish so it will look great in your caravan. The unit has a simple to use on/off switch that you toggle when you're ready to use.
The coffee machine is competitively priced and allows you to make the same high-quality cup of coffee every single time. The unit weighs just 721 grams making it highly portable and lightweight so you can easily store it away when it's not in use.
Types of Caravan Coffee Makers
Single-Serve Coffee Maker
Single-serve coffee makers use a dripping method which allows you to make a single cup of coffee from each brewing cycle. This process is straightforward, making it much quicker. This will nicely compliment your kettle and toaster, perfect for breakfast or a pick-me-up later in the day.
The machine works fast, which is ideal if you're in a hurry and you want to get on with your day. This makes it great for caravan use; however, single-serve coffee makers tend to be more expensive.
If you have more than one person in your caravan, then it would make more economical and space sense to go for a different type because alternative types of coffee makers are larger so you can fill more than one cup at a time.
Pour-Over Coffee Maker
Pour-over coffee makers have a process that requires you to pour hot water over coffee grounds which then creates a brew. The brew then dispenses into your cup, and one example of a pour-over coffee maker is a French press.
Percolator Coffee Maker
This is the classic style of coffee maker. Because these types of machines have been around for years, it means that they are the most affordable and allows you to make a high-quality cup of coffee every time.
You can repeat the brewing cycles until it reaches your required strength, and if you go in most households, their machine type of choice will be the percolator. You also have the choice of an electric or non-electric percolator.
Drip Type Coffee Maker
Drip coffee makers are powered by electricity and are constructed using a filter basket, carafe and a water tank. The carafe is usually made of glass for the simple reason that it makes it easier to clean and also dishwasher friendly.
Although it requires electricity, they are low wattage, which means they can be used with a 12V cigarette lighter source.
Under Cabinet Coffee Maker
As the name suggests, this type of coffee machine is mounted under your cabinet and is ideal if you have limited counter space. There are not many models of this type, but if you're limited for space, then it's worth considering.
What To Look For In A Caravan Coffee Machine
Power Source
Unlike home coffee makers, with caravan coffee makers, the energy source is an important consideration. You need to consider what energy source you'll have onboard your caravan for example if you're going to be caravanning off-grid then you need to buy a coffee maker that suits this set up.
The power source of your coffee maker will also contribute to the running costs of the coffee maker. For example, a 12v coffee maker will use significantly less electricity than a 240v coffee machine.
The main source of power for portable caravan coffee makers is the cigarette lighter of your vehicle.
Ease of Operation
Ideally, you should choose a coffee maker that's easy to use as there's nobody who would want a machine that's difficult to use. Your machine should have a simple process for making coffee that is also quick.
To understand the ease of operation before buying you can look through the product description and online manual while also browsing through the customer reviews.
Coffee Maker Size
With a caravan 12v coffee machine the main selling point is that it's portable, so you need to make sure that it's not too heavy and that you have space in your caravan for it to be placed. The benefit of these coffee makers is that due to their smaller size, you can store them away from view when they're not being used.
Price
You need to determine how much you're willing to spend on your coffee maker because they come in a range of price points.
You can set a budget by understanding what features that you want your coffee maker to have and then browsing different models to understand what the going rate is.
Price shouldn't be the only factor you consider because the functionality is far more important, so you end up with the coffee that your desire.
It's always recommended to spend a little bit more than your budget if it means you can secure a higher quality product that will deliver a longer period of service.
Warranty
Depending on which brand coffee maker you buy you may be entitled to a warranty, so it's important to understand the warranty length before purchasing.
A warranty covers you against any defects that may develop with the product, and we'd always recommend buying a model that comes with a warranty vs a model that doesn't. Electrical items can often stop working without any warning, and a warranty will cover you against this.
Maintenance
When browsing different coffee machine models, you should understand how easy each one is clean and maintain. Some machines will need more frequent cleaning than others because some will also have self-cleaning functions or a spill-free operation.
It's important to maintain your machine because this will mean that it'll last longer so you won't have to keep replacing it. The materials that the coffee machine is made of can make it easier or harder to clean. I.e. if it can be easily dissembled, then this will make it easier to clean.