We all have our daily routine, and for some of us, that includes straightening hair. It's easy at home – but what about when we're on the move?
That's where 12v hair straighteners (12 volt) can be really useful.
These products have been designed specifically for use whilst caravanning or camping. That means they've been adapted to the constraints that this type of environment brings – in particular, the power supply.
A 12v hair straightener is great for caravan use, but as you'd expect, there's a huge range of choice which can make it harder to choose the most suitable set.
Here we'll show you the best 12v straighteners (perfect for use in the car, caravan or while travelling) – as well as the features that are most important. We'll also look at a couple of low wattage (and battery operated) alternatives.
Best Hair Straighteners For Travelling
Streetwize 12V Heated Hair Straighteners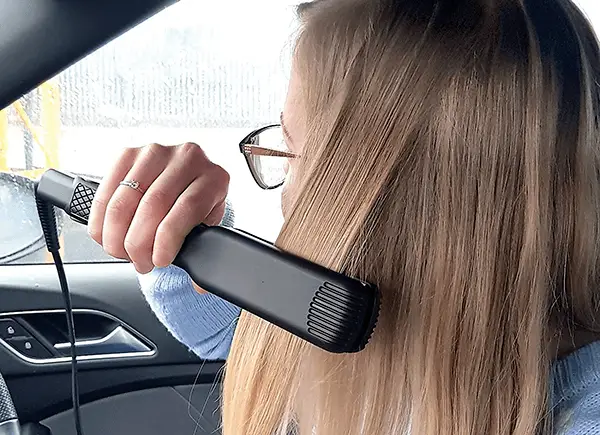 The Streetwize 12V hair straighteners are great for caravan use. The set is designed for you to style on the go, without sacrificing the styling options that you'd have at home.
These hair straighteners are travel-sized, so they can easily fit into your travel bag.
Plug them in and they can straighten your hair in just a few minutes. They come with a cigarette plug connector, so they don't require large amounts of electricity to function. Just the 12 volts supply will do.
The unit has a user-friendly design and provides constant and even heat for soft, shiny hair without damaging the hair texture. The straighteners have a red LED light so you know it's turned on and it has an ergonomic ceramic plate which has a maximum temperature of 193°C.
A simple but functional solution for hair straightening on the move.
12V In-Car Hair Straighteners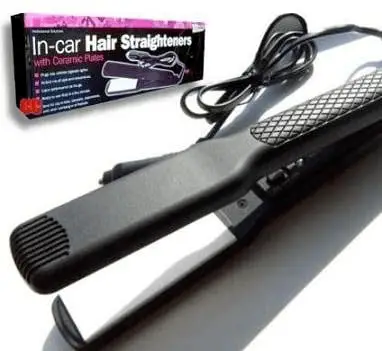 Despite its size, these 12V hair straighteners pack a punch and make styling your hair on the move easy and effective so you can still look your best while keeping your expensive straighteners at home.
The In-Car 12V Hair straighteners are simple to use and just require you to plug them into your cigarette lighter port which means you can fix your hair out in just a few minutes. They heat up quickly, so you're not sat around waiting.
On the downside? They're difficult to find in stock.
KeyNice Cordless USB Hair Straighteners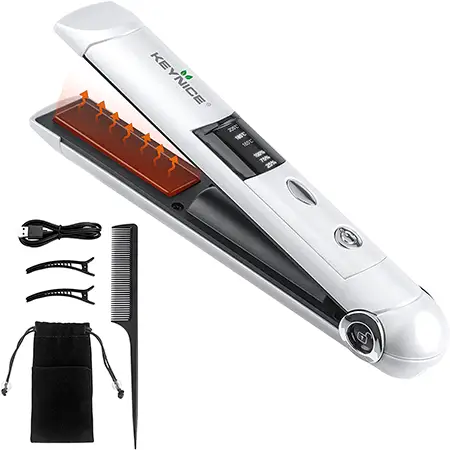 If you don't access to a cigarette lighter or other 12v energy source, then there are alternatives available. The KeyNice hair straightener is suitable for all types of hair and is fully cordless. It has a 2-in-1 capability as it can straighten and curl hair.
It has a USB charging input which requires just 3 hours for a full charge which provides you with 30 minutes of usage time. It's lightweight, making it easy to carry and use while it has a 3D floating heating panel making it glide over your hair with ease – without causing any tugs or snags and retaining moisture in your hair.
The straighteners are compact, measuring just 24.9 x 10.5 x 4.7 centimetres, and the ceramic plates can release negative ions to reduce static to leave your hair with a silky effect and protection.
The downside is that while the straighteners are portable and wireless, they won't work with a 12v power supply. You'll need to charge them via USB instead.
BaByliss Nano Pro 200 Straightener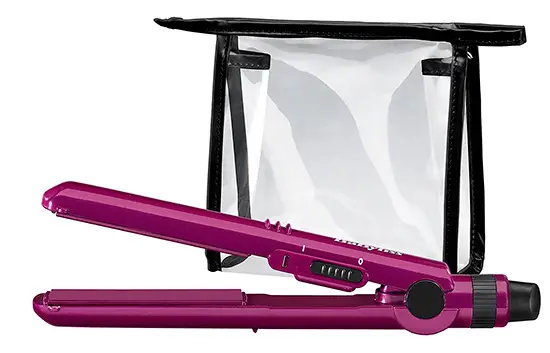 If you have higher levels of power available, then this straightener will be an ideal choice. It's a mini-sized ceramic straightener but can still style your hair effectively. It's small and lightweight so you can easily bring it with you on your travels.
It has a multi-voltage feature so it can work with a supply between 100V-240V. They have one temperature setting and a 60-second heat-up time to a maximum temperature of 200°C. They have a light indicator to show when they have fully heated up.
The straighteners have a 1.8m swivel cord and come supplied with a toiletries pouch. The ceramic plates are 19mm wide and 70mm long.
What To Look For In 12v Hair Straighteners?
Cordless vs Corded
When it comes to caravan hair straighteners you have the choice of either:
Corded 12V Hair Straighteners
This is a conventional type of hair straightener that has a plug that uses power from a standard mains plug or a cigarette lighter. This, of course, means that you're restricted to the length of the lead so you'll need to consider how far your mirror is from the plug because it's likely that you'll need a mirror to see what you're doing.
However, a corded hair straightener means that you'll have constant power (albeit low wattage) with fewer chances of the power being cut.
Cordless 12V Hair Straighteners
Cordless caravan hair straighteners take the corded version one step further by having an inbuilt battery that supplies the straightener with the power which makes it great for travelling. They will come with a main charger so you can charge the battery.
The battery life will depend on the brand and model of straighteners that you buy. Higher quality batteries will mean you can use the straighteners for longer without needing to charge.
Heat Up Time
The heat-up time is important because you don't want to be stood around waiting for ages for it to heat to the right temperature, especially if you only straighten a small part of your hair.
A more powerful hair straightener will have a shorter heat-up time; however, the heating time will also be dependent on the temperature that they need to reach.
Naturally, a higher temperature will take longer than a lower temperature.
Temperature Range
Different types of hair will need different heat settings to be used. For example, frizzy hair requires a higher temperature compared to hair that is naturally fairly straight.
If you already know that you don't need a high temperature to straighten your hair, then you can simply stick to a lower range temperature for your straightener. Whereas if you have a hard to manage head of hair, then you should stick with the high-temperature ranges.
It's recommended that you choose a model that has an adjustable temperature because you never know when you might need it in the future. If you're sharing your caravan with other people, it means that you only need one set of straighteners between you all to save space.
Plate Type
The Plate type will make a huge difference to your overall straightening experience. Ceramic coated straighteners are the most common type of plates because they are built to glide smoothly through your hair without causing damage.
Fully ceramic plates can heat up quickly and have better temperature regulation capabilities which lead to better straightening results.
Plate Width
The larger the width of your straightener plates, the greater the volume of hair that they can straighten at one time. This is ideal if you have very long or thick hair because if you have a small plate, then this can take a lot of time to straighten.
Size
The size of straighteners is generally similar between different models with the main difference being the size of the plates. You need to consider your hair and also for caravan use it may more suitable to have a smaller set of straighteners.
This is because not only will they take up less space, but they will also require less electrical energy to power which is why 12v hair straighteners are so effective. Caravan or in-car hair straighteners will often be compact and lightweight.
Warranty
With all electrical items, they have complex wiring systems so a defect can develop over time. A warranty is a policy that's activated when you purchase that covers you against these defects.
If within the warranty period the unit stops working, the manufacturer will assist you with a replacement unit. You should understand how long the warranty period is and what circumstances it covers as it usually won't cover situations such as accidental damage.
Warranties will also vary in length, which is dependant on the brand and product.
Power Requirements
With a 12V hair straightener, you need to remember that you need to have the power supply to match this particularly if you also have 12v hair dryer. There's nothing worse than purchasing your hair straighteners then when they arrive you realise that you're not able to power them.
If you don't have the power supply, then a cordless set may be more appropriate because you could charge them before you go away. If you're going away for more than a few days, then you may have to charge the battery at charging station which is usually present at caravan parks.
Price
Hair straighteners will vary in price due to several factors.
The brand you choose should be an established brand because they may have better reputations due to having a long history of bringing products into the market. They're also likely to have a greater volume of reviews so you can have a better understanding if they're a good brand or not.
The price will be affected by the quality of the parts used; however, higher quality straighteners will cost more. They usually will last longer before failing, so it's worth the added investment. We suggest having a budget in mind for the max amount that you're willing to spend, which will help you make a speedier buying decision.