There's no point in having the latest flatscreen TV in your caravan if you can't get any reception to show channels.
TV aerials and masts receive information that is transmitted over airways, which then allows you to watch your favourite TV channels and shows. If your TV aerial isn't up to standard, then your television watching is going to be seriously compromised.
There are different types of caravan TV aerials. These are unique to your needs and are attached to masts, which increases the height, to improve the quality of the signal that they receive.
A TV aerial provides a cheaper alternative to a satellite dish.
Many of us would consider the TV aerial an essential purchase if you're travelling in a caravan. In this guide we take a look at the best options – the budget options that get the job done, and the advanced kits with numerous bells and whistles attached.
4 Best Caravan TV Aerials
Caravan TV aerials come in several shapes and sizes, and the one to select will depend on your requirements.
Here we take a look at 4 good options for ensuring decent television coverage on the move. Let's get started!
Vision Plus Status 570 4G Antenna Kit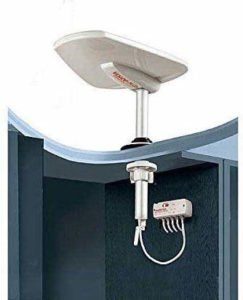 Now, this if you're looking for the most premium caravan antenna on the market then this is your answer. The Vision plus 570 antenna is an upgrade on the previous 530 antennae and has taken caravan aerials to the next level by adding a whole host of new features and functions.
This antenna allows you to tune your TV in just a few seconds and features a Unique integrated TV Signal Finder integrated into its amplifier. It has a sleek, slimline design which allows you to pick up Digital TV, DAB and FM Radio reception.
The aerial also has a Horizontal & Vertical Polarisation Indicator, DAB & FM Radio Reception, Low Profile Roof Assembly, and Fixed FM radio antennas. The inbuilt LED light power indicates with a colour of red, yellow or green to show the signal strength making it easy to adjust and find the best signal strength.
Unique integrated TV Signal Finder
Horizontal & Vertical Polarisation Indicator
Low Profile Roof Assembly
DAB & FM Radio Reception
Fixed FM radio antennas
LED light power 
SLx Outdoor Omni Directional Amplified Antenna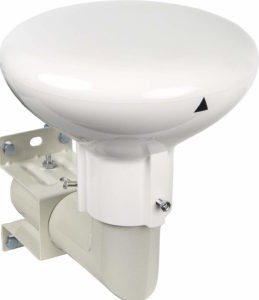 SLx have brought outdoor aerials into the 21st century with their DigiDome antenna signalling the end to needing bulky, ugly looking antenna. Its innovative design allows for easy installation without cluttering the rest of your roof space.
The aerial can receive 360 reception using its unique Omni-directional technology, meaning it can receive all locally available digital TV and HD Freeview channels. The aerial also has an inbuilt 4G filter that removes interference and channel lost which is often caused by 4G mobile phone signals.
This product is designed and manufactured within the UK using high-quality parts and featuring local support staff should you need any help or assistance. Inside the box contains all the parts you need for full assembly.
Easy installation
Omnidirectional antenna
Fully weatherproof design
Built-in 4G filter
360 Reception design

Including 10m Coax Cable, Cable Clips, Wall Bracket and Fixings and Amplifier
1byone Indoor/Outdoor TV Antenna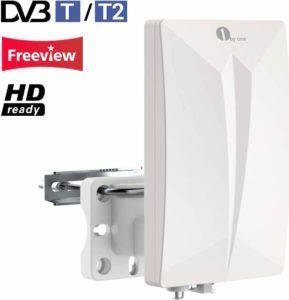 The 1byone TV antenna provides a superior alternative to many other antennas due to its tool-free installation. It also has a strong construction and compact design which can withstand harsh conditions due to its waterproof design and anti-UV coating.
Included with the antenna is an outdoor bracket so you can mount it both indoors and outdoors in vertical or horizontal positions. There is an inbuilt 4G filter that blocks 3G and 4G signals from other devices that may interfere with your aerial.
The aerial is suitable for both Freeview and Analog TV Signals, you just simply connect to an HDTV with built-in DVB-T tuner/receiver using coaxial cable. It is still compatible with older TV's you just need to connect the aerial to your DVB-T tuner/receiver for Freeview signal.
Outdoor & Indoor Use
Inbuilt 4G filter
Tool-free installation
Included outdoor mounting bracket
Waterproof design
AugustHigh Gain Freeview Caravan TV Aerial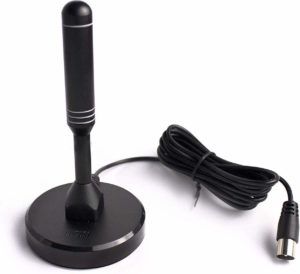 August is portable television specialists, and the DTA240 aerial is designed to receive high-quality digital reception. The unit is compact and lightweight, making it easily portable while also having a magnetic base that improves the reception signal by harnessing large metal surfaces.
The antenna is designed to be optimised towards receiving digital reception which gives you access to clear Freeview broadcasting. It is compatible with a standard coaxial connection so it can be used the majority of televisions.
The antenna is capable of receiving frequencies of VHF 174-230MHz and UHF 470-860MHz making it ideal for both Freeview and DAB broadcasting.
Suitable for indoor & outdoor use
Optimised for receiving digital reception
Magnetic base for greater signal quality
Compact design
Engineered in the UK
UK support team
What To Look For In A Caravan Aerial
Types of Aerial
Omnidirectional Aerial
Omnidirectional aerials are shaped like plastic discs and have been around for many years. This disc shape means that it can receive signals from all directions and commonly also is shaped like a nest or metal ring.
As this aerial doesn't face a specific direction, it means it can be installed much quicker and once installed, you never need to fix or maintain its position.
Although because it's not directional, you can't focus the aerial in a certain direction. This can cause issues in low reception areas where you may struggle to maintain a strong connection because you can't point the aerial in the direction of the strong signal.
Directional Aerial
Directional aerials work and look the same as the aerials that you see on the rooftops of houses. They're usually shaped like a slice of pizza, and this receives the signal, which then allows you to view content on your television.
The benefit of a directional aerial is that you can focus in one direction, especially in areas of a weak signal. This makes the aerial more reliable, so there will be interruptions to your tv viewing.
Directional aerials take a little more time to set up because you need to know the direction of the TV mast. However, several websites and apps make this process much easier.
How to Get the Perfect TV Signal
If you're using a directional aerial, then you first need to know the direction that it needs to be pointed at.
These aerials can be both horizontally or vertically positioned and final position plays a pivotal role in the quality of the signal that you receive.
You don't have to do this alone, because many devices can assist in sourcing a strong signal ranging from a TV strength meter or phone apps.
Once you've activated the app or meter, you rotate the antenna until you see the signal at its strongest.
Where the levels are highest, this gives you the direction of the best TV mast; then you need to lock the antenna into this position.
Amplifier
If you consistently have a weak signal, then you may need an amplifier, and whether you already have one will depend on the type and age of your caravan. Once fitted, an amplifier boosts the incoming signal which will improve the ability of your caravan TV to pick up channels.
If you're using an amplifier with an omnidirectional antenna, then it can also boost signals that you aren't trying to pick up. This can commonly happen if you're in a more built-up area. It's not a huge problem but still something to bear in mind.
Coax Cable
The Coax cable connects the antenna to the TV, so this is an important part of ensuring that your TV is supplied with a strong signal. This is often forgotten about but is usually where the biggest issue is.
If you're consistently experiencing TV signal problems even when your caravan is in different locations or using different types of aerials, then take a closer look at the coax cable. Because if this has just slight damage, then it may need to be replaced.
Coax Connections
TV Coax connections can experience issues that develop. Over time the connector can begin to wear or warp which will distort the quality of the signal that's passed to the TV.
This is something that you should regularly check and replace. Higher quality connectors will last longer and provide more reliable service.