When you first buy your caravan, it's going to have no blinds. Or it may have some that don't fit your style or needs. As a result, you'll have no choice but to go and buy your own set of caravan blinds.
But the difficulty is that there are so many styles and brands to choose from, where do you even start?
What size will you need? Should you go with venetian blinds?
Here we'll show you the best caravan blinds available on the market – and the features that you need to consider, such as: privacy, how much light enters the room and what materials to go with.
5 Best Caravan Blinds For Privacy and Light Control
Optimal Products PVC Venetian Blinds For Caravan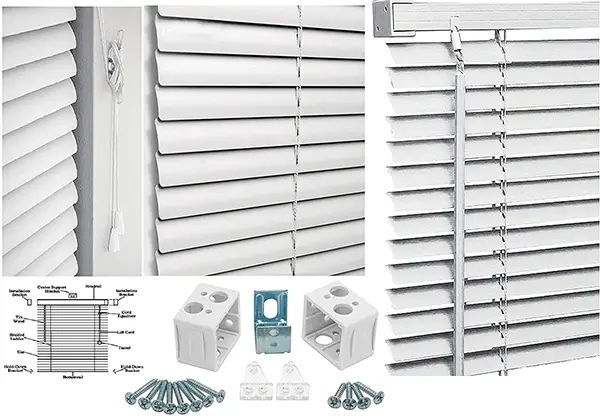 These Venetian plastic blinds are easy to install as you simply mount them onto your windows. When they're delivered to you, they're ready to install straight out of the box. You'll be provided with all the tools and parts you need for full installation so you can quickly get up and running.
The blinds have a tilt control wand which is controls by a pull cord so you can lower and raise the entire plastic Venetian blind so you can control how much light is let in and out while controlling your level of privacy.
In terms of maintenance, the blinds are easy to dust down and keep clean with just a damp cloth. If you want to give it a deeper clean, then you can remove them from its mount to make it easier. This mount has a universal fit giving you the versatility to clamp to your caravan wall.
The blinds are available in a range of colours (white, black, natural, teak, contrast slate) so you'll have no issues matching them with your existing décor plus you have the choice a variety of sizes. 
They're easily trimmable, and excellent value.
Levivo Aluminium Blind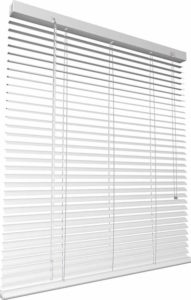 Levivo has created a high-quality interior blind that is ideal for caravan use. It has horizontal aluminium slats that give you the privacy that you need to improve your caravan experience. They can fit a range of window sizes, and you can simply control the amount of light that's let in by using the inbuilt wand.
You have the choice of adjusting the angle of the slats into your desired position, and you can use the pull cord to lower or raise the slat position. The blind is supplied with all the materials needed for full assembly giving you an easy installation process.
The blinds are available in white or silver, and in various sizes: 15.8 x 51.2 in (40 x 130 cm), 17.7 x 51.2 in (45 x 130 cm), 19.7 x 51.2 in (50 x 130 cm), 23.6 x 51.2 in (60 x 130 cm), 27.6 x 51.2 in (70 x 130 cm), 29.5 x 51.2 in (75 x 130 cm), 31.5 x 51.2 in (80 x 130 cm), 35.4 x 51.2 in (90 x 130 cm), 39.4 x 51.2 in (100 x 130 cm), 43.3 x 51.2 in (110 x 130 cm) und 31.5 x 86.6 in (80 x 220 cm).
AmazonBasics Blackout Blinds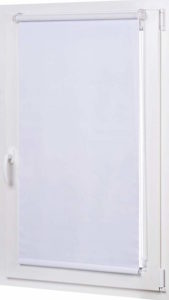 If you're after a caravan blind that completely blocks out the light, then the AmazonBasics thermal roller blind could be the solution for you. The blind gives you instant privacy but can also make your caravan completely dark, which is great if you need complete darkness to help you sleep.
The blind is made from 100% UV-resistant polyester fabric that's not only long-lasting but also resists fading. You have the choice of a range of sizes depending on the size of your caravan window.
The window blind's thermal coating can help to retain heat inside your caravan as it reduces the amount of heat that is lost through the windows. 
Even if you're not a keen DIY'er, you can still install these as they have a simple clipping system (includes clips) that attaches onto the window with no additional drilling needed. The blinds also have a pull-cord for easy raising and lowering.
Furnished Blackout Roller Blind
These furnished blackout blinds are made using polycotton fabric but also have a thermal lining that gives it blackout features while also working to keep heat inside your caravan on cold nights.
You have the option of 16 colours, and they can be trimmed to your caravan specifications if you have a window that has an obscure size. They also offer a service where they can customize it to your desired size.
The blinds also include all the durable fittings that you need to get up and running, which includes screws, brackets, chain, chain connector and a child safety clip. You have the choice of how to mount the blinds using either a Face, Top, or Side Fixing.
Ruby Deals PVC Window Venetian Blinds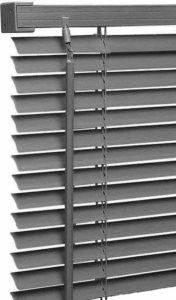 If the style of your caravan is important, then look no further than the Ruby Venetian blinds that wouldn't look out of place in a residential home let alone a caravan. The blinds are supplied ready to hang.
The blinds have a twist operated wand that allows you to easily open and close. It's also easy to maintain as you just need to wipe them down with a damp cloth.
You have a choice of several sizes, but they can also be trimmed down to your desired size.
One thing to keep in mind is that these blinds are not suitable for rooms that reach a high temperature (like a conservatory). If you're going to be parked up in the blazing sunshine, or in a very hot climate, then perhaps that may become an issue.
Why Use Blinds In A Caravan?
There are a few good reasons why you would want to invest in blinds for a caravan:
Control light entering the room
Caravan window blinds give you control over the amount of light that you allow to enter because you can adjust their position to cover more or less of the window depending on your personal needs.
For example, if you slatted blinds then they can close together to minimise the amount of light that can get through if you're trying to sleep at night. But in the day time, you can open them up to let more natural light in.
Personalisation
Caravan blinds give you a level of personalisation due to a range of styles, colours, and patterns so you can customize them to your taste. There are so many brands and types of blinds that it would be a challenge not to find something you like while also still being safe for any children or pets that you're sharing the caravan with.
Provides Privacy
Caravan blinds give you added privacy that most curtains couldn't give. Privacy is important, especially in a caravan park where you'll be close to other caravan owners, and you don't want them to have a clear view of your caravan. 
Added Security
Thefts can still occur in the most secure caravan parks. The majority of thieves are opportunists so if you don't have blinds; then they can see in and makes you more vulnerable, especially if you have your valuables on display.
Caravan blinds are an added deterrent for would-be thieves and decrease the chances of becoming a victim.
You might also want to consider awning curtains, too.
Wide choice of materials
Even for the most style-conscious caravan owner, there will be a blind that suits your needs because you have a wide range of materials to choose from. They can fit straight into your existing interior without them looking out of place or having to overhaul the rest of your living space, so it matches.
For example, if your living space already contains furniture made of natural wood, then you can then opt for caravan blinds that are made from natural wood, so it matches.
Easy to Maintain
Caravan blinds are far superior to curtains when it comes to maintenance because all they need is a simple wipe down with a damp cloth now and then. 
Whereas if you have a curtain, then they need to be taken down from their hooks and machine washed to remove all of the bacteria that cling to the fabric. Because bacteria are more prone to cling to curtains, it makes them more unhygienic compared to window blinds. 
Caravan blinds are also long-lasting due to being made from durable materials such as plastics, wood or aluminium.
Limit Warmth Loss
Without blinds, you just have the exposed window, which makes it easier for heat to escape your caravan with this even more noticeable throughout the night where the outside temperature drops. 
A good set of blinds provides another layer of resistance to heat escaping to keep your caravan warmer.
What To Look For When Buying Caravan Blinds
Here are some factors to consider before buying blinds for your caravan or motorhome.
Fitting
One of the main considerations is to ensure that your caravan blinds fit correctly. To ensure this happens, you should accurately measure before completing a purchase, which is easy to do as all you need to do is measure the height and length of your windows. The width is the most important because you can often adjust the length if it's slightly under or over.
Now you have your measurements you can now complete your order safe in the knowledge that once they arrive, they'll have no problems fitting.
Material Density
The density of your caravan blind material is essential because the thicker the material, the more protection it can provide. By protection, we mean the amount of light that it can block out and the amount of privacy it can provide.
UV Protection
UV rays are produced by the sun, and over time this can cause damage and wear to materials. This can mean that if your caravan is out during the hot summer months, then the suns rays can cause the items inside of your RV to fade.
So it's vital to protect against this with caravan blinds as this can block UV rays from entering while also keeping the inside of your caravan cool. Generally, darker colour materials will be more effective at blocking UV rays.
Light and Privacy
Before buying, you need to decide how bright you want your caravan to be. If you want it to be airy, then you'll want to choose a light blind colour and tilted to allow light in and out. Whereas if you want to block out light and have more privacy, then you'd opt for a darker material for your caravan blinds.
You also have the option of blinds that have fabric options that are room-darkening or light-filtering, providing you with more control over brightness.
Budget
Your budget will be determined by the number of windows that your fitting blinds too. The more windows, the more money will be required and also the materials and brand of blinds that you choose will also affect the price. Due to there being a wide range of blinds on the market, there will be options to suit a variety of budgets.
Safety
Safety is an important consideration, especially if you have children sharing the caravan in which case you should opt for a style of blinds that are cordless because this can be a dangerous accidental strangulation threat.
Ease of Cleaning
Although blinds don't require a professional cleaner, they still attract large amounts of dust so you'll need to dust them down every week or so to keep them in top condition or you can hoover the dust if you have a suitable vacuum.