No matter how clean you are in your living quarters, dust will naturally build up around your caravan. An easy way to keep the dirt at bay – and keep your caravan looking tidy – is with the use of a caravan hoover.
You might be thinking that you'll just bring along the same vacuum that you use in your residential home, but there are quite a few differences between a standard vacuum and a caravan vacuum.
For example, a household vacuum is likely to be heavier and more power draining. Whereas a caravan vacuum will be portable, compact, energy efficient and effective in small spaces.
We've put together a guide to the best caravan hoovers, and some helpful tips on what to consider before you invest in a vacuum for your caravan or motorhome.
Best Caravan Hoovers For Faster Cleaning
Duronic VC8/BK Stick Vacuum Cleaner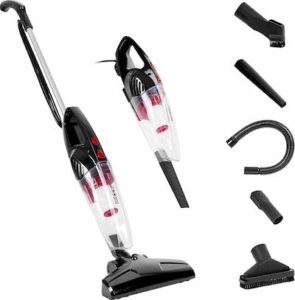 This Duronic vacuum cleaner is a high-quality 2-in-1 solution that delivers a high level of suction through both the handheld and upright devices. The dual functionality gives you a choice depending on your caravan size, and is powered by a 600W HEPA filter motor which is A energy-rated.
The lightweight design makes it simple to manoeuvre into position, so it's suitable for all ages. We know how annoying it can be to have to move a large, heavy vacuum when it's just a small area of mess, so the portable handheld vacuum is perfect for these situations.
In just a simple touch of a button, the vacuum can be converted from an upright stick into a handheld version of the vacuum. There is also an inbuilt dust container which catches all the dirt and dust so you can easy to remove and empty it when it becomes full.
Also included is a range of attachments including a standard floor brush, hose, small brush, crevice tool and 2-in-1 tool to make your cleaning easier. Also supplied is a 4.5m Power cable which is fitted with a BS British Standard 3-Pin Plug.
The hoover is a great choice for anybody looking to vacuum clean a small area – making it perfect for caravans, motorhomes or even for cleaning up the interior of your car.
BLACK+DECKER 10.8 V Cordless Dustbuster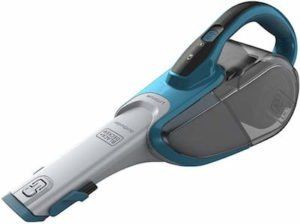 Black+Decker is one of the biggest brands in the Home and DIY markets, so it's no surprise to see one of their products on our list of caravan hoovers. Quality is assured.
The B+D Dustbuster is powered by a 21.6Wh lithium-ion battery which generates a cyclonic action to deliver strong suction effectively. The dustbowl has a capacity of 500ml which can easily be emptied once full. The battery provides a run time of 15 minutes of continuous use which is ample time for most caravan sizes.
This 10.8V cordless handheld vacuum is lightweight, allowing you to quickly clean any mess that's made on your carpeted areas. It includes an extendable slim nozzle and a flip-up brush to tackle all types of surfaces while also having a boost mode which is suitable for larger sized debris.
We really love this cordless hoover option. It's easy to manoeuvre and gets in to all of the harder-to-reach spaces that a caravan or motorhome might collect dust in.
ThisWorx Car Vacuum Cleaner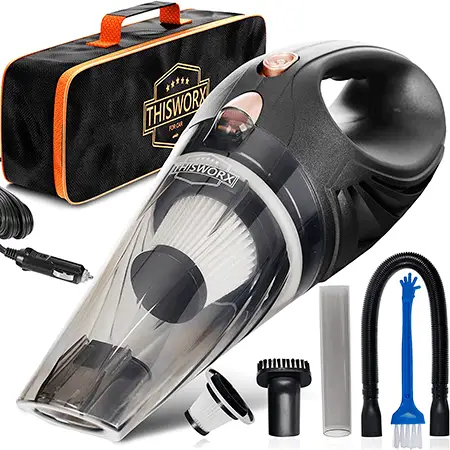 Although this model has been designed specifically for cars, it's also ideal for caravan use if your only power source is a 12V outlet. It delivers strong cyclonic suction powered by a 12v car vacuum's 120W turbine motor delivering a suction that can reach up to 4500 PA so you can use this on a range of substances including liquid, pet hair, dust and dirt.
Even when it's operating at this power level, it generates a low level of noise (55-60db).
The ThisWorx hand vacuum can suck both dry and wet substances; It also includes four different accessories so you can tailor it to your cleaning needs. The vacuum has a 16 ft power cord (4.8 meters) to provide you with a decent area of reach, although it may not be enough in some larger caravan setups.
Inside the vacuum is a HEPA filter that is not only easy to clean, but also detachable. Also included is a snazzy little carry bag which makes it easy to store away when not in use, as well as a one year warranty if any defects develop with the product.
While this particular vacuum is unlikely to be suitable for cleaning an entire caravan, it can tend to small areas of mess, spills and other targeted spaces. A useful portable hoover.
Hoover H-FREE 200 3in1 Cordless Stick Vacuum Cleaner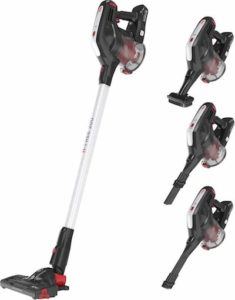 If you need a vacuum that's larger in size and more powerful, then the Hoover 3in1 cordless vacuum is the solution for you. It comes in an upright mode but can also convert into a handheld model and is extremely lightweight at just 1.5kg so you can effortlessly clean your caravan.
Power is delivered by its 22 volt Lithium battery which provides you with up to 40 minutes of continuous power, and the handheld version lasts for up to 25 minutes. Its cordless design means that you won't have any annoying cords getting in the way of your surfaces.
Also included with each unit are a 12-month guarantee and several accessories to make your cleaning experience easier. The vacuum has an easy to empty 0.7-litre bin and has a removable battery, so it's easy to charge. When not in use, the vacuum can be stored on its handy wall mount.
Pro Breeze® 14.8V Wet & Dry Handheld Caravan Hoover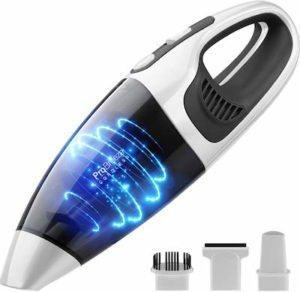 The Pro Breeze handheld vacuum delivers ultra-powerful suction. It is powered by a 14.8v li-ion battery and a 90W motor which provides 6000PA of suction to efficiently and quickly clean any dirt and dust in your caravan.
The long-lasting 2000mAh li-ion battery lasts for up to 25 minutes of continuous power without losing suction while also have quick charge technology so it can be fully charged within 4-5 hours — the vacuum charges on its wall-mountable docking station.
The mini vacuum has a 3-in-1 vacuum capability which includes wet and dry. It consists of a crevice tool designed for hard to reach spaces, a brush head for picking up dirt, pet hairs and dust from the carpets and furniture, and a squeegee which makes it easy to suck up liquids.
The Handheld vacuum has an easy clean HEPA filter which has a Large 500ml capacity for dust and liquid bin. This bin can be easily emptied and cleared in a matter of seconds using its in-built click release mechanism.
What Are The Different Types of Vacuums For Caravans?
Handheld Vacuum
 This is ideal for cleaning hard to reach areas while also being lightweight to carry so you can easily move it from position to position. They are also usually battery powered so require charging but don't need a power source when they're being used. They are best suited for smaller sized caravans where there aren't large areas of carpet because this can take longer to clean.
Handheld vacuums will typically have a charging base so that charges when it's not in use. So when it's time for use, it will have a full battery, and you can use it to its maximum capacity.
Steam Caravan Vacuums
Steam vacuums are less common but are effective if you have pets, or your caravan is suffering from mould related problems. This is because the steam produced by the vacuum is great as disinfecting stains and surface, which is common if you have pets inside your caravan.
Upright Caravan Vacuum
Upright vacuums are the most common type of purchase and are great when you have larger carpeted areas in your caravan because this will take no time at all to clean. They usually come with a range of attachments, so you are well equipped to service both wide spaces and hard to reach areas.
They are specialised for caravan use so they are more compact so they can be packed away when not in use.
Wet and Dry Caravan Vacuums
A wet and dry vacuum should be considered if you expect to be cleaning up wet spills on your carpet or upholstery. This is more common if you have young children and these models will separate wet and dry waste effectively.
See more: the best caravan door bins for rubbish and waste.
What To Consider Before Buying A Caravan Hoover
Caravan Size
One important thing to consider is the size of your caravan. This will determine whether you need a cordless or a corded vacuum. If you have a small caravan then a caravan brush may be enough.
If you own a smaller size caravan, then you could get away with a weaker vacuum that has lower run time and power. However, if you have a larger caravan, then you require a vacuum with longer run time and perhaps more power.
Location of Power Outlets
If you've decided to go with a corded vacuum, then you need to consider the layout of your caravan and specifically where your outlets are. The location of these placements is essential as well so you can determine if you can reach all areas of your caravan.
This is where the big advantage of a corded vacuum comes into play because it can run much longer, plus it has aa consistent and constant supply of power. So you can operate the vacuum for as long as you want without worrying about the battery fully depleting.
Noise Level 
We all know how annoying a loud vacuum is as it disturbs everyone nearby so you should compare the operating noise between your shortlist of caravan vacuums. There are several on the market that lists their quietness as one of their key attributes, and we've reviewed several on this list that is quiet in operation.
Battery Life of the Hoover
Not all caravan hoovers will be battery operated, but where they are you should check that they are a long-life battery otherwise, you'll find that it will run out of battery before you have finished your hoovering.
It not only needs to be long-lasting but also high quality, so it doesn't deteriorate and need replacing after a short period. A vacuum with a higher quality battery will cost more but will save you money in the long run.
Ease of Use
You're only going to be using this in your caravan, so you don't need a vacuum that has all the bells and whistles. The best caravan vacuum needs to be easy to set up and use every time you plan to hoover.
If you can, you should choose the same manufacturer as you have for your traditional vacuum in your home as you'll be more used to their products so you can quickly get to using the product without any troubles.
Power
It's all great getting a vacuum that has the longest-lasting battery, but you also need to understand the power that it can generate. 
This will inform you of its suction power and how well it can remove debris and dirt from your carpet and upholstery — the stronger the suction capability and the more motors it has, the better the vacuum.
Vacuum Weight
One of the key attributes that make one of the best caravan vacuums is its weight. You need to ensure that your chosen product is lightweight, which makes it easy to move into position when you're using it as part of your cleaning schedule. 
You'll likely select a handheld model so you'll be using your own body to carry it at all times, so a lighter model will make your overall cleaning experience easier.
Is The Vacuum Portable?
Size of your caravan vacuum is essential, so at the very minimum, you should avoid large and bulky shaped vacuums. They will not only take up too much storage room but will be more awkward to move around your caravan.
Portable vacuum cleaners, especially handheld versions, are smaller while still having powerful suction to clean the areas around your caravan. 
The size of your caravan will often correlate to the amount of battery power you need, so if you have a larger caravan, then a larger vacuum maybe needs as they'll have a longer-lasting battery. 
Carpet or Flooring Type
The type of carpet you have in your caravan will play a large role in the vacuum you purchase. The carpet you have will likely be either nylon or polyester, which are both suitable for an aggressive vacuum cleaner.
However, if you have a carpet that contains natural fibres, then you'll need a vacuum that is softer and less aggressive, so the fibres don't get damaged. So, in this case, you should look for a vacuum that has gentle/flexible brushes.
So it's important to asses the type of carpet you have before making a final buying decision; otherwise, you could end up doing permanent damage.