Caravans can get dirty fast.
If you are new to the outdoors world, you'll quickly realise that caravans can go from looking pristine, to looking 'well worn' in a matter of days. Sometimes hours!
Whether this is from the constant rain or the muddy caravan parks, you'll want to make sure that you keep your caravan exterior well maintained. Not only will this make your caravan look better, but it will reduce maintenance upkeep over the years.
If you don't have access to a caravan hoover, then a caravan cleaning brush may still be a suitable option for the bulk of cleaning tasks.
In this guide, we'll look at some specialist cleaning brushes for caravans – perfect for scrubbing, washing and getting your caravan back to that pristine look you bought it in!
Best Caravan Cleaning Brushes
Now you might just think that you can use the same brush that you use on your car, but caravans are far larger so regular sized brushes may not always be the best idea. 
If you choose a brush that's not suitable, then this can cause you a range of unwanted issues such as scratched paintwork or the bristles may not be strong enough to remove the dirt effectively.
The difference is that the handle of a caravan brush will allow to effectively reach areas high up that you won't ordinarily be able to reach without the help of a ladder and you don't want to be carrying around a step ladder with you on your travels.
So, as you can see, there are several things that you need to consider so we've created this easy to follow guide to show you the best caravan brush to ensure that it leaves your caravan glistening.
Mascarello Aluminium Telescopic Caravan Wash Brush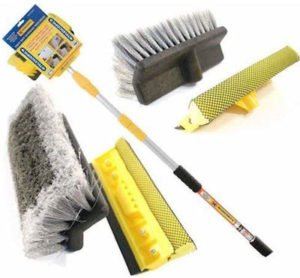 The Mascarello caravan wash brush makes cleaning your caravan faster and easier. Its lightweight construction includes an aluminium handle which can extend to a length of 3 metres so you can reach even the highest of caravans without a step ladder.
Its soft cushioned grip provides you with extra comfort while you clean and also has a telescopic feature which has an on/off switch to insulate cold water as it flows through the brush to loosen dirt from the surface of the caravan.
You don't need to worry about the bristles damaging the surface of your caravan due to its soft feathered bristle tips. Of course, it's not restricted to use on caravans. It will work a charm on any large vehicle, truck, motorhome or boat.
Homeright Autowashstick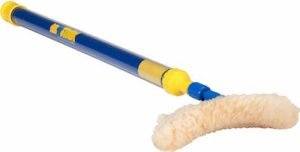 The Autowash caravan cleaning stick allows you to clean your caravan with no fuss. The stick has a telescopic feature that draws water up through the tool into the handle, which means you can then control the water flow as you clean while not getting your hands wet.
The stick has a unique design that allows you to clean hard to reach areas like the roof and the underside of the vehicle. This means that the stick requires less physical exertion as you don't need to bend and strain as much. You'll also be able to clean much quicker because you won't be needing to making repetitive trips back and forth with a bucket of water.
An affordable and convenient cleaning brush for caravan users.
Rolson 61010 Telescopic Water Fed Wash Brush 2m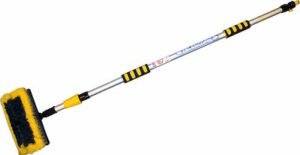 Rolson has established themselves as one of the go-to brands in this sector. They offer a huge range of tools and products that are suitable for DIY enthusiasts to on-the-job professionals.
Their heavy-duty caravan 2-metre brush is sturdy due to its aluminium handle, which has comfort foam grips to make it easy to hold and manoeuvre into position. It also has a telescopic feature that allows water to be fed into the sponge as you clean to make it simple to remove stubborn dirt. 
You can also control the water flow using its on/off switch, while it can be connected to a hose using the included connector. Suitable for cleaning just about any motorhome.
Opticare Heavy Duty Tri-Section Extending 3 Metre Wash Brush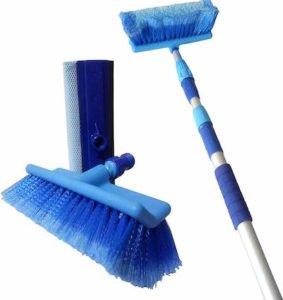 This tri-section wash brush makes cleaning your caravan a breeze. It has an extending pole up to a full length of 3 metres so you can scrub those hard-to-reach spots. The brush also allows you to connect directly to a water supply and feed water into it using its telescopic feature.
Once you receive the product it's easy to assemble so you'll be cleaning in no time, and the bristles have the right balance between hard and soft so it can effectively remove dirt without causing damage to the caravan paintwork.
Just remember, the joints need to be fastened securely to avoid any leakage or dripping while you're washing the vehicle. This isn't the most secure of extending cleaning brushes we've seen and you can end up very wet very fast if you don't secure the joints properly before use!
Caravan Car Cleaning Telescopic Brush Broom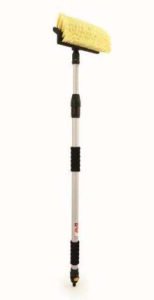 This caravan cleaning brush is not only suitable for caravans but can be used on cars, 4×4's trucks and any other type of vehicle. It has an extending handle from 100cm to 175cm so you can clean those difficult to reach areas, while also having foam handle grips on the handle, so it's easy to move into position.
The brush has water fed feature with on/off switch so you can connect a hose to make cleaning easier as it loosens the dirt as you clean. The broom head is 10" wide with PVC bristles to effectively lean the surface of your caravan. There's also an extending 3 meter version that comes with a squeegee attachment.
What To Look For In a Caravan Cleaning Brush
Bristle Design
The bristles on your cleaning brush are an important consideration because if they're too soft, then they won't be able to remove tough stains without you having to work which can be tiring. If the bristles are too hard, then this can damage the paintwork of your caravan.
Bristle placement is also equally as important because if they're spaced too far apart, then this can cause the dirt just to be spread around the surface instead of being removed. 
Specialist caravan cleaning brushes are designed to minimise the risk of scratching the paintwork of your vehicle. Still, you should always try to rinse down your caravan to loosen and remove any stubborn dirt before you use the brush.
Size
The size of the bristles is an important thing to consider because there isn't a one size fits all solution because different caravans will have different needs.
Smaller sized brushes will generally need more time to clean a larger sized caravan whereas a larger sized brush may not bee best suited for tighter spaces but will be better for large cleaning areas, so it all about hitting the sweet spot between the two. 
Handle Length
The handle length will determine the height that you can reach without needing additional help from a step ladder. So, it's important to consider the height of your caravan because the higher the caravan, the longer the handle length you'll need.
Brush Grip
The best caravan cleaning brushes will have gripped handles which will be coated using either foam or rubber. This makes it easy to maintain a firm grip making it easier to clean your caravan and control the brush.
Construction 
As with any cleaning product, your chosen cleaning brush needs to be durable and made from strong materials. This will mean it can withstand the tough nature of cleaning so ideally your brush should be made from tough materials such as plastic, aluminium or steel. This will mean that it not only stands up to tough cleaning but also will last longer.
Weight of the Brush 
There needs to be a balance between the weight of your caravan brush and its durability. The weight needs to be considered because more often than not, you'll be using your body weight to hold and move the brush into position.
What Are The Different Types of Caravan Brush?
Telescopic Handle Brush
A telescopic pole makes considerably easier to clean your caravan because it extends in length which allows you to reach the top and roof of the caravan without needing to stand on additional apparatus such as a step ladder. This means that you can also clean your caravan quicker.
Flow-Through Brush
It's normal to see a telescopic brush also have a flow-through feature which means that it maintains a steady flow of water through to the bristles which makes it easier to remove stubbornly dried-on dirt and stains lowering the time it takes to clean.