In the hot summer months, it's normal for you to swing open the front door of your caravan to improve the circulation and allow some cool air to flow inside to regulate the temperature.
But often this turns in to an invitation for all kinds of flies and bugs to enter your caravan. No doubt, this can be annoying. And yet you don't want a baking hot caravan in the summer months.
What you might consider as a solution is a caravan fly screen.
You can use a caravan door fly screen to stop these flies from coming inside. There's no shortage of screens on the market, ranging from the cheap and cheerful to the stylish and expensive. Here we take a look at some of our favourite options.
Let's get to them!
Our Pick of the Best Caravan Door Fly Screens
Hoobest Magnetic Screen Door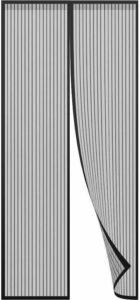 The Hoobest magnetic door screen is expertly designed to solve your bug and fly problems. Made from premium mesh, this screen door has two strong magnets that hold it tightly in place, and these magnet strips are sewn directly into the seam. Strong fastener tape is then sewn into the mesh.
This allows the door to close automatically due to the long and short magnets, which also leaves no gaps for bugs and flies to get in providing a seamless closure from the top right to the bottom. But the mesh still allows a cool breeze to flow in.
The screen door is easy to install in just a few seconds and requires no tools. The mesh is extremely durable while also being chemical corrosion-resistant and lets light transfer through it. This durability also means it can handle years of heavy usage, even in the busiest of caravans.
Its use isn't just limited for caravans so if you're not on your travels; then you can use it in your residential home. Many of us will remove it after our holiday and attach it to the back door instead.
A simple and effective fly screen for the summer months.
EXTSUD Magnetic Caravan Fly Screen Door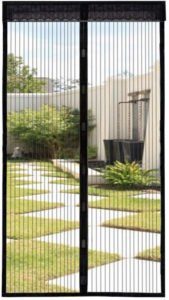 Now if you're looking for an easy to install a fly screen door, then this can be installed without any tools, and all you need is the included hook and loop tape which you simply apply to the door without additional drilling.
A full list of available sizes includes:
80 x 200 cm
90 x 210 cm
100 x 220 cm
110 x 220 cm
120 x 220 cm
120 x 240 cm
140 x 240 cm
(Be sure to measure your door before buying!)
The flyscreen closes automatically but also closes tightly to stop bugs and other creatures from entering. It does this using it's six pairs of magnetic strips and seven pairs of magnetic pieces. Despite these magnets, it's still easy to pull apart when you need to walk through.
This caravan fly screen is both transparent and gas permeable, so fresh air can still flow in and out while it can also be attached to a variety of locations including kitchens, bedrooms and balconies.
In terms of appearance, it's made using tightly woven polyester, which is also tear-resistant so you can rely on it to deliver a long service life. See ya later, insects!
YRH Magnetic Fly Screen Door
The YRH fly screen is a high-quality door curtain that is suitable for door frames that measure up to a maximum of 90cm x 210cm. It has a strong magnetic strip that is quick and easy to shut and close while providing strong suction.
The screen is easy to install and comes supplied with strong magic tape, so you require no additional tools to get up and to run. The screen effectively keeps bugs and insects out but is also pet-friendly plus allows air to flow in and out. You'll immediately notice that it shuts quickly – which is important if you're in an area that the bugs are drawn to, or if you're cooking food, for example.
Also included is a 100% satisfaction guarantee so if for any reason you're not happy with the product you can request a refund.
Calish Magnetic Screen Door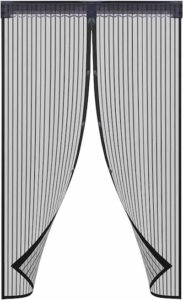 This high-density screen door uses an antioxidant high-density mesh that is strong and durable which stops even the smallest of bugs from getting into your caravan while still allowing the much craved fresh air to flow into your caravan.
The fly screen is easy to install and comes supplied with a full-frame, reinforced Velcro that requires no tools and fits door frames that measure up to 90cm x 210cm.
Once closed, there are no gaps or space due to the strategically placed magnetic cubes that are lined within the material to create seamless closure. You're able to walk through hands-free, which means you can still carry things as you walk plus pets and children won't have any issues getting in and out. The material repels mosquitos and is also waterproof.
Holland Plastics Heavy Duty Bug Strip Blind

If you'd prefer more of strip blind, then Holland Plastics have got you covered. These are made using heavy, durable strips that are easy to wipe clean. The strip blind is easy to install and once up and running will effectively keep out any bugs or insects.
Even if you fold it away when it's not in use, the creases will fall out once you install it back into its upright position. For the price, it's extremely effective and has an excellent supporting bracket that allows you to quickly remove it from its position whenever you need to take it down.
Please note: the lady is not included!
What To Look For In A Caravan Door Fly Screen
Looking to invest in a caravan fly screen?
Below are some of the factors to consider before you buy a new screen: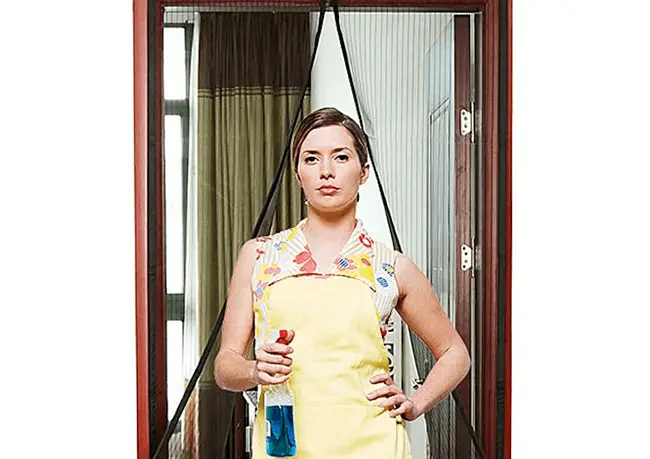 Durability
The varying price of fly door screens will mean that products that are at the lower end of the market will be a lower cost, but this also means that they can deteriorate quickly and can tear easily especially if you frequently use it similar to caravan blinds.
There are ways that you improve durability, such as buying a retractable fly screen which means that the mesh is better protected when it's not in use. The durability of the frame is also important, and higher quality frames will be made of aluminium which can withstand constant use, whereas cheaper versions may be uPVC.
For the most peace of mind, you should choose a professional, high-quality product that comes with a guarantee so, if it fails, you'll have the support of the manufacturer. Some even come with a lifetime guarantee which makes it well worth the investment.
Ease of Installation
The importance of how easy it is to install the fly door screen will depend on your confidence and DIY skills. Most people can install it themselves especially if it's a made to measure model because it simply needs to be clicked together and then it sits on your existing door frame or window.
If you opt for a DIY fly door screen, then installation can be a little more complex because you may need additional tools such as a saw or nails. However, if you're a keen DIY'er, then you may relish this challenge. If you don't want to install it yourself, you always have the option of hiring a professional who will also be able to finish it to a higher standard and show you how to use and look after your fly door screen.
Caravan Fly Screen Appearance
For those who place high importance on the look of their caravan, you need to consider how your desired caravan fly door screen will look leading on to your steps. If you're concerned, then you should stick to Fly curtains, stick-on and hook and loop meshes. 
DIY screens often have white uPVC frame which generally looks fine, but if you're looking for something with a bit more uniqueness, then you have the option of different colours. This again comes down to the price you're willing to pay because better-looking fly screens will command a higher selling price and will often come with additional features such as insect protection, solar shading, privacy screening and blackout.
Price
Just like any interior caravan product, there will be different options at different prices, so if you're looking for something cheaper, then there are plenty of low-cost options that will still effectively keep out bugs. These will generally cost between £10-£20, which is great if you only use your caravan a few times a year in the hot summer months. 
If you're a heavier user, then you may need something more sturdy and durable such as a framed door fly screen that perhaps has hinged or fixed frames. These will cost slightly more, and there will be additional costs if you decide to have it professionally fitted. In most cases, you can stick to door fly screens at the cheaper end of the market because they are still extremely effective.
How Much Protection Does It Provide?
The protection your fly door screen provides is the most important thing. The best choices would be to choose either a retractable cassette fly screen or a fixed fly screen. These types of frames mean that insects can't squeeze in through the edges or sides, so your room remains insect-free. Both these types are available either as a DIY product or a professionally fitted product. If you opt for a fixed fly screen, then this is good up to a point, but you won't be able to open or close it.
Removability
Different fly screens offer you varying levels of flexibility and customisation when it comes to daily use. Some fly screens will only last a few uses so you won't be able to stick them up and remove them constantly, but this also means that they won't leave any marks on your walls.
If you have a fly screen with a Velcro mechanism, then you have the flexibility to stick and remove to your door frame as they're easy to remove from your door frame. Retractable fly screens give you a generous mixture of durability and flexibility, allowing you to easily remove it without leaving stubborn marks on your door frame.
If you fully commit to a professionally installed fly screen, then this usually requires permanent changes to your surrounding walls and window frame because it usually needs to be secured in place with screws. This can often mean that you also need a professional if you wish to remove the fly screen completely, so this also needs to be considered.
Retraction
The question is, do you want your fly screen to be permanently in view or do you want it to retract away from view when it's not in use. If you want to stop bugs and insects from entering your caravan, but you don't want to change the look of your windows completely, then you need to opt for a discreet fly screen. 
You'll need to choose a flyscreen that matches your existing colour scheme so that you can hardly notice them when it's not in use. Even white uPVC fly screens can do this effectively if you use them with white doors or windows, which means they're less noticeable when they're not in use.
If you opt for a detachable caravan fly screen, then they can be completely taken down and stored away when it's not in use. This is ideal if you only plan to use it for the hot summer months and you can just leave the brackets up so you can easily re-install it.