Getting in and out of your caravan can be a serious concern, especially if you have back problems or other physical issues.
Even caravans that come with steps, they're usually low quality and unstable – which not only makes the steps shake when you use them, but this can cause the whole caravan to shake when someone uses them.
However, just because your caravan comes with inadequate steps, it doesn't mean you can't replace them. There are more than enough alternatives on the market that do an effective job.
Here we look at the best caravan steps (including some collapsible and folding options), as well as the key traits to look for if you are looking to replace your existing stairs.
5 Best Caravan Steps For Improved Access
It's often thought that caravan steps are a simple purchase, but there are many different types with different features. It's important you purchase a set of steps that provides the necessary accessibility.
We've created this guide not only to show you the best caravan steps, but also to highlight the available features that we consider essential.
Royal 199200 Deluxe Double Step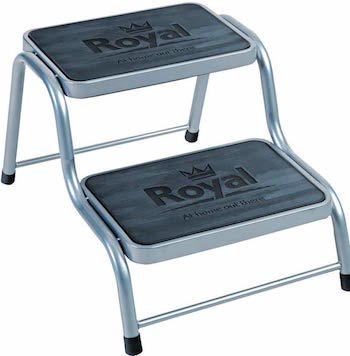 The Royal brand has been established since 1993 and has built a brand on a foundation of high-quality products leading to them being recognized as one of the caravan product leaders. 
They have a huge range of products including furniture, sleeping bags; melamine dining sets, so it's no surprise that they have created a caravan step. The Royal 199200 Deluxe Double Step is made of steel which gives it a high level of durability and strength, allowing it to withstand a substantial load weight.
The step is ideal for use with caravans, motorhomes, 4 x 4's and can also help the disabled in and out of vehicles. Each step has a non-slip rubber surface so even in wet conditions; you can safely get in and out of your caravan. 
For additional strength, the steps are fitted with steel cross members so you can be assured of its strength leading to it lasting several years.
EAZYGOODS Folding Heavy Duty Double Caravan Step
If you have limited space in your caravan, then the Eazygoods folding caravan steps could be for you. These folding caravan steps are compact and collapsible, which means when they're not in use, you can either store them under the caravan or discreetly inside.
The steps are made of high-quality materials giving you a secure and stable surface to step on to.
Each step has a non-slip tread, so your safety is assured in all weather conditions. Although the steps are made of high-quality material, they are also lightweight, so moving them into position is easy.
In terms of size, the steps are just 59 x 48 x 39 cm so you won't have to sacrifice any of your other items to be able to take this on your caravan trip.
Lightweight Caravan Step With Single Handrail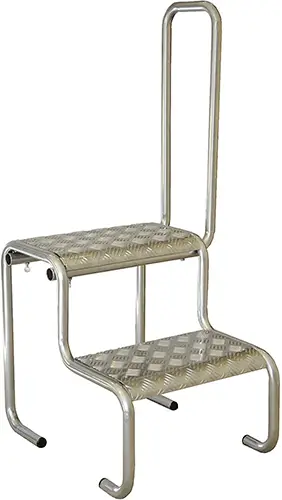 Need caravan steps with a handrail for extra safety?
If safety is paramount to your caravan experience, then this lightweight single handrail solution is ideal for your needs. The frame itself is made from stainless steel and comes in a variety of options – left handrail, right handrail, or even a double handrail. It can hold a huge 300 kg, far more than will be required, and comes with two supporting brackets to be fixed in position.
It has aluminium non-slip plating, which makes the steps suitable for all weathers – including the classic wet British summer!
Size measurements are:
250mm to the first step, 480mm to the second step. 430mm wide, 1030 mm high (including the hand rail).
Milenco Giant Double Step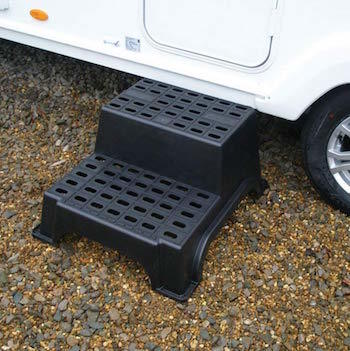 Made from 100% recycled plastic, the Milenco giant double step is a low-cost product which provides you with an effective way to get in and out of your caravan. The steps have a suitable non-slip surface and impact-absorbing rubber feet to increase the overall stability and limit the amount of shaking.
The steps are EN1645 British Standard accredited and have height dimensions of 185mm for the first step height, and 370mm overall height. Don't be fooled, just because they're made from plastic they're still incredibly strong and can withstand the heftiest of weights.
The only downside is that because they're made of plastic they're not able to fold up, but the steps are very light so most people won't have a problem carrying them.
These caravan steps are wide – ideal if you have a problem with balance as they will allow you to place your feet further apart than on normal folding steps, so you will be more stable.
Taylor & Brown Single Folding Caravan Step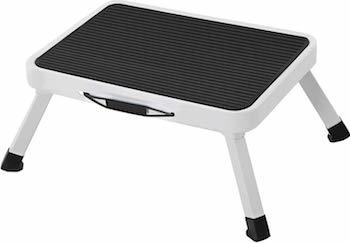 This single step is reliable, stable and safe – with wide tread rung (37.5 x 26.5 cm) and steel structure while also having four legs that point outwards, which offers more stability when in use. The step has anti-slip feet with a tread rung with grooves which prevent users from slipping when standing on it.
When not in use, the step is fully collapsible. You can fold it up to save space, and it is also super light making it simple to move. To give you an idea of its small size, the thickness of the step ladder after folding up is just 4 cm and has a built-in grip to make it easier to carry.
The step isn't just for caravan use but can be used around the home or in the office, while it also has a load capacity of 150kg. A decent cheap solution that will tick the boxes for most users.
Types of Caravan Steps
Portable Caravan Steps
Portable caravan steps are generally more affordable, and you can select your preferred width between wide and narrow regardless of the width of your caravan door. They are typically collapsible or folding to provide maximum convenience when it comes to storage.
Portable caravan steps requires minimal installation so they can be used almost immediately. 
A great benefit of portable caravan steps is that you can move them around with you easily so you can use it for multiple caravans.
An obvious downside is that every time you use it, you need to place it in the right position so this can take time to set up each time. It also means that when you're not using it, you need to find somewhere to store it.
When you first park your caravan in a new campsite, there are several things that you need to do, i.e. set up your awning and connect to the WiFi. Having a portable step adds to this list, plus it's one more thing that you need to remember not to forget behind when you leave the campsite.
Permanently Installed Caravan Steps
Permanently installed caravan steps are steps that are permanently attached to your caravan. This stops the need to get it out and set it up at each location stop. It also guarantees you can't lose it because it's physically fused to your caravan.
However, this usually raises the cost of the step and brings installation costs to the total cost of full ownership. Though if you have good DIY skills, you can usually install it yourself. There are two main types of permanent caravan steps.
Manual Caravan Steps
The manual step can come in several forms with the most basic being a couple of steps with a supporting frame which is then permanently welded to the caravan body. This means it can't be removed without calling the welder back to move it. This means you need to be sure of its position and height before making a final decision. 
However, this does mean that the step has a higher maximum load making it less likely to slip.
Automatic Caravan Steps
Automatic electric caravan steps can often resemble the handicap lifts and other retractable hardware that you regularly see. This allows you to push a button which causes the metal step to extend so then you can step up into your caravan.
This means there is no additional work once you have assembled and mounted the device. You have the option of installing it yourself or hiring a professional to do the job. It's important to understand that you will need a power source to use the steps so although they may use batteries if the batteries die, then the steps will remain closed.
The solution is you choose electric steps that have a manual release, giving you an alternative way to get in and out of your caravan.
Number of Platforms
Single Platform Caravan Steps
The main advantage of single platform caravan steps is that they are more compact, which means they are not only easier to transport, but when they're not in use, they can be easily stored away. This is important because it's likely that you are limited for space in your caravan, so a space-saving design is ideal for your needs.
The main downside of a single platform caravan step is that it takes more effort to get up the stairs because the step up is higher, so if you have back knees or joints then this can increase the strain. Whereas with a double platform, this gives you more stability to get up and down the stairs.
Double Platform Caravan Steps
As you'd expect, double platform caravan steps offer you a larger surface area for you to step up and down, decreasing the amount of strain on your joints, primarily through the knees. Because of their larger size, this makes them a little more tricky to hide away discreetly when not in use. You need to think about all the other pieces of furniture that you have in your caravan and how this would be stored away.
If space is limited, then there are foldable double platform steps available, because if they're not, then, it's unlikely that they can be stored underneath your caravan or vehicle.
The step-up from a double platform set of steps is smaller, which makes it easier to use. This is a critical benefit if you suffer from mobility or chronic pain issues, have small children or older less mobile dogs. Double platform steps have larger bases, with a bigger surface area they are also more stable and less likely to shake when you step up and down.
Step Surface Material Safety
One of the most important considerations is the material tread that's used on the surface of the steps. This needs to be a non-slip surface ideally made from either rubber tread or metal mesh. If it's been raining, then the steps will be wet, which can be a safety hazard if they don't have the correct tread.
We recommend rubber tread as this is one of the best non-slip materials. It's common to see caravanners make short term solutions such as using bits of carpet or wool which is glued to the steps, but this is not built to last because it will quickly get wet and muddy from your shoes and the weather.
If you plan to use the steps regularly at night, then you can get glue on glow in the dark stickers which make it easier to see where your stepping at night while entering or exiting your caravan.
What To Look For In Caravan Steps?
Durability
The caravan steps you buy must be durable and made from a strong material because it needs to be able to withstand harsh weather conditions without degrading. Ideally aluminium or steel are the prime candidates because they are less likely to rust and become weak under the pressure of constant rain or snow.
You want your chosen steps to last more than one summer season or trip so make sure you select a durable set. This can also be helped by using caravan levelling ramps to make the ground more stable.
Stability
Your chosen caravan steps should be stable and solid while not moving or bouncing when you're going up and down them. There should low vibration level when using the steps, which is easy to determine by referring to the step reviews by users.
Weight limit
It's essential to be aware of the weight limit of your chosen steps. The majority of steps have a weight capacity of at least 150 kgs whereas there are models that can accommodate weights above this or you can get double platform steps which distribute weight more effectively when in use.
How To Stop Legs From Sinking
If you test out your caravan steps before you leave your home, then it's likely that you tested them on the level concrete ground. This isn't going to be the case when you're at the caravan park, and there can be wet, uneven ground which can cause the legs to sink into the ground. What makes it even more of a hazard is if one leg goes further into the ground that the other making the steps unstable.
The first way of preventing this from happening is by choosing a set of steps that have legs with a larger surface area. This means they will be better at resisting sinking into the mud while making the steps more stable.
Another way to stop the legs from sinking is by placing a piece of flat wood underneath the steps and is highly effective. This could be done by using a scrap piece of wood or by visiting your local hardware shop where it will cost just a few pounds.
This will also protect your steps from getting mud on them in the first place which is essential if you plan to store your steps in your caravan when they're not in use as it prevents mud from getting into the caravan.
Aluminium & Steel 
As you may have noticed caravan steps, come in a range of different materials. Still, the majority will be made from steel or aluminium because they are strong and durable, which means that they can last several years of consistent use.
Aluminium is also light, so it means it can be moved easily, but these materials make the steps more expensive, but it makes the investment worth it. If you're on a lower budget, then steel has many of the same qualities as aluminium but can be a little heavier, and consistent exposure to rain can cause damage to its exterior as you'll start to notice peeling paint.
Plastic
If you're on a lower budget or you only plan on using the steps once then plastic steps could be an option. They have the main benefit of not rusting and also being easy to wipe clean, and depending on the product; there are some strong and durable plastic options.
However, it's common for plastic steps not to be foldable; otherwise, they would lose their strength.