Campsites are getting more advanced with many now offering WiFi services. However, you may find that you still experience issues picking up a strong enough signal.
We live in a world where many of us have devices that rely on a secure internet connection, but there are ways to improve the strength of the WiFi signal. The easiest way to do this is by using a caravan WiFi booster or extender. 
A WiFi booster means that you're always prepared. Because, remember: if you reach the campsite and there's poor signal, it's too late to go and buy a booster.
There are other ways to connect to the Internet – through a SIM card or MiFi device – but let's take a look specifically at the best caravan wifi boosters on the market today.
4 Best Caravan WiFi Boosters For Faster Internet
Here we'll take you through the best caravan WiFi kit so you can effectively extend the signal in your caravan.
Let's start with our two favourite options – from Kuma.
Kuma High Power USB WiFi Antenna and Booster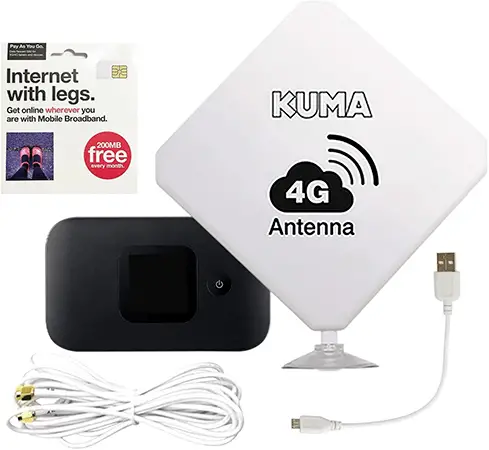 The Kuma high powered USB WiFi booster is an easy out-of-the-box solution to boost your existing WiFI signal onboard your caravan. It can also be used on boats and other vehicles and will remove the frustration of not being able to secure a strong signal when you're pitched up at a campsite.
The booster has a long-range antenna that can discover and boost the signal from up to 1.5km away and the unit connects to your laptop via its included 5 meter USB cable.
The Kuma WiFi USB Antenna is compatible with the following computer operating systems: Windows 10, Windows 8, Windows 7. Kuma has made this product easy to set up in just seven steps.
In terms of the antenna specification, it is a 16 dBi gain antenna with 150M transmission speed and is Compliant with IEEE802.11b/g/n
Kuma My-Wifi Internet Hotspot Package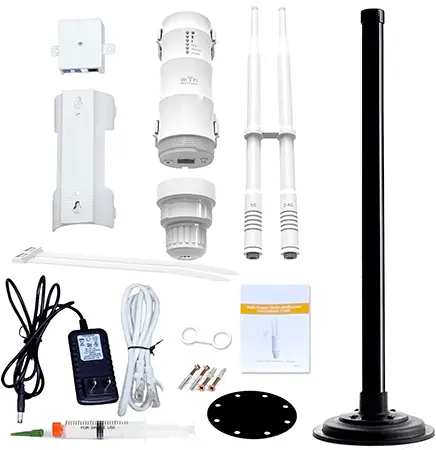 Kuma has created an all in one package that allows you to connect to the nearest WiFi available, which then creates your secure wireless network – and lets you share this with up to 32 different devices (e.g. your smart portable TV).
As well as a Wi-Fi range extender, it can also work as a wireless access point, repeater or router. This is one of the most useful pieces of kits we've found for anybody looking to improve the Internet connection when situated at distance from the source.
It's great for when you're pitched up at a large campsite, or if you're located a long distance away from the WiFi source.
The unit is powered by either 12 volts or UK mains power supply (both leads provided), with easy set up requiring no software to download, and no drivers to install. It comes with a helpful quick start guide to get you connected instantly.
The device has a high powered long-range antenna that can discover WiFi signals up to 1.5km away, which makes it highly suitable for caravan sites. It comes with all the kit that you need to set it up straight out of the box.
Motorhome WiFi iBoost Directional System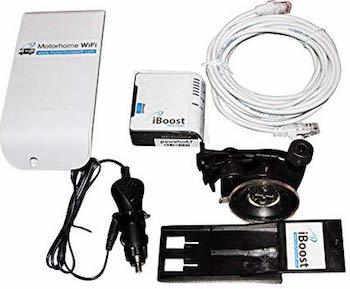 If you need a robust WiFi boosting system, then the WiFi iBoost Directional System by Motorhome is the solution for you. This unit can increase the range and the ability for you to receive WiFi signal, making it ideal for campsites and caravans.
The antenna can be mounted via suction pads to either the inside or outside of your vehicle which creates your secure WiFi network including your unique password so you can keep your devices safe from unauthorised access.
Your local network is capable of generating up to 150Mbps via the latest Wireless N standard.
Small minor adjustments of the antenna are required. Still, it's once set up the system will remember the settings which allow you to connect additional devices with no additional set up required easily. The WiFi system is powered as standard via a 12v cigarette style power source, but it can also use a 240v mains adapter. 
Solwise WL-PATRIOT-3000-KIT WiFi Booster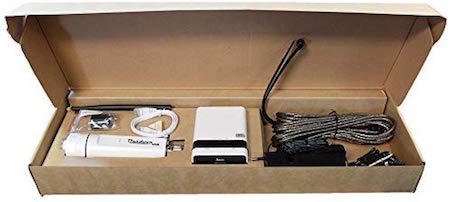 Solwise Patriot-USB is perfect when you get to a campsite, but your devices can't pick up the weak WiFi signal strength. This WiFi Booster kit is suitable for Boats, Caravans & Motorhomes for Caravan and Camp Sites. It has an Outdoor USB with 5dBi Antenna which then connects to an Internal Router to produce your mini hotspot that your devices can connect to.
The package by Solwise includes everything that you need to get started:
A WL-PATRIOT-USB, which includes a WL-USBWIFIRPT 5dB antenna
Power supply with both UK and EU adapters,
A 50cm Flat Ethernet Cable
A Car Lighter Adapter
User Manual
Two Cable Ties
A 5m USB Lead
Some Waterproof tape
This is a little more expensive than the other options because it comes with so much added components and equipment. If the set up seems daunting, they also have a help centre that you can get in contact with for troubleshooting issues.
What is a WiFi Booster?
A WiFi booster is a portable device that you can use to extend or boost your existing wireless signal where you're currently experiencing low signal. It functions by drawing in the current wireless signal that it can pick up, and then amplifies and rebroadcasts it to generate a stronger connection for your wireless devices.
These units won't have the range of a wired connection, and they can't improve the overall speed of the network. But if you're struggling to get any coverage or signal in your caravan, then this is the easiest option.
What's the difference between a WiFi booster, extender or repeater?
WiFi boosters, repeaters, and extenders generally the same thing. It varies from manufacturer what they call them with some calling them different things. However, they all work in the same way by amplifying the current WiFi signals enabling you to join to a stronger connection.
What's the difference between a caravan WiFi booster and a regular WiFi booster?
The main difference between the two is the actual application that each one has is unique. A caravan WiFi booster is specifically designed for outdoor use, so it often has a more durable design, especially if it needs to be mounted onto the roof of your caravan.
It will also have a signal that can cover a larger area, and some can find WiFi signals that are miles away. However, a normal WiFi booster may not have this ability.
When choose a caravan Wifi kit, you will want to keep this in mind. The best solutions are more expensive than those that are simply boosting a signal from the home in to the garden.
How to Choose a Caravan WiFi Booster
Brand
Several brands develop and sell WiFi boosters, and the quality of the product will be closely linked to the brand. It's essential to consider this because higher quality products will tend to last longer and be more reliable so they'll need to be replaced less often.
We've seen plenty of cheap knock-off brands producing WiFi systems that deliver speeds from the 1990s.
Price
Closely linked to the brand is the cost of the WiFi booster.
The cost will vary depending on the number of features that the booster has so it's essential to understand if you need the extra fancy features if you're not going even to use them. Generally, the more expensive the booster is, the higher quality it is and the longer life that it will have.
Decent caravan Wifi boosting kit will typically cost upwards of £150.
Guarantee
Just like any electrical product, there's always the chance that it will develop a fault and stop working. For this reason, it's essential to understand if any guarantees are included with the product to give you added protection if anything goes wrong with the product.
Ease of set up
You can get the most advanced electrical product, but if it takes two days to set up, then not only does this waste time, but it becomes incredibly frustrating. It's important to buy a unit that has a short set up time and adequate customer service so they can help you along if you run into issues.
The best WiFi booster models will come with an easy to follow user manual that helps you set up the device in a minute or two.
Design and Construction
WiFi boosters come in a range of sizes and designs. Space is at a premium inside your caravan, so you want to ensure that you purchase a booster with a space-saving design. Some boosters will have LCDs that make it easier to use as it will show you the signal strength whereas other boosters will have a more traditional look which can make them more challenging to set up.
Compatibility
It's important to check the compatibility of your chosen WiFi booster because some extenders can only be used with specific devices. The booster also has to be compatible with your selected WiFi connection that you have access to at your campsite. 
Add-on Features
Added features are where you get the real value for money and turn a good buy into a great purchase. An added feature could be an additional Ethernet port built into the unit, which could be useful if you have devices that require a direct connection because they don't work with WiFi connections.
Speed
The MBPS of your caravan WiFi repeater is also crucial because you need to buy one that will be compatible with the average campsite internet connection. In this guide, we'll show you the best options for this.
Safety and security
Internet safety is becoming a more prominent issue within the world, and you must consider this when choosing a WiFi booster. Although the main goal is to rebroadcast a signal, you need to ensure this is done safely.
The best WiFi extender will have high-security standards that offer encryption that increases security because it stops unauthorised people from joining your network without having a password.