Just because you're on the road in your caravan or motorhome, it doesn't mean you have to give up home luxuries – and there's no excuse for missing out favourite TV shows.
With 12V caravan TVs widely available, people can still enjoy all their favourite television shows on the move, or when pitched up at a camping site.
As long as the TV has a 12 volt adapter, you can make use of the leisure battery in your vehicle. Conveniently, these sets also come with a 240V plug for when you can connect directly to the mains.
The trusty caravan television has come a long way from the shoddy basic sets that used to only pick up a couple of channels. In our guide to the best 12V caravan TVs, we show you our pick of the top models for the best channel selection, Smart TV features, signal quality and overall value for money.
What Are The Best 12v Caravan TV Sets?
Cello ZRTMF0222 22 Inch 12v Satellite Caravan LED TV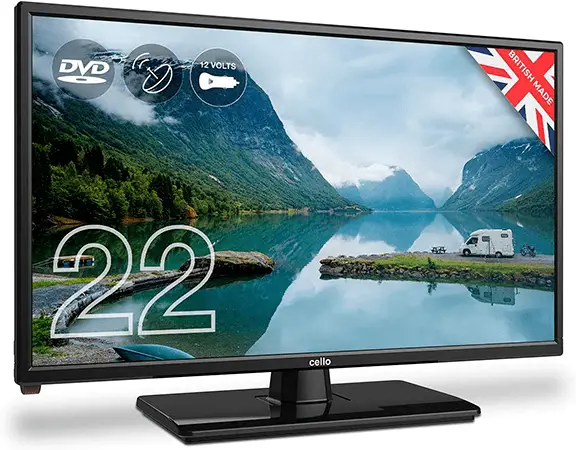 If you're going to buy a caravan television, then you need to purchase one that's specialised and fit for purpose, and the Cello 12 Volt LED TV fits the bill. This TV is specially designed for viewers who are on the move, whether this is in a caravan, mobile home or boat.
This particular model, the ZRTMF0222, was released in 2020 and makes numerous improvements over the previous displays.
The TV is supplied with both a domestic and travel 12V power adapters to meet your needs as well as Freeview HD channels to reach your viewing needs. Built-in is a satellite receiver so if you're in areas with a weak signal you can use a dish.
This TV is HD Ready so you can watch all your favourite TV in a sharp and clear format. As an added feature there is also an inbuilt DVD player which means you don't need an extra device taking up more space, which is great if you're a DVD fanatic.
If space is limited, the TV is also wall-mountable while also being in Band 'A' for energy efficiency, which means that there will be lower running costs which make it more environmentally friendly.
22 inch display
HD Ready – max resolution 1920 x 1080 (1080p)
12 Volt Power adapter
Freeview HD
In-Built DVD player
Terrestrial & Satellite Tuners for all Free to air HD channels
HDMI connection
'A' energy efficiency rating
British made
Built-in satellite tuner
Wall mountable
EMtronics 19 Inch HD Ready 12 Volt Caravan TV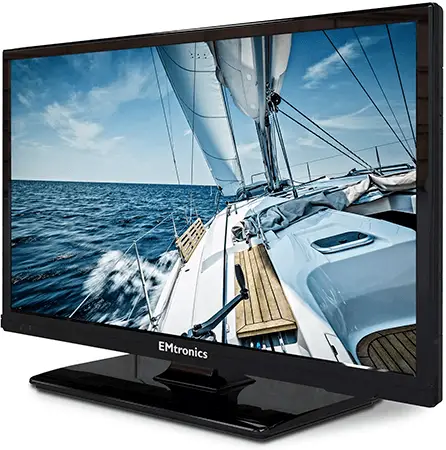 This is a feature-packed "Travel TV" that can provide the entertainment you need on the road. The TV runs off a 12 volt power supply and allows you to access TV channels via Freeview HD and satellite. Included is a 12 – 30v adapter which makes it ideally suited for caravans, trucks, boats or anywhere else you need to use it.
It has a crisp 19″ HD ready LED 720p screen.
There is also an external HDMI input so you can connect all your external devices such as a Sky box or games console, while the is also a USB PVR that allows you to record and playback. If you're a movie buff, then there is also an inbuilt DVD player so you can bring all your favourites with you on your travels.
If space is limited, the TV is wall mountable with its 100mm x 100mm VESA compatible screw holes on the back of the TV. The TV is in the "A" rated energy efficiency class, which makes it extremely energy efficiency, resulting in reduced energy consumption. It consumes just 16 watts of power when in operation, so it's certainly not going to be draining your battery. A great portable TV option.
19″ HD ready LED 720p screen
12V Power Supply
"A" Energy efficiency
Built-in satellite tuner
HDMI Input 
USB PVR for recording and playback
Inbuilt DVD player
Wall mountable
AVTEX D249FVP 24 Inch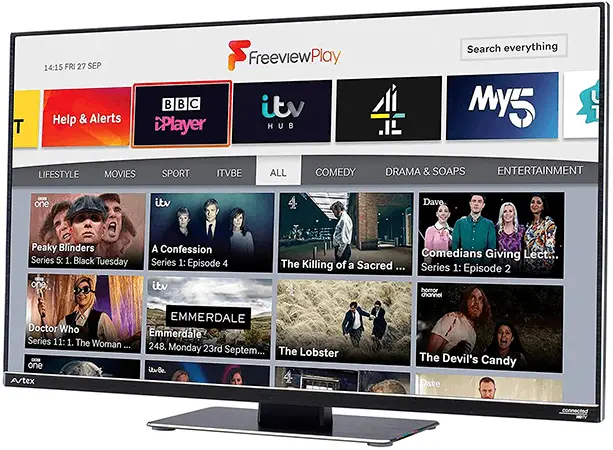 Looking for a portable travel TV with a little more pizazz?
We love this 24 inch D249FVP model from AVTEX.
It's around twice the price of the other options in our list, but it delivers a stellar viewing experience and comes kitted out with all the bells and whistles you'd want to replicate your home viewing experience in the caravan.
It's a fully HD connected TV with built in Wifi that comes pre-connected with the most popular apps in the UK, including BBC iPlayer, ITV Hub, More4, My5 and YouTube. There's built-in Freeview and a separate satellite tuner so you can pick up all the available channels in your vicinity.
And of course, the unit is powered by 12v / 24v DC – or 240 volts AC – resulting in a super ultra-low power consumption that is unlikely to drain the battery (or the wallet).
If you're looking to invest a little more money in to a caravan television that has that extra quality – a sleek look and a flawless viewing experience – then this is your best option.
24″ HD ready
Immaculate 1080p Full HD resolution
Built in tuners: DVB-T2, DVB-S2, DVB-S, DVB-T
LED display technology
Compact, lightweight and ergonomic design
Comes with BBC iPlayer, ITV Hub, More4, My5 and YouTube (but isn't a full Smart TV)
Powered by 12v / 24v DC or 240 volts AC
August HD Portable Freeview TV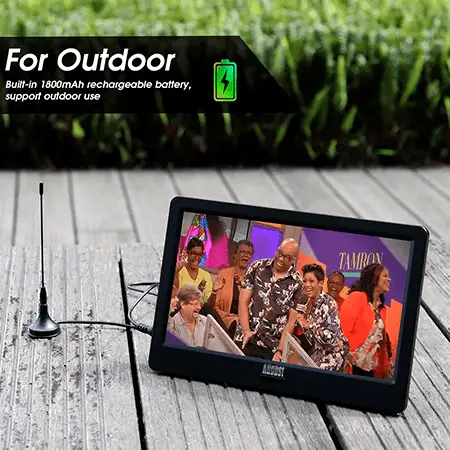 if you're less of a frequent TV watcher, then a smaller compact TV would be more suitable for your needs.
The August HD is a stylish, slim-line, high quality, portable Freeview TV which makes it ideal for your caravan travels whether you mount it on your kitchen side or your bedside table. 
The TV has a 9″ 16:9 screen with a fully digital 800×480 resolution, which gives you access to Freeview TV for the UK and HD TNT / DVB TV for other countries, plus all-digital radio stations. Also included is a remote control while the unit has built-in stereo loudspeakers and earphone socket.
The TV functions as a multimedia player allowing you to play video, music and digital pictures via USB port; Supports MP3, WAV, JPEG, MPEG4, AVI formats.
The screen runs off AC power supply from mains (110-240V 50/60Hz) but also has a built-in rechargeable battery which gives you power for up to 2.5 hours.
There is also the ability to output TV/video/photos to large screens via HDMI port; AV-In port allows for use as a high-quality monitor. The product is engineered in the UK with the support team also based in the UK, giving you a local phone number.
If you don't have the space for a full TV setup, or you simply don't watch enough television to justify bringing one along, then this is a great hybrid solution. It's effectively a tablet TV.
Better yet, you can take it outside to watch your favourite channels while the sun goes down!
Fully digital 800×480 resolution 9″ screen
Multimedia player
Remote Control
Extremely portable – can be taken outdoors!
Freeview TV
HDMI Port
Inbuilt battery & AC power supply
What To Consider Before Buying A Caravan TV
Ready to splash out on a new television set for your caravan or motorhome?
Before you do, here are some factors to consider…
Do I Need A TV License?
Luckily, if you already hold a TV license for your main domestic home of residence, then this also covers your motorhome or caravan tv. Even if you're using a TV in your caravan, it simultaneously covers anybody watching TVs in your home.
However, this only covers touring caravans. If your caravan is permanently pitched on a plot of land or a site, then the TV license authorities do not consider this to be touring. This means that you cannot simultaneously use the TV in your domestic home and caravan using the same license. 
Insurance
Depending on the TV you decide to purchase, it could be one of the most expensive items in your caravan or motorhome. It's important to note that adding a satellite dish could be seen as a modification by some caravan insurers.
It's essential to notify your insurer before and after you make any changes to make sure that you've got the right cover. 
Do I Have The Space?
Space is usually scarce in a motorhome or caravan so it's unlikely that you can get your dream 50 inch LCD like you would in a domestic home. Ensure that you measure the available space so that you get a TV that fits.
This isn't just a measure of the width of the TV but also the depth to make sure that it fits on the countertop without falling off.
There's a high chance that you'll be close to the TV screen or maybe watching it at an angle because of the limited space so usually don't need to purchase a huge screen. Make sure you pick the right kind of screen, especially if you'll be watching from an awkward angle.
To find your ideal TV size, you should take your average viewing distance and divide by two to find your recommended TV size.
Remember, the options in our list can also be wall-mounted, which is a good option for saving space.
Satellite or Terrestrial Dish
Now you need to consider whether to use a satellite or terrestrial service; however, it's a bit of a no brainer.
Satellite is far superior to terrestrial, especially if you plan on leaving the United Kingdom. Terrestrial signals are commonly poor abroad whereas satellite can pick up a stronger connection.
This is especially the case if you plan on watching UK TV channels when you're not in the country.
With satellite television, you also can access a larger number of channels free of charge. All you need is a TV with built-in Freeview capabilities.
See our respective guides to the best satellite dishes for your caravan – or the best TV aerials.
Will You Be Watching Online?
In the modern age, watching TV via the internet is very common – whether this is through a TV, laptop, tablet, mobile phone or other mobile devices.
This is not the case when touring in a caravan or motorhome. Not only is data on the move expensive, but if you're on a campsite, then Wi-Fi can be slow and cumbersome.
Tip: See our wifi boosting guide if you really want to eek out some improvements.
The problem is amplified when you've got hundreds of families trying to use the network simultaneously. Also streaming via 3/4G will lead you to drain through gigabytes of data in just a few short hours.
What Type of Dish Will Be Used? 
Portable Manual Dishes
Portable dishes are the most affordable type and are also small in size, which means that they can be tucked away in storage when it's not in use. You can mount it simply by using a tripod or placing on a table or surface.
Caravan dishes don't take up much space compared to tradition domestic satellite dishes which are usually bigger and heavier, making it more awkward to use in confined spaces.
Your ideal size will depend on the amount of room that you have available and the number of channels that you're trying to pick up.
Fixed Manually Operated Dishes
Manually operated dishes does precisely what it says and is usually mounted on the roof or outer surface of your motorhome or caravan. This type of dish allows you to often control its positioning from inside your vehicle, which removes the difficulty of having to set it up in the rain or dark.
Full Automatic Satellite Dishes
If you desire the ultimate simplicity, then a fully automatic dish has a self-seeking function which requires just a few clicks of a button, and it will search to find all the available channels and then save them down to your TV for viewing.
What Type of Television Is Best For A Caravan?
Most people aren't lucky enough to have a 50ft caravan, so the type of television you buy is essential. We recommend an LCD TV because they consume lower levels of power compared to older models.
LCD screens are also lighter, making it easier to move around, especially if you like to store them away when not in use. LCD TVs can often be more fragile and sensitive to knocks and damage, but if you get insurance, this should cover this.
Once you've selected your type of TV, then you get the choice of multiple add ons, whether it's a digital receiver, built-in DVD player or even DAB radio functions.
Will I Need A Caravan TV Bracket?
If you don't have the space to sit your TV on, then a Caravan TV mount is an equally great option which allows you to suspend you TV from the wall into a position where you can still see it. 
The best caravan tv brackets will allow you to swivel and tilt your tv while also having an ultra-slim design. You need just to check the weight allowance of your desired bracket to make sure it can hold your TV's weight without falling.
Just because you have your TV mounted it doesn't make it permanent. Some TV mounts have a quick release bracket that allows to quickly remove your TV so you can store it away or move it out of sight.