Although you're expecting to go on a wild caravan trip, there will be periods of downtime when you just want to make a cup of tea and catch up on some television.
The problem that most face with a TV is that it can take up too much space; however, this is where a caravan TV bracket or mount can be a great addition to your current set up.
This device allows you to mount your TV in the air, which not only saves space but can give you a better view of the screen. Here we'll show you the best caravan TV brackets on the market and the other factors you need to consider when mounting your television in such a confined space.
3 Best Caravan TV Brackets and Mounts
Mounting Dream Lockable Caravan TV Bracket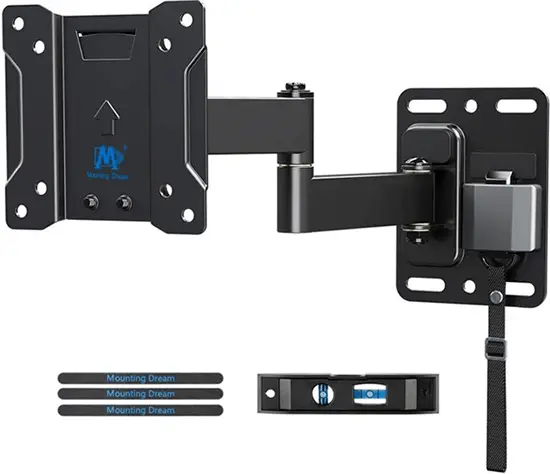 The Mounting Dream caravan TV bracket has an Anti-shake locking mechanism that secures your TV firmly to the plate which prevents any knocks when your vehicle is in motion. Its design has an inbuilt Pulling strap design so you can lock and release TV anytime
It has universal compatibility so it can fit 10″-26″ TVs up to 10kg while also having VESA/mounting holes. The mount weighs 1.5kg making light and ideal for caravan use.
The bracket can Tilt 5° upward and 15° downward to reduce glare and can also swivel left or right according to your position. All the necessary hardware and installation instructions are included with the product and have a 3 step process., while also including a ten-year warranty.
Mount-It! Caravan Lockable Full Motion TV Mount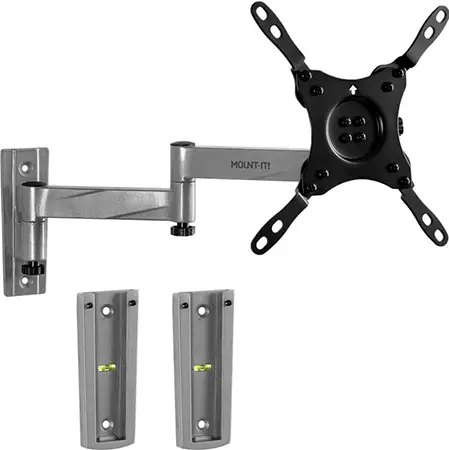 The Mount-It! Tv bracket has an articulating motion that also has a locking mechanism that securely holds your TV in position. The mount also has a unique gear structure with a fixing knob that helps your TV withstand the vibration in transport.
There is a Slide-in TV plate that allows for easy attachment of the TV to the wall mount arms. You can then use the adjustment knob to adjust the tilt/pan. The mount has full motion flexibility allowing you to tilt, swivel and extend your TV up to 15.3 inches from the wall in all directions for easy viewing. The mount can then be folded down when it's not in use.
This flexibility means that you can place it into ergonomic positions that will reduce eye, back or neck strain.
In terms of compatibility, it's compatible with VESA: 75×75, 100×100, 200×100, 200×200 screen adapter plate. It also has a load capacity of 15kg.
All the hardware and easy to follow installation guides are included for a quick set up.
Vision Plus Short Arm Removable TV Wall Bracket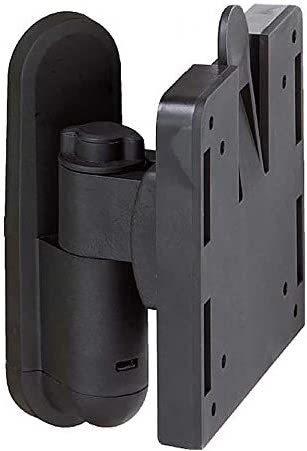 If you're looking for a lightweight, simple tv mount for caravan use, then look no further. This TV mount has a quick release system which makes it easy to hide it from view when not in use.
The simple design has one plate that fixes to your TV and the second plate is fixed into the caravan wall mount bracket which allows you to tilt your screen up or down by 10 degrees.
Two plates simply slide together and 'Click' to fix the TV into position. The mount can be used with any TV that has VESA patterns 75mm and 100mm.
This mount is British manufactured and weighs just 400g with a max load of 7.5kg. It also comes with a two-year warranty to give you added peace of mind.
Why Use A Caravan TV Bracket and Mount?
Why would you need to use a caravan TV bracket in the first place?
There are several good reasons:
Space Saving
Caravans are already quite limited for space even on the largest vehicle, so you need to use the space effectively. A caravan tv mount can help with this issue by freeing up more floor space instead of having your tv on a traditional stand.
You can then your this freed up space for other items or to maintain a more spacious feel to the caravan. You can often swivel tv mounts so you can fit your tv into the smallest of spaces compared to if you're using a standard TV stand.
Security & Safety
A caravan journey isn't always on the smoothest terrain, especially if you're going off-grid. There will be constant vibrations and movements even when you're trying to drive as steadily as possible. If your caravan TV is on a traditional stand, this can cause it to fall or move, which can cause irreparable damage.
A mount will hold your TV securely in position, so you can relax without having to worry about reaching your destination and discovering that your TV has been damaged. It just gives you the added peace of mind, because after all, you're going caravanning for a relaxing time.
Aesthetics
If you have a keen eye for interior design and want to maintain a certain style in your caravan, then a TV mount will appeal because they come in a range of stylish designs that can fit in well with your existing interior.
In contrast, a traditional TV stand can often look dated and out of place, especially if the rest of your interior is modern.
Prevents Eye and Neck Strain
Most standard TV stands are positioned lower to the ground, which can often cause neck or eye strain. A caravan TV bracket can reduce this strain, especially the models that have a full-motion mount to ensure you can move and angle your TV for optimal viewing. This also stops glare and straining; for example, in the afternoon, you can alter its position to avoid the shining sun glare.
Designed to Be Mounted
Modern flat-screen TV's are designed to be mounted and come supplied with mounting holes already on the unit. Although they often also come with a TV stand, manufacturers have made the mounting process easier by having universal mounting holes, so they are compatible with most mounts. You just need to ensure that your mount can hold the weight of your TV.
Hides Wires
Gone are the days where our TVs only wire is the power cord. Nowadays we have several different devices plugged into our TVs, including Set-top boxes, games consoles and streaming devices. If you mount your tv, then you can not only hide your cords from view, but it also makes them easier to organise.
What To Consider When Buying a Caravan TV Mount
Here are some of the factors to consider before you buy:
Room Shape
Before making a final buying decision, you need to consider the size and shape of the caravan space you plan to install the mount. This is because some TV mount models are more flexible than others. TV mounts that have low flexibility will restrict the amount of mobility that your TV will have once installed.
This then has a knock-on effect on the viewing angles that you can have so you may not get the best viewing experience. So you need to understand not only the shape of the room but also the spot that you plan to install the mount.
Ease of Installation
No matter how much of DIY expert you are, you'll ideally want a caravan TV bracket that's quick and easy to install. The more complex your TV mount can make the installation process more complex, but before buying, you need to understand how difficult it will be to install.
The last thing you want is to find the "perfect" TV mount and once it's been delivered to realise that you aren't able to install it. You can assess the difficulty of installation by checking out product reviews as these will usually be actual users of the product so you will get an honest, unbiased opinion.
You can also read the product description to check if the TV mount comes supplied with all the necessary parts and fittings need to fully install. You should avoid TV mounts that require you to purchase additional tools and parts unless you already have these parts. This will eliminate any potential issues of trying to work out if you're using the right parts or tools if you've had to buy them separately.
Safety
A high-quality caravan TV mount will not only have features to make it look nicer, but it'll also have features that make it safer to use, so it's essential to understand this before choosing a model.
Generally, the more established and reputable brands which are featured in this guide adhere to the highest safety standards. So if you stick to these brands, then you shouldn't have any issues.
From a safety point of view, you should avoid refurbished or used tv mounts because they can have non-visible internal malfunctions which could cause serious injury once installed.
Mount Strength
It may sound like common sense to make sure that your mount can handle the weight of your TV, but you'd be surprised to know the numerous amount of people that don't make this check before buying a TV mount.
You need to check the weight of your TV and ensure that it's compatible with your chosen TV mount. If you fail to do this, then you may end up with the wrong mount, and your TV will fall off. This won't just cause damage to your TV but is generally a safety hazard as it could fall at the wrong time when someone is walking past or nearby.
Price
The price of caravan tv mounts will vary from model to model, which is why it's recommended that you have a budget. A budget doesn't mean that you're cheap, but it's an effective way to narrow down your potential choices to make your decision making quicker.
Your budget should take into account what features and brand of tv mount that you want. For example, if you want a 360-degree adjustable mount, then this will be more expensive than a standard tilt mount.
Once you've understood what type of mount you want, then you can be more accurate when you set a budget.
VESA Compatibility
A Mount that uses a VESA system is more likely to be suitable for your TV.
TVs aren't cheap, so it's in your best interest to ensure that your TV mount is secure and safe. This means that the TV has to be compatible with the mount and vice versa.
The ability determines the level of compatibility for the TV's fitting mount and brackets to match the screw patterns. These screw patterns need to be standardised into a certain shape and size, which is referred to as a VESA system.
Mounts that use a VESA screw pattern system are more likely to be compatible with more popular TV brands.
Types of Caravan TV Mounts
Flat Wall Fixed Caravan TV Mount
The flat wall TV mount is the most common type of mount, and it allows you to position your flat screen TV in a similar way to a mirror.
This provides you with space-saving benefits by keeping it closely fitted to your wall, which is great in a caravan where space is at a premium
Flat wall tv mounts won't have any range of motion compared to alternatives so you won't be able to tilt or rotate it. They are designed to not be moved once installed but generally have an easy installation process.
Flat TV mounts, once installed, will give you around 2 inches of space between the wall and the TV so it can be slightly difficult to access or change the wires that plug into it. So you need to ensure that you have the right cables plugged in before fixing it to the wall.
Tilt Caravan TV Mount
Tilt tv mounts are similar to flat wall mounts except they can tilt your tv once it has been installed to the wall. This gives you greater control over your viewing position which may not seem important, but if there's sun glare, then you can avoid this issue.
This small detail does make tilt tv mount more expensive than flat wall Caravan TV mounts. Having a tilted TV mount also means that you can tilt your TV downwards, which means that you can mount your TV above eye level giving you more flexibility with your installation position.
Full Motion Caravan TV Mount
If you want a flexible mount that gives you a full range of motion, then this is the option for you. Referred to as a swivel mount so you can move your TV into a range of positions so you can view your TV from a range of angles.
This type of mount will offer what others can't, which means that they are often costlier than tilt and flat mounts.