Most caravan owners aren't out in their caravans all year round, which means that it will likely spend many months off the road garage not being used waiting for the summer months to come around again.
If you have a car that you don't use, it's easy to store it away in a garage. But with a caravan? It's less likely that you'll have a garage that's big enough – and this is why a caravan cover will be so useful. It will help protect your caravan from the elements.
Several issues can arise when you don't use your caravan for a long period – damp and long-term condensation, to name just a couple. A cover helps to protect against these risks. And we strongly recommend the investment.
In this guide to the best caravan covers, we show you some of the top options for covering and protecting your caravan during the off-season, or while it's exposed on your travels.
Best Caravan Covers For Full Protection
CoverPRO Premium 4 Ply Caravan Cover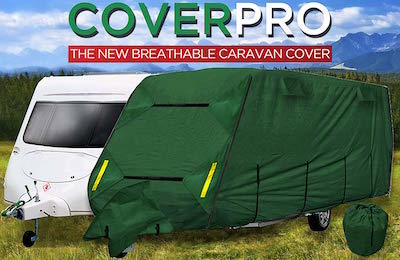 The CoverPro 4 ply breathable caravan cover provides superb protection against the typical British weather. The cover has four separate zips on each corner which gives you easy access to the door and lockers.
The covers are fixed on either side and have durable, adjustable straps on both the rear and front which stops it from flapping in windy conditions. The cover also has reflective bands positioned on each corner for improved visibility and safety.
 The four-layer fabric includes two top layers of UV stable polypropylene which provides a water-resistant barrier film. This film is breathable while also having a soft white inner layer which is non-abrasive not to scratch the surface of your caravan. Also included is a free matching hitch cover and storage bag. 
Maypole 4-Ply Breathable Green Caravan Cover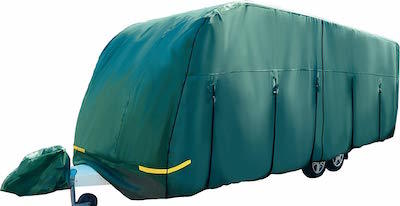 Maypole has established themselves in the caravan cover industry, and this four-ply breathable caravan cover is a great addition to the product range. The breathable material allows moisture to evaporate, reducing the risk of mould, mildew or algae.
The material has a non-abrasive backing that ensures the caravan is not scratched when fitted, and the bonded material means that it can resist stress and tears under normal conditions.
The cover is easy to fit and is provided with easy to follow instructions and has three zip locations for easy access to the door. The material has extra strong double stitched adjustable straps on the side and rear of the cover. 
There are also reflectors on the front, side and rear to provide clear visibility when stored, especially in dark conditions. Also included is a breathable hitch cover with an adjustable strap and a handy storage bag for when not in use. 
For extra assurance, the cover also comes with a two-year guarantee.
Kampa Prestige Ultimate 3 Layer Caravan Cover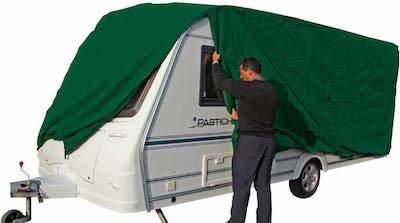 The Kampa Prestige caravan cover ensures that your caravan stays clean and its Triple layer SFS material beads water on the first contact so gives protection during rain, sleet and snow. 
The cover comes in a range of sizes from 14ft up to 25 ft so there will be an option for the majority of caravan owners.
The material is breathable, so condensation is released, which lowers the internal heat build-up and protects the inside of your caravan. There is also UV protection and interlocking four-ply seams. 
Due to the soft, lightweight nature of the cover, it will not scratch the caravan while also being easy to fit your caravan due to its four zippers. This gives you access to both sides of the caravan plus it has quick-release buckles, so both installation and removal is quick and straightforward.
Maypole MP9435 Breathable Caravan Cover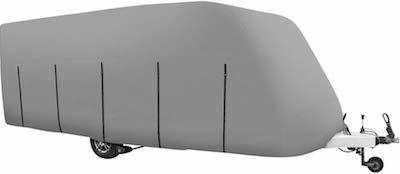 The Maypole Breathable Caravan comes in lovely grey colour made of strong Nylon material which is both UV ray resistant and water-resistant. 
The cover is easy to use and has an elasticated hem which makes it fit securely to your caravan. There are also Nylon straps for a secure fit, making it suitable for caravans that have a size of 21'-23'.
Maypole is a brand that you can trust with decades of experience, so you know that you're be getting a high-quality product that's built to last. We think it's one of the most impressive looking covers, too.
Maypole 9266 Caravan Top Cover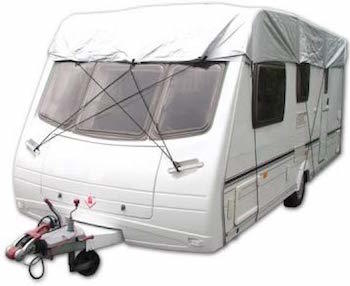 Now if you need a cover that only fits the roof of your caravan then the Maypole 9266 Caravan Top Cover is for you. The top cover is easy to fit the roof and is made of 150D waterproof polyester, so it's lightweight yet protective.
The top cover will protect from the main elements and threats, including UV rays, leaves, rain, ice, birds, smog, dust, snow, and other animals.
This caravan top cover has been pressure tested to 1500mm for water-resistance while it also has a polyurethane silver coating to provide extra protection against the elements.
Due to the materials, the cover can fit a wide selection of caravan widths and styles. It also has elasticated straps so it can be secured to your caravan in several ways.
A Guide to Buying Caravan Covers
Here are some of the factors you'll want to consider when investing in a cover for your caravan or motorhome:
Cover Size
The size of your caravan is one of the most important considerations because it must fit your caravan. If you have a larger caravan, then you'll need a larger sized caravan cover, while if you have a smaller caravan, then a smaller sized caravan cover will be sufficient.
Caravan covers come in a range of sizes, and the label specifications will make it easy to understand if it's suitable for your caravan. It's highly recommended that you don't buy a cover that is too short; otherwise, it won't provide the necessary protection. Ideally, it needs to fit snuggly and tight to your caravan.
Theft Proof
Several caravan covers allow you to add a lock and cable which secures the cover to your caravan. This is ideal if you have your caravan on the pavement. Although the cover is just a thin layer, this acts as a deterrent to potential thieves and reduces the overall chances of your caravan being towed away.
Most thieves are opportunists and may consider your vehicle will take too long to get into. A seasoned thief will know that they need to commit their crime quickly and discreetly, and if met with a covered caravan and an uncovered caravan, they will more often choose the uncovered option.
A high-quality caravan cover also reduces the number of valuables that you need to remove from view because people can't look inside if there's a cover on.
Secure Fit
The cover for your caravan should have a snug fit to the sides because if its windy then this can cause the cover to flap and then hit the surface of the caravan which can cause damage. So the cover needs to be the right size for your caravan. You can also use a wheel cover to product greater coverage protection.
Is It Easy To Use and Fit?
You need to ensure that you choose a caravan cover that is easy to fit. The best caravan covers are from reputable brands which use a combination of poles, zips and straps to make it easy to use. Generally fitting a caravan cover is a straightforward procedure and should only take a few minutes.
Types of Covers For Caravans
There are different caravan covers which are suitable for different environments and situations. The main consideration is whether you will be storing your caravan inside or outside.
Full Cover
Full covers, as the name suggests, are made to protect the full length, width and height of your caravan. This ensures that full protection is offered against weather, animals and people.
Towing Cover
Towing covers are designed for the sole use when a caravan is being moved or in transit. If you're driving on terrain that has loose debris, then this can rebound into the bodywork of your caravan so a caravan cover will protect it from this.
Roof Cover
If you don't feel that you need a full cover, then a roof cover will protect it from the elements above such as tree sap and bird droppings. However, we'd always suggest that you choose a cover that provides more protection.
Lightweight Outdoor Caravan Covers
If your caravan sits on a quiet road or your driveway, then a lightweight caravan cover will be better suited to your requirements. Being lightweight makes them easier to use, remove and need to a smaller space to be stored in. 
Heavyweight Outdoor Caravan Covers
If you park or store your caravan on a busy main road or in a crowded space with lots of traffic and footfall, then it's recommended that you use a Heavyweight outdoor caravan cover. This will provide you with increased protection, not just against potential thieves but also dents and bumps from other vehicle users.
This will give you added peace of mind that your caravan will still be in one piece when you check on it.
Lightweight Indoor Caravan Covers
If you're lucky enough to have indoor storage for your caravan, then a lightweight caravan cover will be sufficient. An indoor cover doesn't need to give as much protection because your caravan is already well sheltered by its indoor environment, and the weather can't affect your car.
Heavier Indoor Caravan Covers
Now if your caravan is indoors, it doesn't mean that it can't be damaged. If your garage or indoor space regularly has people, kids or pets moving past it then a thicker cover can reduce the chances of accidental bangs and bumps happen.
What Can A Caravan Cover Protect Against?
You don't just need to think about people and animals that might affect your caravan when its stored but also the natural elements.
Snow
Depending on where you are in the country, snow may be a potential hazard. When it snows, it will pile on the caravan roof where it will eventually melt; however, high-quality caravan covers will ensure that the melted snow doesn't seep through on to the caravan. There won't be a cover that's 100% waterproof because the material fabric needs to be slightly breathable to prevent moisture from building up. This moisture can cause damage to the surface of your caravan. 
Rain
A water-resistant caravan cover is the most basic of features that you need to ensure is present. This is even more important if you're in a region that experiences frequent rain because rain contains a slight acidic property which over time can fade and damage the paintwork of your caravan.
UV Rays
UV rays are emitted by the sun, and these can cause damage to both the interior and exterior of your caravan. For this reason, caravan covers can be made from UV protective fabrics which work to reflect the heat providing UV protection.
Tree Sap
If you live in a residential area which forces you to store your caravan under a tree, then its sap can be an issue. It's often forgotten that tree sap is difficult to remove from the body of your caravan. Tree sap isn't the only issue provided by trees because nuts and fruit can also fall onto your caravan causing damage but also animals that use the tree such as birds and squirrels can cause dents and chips, but a caravan cover can protect this.
Cats
If you've ever seen a cat outside the home, then you'll see that they naturally like to climb objects and will jump from place to place. This makes them regular culprits for causing damage to vehicles just from their claws.
Car covers have a texture that doesn't make it comfortable to cling on to which means that they are not only less likely to jump on your caravan, but if they do it will be protected from their claws.
Bird Droppings
Bird droppings don't just affect cars, but also caravans and their droppings have acidic properties which can fade and damage your paintwork. A caravan cover can protect your vehicle from bird droppings getting to the surface.
Dirt & Dust
A high-quality caravan cover will stop dust and dirt from clinging to your caravan. Over time dust will begin to fade the paintwork of your caravan which is prevented by using a caravan cover. This will also reduce the amount of cleaning that you need to do once you decide to use the caravan.