Towing a caravan from place to place is exciting, but it's also a huge responsibility. You have to make sure you maintain it properly, and that includes keeping it free from bird droppings, sap, dirt, rain, and anything else you come in contact with while in the great outdoors.
Although good cleaning and maintenance are paramount, there's another way to help keep your caravan protected: a caravan roof cover. Whether you're looking for something to keep your caravan protected while travelling or want to make sure it's safe when you stow it away for the winter, there are plenty of great options to choose from.
What kind of caravan cover do you need?
Before you worry about measurements, you must first figure out what type of caravan roof cover you want. While it may sound pretty straightforward, there are more options out there than you might think. Here's a closer look at a few.
Full Cover
Full covers protect not only the roofs but the sides of the vehicle as well. This type of cover is what we recommend if you're storing your caravan somewhere for an extended period, like in your driveway for the winter.
Top Cover
If you aren't storing your caravan and prefer something that protects the top from UV rays, rain, dirt, leaves, and other weather conditions, look for a top cover. This is what most people picture when they think of a roof cover because it only covers the roof, but it's only one of the options you have when looking to protect your caravan.
Other Covers
Although these types of covers don't protect the roof of your caravan, they're still worth mentioning, especially if you travel with your caravan a lot and are always towing it to new and exciting places.
Towing covers are a great investment if you tow your caravan a lot. They cover the front of the caravan, so as you drive along, you don't have to worry about abrasions or chips from rocks flying up from the road or when driving over uneven surfaces. It's also a great way to prevent any discolouration from the vehicle exhaust.
People who want to protect every last inch of their caravans should also consider a hitch cover. Hitch covers go on the back of your caravan, protecting it from moisture or other damage caused by being out in extreme weather.
What materials should you choose?
Caravan covers used to be made of heavy and somewhat abrasive materials. They were not only difficult to put on but could scratch and damage the surface of the vehicle. Essentially, you had to choose between protecting your caravan roof from the elements and scratching the roof of your caravan, which could lead to bigger problems with corrosion and water damage in the future.
Luckily, caravan covers have come a long way. Today, they have a soft inner layer, a breathing membrane, and a protective outer layer to prevent damage without being too heavy or risking scratches.
These caravan covers usually have an elastic hem that makes it easy to pull over the caravan. Reinforced edges make the cover more durable, and the outer layer is usually UV resistant material that will last a long time. Look for covers with a polypropylene outer layer as it won't shrink or stretch and is naturally water-resistant.
One of the essential parts of a caravan roof cover is the inner waterproof membrane. Ensure that it's breathable to prevent any moisture from building up between the roof and the cover.
Other things to look for to ensure that your cover is high quality are double-stitched seams for extra durability and side zippers to quickly and easily fit the cover in place.
How to measure for a caravan roof cover
The most important part of choosing a caravan roof cover is making sure you're getting the right size. If you choose the wrong size, it won't give you the protection you're looking for, no matter how well-made it is. Too small and you won't be able to get it on the roof properly; too big and it's likely to blow away.
While it might seem complicated to find the right size, it's pretty straightforward. Most caravan covers come in a standard width and height, which means that all you have to do is measure the length of your caravan to get the right size.
Chances are you already know this anyway since it was probably a factor in which caravan you chose in the first place. If you aren't sure of how long your caravan is, measuring it is easy enough. Measure from the farthest point in the back to the farthest point in the front. (Include the gas locker, but skip the A-frame because you'll need to get a special cover for it).
If your measurements don't match the available covers exactly or are in between two sizes, that's okay. In this case, we recommend going a little bit smaller so there isn't any excess material flapping around. Just make sure you account for any satellite dishes or anything else on the roof that takes up a little bit of space.
Now that you know what to look for in a caravan roof cover and how to measure for one, let's look at some of the best products on the market.
Best Full Covers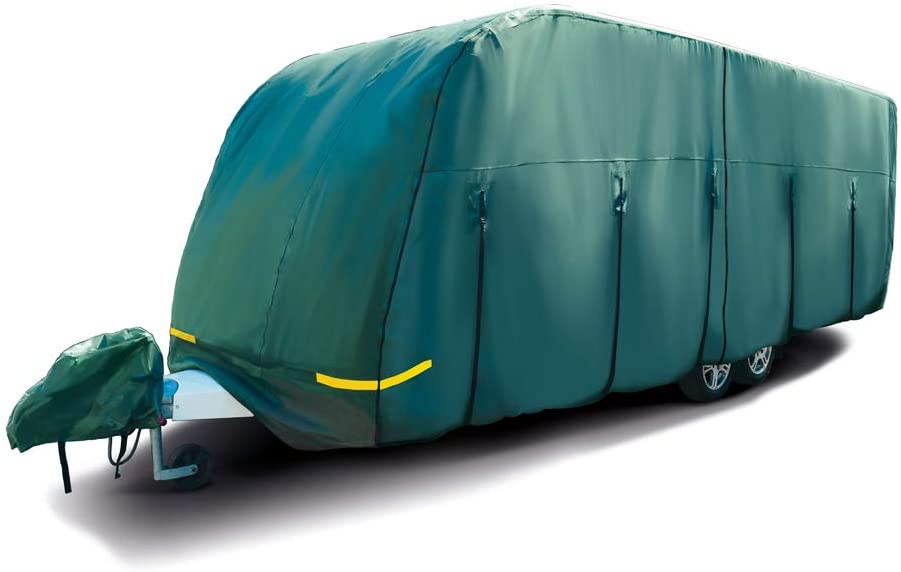 If you want total protection for your caravan, a full cover is your best bet, and this one from Maypole is a great choice.
One of the best things about this product is that it uses 4-ply polypropylene material for excellent protection. The soft non-abrasive backing won't damage the surface of your caravan, and the breathable lining lowers the risk of mildew or mould damage.
The bonded material resists tears and stress, and it has UV protection and is highly water-resistant. Plus, it has an elastic hem for a snug, tailored fit. You really couldn't ask for more from a cover.
There are plenty of awesome features that make this cover convenient, too, like three zippers for easy access, adjustable straps to tighten the cover in place, and reflectors on the rear, sides, and front to ensure visibility at night. There are lots of size options to choose from, too.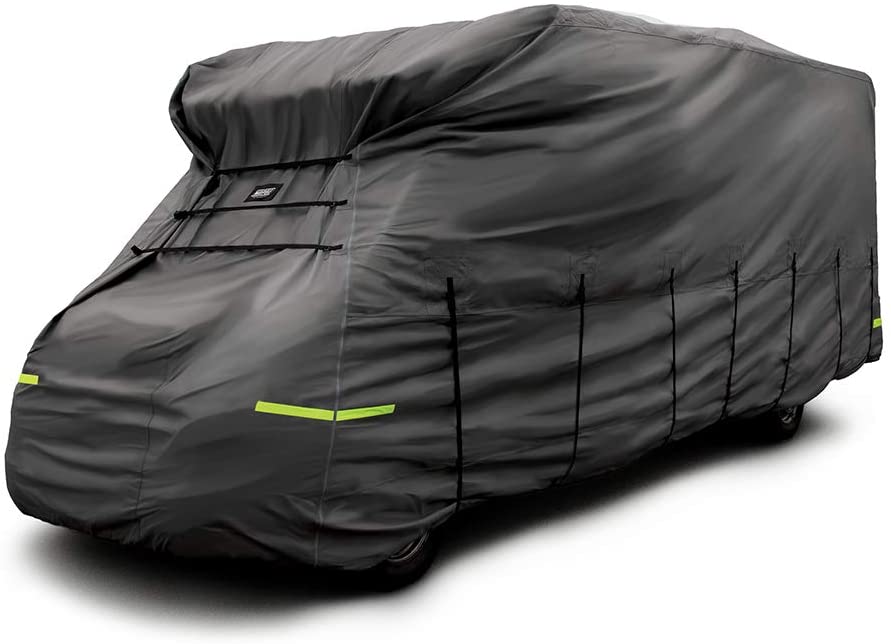 Another great full cover from Maypole is this water-resistant grey option. It's breathable, so it allows moisture to escape from under the cover to help prevent mould and mildew.
This product has a lot of cool features that make it extremely usable, including reflectors on the front and rear, an elastic hem, plastic buckles and nylon straps to secure the cover, and zips on all four corners.
The inner material is non-abrasive so you don't have to worry about scratches or cosmetic damage, and it comes with a handy storage bag for when it's time to take it back on the road.
Best Top Covers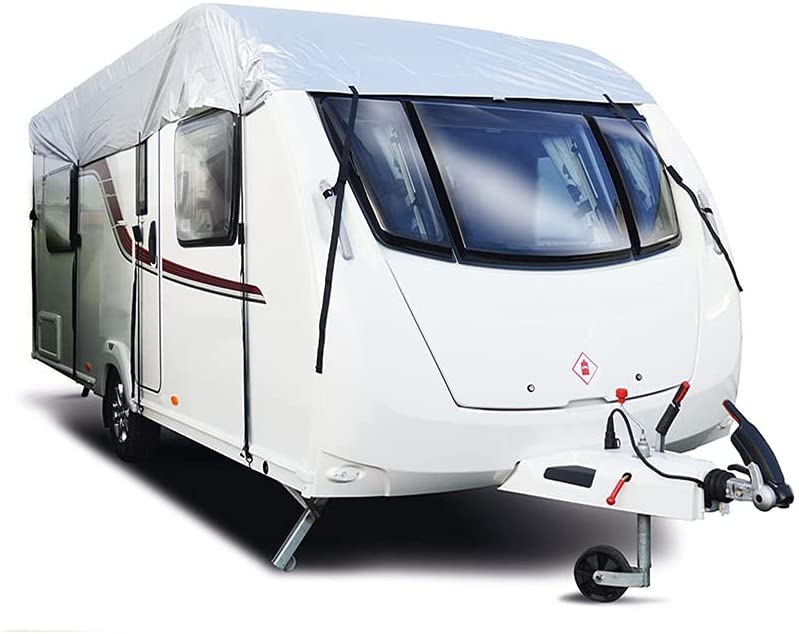 Our pick for the best top cover also comes from Maypole. The waterproof material keeps out rain, ice, and snow, and the durable 150D polyester cover and PU silver coating protect against birds, leaves, smog, dust, and UV rays.
The inside is non-abrasive, so it won't scratch the surface of your caravan, and it has a universal fit that works with just about any caravan style. Just choose the appropriate length and use the fitting straps and steel hooks to adjust the fit, and you're good to go.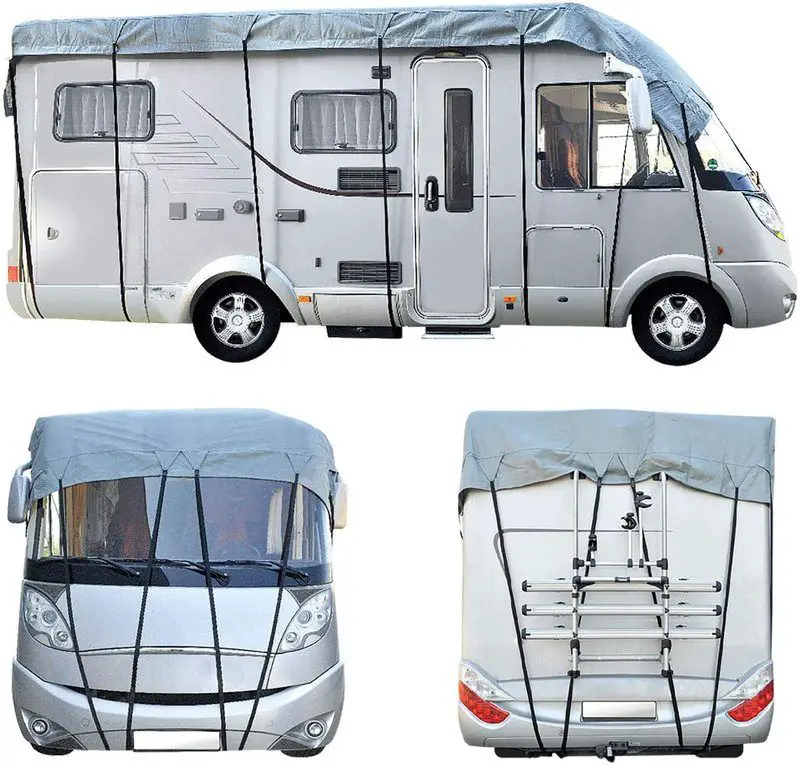 This universal roof cover from Cartrend is a good choice for motorhomes or caravans up to 300 cm wide.
The soft polypropylene material protects your caravan roof from wind, ice, frost, and rain as well as dirt and dust. Plus, since the material is breathable, you don't have to worry about damage from condensation trapped between the roof and the cover. Plus, because it is UV stabilized, it won't crack or become brittle in the sun.
It comes with nylon straps so you can ensure a snug, secure fit, and the included storage bag comes in handy when you're out on the road. You can use this cover all year round, indoors and out, and it won't stop you from being able to go in and out of the caravan as you please.
Final Thoughts
A caravan roof cover is a great way to protect the top of your caravan, whether you want to cover only the roof or the whole thing. Take some time to figure out which is the right style for you, then check out the products above to find one that suits your needs.
For more full covers, see our guide here.