A caravan towing cover creates an effective barrier between the surface of your caravan and the air while you tow it. This stops dirt, insects and other types of debris from hitting and sticking to your caravan.
A towing cover also stops the caravan from accumulating any dirt or rain while you drive, allowing it to stay in pristine condition.
It is no secret that most caravan owners like to keep their pride and joy looking as clean as possible at all times. Whether it's because they want their caravan to look impeccable when they arrive at a holiday camp, or because they love cleaning their vehicle so much that they don't want anything hindering them, there are plenty of reasons why you'd want to protect your caravan the move.
In this guide, we look at some of the best caravan towing covers.
We'll review covers from the top brands, including Defender, and Rhino Guard. Plus we'll assess what to look for in terms of materials, cover size and the visibility of the cover itself.
Best Caravan Towing Covers
HappyTravel Universal Front Caravan Towing Cover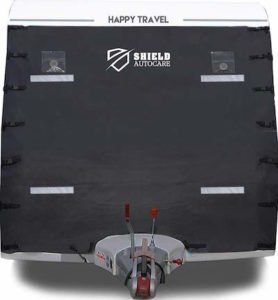 If you're looking for one of the best caravan towing covers, here is a great example of value for money. The HappyTravel Universal Towing Cover is constructed from durable four-ply non-woven breathable canvas that gives you the best of both worlds – it has a soft feel on the inside but a tough durable outer layer. This outer layer protects your caravan from dirt and objects such as stones.
Unlike many competitor covers, this design avoids leaving scratches and black marks on your caravan surface. This is because the buckles don't come into contact with the surface, but instead, the cover has seven adjustable straps to allow you to fasten it on to your awning rales securely. 
The cover can cater to most caravans with the front dimensions of the sheet measuring 73 x 87 in – a near universal fit. The cover also has inbuilt LED lights and full height reflective strips, so it's visibility is improved in low light conditions. When it's not in use, it can be packed away in the included carry bag so not only is it easy to install, but it's easy to store away from sight.
Perfect front towing protection for smaller sized caravans and motorhomes.
Defender Caravan Universal Front Towing Cover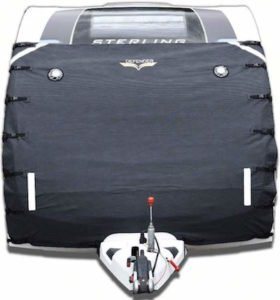 Defender has led the way in the towing cover market for several years by establishing a market-leading product with features that competitors are still working to catch up on. The Defender universal front towing cover provides excellent protection from stone chips, dirt, bugs and light reflection.
It features its new and improved design that has the main benefit of a non-marking buckle system which stops marks from being made onto the caravan.
The towing cover is fitted with seven adjustable securing straps either side which easily attach to the awning rails. These securing straps are double stitched for added stability.
The cover is designed with high reflective strips to give clearer visibility on the road when travelling at night for added safety not only for you but for other drivers on the roads.
If you need further visibility, then there are 2 LED battery operated lights that are built into the cover. This is a common feature shared by most of the covers in our list, and it's certainly useful to have on the road.
Bramble Front Towing Caravan Protector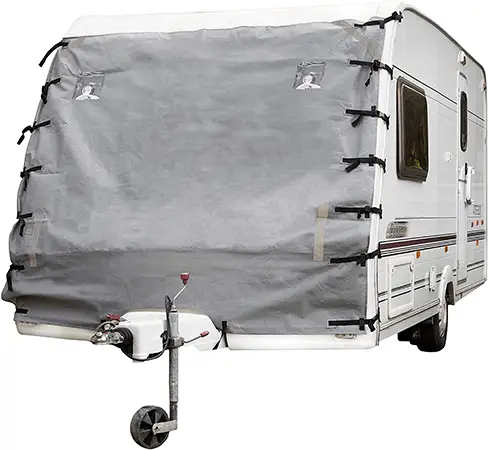 Another similar design that gets the job done.
The Bramble caravan towing guard effectively protects your caravan from damage and dirt when it's being towed. It comes complete with the reflective straps and LED lights that you'd expect for poor visibility conditions.
It's very easy to fit and fasten in to place. Each side has 7 secure straps that will protect your vehicle not just from the perils of the road, but also from hot weather damage. It helps prevent any of the caravan's colours from fading or – in severe cases – the materials from warping.
Priced slightly cheaper than rival covers, this is an affordable option that provides the basic protection you'd expect with a simple portable package that is easy to tuck away when not in use.
Specialised Covers Tow Pro Lite Protection Cover
Now if you've got a little more cash to spend and are looking for advanced protection on the move, then the TowPro Lite towing cover could be the answer. It's universal fitting and is made using strong, impact-absorbing non-scratch fleece material to provide added protection to your caravan. 
The Tow Pro's one-piece construction with T-Fit System™ which makes it quick and easy to fit while also being securely fastened to your caravan throughout the whole journey.
This is a worthy upgrade from their previous model to make protecting your caravan even more easy and effective. It also has fitted push-operated & removable LED Eye Lights for day and night use for added visibility and safety.
It fits any caravan with 2 awning channels (up to 2.5m wide).
Leisure Depot Premium Caravan Towing Cover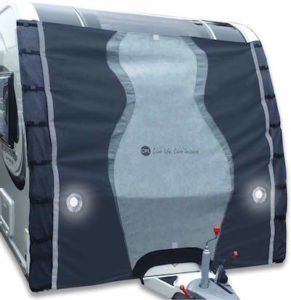 The Leisure Depot Premium Caravan Towing Cover is another great mid-priced option to give your caravan the protection it needs. Gone are the days of finding chips and cracks in your window and having to bust out the sealant for emergency repairs once you've arrived at your destination!
The cover has 8 straps on each side with buckles so you can securely fasten it into place. The cover also has two battery operated LED lights while the cover also has UV protection and is 100% breathable.
This protector is suitable for most caravans that measure up to 2.5m wide. Two awning channels with openings are required to fit it, then away you go.
What To Look For In a Caravan Towing Cover
Here are the factors to consider when buying a new towing cover for your caravan:
Visibility
Because most towing covers are black, this can decrease its visibility to other motorists which can increase the chances of an accident. Do limit this danger it's important to consider a towing cover that has either LED lights or reflective strips which increases the overall visibility of the caravan.
Material
Consider the towing cover material as ideally, you will select a light polyester type material. It's not only easy to wipe down but is also lightweight which makes it easy to pack away when not in use and also easier to handle and get into position when it's time to be used.
It's even better if your chosen towing cover has an interior lining that doesn't soak up water.
Towing Cover Size
You need to ensure that the size of the towing cover is big enough to match the size of the front of your caravan. This is to ensure that there is sufficient protection coverage. 
The last thing you want to do is wait for your product to be delivered and then realise that it doesn't fit. However, the best towing covers will have adjustable straps so they can fit a range of different caravan sizes which gives you great versatility and is also useful if you have more than one caravan.
Brand
Several different brands manufacture towing covers, and it's recommended to stick with the well-established brands that have been around for many years due to developing a strong brand and reputation for creating high-quality products. 
This will give you greater peace of mind that you're buying a product that's built to last and won't need to be replaced every year.
Ease of Use
You need to consider how easy the towing cover is to install because weather is very unpredictable and you don't want to be stuck in a position where their torrential rain and it takes you 20 minutes to fiddle around with the cover to get it into position. 
Ideally, you want to choose a towing cover that's straightforward to install every time.
Easy to Clean
There's a very slim possibility that you'll reach your destination with no dirt or debris on your towing cover, so it's important to choose a cover that's easy to clean. This means that it just needs a simple wipe down with a cloth to remove any dirt. 
Budget
Your budget will determine the model and type of caravan tow cover that you decide to buy. Generally, higher quality brands will require a higher cost. However, you should always set out a budget as this will make choosing a cover easier. 
If you have a high-end budget, then you can also consider buying a custom fit tow cover that designed specifically for your caravan size. This reduces the amount of time that you need to spend adjusting the cover, so it fits securely. 
Additional Caravan Towing Tips
Just because you have a towing cover this doesn't mean you don't need to focus and take all the necessary safety precautions when towing:
You need to remain aware and cautious at all times because you're primarily responsible for two vehicles at the same time when you're towing.
This is especially the case if you've never towed before or you have minimal experience because your caravan is an expensive piece of equipment, so you need to be careful. If you haven't take a towing course, then you need to take some time in a quiet car park to get some practice in before you hit the open road. 
Here are some practical tips that you can use to make your towing life easier: 
When driving, give yourself more time and space at all times while also braking earlier than you otherwise would in a car.
Use towing mirrors or a rear view camera to make maneuvering easier.
Don't use the fast lane of the motorway.
Don't allow passengers or pets to sit in the caravan while it's moving.
Enter corners wide to avoid your caravan from mounting the curb.
Ensure that your towing vehicle is suitable for your caravan; otherwise, this can cause lateral or vertical movement, which makes it harder to control. If your caravan does lose control, then don't suddenly brake.