If you're away in your caravan, then you'll most likely be outdoors for most of the day. So when it's time to get some sleep – you've earned it.
A caravan mattress topper can provide you with all sorts of benefits that will improve your sleep quality and also help you wake up feeling refreshed and rejuvenated. Not only that, but they are easier to care for than mattresses because all you need to do is wash the cover every now and then without having to think about washing the whole thing like a normal mattress would require.  
If you own a caravan, then this is an essential accessory that will prevent you from constantly having to buy new mattresses. It will also improve your sleep quality in an environment that isn't always conducive to the best possible sleep.
In our guide, we show you a pick of the best mattress toppers for caravan beds, as well as some of the essential factors that affect comfort, durability and overall value for money.
Let's take a look!
4 Best Mattress Toppers for Caravan Beds
Southern Foam Memory Foam Mattress Topper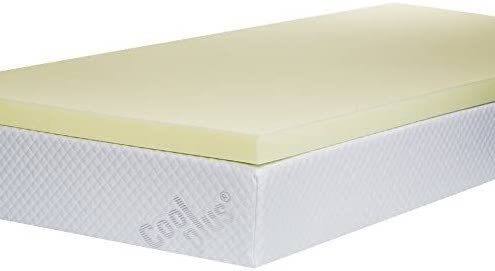 Southern Foam is a UK brand, and all their mattress toppers are manufactured within the UK. They have established themselves as one of the best selling toppers in the country due to their high quality and low prices.
This 2″ mattress topper is made with high-quality memory foam that provides the perfect consistency for a great nights sleep when placed on top of a traditional caravan mattress.
The mattress topper will relieve pressure to ease away any aches and pains, giving you a lovely restful sleep. You have the option of adding a cover to your order, which is made from 100% polyester, reversible and washable, which also helps to extend the life of the topper.
Even if you like your mattress as it is, this topper can be used on top of any mattress on the market. So whether it needs that extra push or just needs some new life added into it, this topper will fit the bill.
Visco Therapy Caravan Memory Foam Mattress Topper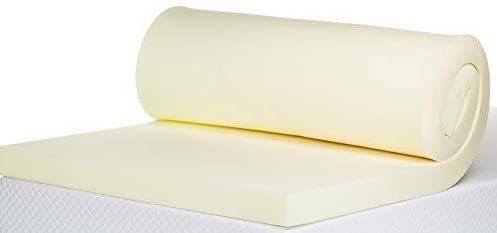 This Visco memory foam mattress topper is made specifically for caravans with a custom size measuring 75″ x 27″. It's a popular choice for anybody sleeping in a caravan, motorhome, boat or truck.
The topper still retains a healthy 2-inch thickness to ensure that it has enough depth to contour your body throughout the night and relieve pain from your delicate pressure points.
If this is too big for your mattress, you have the option of cutting it down to size using scissors. If it's too small? The affordable price means that you can easily buy multiple toppers to cover a larger area without breaking the bank.
Visco Therapy Mattress Topper with Cover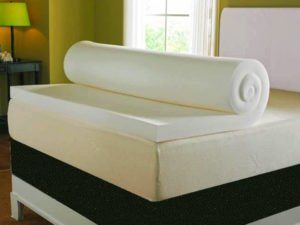 If you require a mattress topper that has extra thickness, then look no further than this deluxe 3-inch option from Visco. This topper (available in double size) is 100% memory foam and can be quickly placed on top of your existing mattress for a great nights sleep.
It also includes a jersey cover which can quickly be removed using its inbuilt zips. Due to the mattress topper being manufactured in the UK, you can rest assured that it adheres to all the necessary British standards and regulations.
The 3-inch layer of memory foam makes a real difference for those who are looking for extra comfort. Not only will it increase the lifespan of your existing mattress, but it will retain its shape and recovery properties with regular usage.
A great value option for anybody looking to sleep better in their caravan or motorhome.
High Living Microfibre Mattress Topper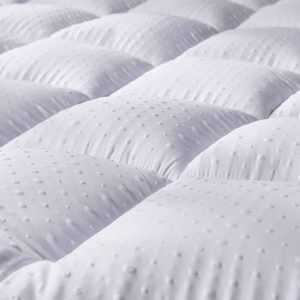 If memory foam isn't your ideal material, then don't worry because there are alternatives available in the market. This microfibre mattress topper from High Living is made using 3D massage bubble fabric which makes it extra soft to the touch.
It also has elasticated corners so you can secure it to your existing mattress. The material is hypoallergenic so you won't be affected by allergy-causing bacteria or dust mites, and it doesn't take as long to 'air out' as some of the memory foam toppers on our list.
The topper itself is 4 inches deep to provide you with a nice level of comfort, which is really noticeable if your existing mattress has started to become uncomfortable. It's available in a range of sizes – King, Single or Double.
Looking for a luxurious non-memory foam option for your caravan bed? This is a great topper that will zap those troublesome aches and pains.
What Is a Caravan Mattress Topper?
A caravan mattress topper is great for extending the life of your existing mattress. A mattress topper goes on top of your mattress, which then gives you a more comfortable sleep.
The best caravan mattress toppers are made of high-quality materials that help to keep your back, neck and shoulders aligned, which prevents any pain from developing meaning that you wake up in the morning feeling well-rested.
Mattress toppers often have great contouring abilities which means it shapes itself around the shape of your body while still providing a high level of support. These toppers also have sweat-wicking capabilities to make your sleeping experience more comfortable.
In summary, mattress toppers are there to give you a better sleep.
Top Benefits of a Caravan Mattress Topper
Besides the obvious – they're a great way to add comfort to your bed! – what are the top benefits of a specialised caravan mattress topper?
Increase Mattress Lifespan
If you have a mattress, then you may have noticed how quickly it has started to sag, especially if it's the mattress that came with the caravan because these will usually be of lower quality. A caravan mattress topper will help to extend its life and is a cheaper way to do this without having to buy a whole new mattress.
This is useful if you only use your caravan several times a year, so it may not be worth spending hundreds of pounds on a mattress.
Less Noise
Some people spend the whole night tossing and turning without even realising, but their partner is the one who ends up losing sleep. A mattress topper is an ideal solution for people who tend to always move throughout the night.
A mattress topper has superior motion isolation qualities compared to just a mattress, which means when one person in the bed moves the other person doesn't feel this movement and won't have their sleep disturbed.
Body Contouring & Support
Caravan mattress toppers have a great contouring ability as the material conforms to the shape of your body. This helps to align your spine, shoulders and neck into a comfortable position regardless if you sleep on your back, front or side. Even if you have existing sag in your mattress, a topper can bring more support to your mattress.
In addition to this contouring, a mattress topper will bring high levels of support for your body. Comfort is essential, but your body also needs to support all your body parts throughout the night. This is important because you have several pressure points, and if these aren't supported, then you may wake up in the morning feeling pain.
This is especially useful if you have existing joint problems, as this will help with any pain and inflammation.
Helps With Allergies
Allergic reactions to dust mites can be really troublesome, and it's easy for these microscopic insects to live in the depths of your mattress. Fortunately, a caravan mattress topper has anti-allergenic properties that work against dust mites and other allergens.
Choosing a Suitable Caravan Mattress Topper
Mattress toppers come in all shapes, sizes and levels of comfort.
This applies to the toppers you'd buy for your bedroom at home, just as it does for a caravan bed.
What are the factors that you should be looking at when choosing a topper for your caravan?
Material
Mattress toppers come in a range of materials, and this will have the most significant impact on your sleep experience. You first need to understand what each material can offer to find one that suits your needs.
The main material choices will be Memory foam and Latex. Although there are alternatives, these are the most popular, and if you currently have a mattress topper, it's highly likely that it's made using one of these two materials.
This is because they both provide excellent support while also having noise isolation to give you a high quality sleep. They also both offer great air circulation so you won't overheat throughout the night even in warmer environments.
The best material for one person may not be the best for you, so you should look at the benefits of each product before buying.
Mattress Size
The size of your mattress topper is also crucial because you need to ensure that it fits your existing mattress. If it's too small, it won't provide enough coverage for your whole body, and if it's too big, then it won't fit onto your mattress.
All you need to do is know the size of your current mattress and then find a mattress topper that's the same size. To make this easier most mattresses and mattress toppers clearly label their products to make your search easier.
If you do get a mattress topper that's too big, you do have the option of cutting it down to the size with scissors. This is easier if it's a memory foam or latex material. This is more common in the caravan community where caravan mattress sizes don't always match standard mattress sizes.
Thickness of the Topper
The thickness of your mattress topper is an important consideration, and most toppers will range between one and four inches. Ideally, you should get a mattress topper that is not less than two inches thick as this will give you enough support.
It's important to understand that thicker mattresses will retain heat at a greater rate, so this may be uncomfortable for some people. However, to combat this, the best caravan toppers have heat wicking capabilities to keep you cool throughout the night.
You need to take into account where you will be travelling, because if you're going to a hot climate, then it may be wiser to have a two-inch-thick topper instead of a five-inch thick topper. Your weight will also play a role in the type of topper that you decide to buy; the heavier you weigh, the thicker your mattress topper will need to be so it can support your weight effectively.
For example, if you weight between 10 and 15 stones then a thickness of 3-4 inches will be sufficient however if you weigh more than 15 stone then a model that has a thickness of 4 or more inches would be more suitable.
Durability
Durability is a key thing to consider because this will determine how long you can expect the product to last. This will be primarily affected by the design of the topper because you don't want to be in a position where you have to buy a new mattress topper in just a few months.
You must understand what materials your mattress is made from because some will be more durable than others. Memory foam and Latex are durable materials that once you've slept on them, they go back into their original shape.
You can also understand durability by looking at customer reviews because if a product doesn't last long, then it'll be very clear in the reviews.
Price
The price of mattress toppers will vary depending on the product and brand.
For example, if you want full memory foam and maximum durability, then this may increase the cost of your topper. Whereas if your needs are simple, you could probably make do with a lower cost option.
The price of a caravan mattress topper is usually between £15 and £60, depending on the brand and material used for construction. Top brands will up to about £80 for a topper, while lower-cost brands may be as low as £10.
You'll also need to ensure that you have adequate caravan bedding.
Warranty
There has been a significant rise in online mattress and mattress accessory companies who have a huge benefit of offering an extended warranty that can last up to a lifetime. This is an enticing benefit, and the length of warranty will vary from brand to brand, so it's important to check this before you purchase but generally, they cover wear and tear for example if the mattress loses shape or stops being supportive.