If you're a caravanner that takes regular trips, then you'll know how essential caravan bedding and sheets are so it should always be at the top of your shopping list before you go away. On the surface, you might think that bedding isn't that important, and any old sheet will do however you'd be shocked at how a good set of bedding can positively affect your overall mood the following day.
There's nothing worse than having a poor night's sleep leaving you feeling tired and worn out in the morning, and this feeling is difficult to shake throughout the day. Buying caravan bedding sounds like an easy task. Still, one unusual issue is that caravan mattress sheets are often different in size to mattress sheets that you have in your residential home.
Another issue is that once you start searching for caravan sheets, you'll quickly realise the huge amount of choice on offer due to the different types and materials. This can end up being a frustrating process, so we've created this in-depth guide to help you on the way showing you the best caravan bedding on the market.
The Bettersleep Company Caravan Fitted Sheets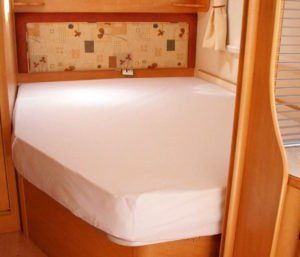 The Bettersleep Company has developed a range of caravan fitted sheets that you won't be disappointed with. Designed and made in the UK these sheets have a 200 thread count and are a blend of polyester and soft cotton which is then woven into a fine percale while remaining lightweight.
It's designed to perfectly fit your caravan bed, and you have a choice of having a left hand cut off or a right hand cut off. The sheet is also durable, so will last a long time before needing to be replaced.
The sheet is easy to maintain and can be machine washed at 40 degrees while also needing minimal ironing to remove any small creases.
The Bettersleep Company Caravan Island Bed Mattress Sheet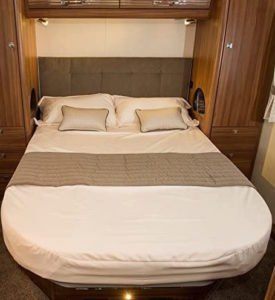 It can be difficult to find a caravan mattress sheet if you have an island bed but look no further as The Bettersleep Company has got you covered. This sheet is made using luxury polycotton which is a 50/50 blend of polyester and cotton which also has a 700gsq filling to maintain a level of comfort so you can sleep easily leaving you feeling refreshed in the morning.
The sheet measures 137cm x 190cm and has a 30cm deep elasticated skirt so it can fit a bed shape that's slightly bigger or smaller. It's no surprise that this brand has yet another product on this list because they make market-leading sheets and you won't be disappointed.
Musbury Fabrics Luxury Polycotton Quilted Caravan Mattress Cover
Musbury have got you covered for all your mattress cover needs and have created sheets for island beds. They have left-hand cut-offs and right-hand cut-offs depending on your caravan set up. The caravan mattress cover has a quilted feel which provides you with warmth while also having effective thermal capabilities.
The cover is manufactured in the UK, so you have the opportunity to support a homegrown company. The cover is fitted with an elasticated skirt for a better fit and is also hypoallergenic. It's made with a 50/50 polycotton filing which is also easy to care for, clean and maintain.
Downview Polycotton 2ft 3″ Children's Caravan Fitted Sheet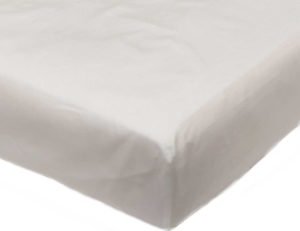 If you have children on board your caravan and they have a child-sized bed, then you'll need sheets to match. These Downview sheets are ideals for small singles as well as caravan sized beds and are full elasticated around the edge, which adds extra comfort while also making them easier to put on.
During manufacturing, they are also treated with an anti-pill process which prevents any bobbling. The sheets come in a range of colours and sizes to suit your needs.
The children's caravan sheets are made from 50% cotton and 50% polyester and are machine washable at 50c.
Bedding Direct UK – Caravan Camping Bedding Pack 3 x Duvets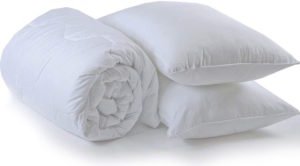 If you're purchasing caravan sheets, then you can't forget about the caravan duvet and caravan pillows. This bedding pack has been put together by BeddingDirect. It features 1 x Double 10.5 duvet, 2 x Single 10.5 duvets & 10 Pillows, so there's enough for several people which is even handier if you're not travelling alone.
The range is made using hypoallergenic Polypropylene which is not only durable but also lightweight. Fine hollow fibre is used as a filling which will keep you warm and comfortable. Made in the UK, this product also meets the necessary regulations from a safety perspective. All the components are also Machine Washable.
Buying Guide
Mattress Size
The main consideration you need to account for is that as previously mentioned, caravan mattress sizes are different from the regular mattress you've got at home. As a result, your caravan bed sheets will need to be different so you can't just bring your home sheets with you on your caravan trip.
This becomes more of an issue if you opt for fitted sheets. You can simply find out your mattress size by looking at your mattress and then find a sheet that matches this size. Mattresses are usually clearly labelled with their size, or you may need to refer back to the caravan manufacturer if it came fitted.
The last thing you want to do is buy sheets and then realise that they don't fit. This is especially the case if you have a caravan mattress topper.
Type of Material
The material of your sheets is the next important thing that you need to understand so you can get a better idea of what you're buying. There are many different types of materials, so it can purely come down to preference.
Your sheets need to be comfortable, so you have a nice nights sleep and also durable, so they last a long time before they need to be replaced. You don't want to need to replace your sheets every couple of months.
You must understand whether you're a hot or cold sleeper because this will determine what material is the best for you. If you're a hot sleeper, then you'll want lightweight, breathable sheets with wicking abilities whereas if you're a cold sleeper, then you want thicker sheets that will keep you warmer and retain heat.
Thread Count
Every sheet has a thread count, but a common mistake is that people assume that the higher thread count sheets automatically make it a higher quality option, and this isn't the case. Above 400 thread count, you enter the realm of diminishing returns, so you don't need to spend any more money past this point.
You should also consider the grade of the cotton being used in the bedding because this also affects the overall comfort, which will determine how well you sleep through the night. You shouldn't spend too much time worrying about thread count because the material will have a larger impact on your overall decision.
Easy to Clean
If you're a regular caravanner, then you'll know how much of hassle washing clothes and linen can be so you need to choose sheets that have a simple cleaning process. Let's face it; bed sheets get dirty often so you'll need to wash them frequently, so you need to make this as easy as possible.
You need to understand the cleaning instructions and whether you have the equipment to do this. There are no use buying sheets that need a high-temperature wash if you don't have access to provide this.
One way to find out how particular easy sheets are to wash is by looking at the product customer reviews left by actual users. This will give you a greater insight not only into the cleaning process but also the general experience users have had with the product.
This means that you'll have a better idea about what to expect.
Price
After a bit of searching, you'll be surprised at how much sheets can vary in price. Sheets can be extremely cheap and cost just a few pounds, but some alternatives can be Egyptian cotton that can set you back £50.
The price will also be affected by the brand that you choose, with some brands setting themselves as a premium option so their products will be more expensive. Ideally, you need to set a realistic budget based on the type of sheets that you want.
The quicker you can set a budget, the easier you'll find your buying decision because this will cut down the number of options. If your budget is too low, you may end up with a low-quality sheet, and if your budget is too high, this can be more confusing because you'll have so much choice.
Hypoallergenic
If you're sensitive to allergies, then you must find sheets that are produced to be hypoallergenic. This means that you won't suddenly suffer from allergic reactions when you're using the sheets.
This used to be a ground-breaking feature, but these days this comes as standard with most bedding sheets, but it's important to check the product description before you buy especially if this is something that affects you.
Breathable
Regardless if you want a lightweight or a heavier sheet, you need to look out for its breathability which will stop you waking up in the middle of the night in a pool of sweat.
Breathability means that air can flow in and out of the fabric to stop you from overheating. This will add to your overall comfort and sleeping experience. Luckily the top caravan bedding brands have considered this with their products.
This is even more important if you're going to be going on trips to hotter climates.
Age of the User
If children are using the sheets, then this will affect the sheets that you choose to buy. It's always assumed that children are fine with cheap low thread count sheets, but a low thread count sheet will often be scratchy and uncomfortable. This could leave your child tossing and turning all night, which could then affect your own sleep.
Children would prefer a softer type of sheet which includes Egyptian cotton or bamboo. This higher grade sheet will also be more durable, which is important if you have a bedwetting child. This means that you'll need to wash the sheets more often so you need a material that can withstand more frequent washing without losing shape.
For babies and toddlers, see our caravan travel cot guide.
Storage Space
Caravans will generally be restricted for space and also weight which you'll constantly be monitoring to check that you're within the necessary limits. High quality, thick sheets are fantastic to sleep on, but you should understand that when folded they take up considerably more room than a standard microfibre sheet.
Different materials will often weight more than others. It's recommended that you buy more than one set of sheets so you have one set on the bed and the other is folded and ready so you can change your bed at any time. This is great when unexpected accidents happen, such as spilt drinks, and you'll thank yourself when this happens in the middle of the night.
Types of Material
Cotton Blend Caravan Sheets
Cotton blend caravan sheets have the core material of cotton, which is then mixed with another material which will either be synthetic or natural. Cotton blend sheets will usually be durable and cheap, and you would have used a cotton blend sheet at some point in your life.
Egyptian Cotton Caravan Sheets
There's no doubt that you've come across Egyptian cotton sheets and they're usually the most expensive as they extremely soft while having durability. This makes it comfy and easy to fall asleep while the material is also breathable so you won't overheat throughout the night. Whether you buy them will depend on your budget.
Polyester Caravan Sheets
Polyester sheets will be the cheapest option and are made from synthetic fibre, but although they aren't the most comfortable type they are incredibly durable and strong so will last several years before they need to be replaced.
They are easy to clean, but you might not enjoy sleeping on it, especially if you're used to a better quality of sheet at home it could be a bit of a shock when you go caravanning and realise that it's much lower quality than you're used to.