There's nothing quite like a lovely summer holiday in the great outdoors with your caravan. The issue with this is when it gets too humid, it can be challenging to maintain good airflow in your caravan. When the temperature gets too hot, this can become unlivable, which is why you need a caravan vent which is an alternative to a caravan fan.
A caravan vent fan helps to maintain good airflow for your caravan, so you don't need to fork out loads of money powering an air-conditioning unit or fan. However, a roof vent is probably an item that you may not have bought before, so we've created this guide to show you the best caravan roof vent with a supporting buying guide to help with your decision making.
Fiamma White Caravan Roof Vent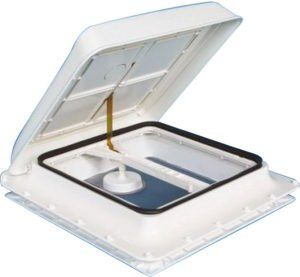 Fiamma is one of the leading brands in the caravan industry, and this is a great vent if you're after a mid-sized solution. This model measures 28cm x 28cm, so with this size comes lower price compared to other roof vents.
This makes it ideal for caravans of all sizes allowing it to circulate air more efficiently, so your living space is less humid. Due to the construction of the roof vent, it also provides another source of natural light to enter your caravan.
Installing the unit is straight forward and doesn't require any additional drilling or holes needed because the vent has an internal installation system. It's been designed for caravans that have a roof with a maximum thickness of 8.5cm however if your caravan is above this then you have the option of using an extension kit.
In terms of features, the vent has an effective permanent air flow ventilation system in addition to a mesh screen that stops mosquitos and other bugs from entering your caravan. Overall the vent is a durable, tough solution which is also UV resistant so you can trust that you're buying a high-quality product.
Not only is installation straightforward, but this means that you can quickly move closer to having a well-ventilated caravan.
Flame 04328B01D Vent Crystal Porthole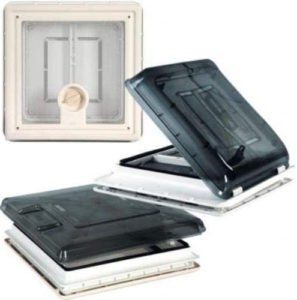 The Flame Crystal Roof vent is another model designed and manufactured by Fiamma who continue to create innovative products, so you're bound to find one model that fits your needs.
This is slightly higher priced but comes with a whole host of additional benefits to make your experience better. Just looking at it you can see that it has an aerodynamic structure and stylish look
It's constructed using high-quality plastics that are also UV resistant and measures  45.5cm x 45.5cm to maximise the amount of air ventilation that can be delivered.
It has a crystal colour which provides added privacy while also allowing light to enter to create a more comfortable living space. However, if you aren't happy letting light in, then you can always use a blackout screen.
The roof vent is compatible with roofs that have a depth between 2.5cm and 4cm. The roof vent also has vibration-reducing qualities, so you won't hear it rattling when you're driving. There's also a mosquito screen while also being easy to install on your existing caravan.
Overall the product is straightforward to install and comes supplied with all the necessary instructions.
Fiamma Turbo Caravan Roof Vent Fan Crank with Thermostat Control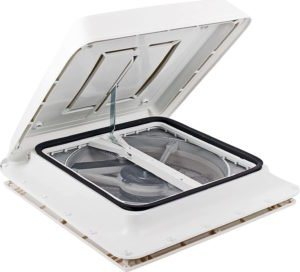 If you're looking to take your roof vent set up one step further, then Fiamma has got you covered. They have created this caravan roof vent fan that can provide you with permanent air circulation due to it's integrated 12-volt fan. This fan has three levels of air intake with an additional two levels for air ventilation to move air away from your living space.
It has an in-built thermostat that can be controlled using either manual or automatic settings. With this roof vent, it means that your caravan will be ventilated quicker and you don't need to rely on it naturally taking place.
The vent also has double glazing so when it's closed your caravan will maintain its inside temperature, and it also has a TUV seal of approval to show that it's passed all the necessary safety checks.
The fan also has a mesh layer which prevents bugs and flies from entering your caravan. The caravan roof vent fan has external dimensions of 460×460 and is compatible with roof thicknesses between 30 – 85 mm.
MPK Rooflight Roof Sky Light Caravan Motorhome 400 x 400mm White
MPK is a reputable make of caravan roof vents, and this white skylight is designed with a double skin structure which promotes positive airflow to regulate the temperate inside your caravan even when it's closed.
This double sin opaque dome has a five-way opening system which provides added convenience so you can open it in several ways due to its telescopic locking handles.
The vent measures 400mm x 4000m and is supplied with a fly screen that's removable so you can ensure that you're only letting air in and not annoying bugs and insects.
See also: the best caravan door fly screens for keeping out bugs.
The unit has white woven fabric which aesthetically looks excellent but also has a strong plastic frame to give it durability and strength as it's built to last. Although the unit doesn't come supplied with additional screws, it's still relatively simple to install and makes an excellent replacement but is equally effective if this is your first roof vent.
MPK Caravan Mini Roof Vent Motorhome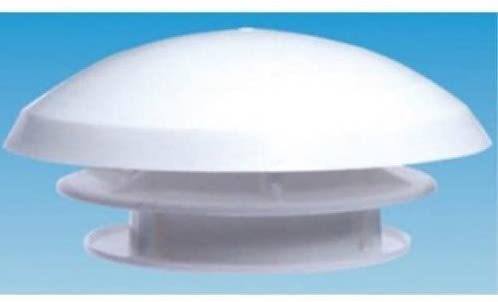 If you're on a lower budget but still want to benefit from having a roof vent then Caravan Stuff 4 U have got you covered. This caravan mushroom roof vent has a mushroom shape and is a low-cost way of ventilating your caravan.
The vent measures just 55mm in height and 195mm in diameter this is a great starter unit or if you've got a smaller sized caravan that doesn't need high levels of ventilation.
It's normal for caravan owners to want to start with a smaller vent if they've never installed one before so this is a great starter unit. It's smaller design makes it easier to install, so this process will be quicker.
Another benefit is that this is a static caravan vent it isn't adjustable, so it remains open at all times to allow airflow, so you don't have to keep adjusting it manually. It also has a mesh layer inside to stop insects and also prevents water from dripping inside when it rains.
What is a Caravan Roof Vent?
Caravan roof vents are very simple inventions which help to ventilate your caravan and maintain good airflow. AS their name suggests they're usually placed on the roof of your caravan, and they can swing upwards from the roof surface using a hatch.
Normally your vent will have a crank handle so you can control it from inside of your caravan, so once it's installed, it's unlikely you'll need to go back up on the roof regularly. However, some models open automatically when the temperature reaches a certain level whereas some will have electric movement, so you just press a button, and it opens/closes.
The vents have a durable exterior which stops animals trying to sneak into your caravan from above. You'll be surprised at how many bugs and flies try to get in.
The main purpose of a caravan vent is to keep moisture, bad smells, and other nuisances out your caravan. This will ensure that you can have a better experience in your caravan and your days won't be spoiled by great weather because these should be the most enjoyable days!
Types of Roof Vent
Roof Vent
This is a standard type of roof vent that you can manually adjust the opening to increase or decrease airflow, or some models have a fixed opening that doesn't allow you to adjust. This type of roof vent is what is usually found on caravans, especially older models but once installed it doesn't require additional electricity to run.
Roof Vent Fan
This is an improvement on the traditional caravan roof vent as it has a thermostat and inbuilt electric fan that allows you to control the temperature or speed of the fan so you can quickly adjust the ventilation in your caravan.
This requires an electricity source to power the fan so can incur extra costs which will vary based on how much energy you use. Whether you need a fan will depend on your personal needs, i.e. if you're travelling around extremely hot countries a fan may be more useful.
Buying Guide
Size
You need to ensure that you understand the size of your existing roof vent so you can choose one that closely fits. The last thing you want to do is end up buying a roof vent that's too small or large.
Of course, if you're installing from scratch to a caravan that hasn't had a vent before then, you have more flexibility about the size that you choose. The price can vary depending on the size of your vent, so you need to take this into consideration.
Ease of Installation
Before buying, you should understand how easy your desired roof vent is to install to your existing caravan. Ideally, it should come with clear instructions and all the necessary parts and screws needed to complete the installation from start to finish.
This will also depend on whether you intend to complete the installation yourself or hire a professional to do it. You can see how easy a vent is to install by looking at customer reviews from previous purchasers to understand if they had any issues with the product, so you aren't hit with any surprises once you receive it.
Price
Caravan roof vents can vary in price due to several factors. The brand plays a big role because there will be more premium brands than others and use higher quality materials. We'd recommend that you stick with the caravan brands because they have specialised in making products for caravans and have the greatest level of customer service.
It's also recommended that you have a budget in mind for your caravan vent purchase due to the large range of pricing. Having a budget will also make it simpler to make a buying decision because it will lower the amount of choice available to you. It's often better to spend a little bit above your budget to get a better quality product that will last longer.
Material
The material of your vent is something to consider because ideally, you should aim to have a vent that is made of durable material. This can
be plastic or metal; however, plastic is recommended because not only is this tough but it's also lightweight, so it makes it easier to crank up and down when you want to open or close it.
Plastic roof vents often have mesh designs which stop unwanted bugs and animals from flying inside your caravan.
Benefits of a Caravan Roof Vent
Vents are seen as optional, but we think every caravan owner should have one because of all the benefits that it brings.
The most obvious benefit is that it can drastically reduce the temperature throughout the hot summer months, where even in the UK it can be difficult to be indoors if there's no air circulation.
The additional main benefits of a caravan air vent are all health and wellness related. Over time a musky smell can develop in your caravan, but because you're living in the environment, you might not even realise as your body gets used to it.
This bad smell can worsen and can be an indicator of mould development and can also affect your health, leading to respiratory implications such as asthma and allergy developments.
It helps to prevent mould build-up because it removes moisture from inside your caravan. If you dry your clothes indoors, then the fresh air will slow down this moisture build-up.
With a roof vent, fresh air can be drawn into your caravan and prevents the build-up of stale air