When you go on your caravan trip, it's all about enjoyment and relaxation, so you'll need a caravan chair so you can sit in comfort throughout the day. There is a vast range of chairs available to you, which can make it difficult to make a buying decision so we've created this buying guide to show you the best caravan chairs on the market.
We've made it even easier for you by including all the important factors you need to consider to help you move quickly to a final buying choice.
Portal Outdoor Unisex's Camping Portable Chair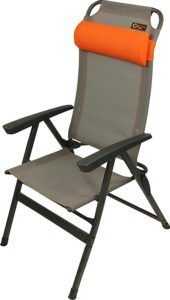 The Portal Portable chair is lightweight while being fully foldable in just a matter of seconds to make it compact. It's constructed using high strength durable steel which gives it durability and can support up to a maximum weight of 120kg.
It comes with a handy carry bag for easy transportation and storage, making it a great choice, especially when you need to be conscious of the weight of your items without compromising on comfort.
Although the frame is made of steel, it's lightweight, and you can assemble it easily using its self-locating shock cord technology. The seat itself is comfortable with a meshed backing for extra ventilation.
This is a great chair, and it's not just suitable for caravanning but all kinds of activities including hiking biking and camping.
Trail Outdoor Leisure Padded Folding Camping Chair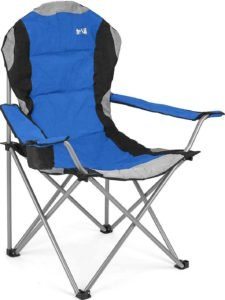 If you require a smaller chair, then this could be the ideal choice for you. This chair has been designed with comfort and support in mind and has a high backrest lumbar support which works to reduce aches and pains
It has lightly padded panels which provide comfort when you're sitting, and it has breathable mesh' target points' to keep your body well ventilated, so you don't get too sweaty on hot days. The chair itself is lightweight and foldable, which makes it easy to carry; however, it's still durable due to having a tubular steel frame.
This chair is tough wearing and comes with a drawstring shoulder bag making it easily transportable. When you're sitting in the chair, you can make use of its wide armrests, and you can place your drink in the integrated cup holder.
The chair also has a heavy-duty design that can support a maximum weight of 120kg (18.5 stone approx.).
Lightweight Aluminium Reclining Camping Garden Chair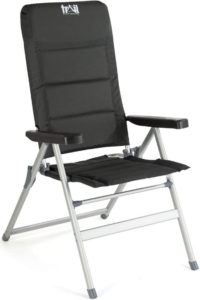 If you're looking for the ultimate comfort, then you can recline and relax with this Aluminium Reclining Camping Chair from Trail Outdoor Leisure. This chair gives you a choice of 6 reclining positions and also has a padded seat and headrest so you can relax in the utmost comfort.
The chair has an aluminium frame that gives it a high level of strength and stability while it can support a maximum weight of 150kg (23.5 stone approx.) The chair can also fold flat so you can store and transport plus Aluminium is a light material.
Constructed using a padded poly weave fabric this not only looks great but is breathable, which keeps you cool on hot days. With the amount of padding that this chair has, you'll not want to get up.
Leisure Zone Set of 2 Heavy Duty Textoline Zero Gravity Chairs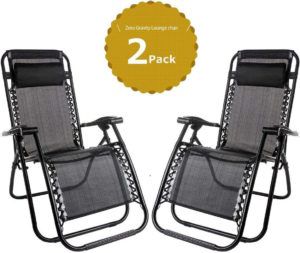 This chair is ideal if you need more than one because it comes in a set of two. These loungers can be adjusted into any reclining position between 30°-150° so you can relax in complete peace.
The chair has an ergonomic design with Textilene fabric and highly elastic ropes which contours to the shape of your body to provide you with support right where you need it.
The chair has a lightweight construction while also having a folding design so you can pack it away discreetly when it's not in use. Due to using breathable material this keep you cool even on a hot summers day while also being wear and weather resistant you can expect this chair to last several years.
Isabella Thor Chair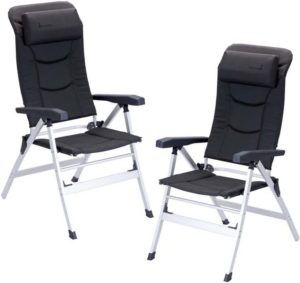 The Isabella Thor Chair is likely to be one of the most premium outdoor chairs that you'll find on the market, and this is reflected in its selling price.
The Thor chair is fully padded with additional armrests and neck cushions while also having the ability to recline into eight different positions. The chair has an aluminium frame which makes it strong and lightweight with a maximum load weight of 120kg.
If you're willing to spend a little more on a chair, then this is a great choice. If you go caravanning regularly then this will quickly pay for itself. When it's not in use, you can simply fold it up in a few seconds and store away.
You also have the additional add-on of a footrest which is stored under the seat, and you can easily slide it out and click into position when you're ready to use.
Caravan Chairs Buying Guide
Size
Just like any item you buy for your caravan, you need to think about how much space it's going to take up. You need to understand how much space your chair will take up and if you need multiple chairs, then you'll need a bigger space. It's also important to check they will fit the height of your caravan table.
You don't want to end up in a situation where you buy chairs that are too big to be used in your caravan or if you buy two chairs, but there's only space for one. This is slightly different if you only plan to use your caravan chairs outdoors because then you just need to understand its folded size and whether you've got storage space for them.
Back Support
If you currently from back problems, then you need to buy a caravan chair that provides you with great back support. Poor quality caravan chairs will have sunken backs which can worsen your existing issues because as your back sinks into it your lower back will round, which places pressure onto it. Even if you don't currently have back issues, a poorly supported chair can cause them to develop.
Padding at the lower portion of the chair back is called lumbar support and is crucial for people who suffer from back problems. Lumber support brings added support and prevents your lower back from slouching and protects your posture.
Legs Quality
The quality of your chair legs is crucial to ensuring you have a high-quality caravan chair. The legs of your chair play a large role in determining how strong and how much weight they can support, if the legs are too weak then they could break under pressure or overtime they will quickly degrade and easily snap.
Ideally, you want to have chairs that have steel tubing because this not only makes them strong and durable but also lightweight to carry.
Foldability
You need to make sure that the caravan chair you choose can fold down because this will make it space-saving. You don't want to have a char that doesn't fold because then it will take up space inside your caravan when you're not using it. This is especially the case if you only plan to use it outdoors.
This is a chair that has thin folding dimensions, so they fold flat whereas ideally, you want a chair that folds inwards because this takes up less room due to having smaller folded dimensions. You must consider not only the assembled size but also the folded size so you can plan where to store it.
Shade
Some chair models come supplied with shade or canopies, which is a piece of nylon or canvas material which latches on to the back of the chair. This material blocks out the sun, which is essential from a health perspective as it stops strong UV rays from directly impacting you.
It also works in rain conditions to keep you protected, and if your chair doesn't come with a canopy, then it's not the end of the world because you can always buy one as an accessory and still experience the same benefits.
Durability
The durability of your chair will play a large role in determining how long it will last. When you go caravanning, you'll often need to rely on what you have for a long period so you need equipment and items that won't fail on you.
Durability means that they will last a long time without breaking so you should understand what material your chair is because ideally it should be constructed from high-quality strong materials such as stainless steel and reinforced plastics. Buying a chair with higher quality materials will save you money in the long run because you won't need to keep replacing them.
Portability
Portability describes how easy an item is to move, and this should be considered when choosing a caravan chair. Moving your chair should require no effort both when transporting it to your caravan site and when moving it into position to use.
The best caravan chairs will be foldable and made of light material so you can carry them with ease.
Comfort
The most important thing when purchasing any kind of chair is the comfort, especially if you plan to sit in it for prolonged periods then you need to sit in it without your body aching or feeling uncomfortable. Several factors contribute to having a comfortable chair which includes support to ensure that your joints and muscles are correctly supported.
A comfortable chair will increase your enjoyment and experience, and if it's a hot day, then you'll have no issues sitting outside all day.