A caravan plate rack isn't the most glamorous of items, but it's probably an item you have in your home and take for granted. If you've ever washed up some plates, then you'll agree that it's very convenient to have a dry rack to place your plates on.
Not only does it help to dry your plates, but it also helps to keep your kitchen organised and keeps your plates bacteria-free. The best caravan plate racks also look great and improve the overall look of your living space.
When you're caravanning, you're in a more compact living space so it's important to be more efficient with your storage and every item needs to have a storage place. Otherwise, you can end up with an overcluttered mess which isn't any fun to live in.
We've created this guide to show you the best caravan plate racks on the market, and the guide also shows you the features to consider, which can play a large role in your overall product experience.
KitchenCraft Small Collapsible 2-Tier Dish Drainer Rack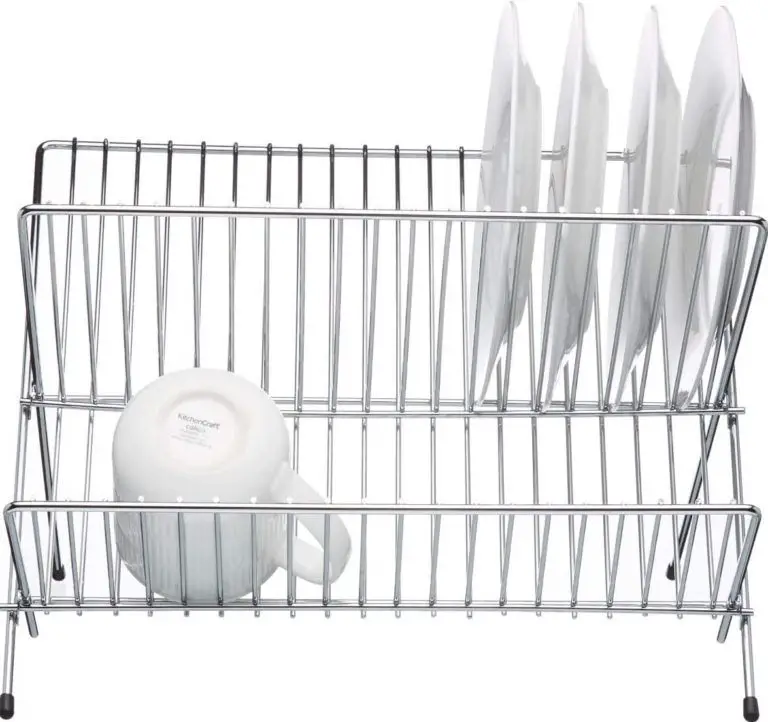 The KitchenCraft removes all the clutter from your worktop and is fully collapsible so it can fold flat in just a few seconds to preserve space which makes it ideal for caravanning. The rack has two tiers which not only save space but also promote air circulation so your dishes will dry quicker and more hygienically.
Because the rack is on two tiers, it means it can hold up to 21 plates, and there's room on the bottom rack for you to dry mugs, cups and glasses. The rack is made of chrome-plated wire which not only looks great but is very durable and it's fitted with plastic feet, so it doesn't damage your kitchen surfaces.
The rack measures 36 x 26.5 x 24.5 cm (14″ x 10.5″ x 9.5″) when assembled and comes complete with a 12 month guarantee.
Beldray® LA031051 Grey Collapsible Dish Draining Board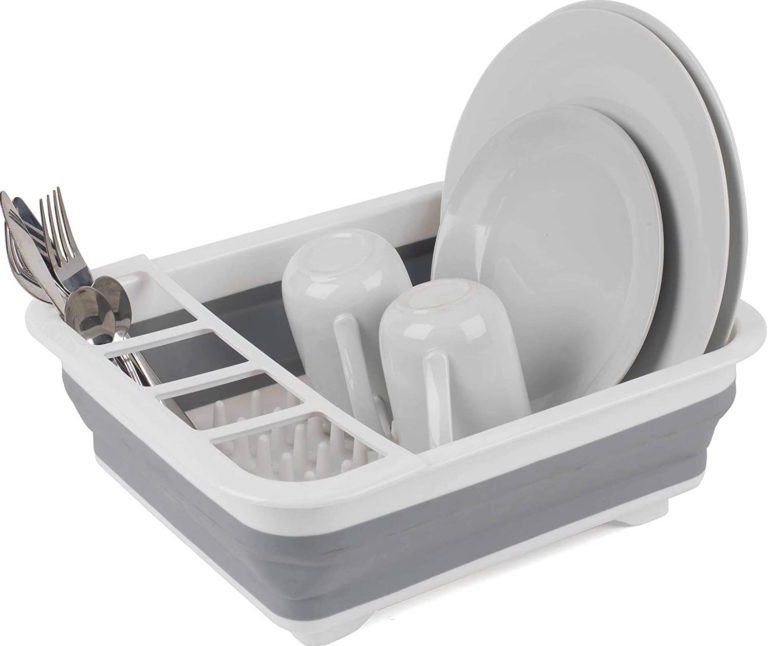 The Beldray dish rack is an ideal if you're looking for a space-saving solution which unfolds and provides you with a large capacity while it also has a draining board where you place mugs, cups and dishes for quick drying
When not in use you can simply collapse it down and fold away in just seconds, making it great for caravan use. The draining board is durable and has a strong base to give it support plus it has crockery holder and cutlery divider, so there's designated space for all types of utensils.
The rack is made from break-resistant plastic so you can expect it to last a considerable amount of time before needing to be replaced.
Kingrack Stainless Steel Dish Drying Rack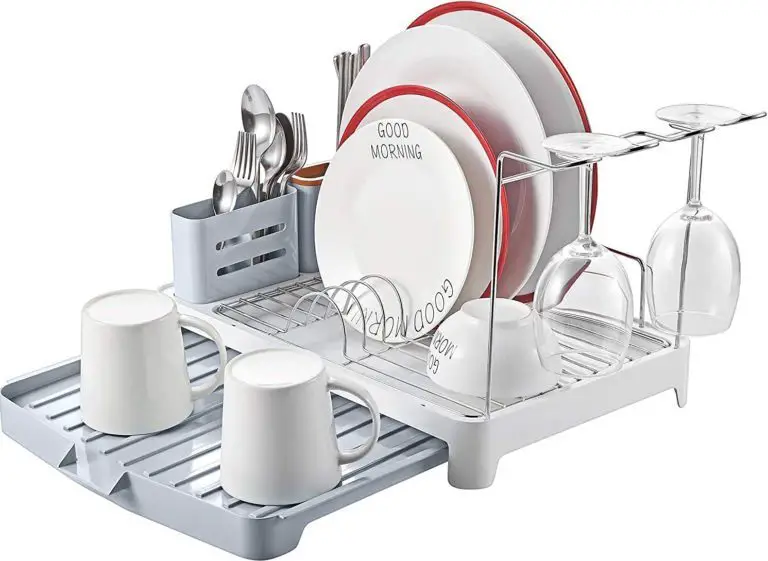 This dish drying rack is constructed using six moveable components which are made from high-grade stainless steel and durable plastic which is Food Grade 304, rust-free and strong.
The rack has an extending tray which allows you to double your draining space quickly. There is also a cutlery holder which is a designated area for knives, forks and spoons.
There's also a stainless steel wine glass holder that can hang up to 4 wine glasses.
The drying rack has an easy drain design so your utensils can dry quicker and makes a great addition or replacement for any caravan.
Simplywire – Plate Rack / Drainer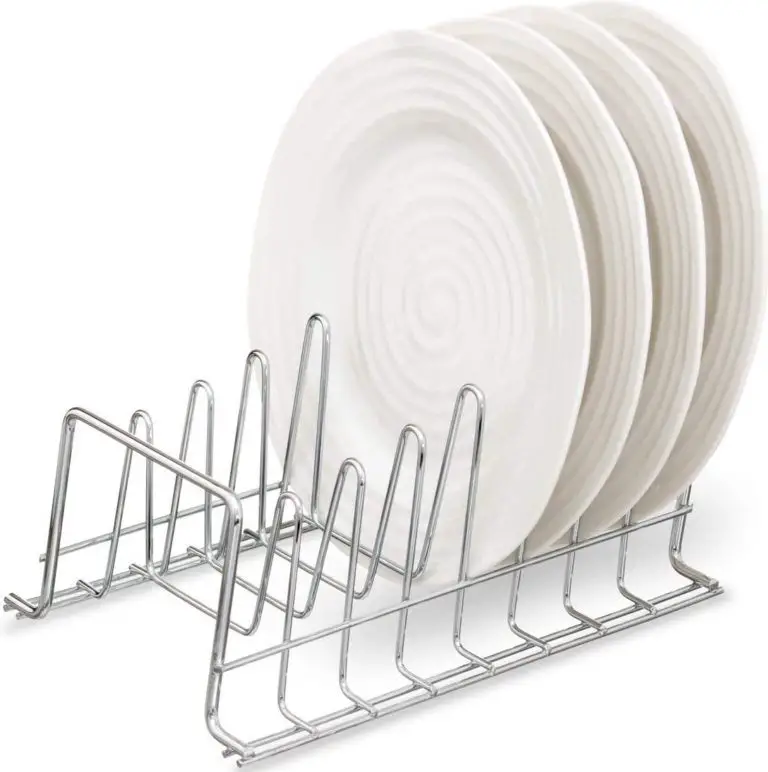 The Simplywire plate rack has a smart design that increases the space in your kitchen due to its compact design. It has a deep slot which makes it compatible with plates and kitchen items of all sizes and will fit the majority of kitchen counter sizes.
It's made from robust steel which has been coated in a high shine anti-rust chrome finish which makes it durable and rust-free. It is elegantly designed to have an anti-slip base for stable storage. The rack measures : 24.5cm (Length) x 16cm (Width) x 11.5cm (Height) and requires no assembly.
Simplywire Manufacture all their products to meet international regulations, and they're thoroughly tested to ensure you receive an excellent product every time.
Caravan Stuff 4 u Chrome Plate Rack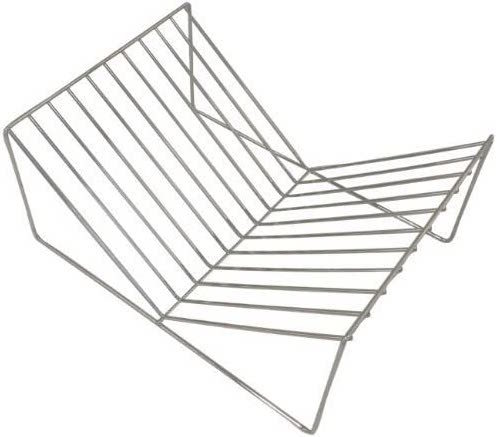 If you need a simple yet effective plate rack, then this is the product for you. Made from chrome-plated steel this rack is strong and durable and will be rust free so you can be assured of many years of service.
This makes a great replacement, especially if you still have the plate rack that your caravan was originally fitted with. At this selling price, it provides lots of value, and you won't be disappointed. The only downside is that there aren't specialised slots for cutlery, but you can sit cups and mugs on top on the plate slots.
Buying Guide
Size
Before you decide on the plate rack, you need to know how much space you have to the side of your sink or wherever you plan to keep your rack. You need to make sure that you have enough space for the rack to sit. If it's too big, it can fall off the edge of your worktop or water will drain off the rack onto your floor.
If you're limited for space but have a lot of plates, then you can choose a two-tiered plate rack which will be taller than a single tier plate rack so it will have extra room for plates.
You simply need to measure the width and length of the area where it will go and then compare this to the size dimensions on the caravan plate rate product description page.
Capacity
The capacity refers to the number of utensils that it can hold at the same time. A larger dish rack doesn't mean that it has a higher capacity which is an important factor. For instance, some plate racks have far more slots to hold more plates, whereas some larger ones may have fewer slots, and this is purely down to the manufacturer's plans.
You should also think about which type of utensil that you use more frequently. Do you use more plates than cups? Different racks have different capacities for each type of utensil, so if you have an idea of your regular usage items, then you can choose a rack that best fits your habits.
Flexibility
Some caravan plate racks only have slots for plates, whereas others will have room for cups and cutlery. When choosing your rack, you need to ensure that it's designed to suit your general utensil habits. If there are a few people in your caravan, then you're going to use more plates so you'll need a bigger plat slot area on the rack.
It's also ideal if your plate rack can accommodate different types of utensil such as a cutlery slot and a flat area for cups to be placed so they can drain off. Once your cutlery is dry you can then move them into your draw cutlery tray.
Material
Caravan plate racks are most commonly made from either plastic or stainless steel. Plastic plate racks have the main advantage of not rusting, which makes them more versatile. However, plastic has a greater affinity for attracting bacteria and grime from your dishes. This makes plastic plate racks harder to clean and maintain especially if you don't do it regularly.
Plastic plate racks can also crack if yours is made from low quality plastic and you put too many heavy plates on it. You can remove this chance by purchasing a plastic rack that is durable and sturdy. Stainless steel is naturally stronger so it can hold more weight without failing and it's recommended that if you choose stainless steel, it should be food-grade quality or chrome plated.
Maintenance
Once you buy your caravan plate rack, the job isn't over as you need to ensure that you keep it clean and maintain it. By keeping it in top condition, this means that it'll last longer, and you won't have to keep replacing it.
The less frequently you clean it, the more bacteria can grow which can then be transferred to your drying plates which then defeats the point of washing them in the first place. If you stick to plastic and metal plate racks, then these are simple to clean as they just need to be wiped down with a soapy cloth.
Weight
Ideally, you want to choose a plate rack that's lightweight because you need to keep an eye on your overall caravan weight. Lightweight plate racks also mean that you can easily store it away when it's not used.
Price
The price will vary depending on several factors and features. The brand you choose will affect the price because high-quality longer-established brands will have a higher selling price because they use better quality materials so it will last longer.
The number of features will also increase the price because if it can hold 50 utensil pieces, then this will be better than a plate rack that's the same size but only holds 20.
It's recommended that you set a budget before making a buying decision because this will make it easier to pick as it will automatically rule out some options that are out of your budget. Generally speaking, plate racks are affordable, and if buy a good caravan plate holder then you won't have to replace it for several years.